On August 24, 2022, a video of a man kidnapping a 4-month-old baby from Mathura railway station went viral on social media. Following this, multiple reports started coming in on people attacking sadhus and unknown persons at many places based on rumors of child theft. Recently Alt News had investigated a video with a false claim that child-lifters in the guise of a sadhu were beaten up by villagers.
A video is now being shared on WhatsApp in which a police officer is speaking on camera, while the narration in the background warns of 'child-kidnappers on a prowl'. The narrator, who asks people to be aware of gangs of 500 people involved in illegal organ trade, ascribes the 'warning' to SP (city) Gorakhpur, Kaustab.
The narrator can be heard saying in Hindi, "Do not open doors for any garbage collectors, sadhus, hawkers and beggars. Just make noise and send them away. Do not utter the words "no one is at home right now, come later" even by mistake. Unleash your pet dog if you have one. Do not open the main gate. Take care of yourself and your children. Stay alert and stay safe. Today, there have been reports that 500 people, disguised as beggars, have come from Bargadwa. They take hostage anyone on their way and sell their hearts and kidneys. Around 6-7 people have been caught and they have admitted that 500 people are on a prowl. Forward this message to all your friends and family members. Please stay safe. Gangs of 15-20 people are prowling. They have women and children accompanying them. They also have weapons. They come at midnight when the cries of children are heard. Please do not open your doors and share to maximum groups. This message should be viral in 2-3 days. Your safety is in your hands. Beware. Issued in public interest, Gorakhpur police. This is said by SP (city) Dr Kaustab, while talking to Gorakhpur newspapers."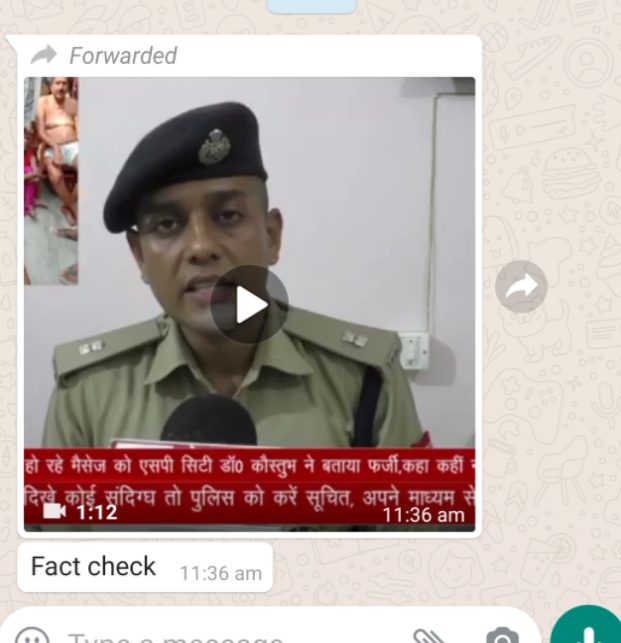 Same Clip was Viral in 2019
In September 2019, Alt News had received verification requests on our official mobile application for the same video.
Fake message
That the message has no truth to it is revealed if one takes a careful glance at the video. The narration does not match the news ticker at the bottom of the screen which says – "SP (city) Dr Kaustab terms the messages viral on social media 'fake.' The messages are not true. If you spot someone suspicious, inform the police and do not take the law into your own hands." (Translated from Hindi)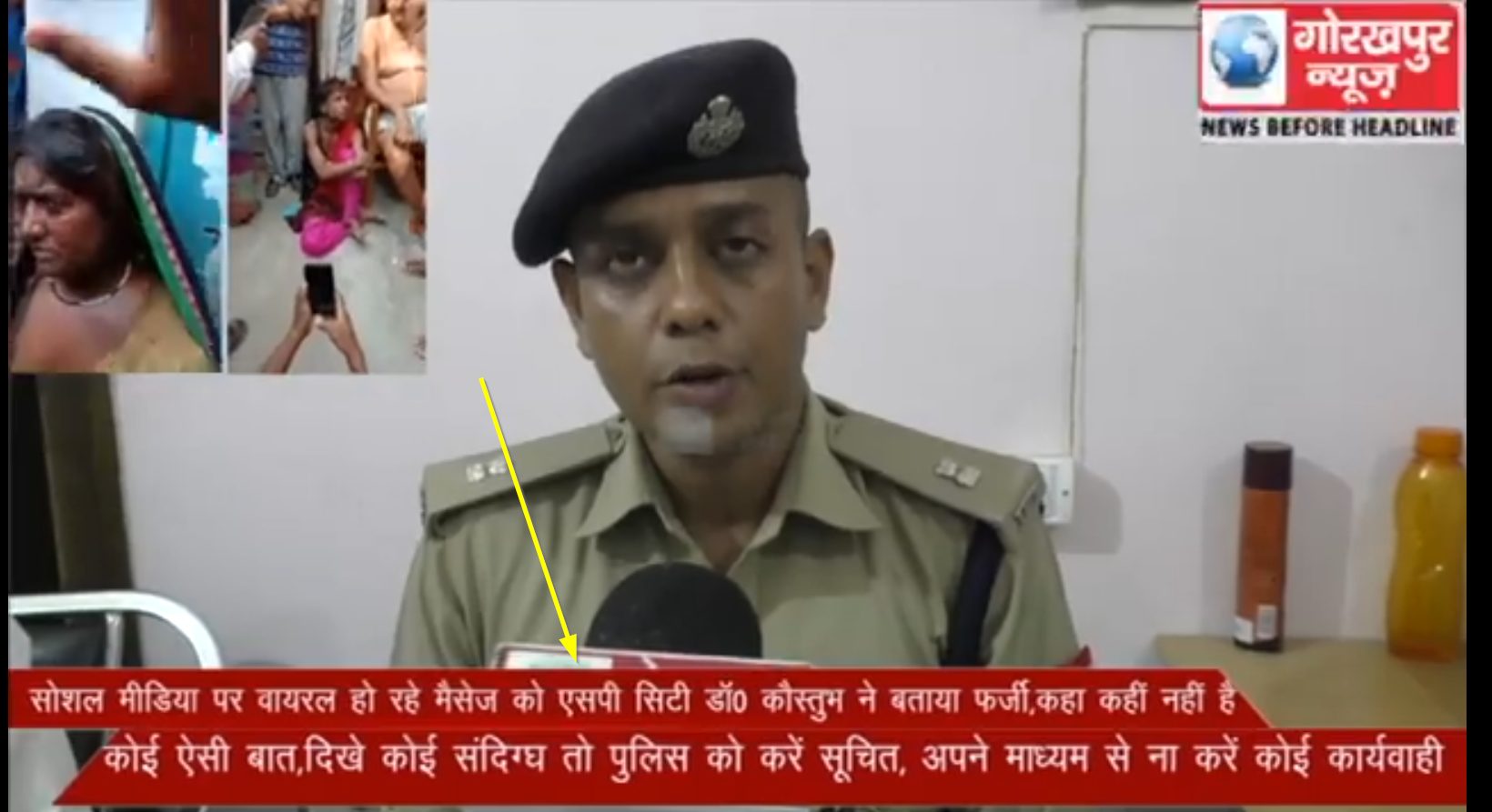 Original video clipped and shared online
The original video was uploaded by Gorakhpur News on August 25, 2019. In the first part of this video, the anchor gives a brief of Gorakhpur police's statement. He tells viewers that SP Kaustab has termed the messages viral on social media 'fake'.
In the second part of the broadcast, the anchor reads out the false message viral on social media. This portion has been clipped and circulated online. 
From 1:49 minutes onward, the SP can be heard debunking the rumours. He says that messages warning about child-kidnapping gangs are false and no such cases have been reported from Gorakhpur. He adds that messages ascribed to Gorakhpur police are being circulated on social media but the police have not issued any warnings.
Misinformation debunked by Alt News in earlier articles
In the top left corner of Gorakhpur News broadcast, two videos are played simultaneously.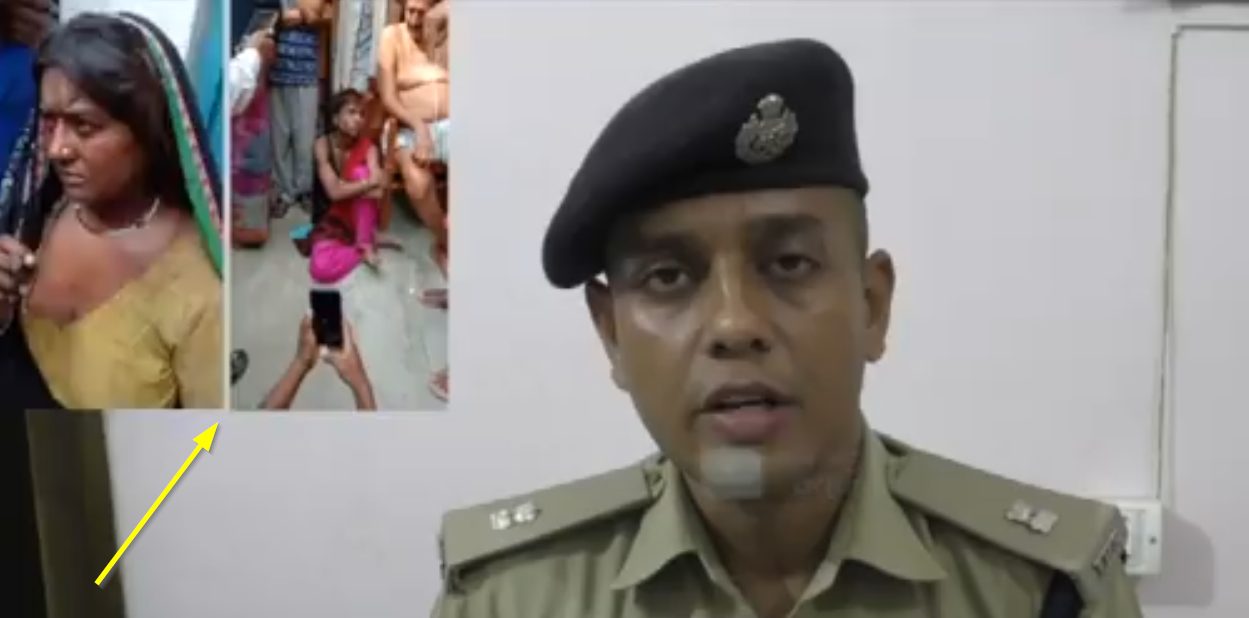 Both these videos depict mobs hounding mentally-challenged people on false child-kidnapping rumours.
Video of the woman
This woman was held hostage by a mob in Dimrauni village of UP's Jhansi district. Alt News had contacted Badagaon police station and was informed that the woman was mentally-challenged. The villagers had mistaken her for being a child-lifter. SI RK Pandey said, "We have not arrested any child-kidnapper recently."
Video of the man dressed as woman
This incident also took place in UP's Jhansi. Alt News contacted Mauranipur police station and was informed that the man was not a child-kidnapper. He was a mentally-challenged person beaten on the suspicion of being a child-lifter. "The youth's name is Pushpendra Singh, son of Gajrar Singh. He is from Ruthiyai gram in Guna, Madhya Pradesh and was getting treated for his mental illness in Gwalior. He lost his way at a station and wandered all the way to Khilara gram in Mauranipur where locals, who believed that he was a child kidnapper, thrashed him."
The police also informed us that a psychology test helped them determine that the youth was mentally unstable. His parents, who were looking for their son, were called to Mauranipur from MP. They informed that he used to be a student of engineering.
Same message used to share other misleading videos
1. The message which was read out by the Gorakhpur News anchor and misused on social media has been viral at least since the past three years. It was used to circulate a video of a father-son duo narrating an implausible tale of child-kidnappers who attempted to lift the son. The police filed no case in this regard as the duo's story was found to be flimsy.
The entire message shared in Hindi is as follows:
"किसी भी अजनबी जैसे कबाड़ी वाला फेरी वाला बाबा या कोई भिखारी कोई भी हो उसके लिए दरवाज़ा ना खोले ना ही कोई बात करे बस हल्ला करके भगा दें। ग़लती से भी ये शब्द ना कहे । "अभी घर में कोई नही है बाद में आना या चले जाओ " घर में अगर कुत्ता है तो उसे खोल दो उसी टाइम और मेन गेट मत खोलो। अपना और अपने बच्चे का ध्यान रखिए । सतर्क रहें। सुरक्षित रहें । Larankello से आज खबर मिली है की भिखारी के बेस में पांच सौ लोग निकले है जो रास्ते में जो मिलता है उसको काटकर कलेजे अौर कीडनी निकाल रहे है जिसमे से छः सात लोग पकड़े गाए है .जो पकडे़ गए हैं वही लोग को कडी़ पुछताच के बाद पांच सौ लोग आने की बात कबुल की है इसलिए हमारे भाईयों मेसेज को आपके जितने परिवार और मेंबर है सबको फाॅरवर्ड कीजिए: कृप्या सावधान रहे 15 से 20 लोगों की टोली आई है उनके साथ बच्चे और महीलांए हैं और उनके पास हथियार भी हैं और और आधी रात को किसी भी वक्त आते हैं और बच्चे के रोने की आवाज आती है कृपया दरवाजा ना खोले प्लीज ज्यादा से ज्यादा ग्रुप में से शेयर करें पूरे एरिया में 2 से 3 दिन के अंदर फेल जाना चाहिए। अपनी सूरक्षा अपने हाथ, सावधान रहे, जनहित मे जारी ."
Only the word 'Larenkelo', which is in Himachal Pradesh, was replaced with 'Bargadwa', a village in UP.
2. The same message with the 'Larenkelo' angle was also used to circulate another video where a mentally-challenged man was thrashed by locals in Madhya Pradesh.
At least 15 people were lynched across the country in mob attacks sparked by child-kidnapping rumours in 2019. Social media users are advised to not forward any message that fuels the false claims. Below is a video where Alt News debunks the 15 of the most viral child-lifting rumours.
Donate to Alt News!
Independent journalism that speaks truth to power and is free of corporate and political control is possible only when people start contributing towards the same. Please consider donating towards this endeavour to fight fake news and misinformation.