Editor-in-Chief and Chairman of India TV Rajat Sharma tweeted on January 3 that 190 countries have pre-booked COVID-19 vaccine developed by India. "The vaccine produced in our country is effective, cheap and easy to store. This is because of Narendra Modi's policies and the skills of our scientists. Those who are suspicious about the vaccine should know that 190 countries have booked the vaccine in advance," read his tweet, drawing over 30,000 likes as of this writing.
अपने देश में बनी वैक्सीन कारगर है, सस्ती है और इसे स्टोर करना आसान है. ये नरेंद्र मोदी की नीति और हमारे वैज्ञानिकों की कुशलता का प्रतीक है. इस पर बेवजह शक करने वाले जान लें कि इस वैक्सीन की एडवाँस बुकिंग 190 देशों ने करवाई है. @narendramodi

— Rajat Sharma (@RajatSharmaLive) January 3, 2021
In another tweet, Sharma wrote that he is referring to Bharat Biotech's Covaxin.
भारत में बनी कोवौक्सीन की जो लोग आलोचना कर रहे हैं, उन्हें मालूम होना चाहिए कि 190 देशों की सरकारों के कंसोर्शियम ने इस वैक्सीन की 2 अरब डोज़ की बुकिंग करवाई है. लोग गलतफहमियों के शिकार न हों, तथ्यों पर यकीन करें. #Covaxin

— Rajat Sharma (@RajatSharmaLive) January 4, 2021
The DCGI recently approved the COVID-19 vaccine developed by Bharat Biotech and Oxford-AstraZeneca vaccine (Covishield) manufactured by Serum Institute of India (SII) for restricted use in the country. Several independent scientists have questioned Covaxin's approval for emergency use when efficacy data from its Phase 3 trials are yet to come in. Alt News Science Editor Dr Sumaiya Shaikh also made a tweet thread analysing the efficacy of Phase I and II of Bharat Biotech's Covaxin.
My analysis of the paper released by #BharatBiotech researchers & the Press Statement by the Drugs Controller General of India (DCGI) on Restricted Emergency approval of 1out of 3 COVID-19 virus vaccine from Bharat Biotech: A thread…

— Dr Sumaiya Shaikh (@Neurophysik) January 3, 2021
BJP member Manish Kumar Pandey tweeted the same as Rajat Sharma.
हमें गर्व है 🇮🇳
"अपने देश में बनी वैक्सीन कारगर है, सस्ती है और इसे स्टोर करना आसान है. ये नरेंद्र मोदी की नीति और हमारे वैज्ञानिकों की कुशलता का प्रतीक है. इस पर बेवजह शक करने वाले जान लें कि इस वैक्सीन की एडवाँस बुकिंग 190 देशों ने करवाई है"- @narendramodi

— Manish Kumar Pandey (@KrpandeyKumar) January 3, 2021
That 190 countries have pre-booked Bharat Biotech vaccine was also claimed by several individual users.
190 countries have pre-booked Bharat Biotech vaccine but according to "Scientist" Bhushan it is not safe for long term effects. https://t.co/HpiDPlHLUV

— Monica (@TrulyMonica) January 3, 2021
False news
Bharat Biotech's Covaxin is the only indigenous vaccine developed by India in collaboration with the Indian Council of Medical Research and the National Institute of Virology.
In a statement on January 3, Bharat Biotech Chairman and Managing Director Dr Krishna Ella said that it is the company's "goal" to provide the vaccine globally. Foreign envoys of 70 countries had visited manufacturing units of the company on December 9 but the visit did not follow any news of orders or pre-booking.
In all likelihood, the number '190' comes from the World Health Organisation (WHO)-led global initiative COVAX. On December 18, 2020, the WHO informed that "COVAX, the global initiative to ensure rapid and equitable access to COVID-19 vaccines for all countries, regardless of income level" announced that it had arrangements in place to access "nearly two billion doses of COVID-19 vaccine candidates, on behalf of 190 participating economies".
The news was also reported in the media.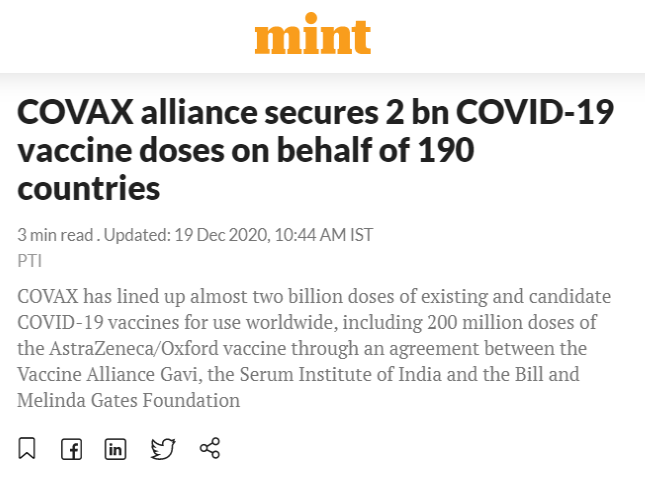 All participating economies will have access to doses in the first half of 2021, said the WHO.
Unlike Bharat Biotech, Serum Institute of India is a COVAX partner. The full list of deals secured by the WHO global alliance features SII's vaccine Oxford-AstraZeneca (or Covishield in India). The WHO has acquired a deal for 200 million doses of the Oxford-AstraZeneca or Novavax candidates via an agreement between Gavi, SII and the Bill and Melinda Gates Foundation. SII is therefore producing the vaccine developed by Oxford and its pharmaceutical partner AstraZeneca. Covishield is not an Indian vaccine.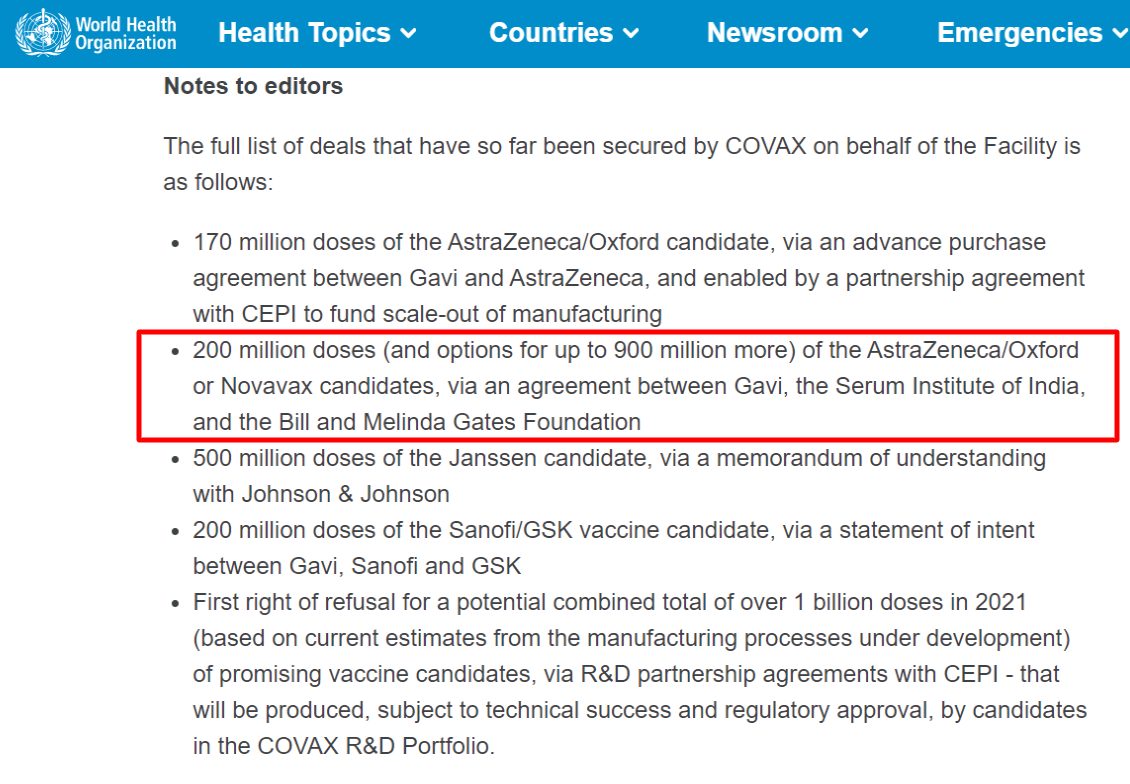 Furthermore, the Coalition for Epidemic Preparedness Innovations (CEPI) has invested in 10 vaccine candidates of which Oxford-AstraZeneca is a part and Bharat Biotech's Covaxin is not.
Since India-made Covaxin does not feature on both the lists, there cannot be any deals between COVAX with Bharat Biotech for the 190 participating countries. Moreover, while SII had issued a press release about COVAX, the word does not appear anywhere on the website of Bharat Biotech.
It is noteworthy that Head of Serum Institute of India Adar Poonawalla stated that India will not allow the export of Covishield for several months.
It appears that India TV Editor-in-Chief Rajat Sharma failed to differentiate between COVAX, a global alliance of 190 countries for procurement of vaccines, and Covaxin, a vaccine by India's Bharat Biotech. There is no doubt that India will play a major role in global COVID vaccine rollout as the country has vaccine production facilities and a large percentage of the world's vaccines are already produced in India. However, it is wrong to claim that 190 out of 195 countries in the world have already placed orders for the indigenously developed Covaxin.
Donate to Alt News!
Independent journalism that speaks truth to power and is free of corporate and political control is possible only when people start contributing towards the same. Please consider donating towards this endeavour to fight fake news and misinformation.