Recently, the fact-checking wing of Press Information Bureau (PIB) posted multiple tweets declaring news reports on deaths of migrant workers in Shramik trains as false. PIB claimed that the deceased persons were either suffering from pre-existing medical conditions or had recently undergone treatment. But the outlet did not provide any medical reports to support its claim.
The deaths of four such labourers were claimed to have been caused by long-term illness. However, the family of the deceased persons gave different accounts to us than the one reported by PIB. In this report, we will give details of each of the four cases and present how PIB ironically missed facts in its fact-check.
Case 1
On 28 May, PIB retweeted a tweet by Spokesperson Railways where it was claimed that the child who died at Muzaffarpur railway station was already ill and was returning home after treatment from Delhi. Spokesperson Railways also advised against sharing unverified news. This was in response to a tweet by journalist Rana Ayubb where she had shared a link of a report by Hindustan Times on the death of the 4-year-old child.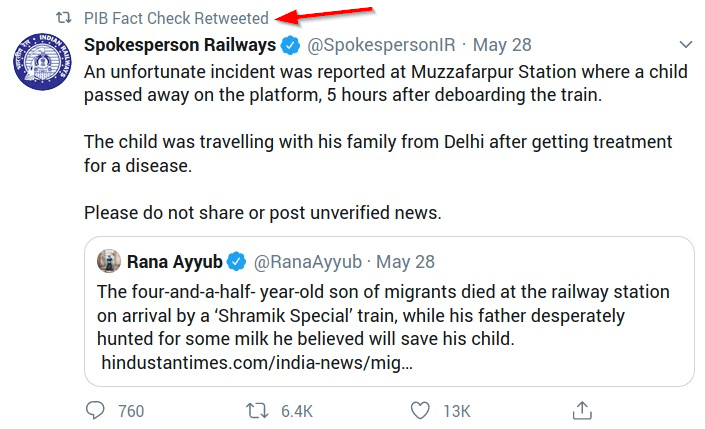 This news was declared as false and misleading by PIB in another tweet dated 26 May. The outlet said that the child was suffering from previous illness and only a postmortem can determine the cause of death.
Fact-check
We spoke with Mohammad Pintu, the father of the deceased child, who said that neither was 4-year-old Irshad previously ill nor was he recently treated or undergoing any treatment. "We were sitting on the train from Delhi to Patna on the afternoon of May 23. The Delhi government had made arrangements for food and water on the train. We were also not charged for tickets. On the same night (May 23), we were given a little food (poori and vegetable) and a bottle of water at Lucknow station. After that, we did not get any help. The train was making stops at places where we could not find anything nearby. Water was also not available. All sixteen of us were hungry for four days. All the children were suffering from hunger, thirst and heat. We reached Patna on the morning of May 25, then got to Danapur and reached Muzaffarpur at around 10 pm. From 10 am to 3 am, we were waiting for a train or any transportation to Bettiah. There was no arrangement anywhere. In the meanwhile, Irshad lost his life."
Mohammed Pintu denied that his child had undergone any treatment recently. He said that Irshad was healthy, which is why he was travelling. A medical check-up was also conducted before boarding the train. There was no sign of illness. We also asked if his child had a postmortem. Mohammad Pintu replied, "We were hungry and thirsty and desperate to get home. We had 4-5 children with us. One was a 10-day-old child. I have a 2-year-old child. All of them were troubled by hunger. They were crying. For how long could we wait? One had already died which is why we refused for a postmortem."
We requested Mohammad Pintu to give his statement on video. The same has been attached below.
Apart from this, the Ministry of Railways had issued guidelines on May 2, stating that all passengers will be examined before boarding Shramik special trains. If found sick, they will not be allowed to travel. Only those who do not show signs of COVID-19 are permitted to board. Therefore, it is evident that Irshad did not have a fever, trouble in breathing, cough and cold or any other symptoms of the virus.
Case 2
A troubling video of a toddler trying to wake up his dead mother on Bihar's Muzzafarpur railway platform was widely circulated on May 27. According to media reports, the child's mother Arvina Khatoon (23) died of heat, thirst and hunger as passengers were not served food or water inside the train. PIB Fact Check termed the media reports "incorrect" and "imaginary". According to PIB Bihar, Arvina was suffering from an illness before she boarded the train and this was corroborated by her family.
#दावा: वायरल वीडियो में मुजफ्फरपुर स्टेशन पर एक महिला की भूख-प्यास से हुई मौत को दिखाया जा रहा है#factcheck: गलत और भ्रामक है। महिला के पहले से ही बीमार होने की पुष्टि उसके परिवार ने की है। pic.twitter.com/XIsP9c8Esm

— PIB In Bihar 🇮🇳 (@PIB_Patna) May 27, 2020
Fact-check
Alt News had earlier published a detailed report on this case. We spoke with Arvina's family members who were travelling with her on the train — sister Kohinoor and brother-in-law Mohammed Wazir. Both of them said that Arvina did not complain of any illness when they left from Ahmedabad to Katihar. However, she was yearning for water on the train. Kohinoor added that they had visited a doctor for a check-up before they got on the train and the examination found that Arvina was fine. Wazir said the same in a phone conversation with Alt News.
We further spoke with Arvina's father Mohammed Nehrul. He was also contacted by NDTV and told the channel that Arvina could go to Ahmedabad and work "as she was mentally and physically sound."
Arvina's mother said that her daughter wasn't sick and wanted to come back home because the lockdown had rendered her jobless.
Even if we assume that she was suffering from a long-term disease, PIB did not specify the illness which was serious enough to take her life. Moreover, no medical records of long-term sickness were shared. The government also did not conduct a postmortem of the dead body that would've ascertained the cause of death. If the media cannot claim that Arvina died of heat, starvation and dehydration because only an autopsy can determine that, how did it make sense for PIB to assert that she 'did not' die of these reasons?
Furthermore, one of the most important aspects of the story – PIB's claim that Arvina was already ill was made on the basis of a police complaint which carried the thumb impression of Mohammad Wazir. But during a conversation with Alt News, Wazir told that he does not know how to read and write. The complaint was neither written by him nor read out to him before taking his thumb impression, he told us.
Case 3
On May 27, PIB retweeted a tweet from Spokesperson Railways. It was claimed in the tweet that two people who died on trains were both suffering from pre-existing conditions. One person was suffering from paralysis and undergoing kidney treatment and the other 63-year-old was suffering from various diseases.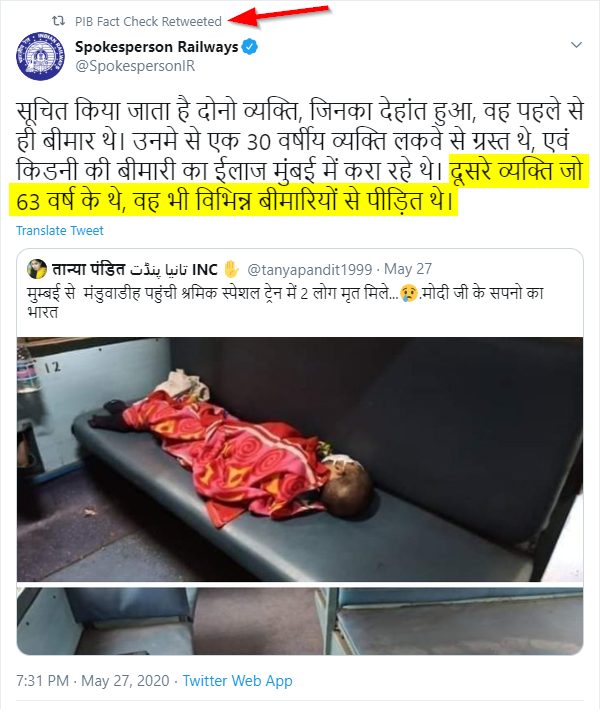 Fact-check
We found some media reports about the cases mentioned by PIB. A May 27 report of Navbharat Times stated that two migrant labourers were found dead in a Sharmik special train arriving from Mumbai to Varanasi's Manduadih. "The deceased Divyang Dashrath (30) was a resident of Badlapur in Jaunpur. He went to Mumbai with his brother Lalmani Prajapati to making a living. During his return home with his brother, his health in Prayagraj deteriorated due to severe heat and hunger. When the train reached Manduadih station, Dashrath's brother tried to wake him up but couldn't."
The report further states that details about the second person could not be found.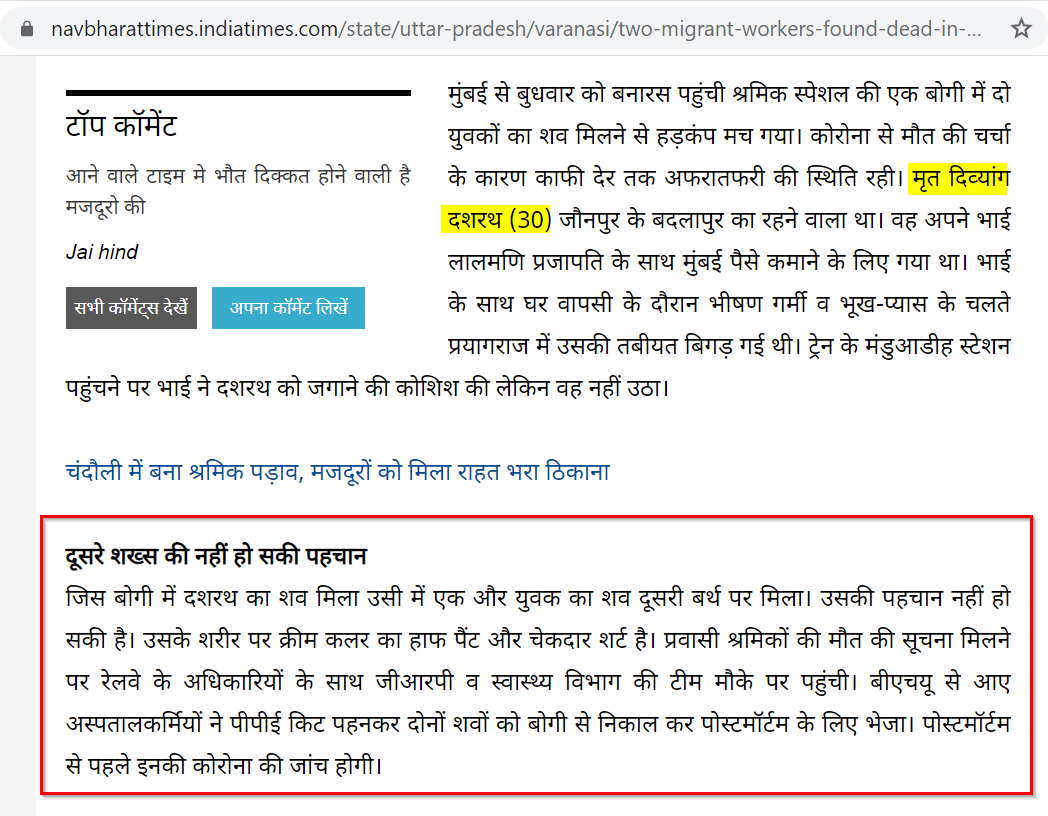 A local news channel made a video on the incident and spoke with the family of the deceased who was differently-abled. In the video, family members say that Dashrath was handicapped since childhood and used to keep sick.
The ID card found in the pocket of the second deceased person appears in this video. According to his Aadhaar card, his name was Ramratan Raghunath Gond and he was 63 years old.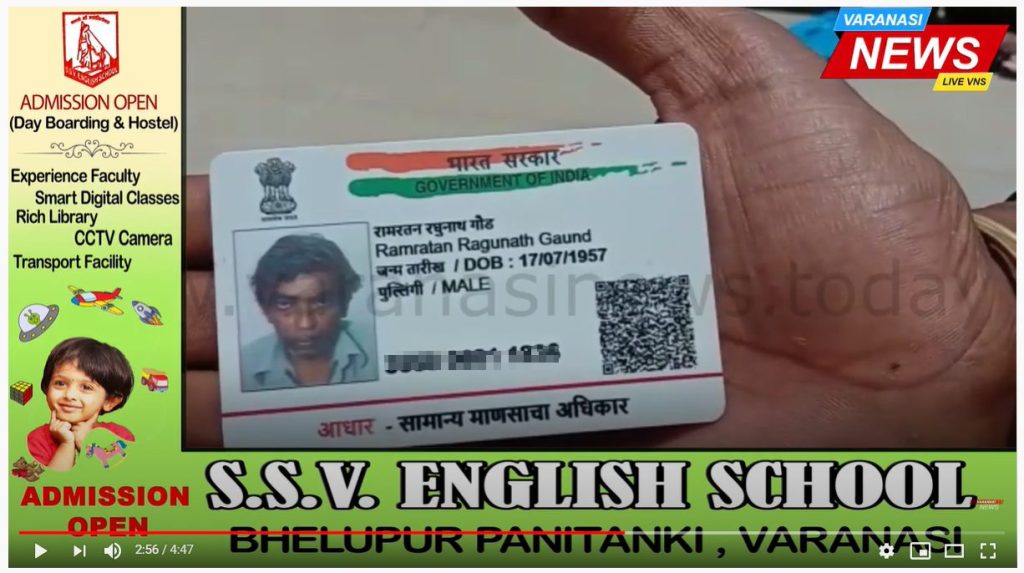 We tried to contact Ramratan's family. Budhu Prasad Yadav, the station in-charge of Manduadih police station, told us that the deceased's body was kept in BHU Varanasi. He was first tested for coronavirus which was found negative. The postmortem revealed that he had a lung infection. When Alt News asked about the copy of the postmortem report, we were told that it had just been sent to the SP.
We got the phone number of Ramratan's family members from the station in-charge. Ramratan's son Rajesh told us that his father was neither previously ill nor was he under any medication. "We received the news of his death on May 28 and were able to collect the dead body on June 1. He was not already ill. He died suddenly. He was alone. If someone was travelling with him, we'd know what exactly happened. We spoke once on the phone when he was on the train. He said he was fine. After this, we kept calling but no one was picking up. He did not have any disease. Not even a blood pressure problem, etc."
Rajesh also gave the above statements on video.
How PIB and Railway Minister Piyush Goyal attempted to build a narrative
As we saw above, PIB Fact Check described the news of the death of the four labourers as misleading and inaccurate. The outlet claimed that all of them were suffering from long-term sickness. But while talking with the family of three of these people, we were informed that they did not have any pre-existing condition. The narrative of previous illness was not only promoted by PIB but also Railway Minister Piyush Goyal. In a tweet on May 29, he claimed that the deaths in the trains were due to pre-existing diseases. He advised that those who have serious medical issues, pregnant women, people above 65 years, and children below 10 years should travel by Sharamik special trains only when extremely important.
मेरी सभी नागरिकों से अपील है कि गंभीर रोग से ग्रस्त, गर्भवती महिलाएं, व 65 से अधिक व 10 वर्ष से कम आयु के व्यक्ति श्रमिक स्पेशल ट्रेनों में बहुत आवश्यक होने पर ही यात्रा करें।

रेल परिवार यात्रियों की सुरक्षा के लिए प्रतिबद्ध है। #SafeRailways

📖 https://t.co/eKsLpqtAW9 pic.twitter.com/p4MZzlIs4q

— Piyush Goyal (@PiyushGoyal) May 29, 2020
We spoke with another aggrieved family. According to a media report, "On May 21, a Shramik express train from Maharashtra reached Barauni on the night of May 25, roaming through many states. The workers alleged that despite diverting to several states for four days, there was no arrangement of food and water in the train." Mohammad Anwar of Katihar, who was returning home from this train on May 21 from Bandra terminal in Maharashtra, died at Barauni junction on Monday evening.
We talked to the people and family members travelling with Mohammed Anwar. Shahbaz, a member of the All India Students Association (AISA), connected us with them. Mohammad Anwar is survived by his wife and four children. His wife told Alt News that she had spoken with Anwar during the journey. She was told that he had eaten sattu while boarding the train but nothing afterwards. The train used to stop at such places where nothing was available and Anwar was forced to drink water from a pond. The news of his death came on May 25, the day of Eid. He was the only earning member of the family. His daughter is yet to be married. The family told us that they haven't received any help from the government.
Nafees, who boarded the train from Bandra with Anwar, informed, "We were wandering here and there for several days before getting on the train on May 21. Money for food and water was also running out. Upon boarding on the train, we were given a little rice and vegetable but nothing afterwards. The train reached Barauni on May 25. From there, I had to change trains and go to Katihar. During the journey, Anwar started feeling dizzy and fell unconscious. He died. The police came, everything was checked. He did not have a single rupee on him. We did not know that he had no money. He did not even ask." Nafees sent us a ticket for the train ride, on which May 21 is mentioned as the date of departure.
Apart from this, another worker Mohan Lal Sharma from Bihar was found dead in the toilet of a Shramik special train. His dead body was found after four days. His nephew said that he did not complain of any sickness during the journey. His postmortem report said that he died due to a stroke.
Expert medical opinion
Alt News contacted Dr Sylvia Karpagam for her medical opinion on the death of several migrant workers travelling in Shramik trains. Dr Karpagam is a specialist in community medicine with over 15 years of experience. She has worked in 'Right to food' and 'Right to health' campaigns. She also supports lawyers to look at postmortem reports in medicolegal cases.
"These deaths of migrant workers in trains cannot have a single reason. The postmortem should include underlying causes and pre-existing conditions as well. Even if some of the 80 people who died have had a pre-existing medical illness, that is just one factor. Even if people had a pre-existing condition, the question is what aggravated the problem which caused them to die on the train. The problem of poor nutrition is already there in the country. This can be seen by our chronic hunger index and this affects the poor migrant workers more than most people and they often do not have reserve stores of energy. During the lockdown, this became worse as we have seen that they have been driven to travel long distances by foot because they had nothing to eat as their incomes were suddenly lost. "On top of food deprivation, you have dehydration due to the long journeys in hot weather. If hydration was ensured, this could have prevented many of the deaths. Some already sick and starving patients could still have been saved if they had good access to water. Dehydration is more quickly deadly that just starvation. These people clearly suffered both. First the heat exhaustion sets in and given the duration of the journey this can easily become a heat stroke. Heatstroke is a medical emergency and can only be handled in good hospitals. This could not have been addressed in the train by anyone but easily prevented by ensuring adequate water supply for everyone at the very least," she said.
Conclusion
The ones most severely affected by the coronavirus pandemic are the people who are financially weak. This section of the society was first forced to walk hundreds of kilometres to reach their native states. When some hope was brought in the form of Shramik special trains, it was embroiled in a network of chaos. The trains became synonymous with hardship instead of respite. News reports of migrant workers suffering from hunger and thirst came pouring in. They were forced to eat pulses and rice soaked in plastic bottles. When reports of workers' deaths came to light, fact-checking by the government's nodal agency blurred the lines between fact-checking and defence of the government with unsubstantiated information. As if misinformation on social media wasn't enough, dedicated fact-checking organisations are forced to invest time in fact-checking such irresponsible 'fact-checks' by the government that downplay the plight of the poor. When the only earning member of a family dies a sudden death, the government cannot shrug responsibility by claiming that he was suffering from a long-term illness. Would sick people, pregnant women, children, the elderly be advised against travelling under normal circumstances? When the situation is clearly abnormal, is it fair for the government to treat migrant workers as if they are travelling on any other usual day? These are the people who were rendered jobless and have been surviving of morsels. The government is responsible for their well being but instead, seems to blame the dead for their 'sickness'.
Donate to Alt News!
Independent journalism that speaks truth to power and is free of corporate and political control is possible only when people start contributing towards the same. Please consider donating towards this endeavour to fight fake news and misinformation.