In an April 10 broadcast, ABP News claimed that confirmed coronavirus cases in India would have reached 8.2 lakh by April 15 had the government not imposed a complete lockdown. The claim was made based on a purported report by the Indian Council of Medical Research (ICMR). ABP News anchor stated that COVID-19 cases in India would have surpassed those in China and Italy if not for the curfew.
BJP Karnataka shared the ABP News broadcast and promoted the same claim about an 'ICMR research'.
Newslaundry published an article stating that the ABP News report is false since ICMR has published no such research. In response, channel anchor Rubika Liyaquat shared a video of Joint Secretary in the Ministry of Health, Lav Agarwal. In the video, Agarwal says that the ICMR did not publish any study but the numbers are based on a satistical understanding of ICMR data. He claimed that the analysis found that the number of cases would have reached 8.2 lakh on April 15 had the lockdown not been imposed.
Fake News Laundry caught lying with its pants down. Dry clean yourself with fact @newslaundry Here's the health Ministry confirming @ABPNews story. Apologise now @newslaundry #DirtyNewsLaundry pic.twitter.com/fxld7z6cN4

— Rubika Liyaquat (@RubikaLiyaquat) April 14, 2020
That same day, ABP News published a report on an "internal assessment" by ICMR. It further stated, "…the foreign ministry additional secretary Vikas Swarup has said that if it wasn't for the lockdown implemented by Prime Minister Narendra Modi then the country would have had the same condition as Italy."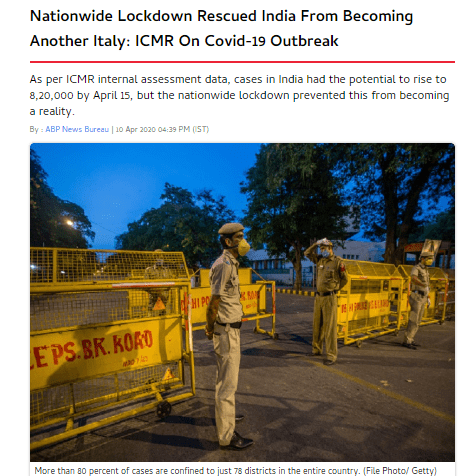 FACT-CHECK
An April 11 report in The Indian Express carried the following statement by MEA Secretary Vikas Swarup – "…without the lockdown, we could have had up to 820,000 cases by 15 April. With the lockdown, we are around 6,000 cases currently." Swarup quoted an 'ICMR study' for the figure. However, according to the report, Health Ministry's joint secretary Lav Agarwal said, "There is no such report. Please understand that if we work collectively and very hard, we will manage the cases. If we make any mistakes, we will be back to the old place where we cannot be called successful." This was the same statement that could be heard in the video of Agarwal shared by ABP News anchor Rubika Liyaquat.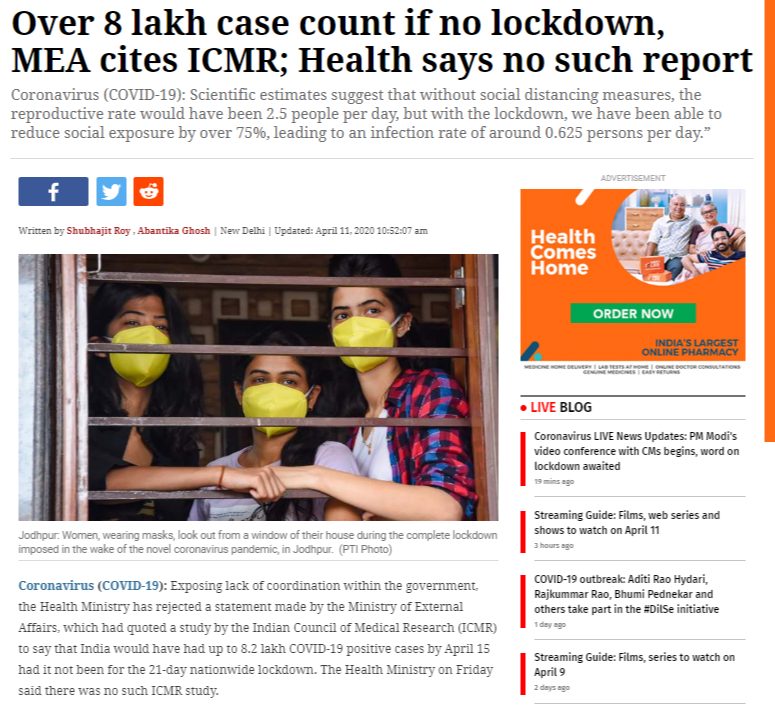 A search on the ICMR website does not throw up any results of a study as quoted by Swarup. Speaking with Alt News, head of ICMR Regional Medical Research Centre Dr Rajnikant said, "ICMR has not published any such study. It is possible that he has given the data based on the several mathematic models published by ICMR."
Therefore, it is clear that Vikas Swarup quoted an ICMR study which was never published by the organisation. His statement was reported as the truth by ABP News without finding out whether such a study exists or not. Newslaundry was not mistaken that ABP News carried a misreport. Ironically, this is clarified via the video shared as Rubika Liyaquat which does the opposite of helping her case.
Since the COVID-19 outbreak in India, several 'research papers' and 'studies' have been doing the rounds on social media. Earlier, a study by Indian-origin scholars of Cambridge University on lockdown protocol that will help flatten the curve was shared as guidelines by the World Health Organisation.
Interestingly, PIB tweeted a chart on April 11 which also states that the number of confirmed cases of coronavirus would have reached 8.2 lakh had the government not imposed a lockdown. PIB claimed that its source is the Ministry of Health and Family Welfare. However, the joint secretary of the ministry Lav Agarwal had already stated that no such report has been published and the data is based on 'satistical analysis or understanding'. PIB is yet to provide a methodology for its chart which can be examined to derive its accuracy.
If India had not implemented either containment or nationwide #lockdown – case growth by 41%, 8.2 lakh #COVID2019 cases by Apr 15

Containment measures but no lockdown – 1.2 lakh cases by Apr 15

Since we have acted – 7,447 cases on Apr 11

– statistical analysis by @MoHFW_INDIA pic.twitter.com/SSbTM6Dg55

— PIB India 🇮🇳 #StayHome #StaySafe (@PIB_India) April 11, 2020
ABP News broadcast viral
The misleading broadcast aired by ABP New was shared by BJP IT Cell head Amit Malviya, drawing over 3,000 retweets.
Corona infections would have crossed 8.20 lakh in India by 15 April if there was no lockdown here: ICMR Research.

The number of Corona positive patients is around 6,400 as on 10 April. #IndiaFightsCorona pic.twitter.com/GGjq4UE7UT

— Amit Malviya (@amitmalviya) April 10, 2020
BJP Karnataka General Secretary Shobha Karandlaje also tweeted the broadcast.
#CoronaVirus infections would have crossed 8.20 lakh in India by 15 April if there was no lockdown here: ICMR Research.

The number of Corona positive patients is around 6,400 as on 10 April.

PM Modi Ji handling #Covid19 effectively.#IndiaFightsCorona pic.twitter.com/70ScNVDWLo

— Shobha Karandlaje (@ShobhaBJP) April 10, 2020
The clip is viral on Facebook where it was shared by Ahmedabad BJP Mahila Morcha. It has also been widely shared on Twitter.
Donate to Alt News!
Independent journalism that speaks truth to power and is free of corporate and political control is possible only when people start contributing towards the same. Please consider donating towards this endeavour to fight fake news and misinformation.