Following the release of 'The Kerala Story', television actress Devoleena Bhattacharjee has been targeted by social media users over her marriage with Shahnawaz Sheikh. The actress married Sheikh, who was her gym trainer, in December 2022.
While sharing pictures of the couple, social media users have written that Devoleena played a supporting role in 'The Kerala Story'. In this context, the viral posts say, "If a Muslim is rich then he is a son-in-law; if a Muslim is poor then it is love jihad. For example, the name of the husband of Devoleena Bhattacharjee, the supporting actress of the film The Kerala Story, is Shahnawaz Shaikh!!".
Wasiuddin Siddique, a journalist at Salar-E-Hind, shared an image of Devoleena with her husband Shahnawaz and made the above-mentioned points on Twitter. The tweet has close to 3,00,000 views and has been retweeted over 1,600 times.
मुसलमान अगर पैसे वाला है तो दामाद है मुसलमान अगर गरीब है तो लव जिहाद है !!
उदाहरण फिल्म द केरला स्टोरी की सहायक अभिनेत्री देवालिना भट्टाचार्य के पति का नाम शहनवाज शेख है !! pic.twitter.com/kb15R7q3s3

— Wasiuddin Siddiqui (@WasiuddinSiddi1) May 17, 2023
Another Journalist named Akhilesh Tiwari, who previously with the ABP Group, shared the same image and said Devoleena was a supporting actor in 'The Kerala Story'. The tweet has over 2,20,000 views and has been retweeted over 600 times.
"फिल्म द केरला स्टोरी" की सहायक अभिनेत्री देवालिना भट्टाचार्य के पति का नाम शहनवाज शेख है… इस फ़िल्म को मैंने नही देखा है लेकिन हमारे कुछ मित्रों ने इसे देखा है जिनके मुताबिक़ फ़िल्म में कुछ आपत्तिजनक दृश्य ऐसे हैं जिसे अपनी बहू/बेटियों के साथ नहीं देखा जा सकता है..
फ़िल्म के… pic.twitter.com/5kc3HmfJdl

— Akhilesh Tiwari (अखिलेश तिवारी) (@Akhilesh_tiwa) May 18, 2023
Several other accounts on Twitter and Facebook shared these images with similar claims which got a lot of traction over the past fortnight. The screenshots of the some of those posts can be seen in the gallery below:
This slideshow requires JavaScript.
Fact Check
First, we looked up the full cast list for the film The Kerala Story on IMDb. The list does not mention the name of Devoleena Bhattacharjee.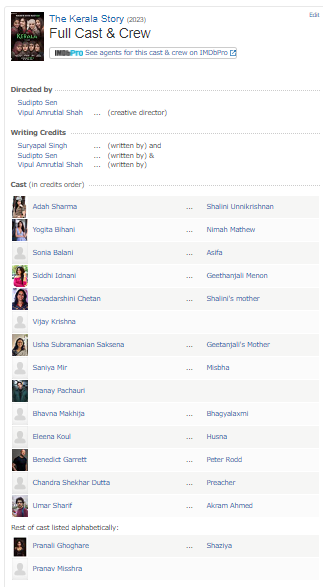 A keywpord search led us to a post by Devoleena Bhattacharjee herself. On Twitter, she replied to Wasiuddin Siddique. She said "Stop talking nonsense. Let's not talk about money here. I understand simple language because I am independent, financially & mentally & the reason I married of my choice without damn conversion. What do you even know about us?". She also denied any connection with the film 'The Kerala Story' and called upon the journalists to fact-check their claims. She said, "i wish i could have been a part of kerela story. But my bad i wasn't there". (sic)
And one more thing i wish i could have been a part of kerela story. But my bad i wasn't there. And you call yourself PATRAKAAR ? Fact check karna bhool gaye yaa attention paane ka naya tarika dhoondh nikaala hai.

— Devoleena Bhattacharjee (@Devoleena_23) May 19, 2023
Therefore, the claims on social media that suggest that Devoleena Bhattacharjee acted in 'The Kerala Story' as a supporting actress are entirely false and baseless. The actress herself has refuted this. the film's cast list also does not mention her.
Vansh Shah is an intern at Alt News.
Donate to Alt News!
Independent journalism that speaks truth to power and is free of corporate and political control is possible only when people start contributing towards the same. Please consider donating towards this endeavour to fight fake news and misinformation.