A video from Newasa in Ahmednagar district, Maharashtra is currently being shared on social media with the claim that Muslim youths pelted stones at a Ram Navami rally and chanted "Pakistan Zindabad" slogans. The voiceover in the video alleges that Hindus assaulted "jihadis" for shouting pro-Pakistan slogans.
A parody Twitter handle that goes by the name "Maha Vinash Aghadi", which literally means "Maharashtra destruction alliance", was among those who shared the video.
"Pakistan Zindabad" being chanted and stone pelted, during a Ram Navami procession in Nevasa, Ahmednagar, Maharashtra.

Listen to the names of those arrested. 👇 pic.twitter.com/zu8zVNp14p

— Maha Vinash Aghadi ᴾᵃʳᵒᵈʸ (@MVAGovt) April 15, 2022
An identical video with the same communally-charged allegations was also tweeted by Twitter users Treeni, Sharansh Guha and Gopi.
The video is also being shared on different social media platforms including Facebook. A right-wing propaganda page "पंच तत्व" too posted the video with similar claims.
Fact-check
It is noteworthy that the claim – "pro-Pakistan slogans were raised by Muslims" – is made by the narrator and the audio of the Ram Navami rally hasn't been played. This is the first 29 seconds where we can also spot the logo "हिंदुत्व वार्ता" on the top right corner. To give authenticity to the claim, "breaking news" slugs run throughout the video.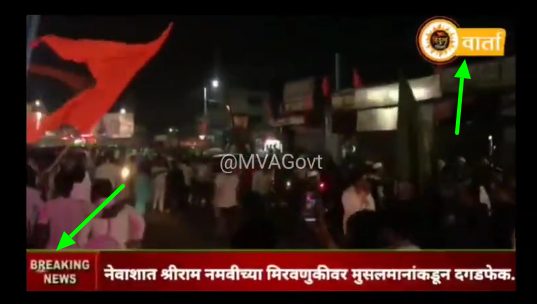 The remaining 51 seconds of the video were lifted from a video report by Youtube channel "The Column – Crime".
Alt News reached out to Ahmednagar Superintendent of Police (SP) Manoj Patil. He said, "A large crowd had gathered during the rally. Some of our policemen were also present at the spot. It is true that friction was sparked after some youths from the Muslim community waved a green coloured flag when the Ram Navami rally was passing from the state transport stand to Kholeshwar Ganpati Temple. But our probe has found that no such slogan of Pakistan Zindabad was raised."
The officer said that despite hundreds of youths recording videos of the rally, the police could not find any video of pro-Pakistan slogans being chanted during the incident that took place on the evening of April 9 in front of Kismat Tea Center.
Based on the complaint lodged by head constable Tulsiram Gite on April 10, Newasa police arrested eight suspects from the Muslim community. They have been charged with rioting, unlawful assembly, and using criminal force to deter a public servant from performing his duty. Police have also booked Hindu youths for holding a rally sans permission.
Gite, who was also an eyewitness to the incident, told Alt News that neither "Pakistan Zindabad" slogans were shouted, nor was there any stone-pelting. He said, "After learning about the Ram Navami rally being taken out sans permission, we reached the spot and were accompanying the crowd of people. A group of Muslim youth was standing near Kismat Tea Center and one of them was waving a green coloured flag. I asked him not to do so and he got into argument with me. But soon he, along with his accomplices, left. This argument caught the attention of Hindu youths attending the rally. They suspected that a 15-year-old boy, Altaf Bagwan, was an accomplice of the suspects and began assaulting him. But Altaf had nothing to do with the Muslim youth who raised a green flag."
Kishor Pathade, a resident from Ahmednagar who was an eyewitness to the incident, further informed, "I, along with HC Gite, Akshay Tekade, Altaf Pathan and Jaideep Jamdar saved the minor from the assault. We also sustained minor scratches."
Hence, a video of a Ram Navami rally taken out on the evening of April 9 in Newasa, Ahmednagar district, Maharashtra, is viral on social media. It has been shared with the false claim that Muslim youth chanted "Pakistan Zindabad" when the rally was passing. There is no video evidence of the same and moreover, the police has denied that pro-Pakistan chants were raised during an altercation between two communities.
Donate to Alt News!
Independent journalism that speaks truth to power and is free of corporate and political control is possible only when people start contributing towards the same. Please consider donating towards this endeavour to fight fake news and misinformation.