"I'm sad you are alive", is one among the many messages that is addressed to NDTV India anchor Ravish Kumar on a WhatsApp Group. On September 22nd, Ravish Kumar had put up a post along with multiple screenshots on his Facebook page alleging that a group of people repeatedly add him to a specific WhatsApp group for the sole purpose of abusing him. These screenshots were from the WhatsApp group called "ऊँ धर्म रक्षति रक्षित:". Ravish Kumar stated in his post that even if he exits the group, he's added back to the group after certain political events and abusive language is used to target him.
Based on the screenshots posted by Ravish, we tried to track down the people targeting him and this is what we found.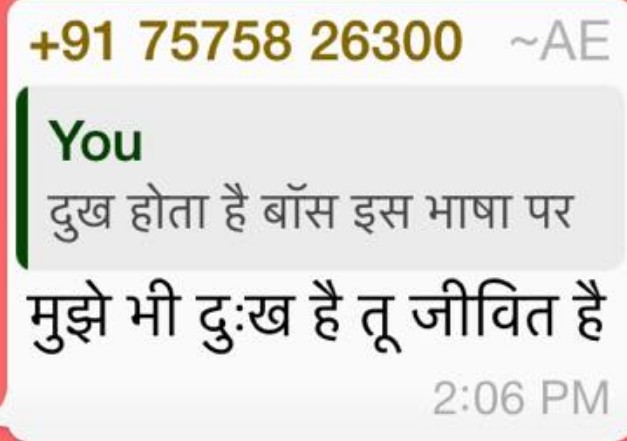 The above screenshot has been taken from Ravish's post which shows a person with the number "7575826300" stating, "मुझे भी दुःख है तू जीवित है (I'm also sad that you're still alive)". We looked up this phone number and found that it has been advertised multiple times by an export agency called Anjaney Exports.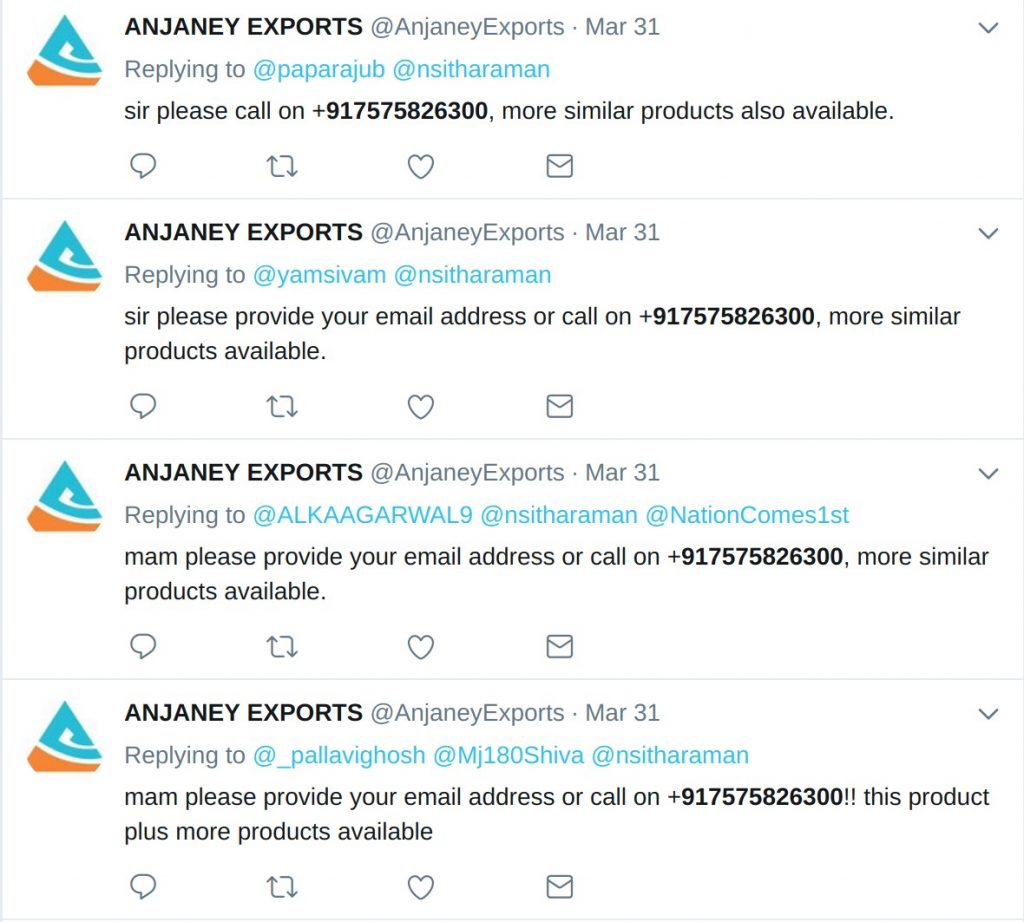 Considering that it is an export agency, we looked for the company Anjaney Exports on Indiamart.com and found the following information.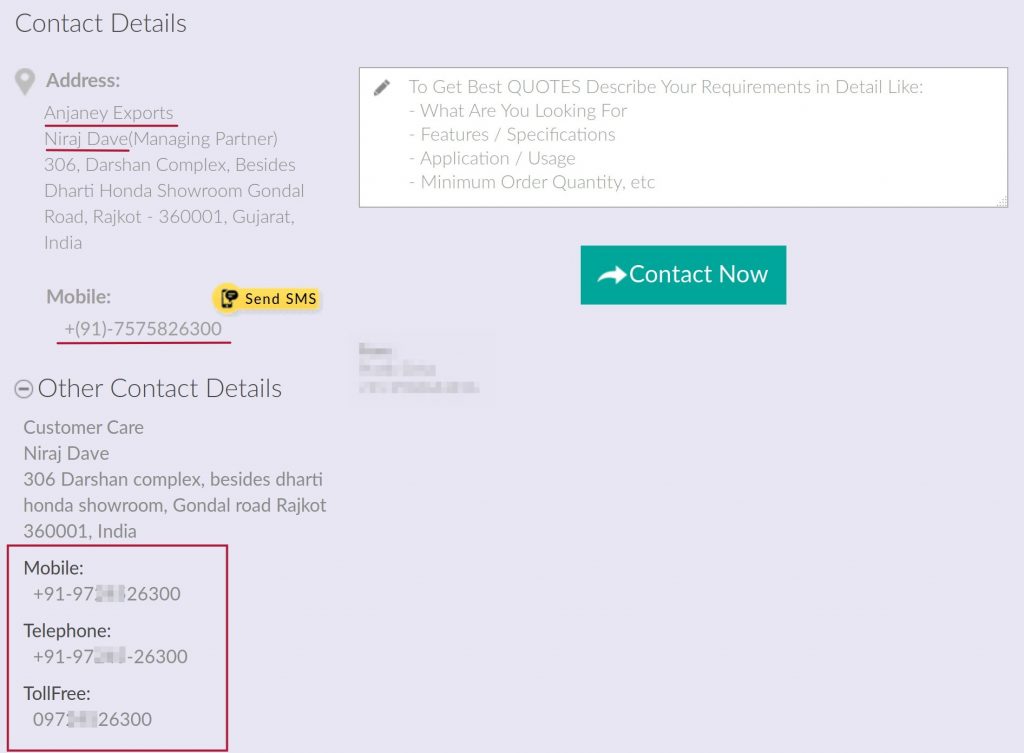 As can be seen in the image above, the number "7575826300" from the WhatsApp account matches the Tweets shown earlier from the Anjaney Exports account and also matches the details in this IndiaMart entry. Phone numbers on IndiaMart are verified via OTP (One Time Password). The names and address have to be put in manually by the entity who wants to be featured in IndiaMart. That would indicate that the Anjaney Exports entry along with the phone numbers and address were manually entered by the person managing the account which in this case would be Niraj Dave whose name is listed as Managing partner.
The IndiaMart entry has another phone number and we looked it up on Truecaller. While the first phone number isn't masked in this post because it is already available in public domain, we have masked the second phone number for the sake of the person's privacy.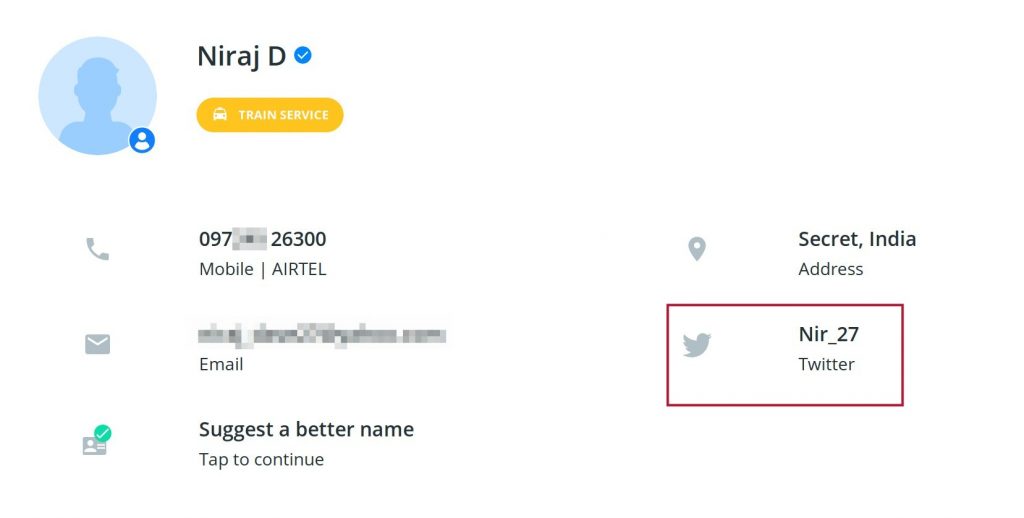 This Truecaller entry also shows that this person's Twitter handle is "Nir_27". Again, this is a verified Truecaller profile as indicated by the blue tick mark. Further, a tweet by Nir_27 account confirms that the Niraj Dave handling Anjaney Exports is the same as Niraj Dave handling the Nir_27 Twitter account.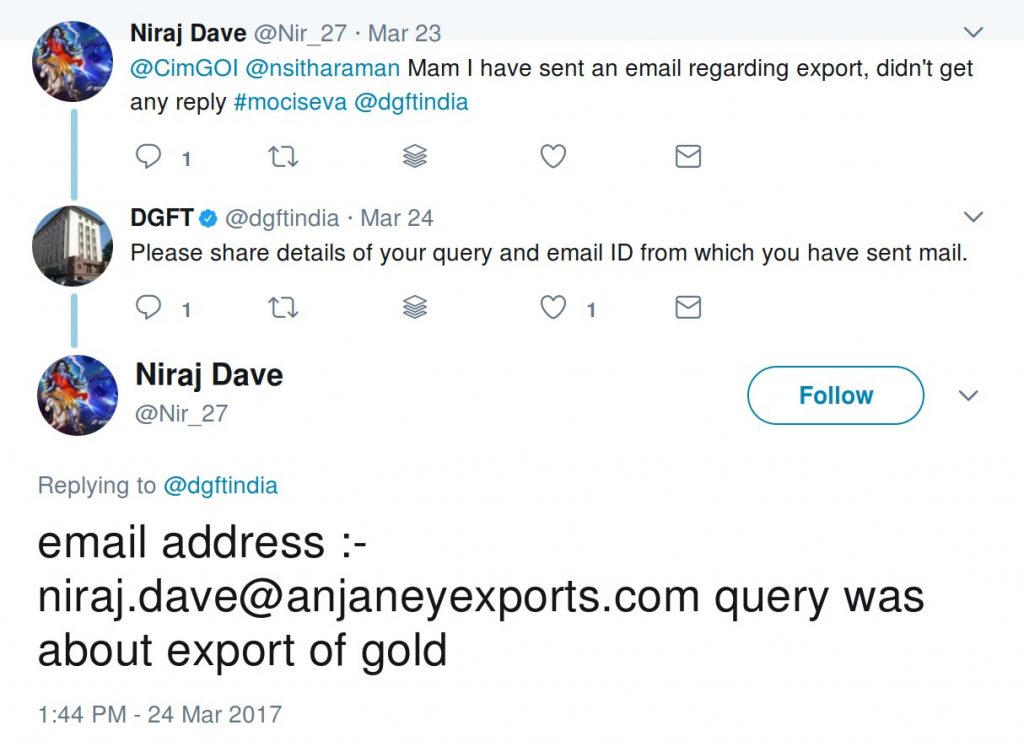 We looked up the Nir_27 Twitter profile and it is followed by none other than the Prime Minister of India.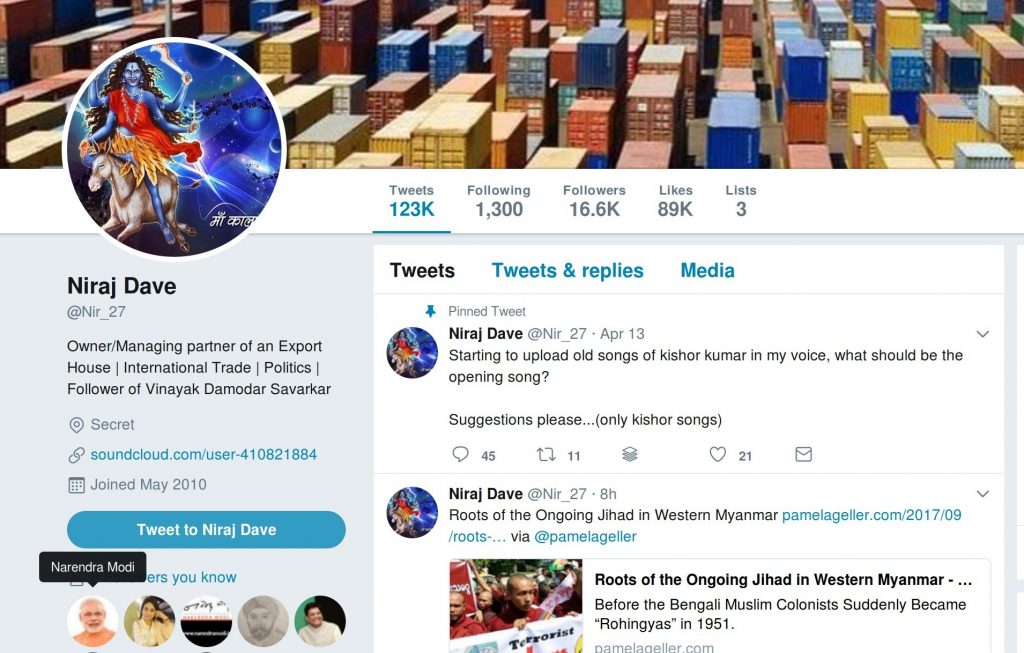 The following 2012 tweet indicates that Niraj Dave is also close to other BJP leaders like Subramanian Swamy.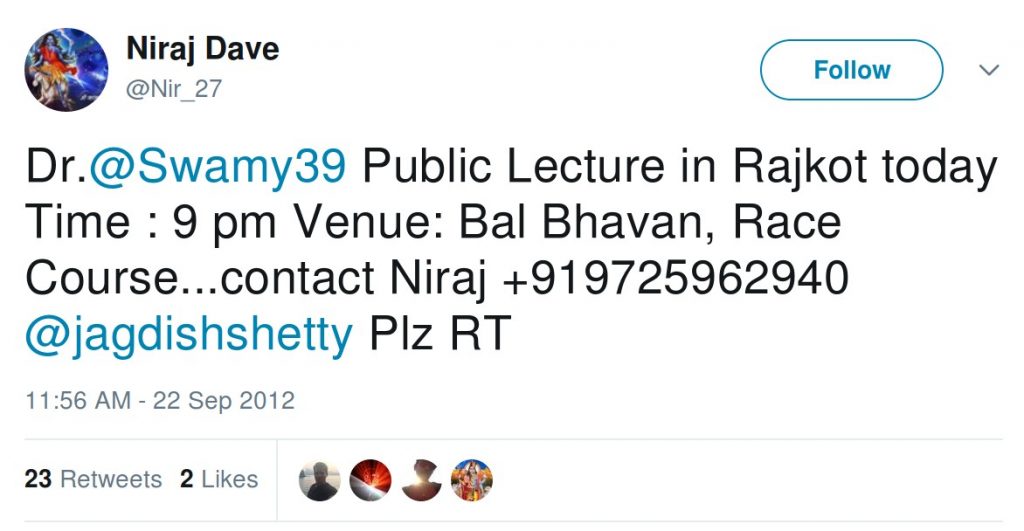 Some of the other messages sent by Niraj Dave on this group can be seen below.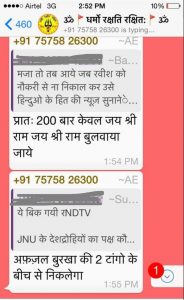 Other than Niraj Dave, we also investigated one of the Admins of the WhatsApp group who goes by the name Akash Soni.

The WhatsApp profile image is a picture of him with Nirmala Sitharaman.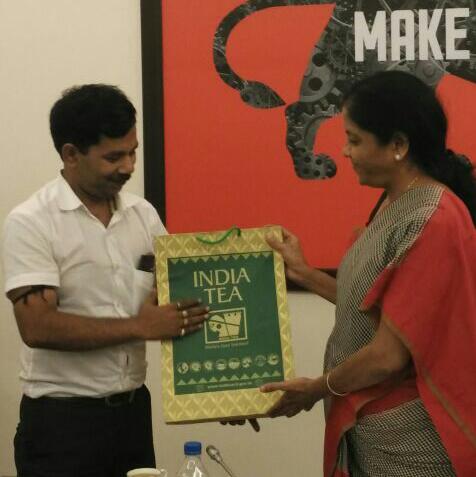 Infact, Akash Soni's Facebook profile and personal page has many more pictures of him with various BJP leaders.

Akash Soni has also posted private numbers of multiple journalists like Barkha Dutt, Ravish Kumar, Rajdeep Sardesai and Abhisar Sharma publicly on his Facebook timeline.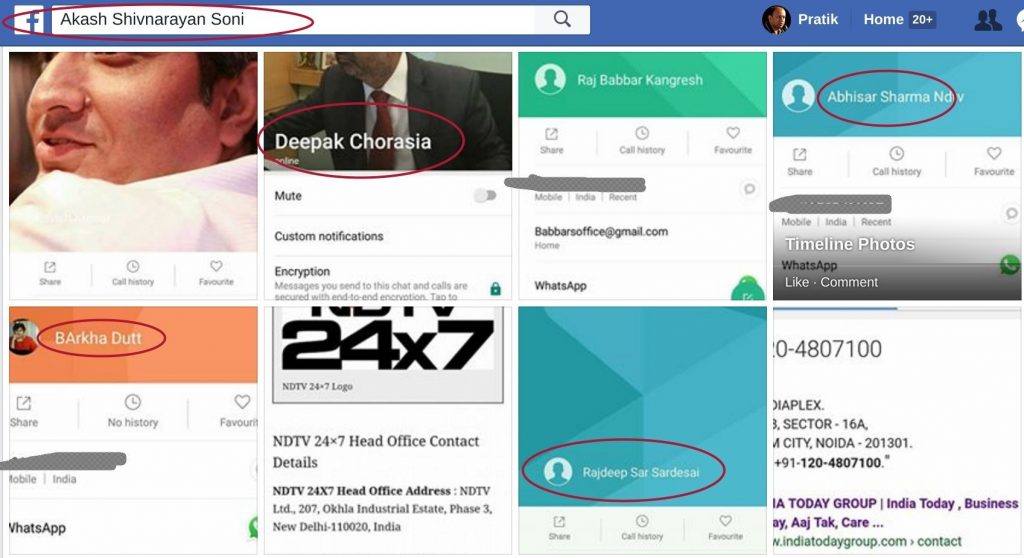 This WhatsApp group also has Nikhil Dadhich who is followed by PM Modi and had celebrated Gauri Lankesh's murder by tweeting – "A bitch died a dog's death".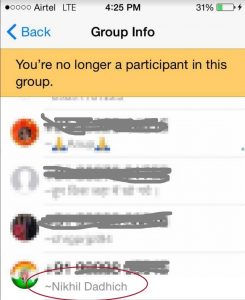 Alt News had recently exposed how BJP National IT Cell head Amit Malviya had put out an edited video clip of Ravish Kumar's speech to defame him. Earlier, a person unrelated to Ravish Kumar was portrayed as his sister who's charged with a corruption case. Independent journalism continues to scar those who are in power and their supporters.
Donate to Alt News!
Independent journalism that speaks truth to power and is free of corporate and political control is possible only when people start contributing towards the same. Please consider donating towards this endeavour to fight fake news and misinformation.