Social media was abuzz with the claim that the Aligarh Muslim University (AMU) has discriminated against a Hindu student on religious grounds. The allegation is that the university has discriminated against a Hindu student in the process of admission for the Master of Law (LLM) course. The student, who was not allowed to sit for the LLM entrance examination, accused the university of religious prejudice.
Prashant Patel Umrao, who has been caught spreading fake news in the past, tweeted that the student was not allowed to sit for the exam because he was wearing a 'kalawa' or the sacred thread. Umrao's tweet has been retweeted over 3200 times already.
A Hindu LL.M. student from AMU is denied from examination because he was wearing Kalawa on his hand. Till last year Hindu students in AMU were denied from food in day time during #Ramazan when I raised it.

— Prashant Patel Umrao (@ippatel) June 22, 2018
Founder of uttarpradesh.org, Anil Tiwari (@Interceptors) tweeted that the student had approached the police after he was allegedly discriminated against.
Aligarh : A student of LLM who has कलावा on his hand denied permission to give LLM exams in AMU. Student has gone to SSP @aligarhpolice . cc @Uppolice

— Anil Tiwari (@Interceptors) June 22, 2018
AMU denies allegations, calls them baseless
Alt News contacted the law department of AMU which strongly refuted the allegation and said that the student was disallowed from appearing for the examination as he failed to fulfill the eligibility criteria. According to university rules, only those candidates who have secured 55% and above in the LLB will be eligible for admission to the LLM course.
Speaking to Alt News, Professor Zaheeruddin, Dean of the Law Department at AMU said, "The allegation is completely baseless. We disallowed the student from appearing because he did not fulfill the eligibility criteria for the course. A minimum of 55% in LLB is required for the LLM course, while this candidate had scored 51.64%. The accusation that we discriminated him because he is Hindu is completely false. We did not even ask him his name. AMU does not discriminate among students on the basis of religion."
Alt News was able to access the application form of the candidate which revealed that the candidate's score at the undergraduate level did not meet the eligibility criteria. To protect the privacy of the said candidate, we have not reproduced a copy of his application form here.
The university had put up a list of candidates on its website who were deemed ineligible for the entrance exam. The list contained 16 names, out of which some candidates are Hindu and the other are Muslim.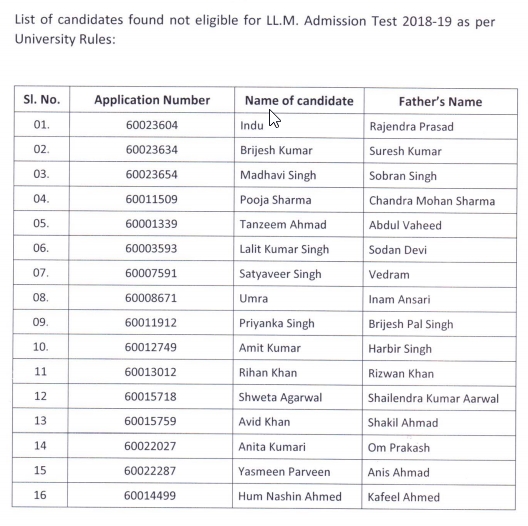 Alt News contacted the candidate in question who stuck to his version of events. "I checked online and saw that my admit card is not there. I called the toll free number and was told to collect it from the law department. When I went there, the staff there was dismissive. I was asked my name and then they asked me to leave. They were rude to me, and they kept staring at the 'kalawa' (sacred thread) on my hand. If I was ineligible for the exam as they say, why was my application accepted and my fees submitted? They could have put up a list in college if my form had been rejected. I have no personal agenda here, nor am I associated with a political party or movement", he said in his defense.
Apart from the controversy surrounding the portrait of Mohammad Ali Jinnah, Aligarh Muslim University has repeatedly been in the eye of the storm in recent times.
In May 2017, it was alleged that food was not being served to non-Muslim students in hostels during Ramzan. This allegation which had been made by the same Prashant P Umrao turned out to be malicious and false.
Recently in May 2018, a social media rumour had gone viral which claimed that 'anti-national' slogans had been chanted by AMU students. This too turned out to be a case of mischief- no slogans endorsing secessionism from India were raised on campus as alleged.
Originally founded in 1875 by Syed Ahmed Khan as the Mohammedan Anglo-Oriental College, AMU due to its perceived Muslim character continues to be at the centre of controversies.
Donate to Alt News!
Independent journalism that speaks truth to power and is free of corporate and political control is possible only when people start contributing towards the same. Please consider donating towards this endeavour to fight fake news and misinformation.