A video of a group of Muslim youth putting up posters threatening Yati Narsinghanand Saraswati is making rounds on social media. The men in the video can be seen calling for the beheading of the priest through inflammatory slogans like 'Sir tan se juda'. Several social media users and media channels claimed that this clip is from a recent incident in Jaipur.

Union Minister and BJP leader Gajendra Singh Shekhawat tweeted the video, alleging that posters calling for a beheading were put up in Jaipur, while the police were nowhere to be found. (Archived link)
गहलोतजी आप किस मिट्टी के बने हैं?

राजधानी जयपुर में "सर तन से जुदा" करने की धमकी पोस्टर लगाकर खुलेआम दी जा रही है और पुलिस का कहीं अता-पता नहीं है।
1/2 #Rajasthan pic.twitter.com/ieHckKEjAF

— Gajendra Singh Shekhawat (@gssjodhpur) July 19, 2022
Times Now Navbharat also tweeted the visuals and claimed that a new video of individuals raising the 'Sir Tan Se Juda' (beheading) slogan surfaced in Jaipur. The channel added that BJP MP Gajendra Singh Shekhawat was the one who shared the footage. (Archived link)
#BREAKING | जयपुर में 'सर तन से जुदा' नारे का नया वीडियो आया सामने, #BJP सांसद @gssjodhpur ने वीडियो किया शेयर @SwetaSri27 @iamdeepikayadav #UdaipurTerror #Rajasthan #Jaipur pic.twitter.com/oKaobblF7d

— Times Now Navbharat (@TNNavbharat) July 19, 2022
India TV aired the clip, calling it the aftermath of the murder of tailor Kanhaiya Lal in Udaipur. Along with this, the outlet tweeted, "Threats of Kanhaiya Lal part two in Rajasthan. A new 'message' by beheaders?" (Archived link). The news channel also reported on the arrest of the men who had raised the objectionable slogan. Moreover, it claimed that the accused had been circulating such provocative videos for the last three to four days.
राजस्थान में कन्हैयालाल पार्ट टू की धमकी

सर तन से जुदा वालों का नया 'मैसेज'आ गया ?#KanhaiyaLalMurder #Udaipur pic.twitter.com/y71MABBun3

— India TV (@indiatvnews) July 18, 2022
Pakistani-Canadian columnist Tarek Fatah also tweeted this video. However, Fatah's post did not mention where the footage was from or when the incident occurred. (Archived link)
Watch a group of Indian Muslims threatening to behead anyone they believe has insulted Prophet Muhammad.
pic.twitter.com/n5L2sUVD5e

— Tarek Fatah (@TarekFatah) July 22, 2022
This footage is also widespread on Twitter and Facebook.
Fact-check
We noticed that the official handle of the Jaipur Police replied to Union Minister Gajendra Singh Shekhawat's tweet, clarifying that the viral clip is from April 2021. In other words, the footage was taken from an incident that had occurred over a year ago. The police also stated that appropriate action had been taken against the accused.
कुछ असामाजिक तत्वों द्वारा जयपुर घाट गेट बाज़ार में एप्रिल २०२१ विडीओ बनाकर वाइरल करने कि कोशिश की गयी है। उन पर नियमानुसार कार्यवाही की गयी।
यह विडीओ समाज में धार्मिक द्वेष,नफ़रत फैलाता है।अतः इस विडीओ को फ़ॉर्वर्ड करेगा वह भी आपराधिक कृत्य के लिए ज़िम्मेदार होगा।
जयपुर पुलिस

— Jaipur Police (@jaipur_police) July 19, 2022
Issuing a statement on this matter, DCP (North) Paris Deshmukh, confirmed that the video was indeed a year old. He added that the appropriate action had already been taken against the individuals featured in the clip. At the end of his statement, DCP Deshmukh made an appeal to social media users to not circulate the misleading video. He also ensured that strict action will be taken against those who were found sharing it.
Using this as a clue, Alt News performed a keyword search on Twitter. This led us to a tweet by a user named Mota Bhai, in which he shared the same video in April 2021. This confirms that the clip had already been posted online last year.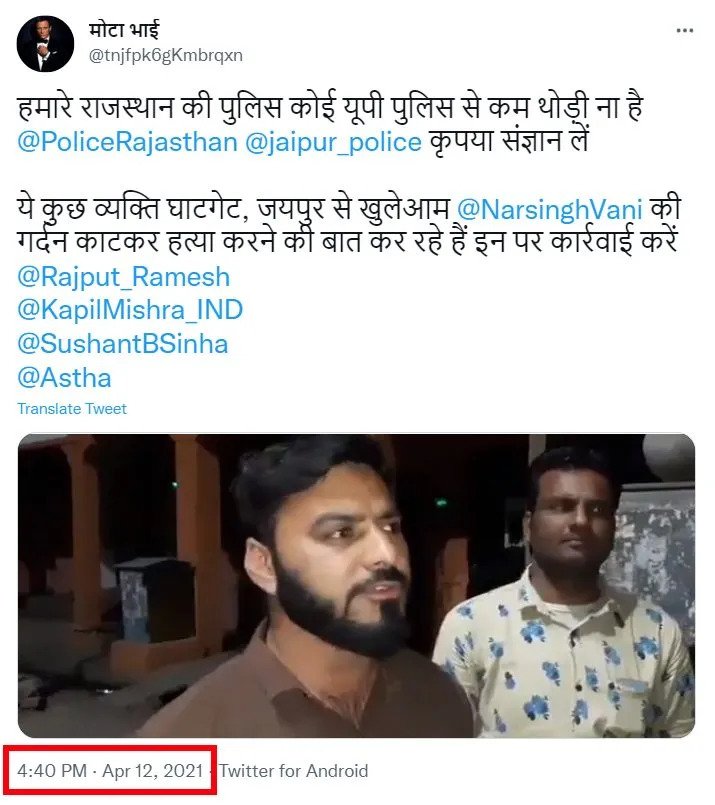 Gajendra Singh Shekhawat later issued a tweet conceding that the viral clip was old. Lokesh Sharma, OSD to Rajasthan Chief Minister Ashok Gehlot, quote-tweeted the post, requesting social media users not to spread misinformation by sharing old videos.
अच्छा लगा, वीडियो पुराना मानकर सच्चाई तो स्वीकार की.. और रही बात राज्य सरकार के तत्काल कदम की तो ऊपर पहले ही बताया जा चुका है कार्रवाई की गई थी। लेकिन इसे आप द्वारा आज शेयर करने के पीछे की मंशा की जानकारी अभी भी नहीं मिली है।
विनम्र आग्रह है पुराने वीडियो शेयर करके भ्रम न फैलाएं। https://t.co/7X4nfW9SSw

— Lokesh Sharma (@_lokeshsharma) July 19, 2022
The Rajasthan Police arrested the three accused after the recent cycle of the clip doing rounds on social media. Moreover, police personnel instructed social media users not to circulate such material, which could potentially disturb the law and order situation in the state. The police also reiterated that strict legal action will be taken against those found sharing such content.
To sum it up, media channels and several social media users, including Union Minister and BJP leader Gajendra Singh Shekhawat, falsely circulated a video from 2021 as a recent incident.
Donate to Alt News!
Independent journalism that speaks truth to power and is free of corporate and political control is possible only when people start contributing towards the same. Please consider donating towards this endeavour to fight fake news and misinformation.