98111XXXXX पर प्रशांत भूषण को, 98115XXXXX पर रविश को, और 82830XXXXX पर सिद्धू को भारत विरोध के लिये बधाई दें This message was posted by a Facebook user Koushal Mishra, who leaked the phone numbers of lawyer Prashant Bhushan, journalist Ravish Kumar and Congress leader Navjot Singh Sidhu. These three public figures have been targeted incessantly on social media since the Pulwama terror attack which killed over 40 CRPF personnel.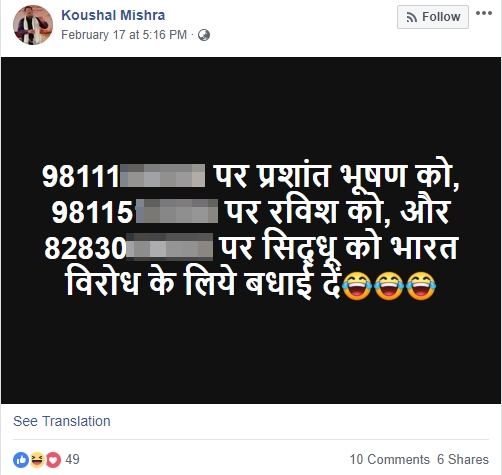 Koushal Mishra is no ordinary social media user. He is the Head of the Department of Political Science at the Banaras Hindu University (BHU). That has however not prevented Mishra from putting out phone numbers of Bhushan, Kumar and Sidhu in the public domain, encouraging trolling, abuse and threats by suggesting that they be "congratulated for opposition to India".
Mishra is no stranger to controversy. He was arrested in 2014 on the charge of instigating BJP workers to attack AAP leader Somnath Bharti. He was released shortly after.
Mishra was in the news again in 2017, when MA political science students were asked in the exam to "write essays on the "nature of the GST [Goods and Services Tax]" in Kautilya's book Arthashastra and the role of Manu as the "first Indian thinker of globalisation".
Alt News skimmed through Prof Mishra's Facebook profile, and apart from the post exposing phone numbers of public figures, there were a number of misleading posts.
Misinformation through Mishra's Facebook account
Fake quote ascribed to Congress leader on Pulwama attack
A quotation attributed to Congress party spokesperson Priyanka Chaturvedi has been circulated on social media in the aftermath of the Pulwama terror attack. According to this quote, Chaturvedi has said, "फौजी मरते है तो मरने दो उनको पैसे भी तो मिलते हैं हमारी कांग्रेस फौजियों से ज़्यादा मेहनत करती है हमारी तारीफ़ जनता क्यों नहीं करती" (If jawans are dying let them die, they get money for it. Our Congress works harder than army men, why dont people praise us- translated). Koushal Mishra is among those who shared this quote.
The quote attributed to Priyanka Chaturvedi and circulated on social media by Koushal Mishra and others, is fake. In a conversation with Alt News, Chaturvedi said, "This (quotation) is fake. I am sick of these fake Facebook posts."
Photo of PM Modi taking dip shared with misleading claim
In January 2019, Mishra posted photos of Prime Minister Narendra Modi with the claim that they were taken at Haridwar where Modi took a dip in the Ganga.
Alt News had found that these photos were taken in 2004 when then Gujarat CM Narendra Modi had taken a dip in the Shipra river at Ujjain during the Ujjain Simhastha.
On another occasion, Mishra had posted a screenshot of Prashant Patel Umrao's tweet wherein he made the ludicrous claim that over 60 public figures are paid from Rs 2-5 lakh a month to write against PM Modi. Koushal Mishra also has a page on Facebook where he posts regularly. The content is often false and inflammatory.
Donate to Alt News!
Independent journalism that speaks truth to power and is free of corporate and political control is possible only when people start contributing towards the same. Please consider donating towards this endeavour to fight fake news and misinformation.To make an instant donation, click on the "Donate Now" button above. For information regarding donation via Bank Transfer/Cheque/DD, click here.