"It seems Hardik has more of Nehru's DNA, contrary to what @shaktisinhgohil claimed," tweeted BJP's IT cell head Amit Malviya along with a collage of pictures of Jawaharlal Nehru with different women. Malviya seems to be offended by these nine pictures that led him to make insinuations linking Hardik Patel's alleged sex CD to Nehru's DNA. Let us take a closer look at these pictures to understand their context.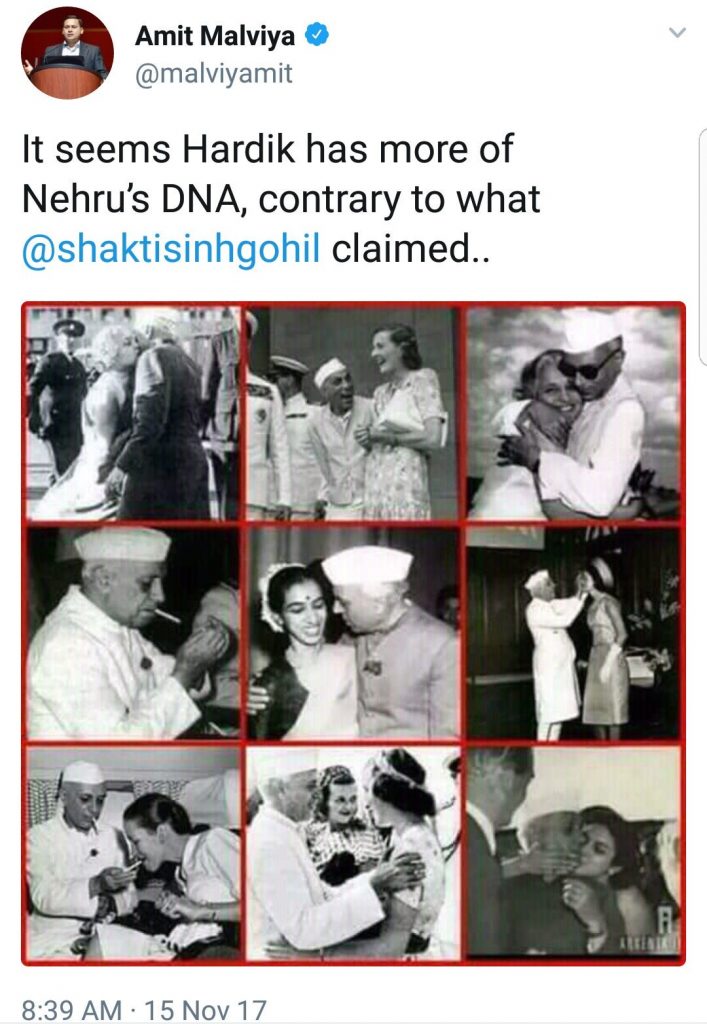 This is not the first time that these pictures of Nehru with women have found their way to social media. These published pictures that have been in public space for years are often used by BJP supporters to portray Nehru as a womanizer.
Pic 1:
The woman giving Nehru a peck on his cheek in full public view is none other than his sister Vijaylakshmi Pandit. In 1949, Pandit was India's ambassador to the United States. In the picture, she is seen as welcoming her brother on his state visit to the US.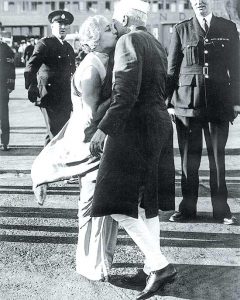 Pic 2:
This is a picture of Nehru sharing a lighter moment with Edwina Mountbatten in public.
Pic 3:
Here is Nehru's sister Vijaylakshmi Pandit once again. The picture is of the time when she was the Ambassador to Russia and is being received by her brother at Delhi Airport.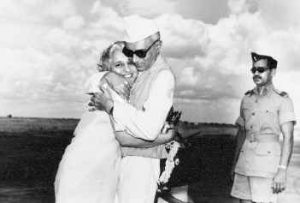 Pic 4:
Nehru is seen as smoking here. We are unclear what prompted Malviya to link his smoking with Hardik Patel's DNA.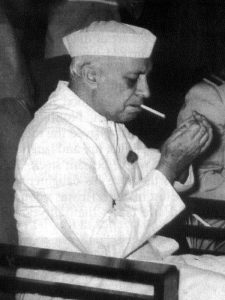 Pic 5:
This is a picture of Nehru congratulating Mrinalini Sarabhai after the Manushya performance in Delhi in 1948. As outlined in an article by Mint, "Mrinalini Sarabhai had a double connection with Jawaharlal Nehru—her mother Ammu Swaminadhan was a freedom fighter and a politician who knew Nehru well; her husband Vikram Sarabhai's family too had a close association with him". Sarabhai told Mint, "In those days, Kathakali was not approved of and not many people appreciated it, especially in Delhi. But Jawaharji came for the performance and afterwards he came to see me. He hugged me and congratulated me. There is a photograph of us together." Little did she know that 70 years later, some perverted minds will circulate this picture to malign her and Nehru.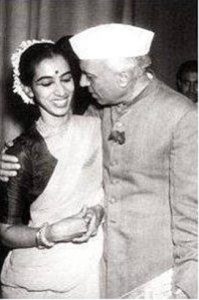 Pic 6:
Jacqueline Kennedy visited India in 1962. In this picture, Nehru is applying a ceremonial "tilak" to American First lady Jacqueline Kennedy.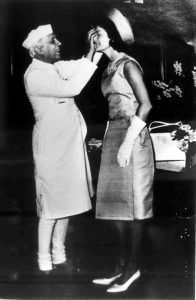 Pic 7:
So we know from picture 4 that Nehru smoked. Here he is lighting a cigarette for Mrs Simon, the wife of the British Deputy High Commissioner, onboard the first BOAC flight in India.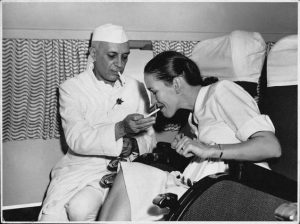 Pic 8:
Nehru is seen in this picture with Edwina Mountbatten's 18-year-old daughter. Mountbatten's youngest daughter Pamela Mountbatten is with her parents, bidding goodbye to Pandit Nehru in New Delhi.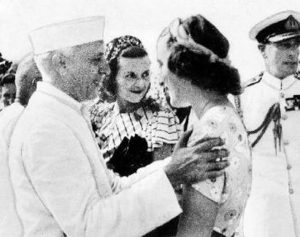 Pic 9:
In this picture, Nehru is being given a kiss by his niece Nayantara Sehgal on his arrival at London airport in 1955. You can also see Sehgal's mother, Vijaylakshmi Pandit who was the High Commissioner to UK at that time.
To sum up the collage, three pictures where women are seen as showing affection towards Pandit Nehru by hugging or kissing him are pictures of his sister and niece. They point to nothing more than a natural and close family bond. Amit Malviya, the Head of the IT wing on India's ruling party, placed these images out of context to portray Nehru in a negative light.
Donate to Alt News!
Independent journalism that speaks truth to power and is free of corporate and political control is possible only when people start contributing towards the same. Please consider donating towards this endeavour to fight fake news and misinformation.