A video clip viral on social media is being shared as a case of booth capturing in the ongoing Lok Sabha polls by "BJP MP Brijesh Singh". The caption used to circulate the video is – "BJP MP Brijesh Singh going with each voter to ensure vote for BJP. What reply does Modi have for this? This video has to go viral so that maximum people know what is happening."
BJP MP Brijesh Singh Going With Each Voter To _ensure_ Vote For bjp. What Reply Does modi Have For This?
This _Video_ Has To Go Viral So That Maximum People Know What Is _Happening_…..

Posted by Dheeman Das on Monday, 6 May 2019
The clip has been shared by several individual users on Facebook and Twitter.
Identical video used to target both BJP and Congress
Incidentally, both BJP and Congress were last month targeted using the same clip.

"कोंग्रेस विधायक अनिल उपाध्याय की इस हरकत पर क्या कहेगे राहुल जी, इस video को इतना वायरल करो की ये पूरा हिन्दुस्तान देख सके (Rahul ji, what is your comment on Congress MLA Anil Upadhyay's act? Make this video so viral that the whole of India watches it)," read the post when circulated in the name of Congress.
The video was circulated with a similar caption attacking the BJP. Even the name of the MLA – Anil Upadhyay – was the same – "BJP विधायक अनिल उपाध्याय की इस हरकत पर क्या कहेगे MODI जी, इस video को इतना वायरल करो की ये पूरा हिन्दुस्तान देख सके (Modi ji, what is your comment on BJP MLA Anil Upadhyay's act? Make this video so viral that the whole of India watches it.)"
Alt News found that the video had also been attributed to the TMC.
SHOCKING!! Elections have no meaning in West Bengal. Voting happens as per the wishes of Mamata Banerjee. Look at the White Kurta Clad #TMC goon.. dictating voters to vote for Trinamool. Is #ECI sleeping? Where is Central Force??
#VotingRound2 pic.twitter.com/XP89cEWQYf

— Dr. Manish Kumar (@DrManishKumar1) April 18, 2019
Clip allegedly from West Bengal
If one listens carefully, the people in the video can be heard talking in Bengali. Upon looking for news reports on possible booth capturing in West Bengal, we came across an April 18 YouTube upload by Republic. The media outlet had posted the same video and captioned it as – "Booth Capturing By TMC In Islampur."
While we were unable to locate other media reports carrying the same video, there have been allegations of booth capturing in Islampur, which falls under the Raiganj constituency of West Bengal. According to an India Today report, "BJP's Raiganj Parliamentary constituency candidate Debasree Chaudhuri alleged that TMC workers tried to capture a polling booth in the constituency."
The Quint's ground report claims that the incident depicted in the viral video indeed took place in Islampur, which had gone to polls on April 18. "According to The Quint's sources, the man in the video is a TMC worker named Md Sominuddin from Raiganj. When asked what was he doing inside the polling booth during an interview to local media, he had said that he was only present there to help his aged mother and first-time voter daughters with the voting process, as the presiding officer in the booth fell sick," per the report.
CPM candidate from Raiganj Mohammad Salim's vehicle was also attacked when he went to the polling booth in Islampur. The CPM alleged that the TMC was behind the attack. "I got to know of rigging inside this booth," Salim informed the media.
Alt News contacted the CPM leader who claimed that around 50-odd polling booths in Raigunj constituency were compromised. "This wasn't a case of traditional booth capturing. Instead of local goons or panchayat members belonging to TMC, there were people sitting inside the booth who were intimidating voters by watching who they were voting for." Salim alleged that booth capturing was possible because of corrupt police officials influenced by the TMC. "Members of TMC were inside the booth unauthorised. The sector officer, election commission representative and observer – all were muted," he said.
Fictional MPs created to fuel a false narrative
An alleged incident from West Bengal was used to target both BJP and Congress. Moreover, the candidates' names – Brijesh Singh and Anil Upadhyay – were also fictitious. My Neta, a website that contains details about state and central legislators, did not include any information about any person by those names who belonged to either of the parties.
Given below is a screenshot of the results thrown up by My Neta when we searched for 'Brijesh Singh'.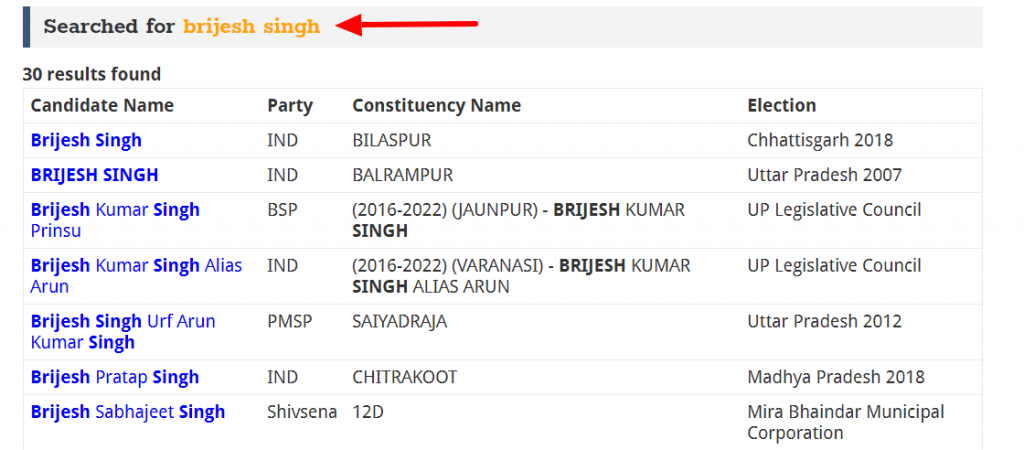 The screen-grab posted below show the search results for 'Anil Upadhyay'.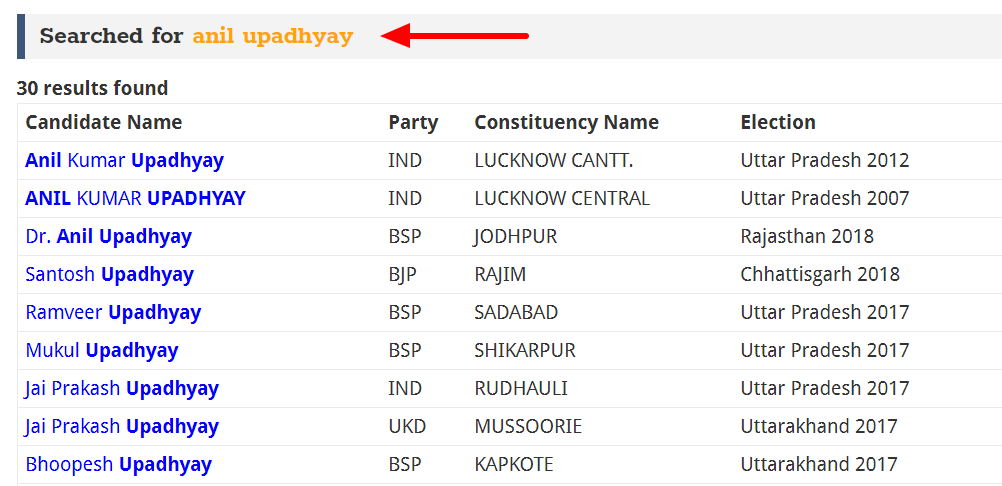 [UPDATE: This article was revised on May 7, 2019, to include the separate claim of the video representing an incident of polling booth capture by 'BJP MP Brijesh Singh', which was found to be false.]
Donate to Alt News!
Independent journalism that speaks truth to power and is free of corporate and political control is possible only when people start contributing towards the same. Please consider donating towards this endeavour to fight fake news and misinformation.To make an instant donation, click on the "Donate Now" button above. For information regarding donation via Bank Transfer/Cheque/DD, click here.