The Bharatiya Janata Party posted a fact-checking video on October 25, claiming that Rahul Gandhi "peddled fake news on India's ranking in the Global Hunger Index."
Rahul Gandhi peddles fakes news to be in news. His lie on India's ranking in the Global Hunger Index is busted here. pic.twitter.com/RLaQpF2hPO

— BJP (@BJP4India) October 25, 2018
BJP was referring to the Congress President's October 15 tweet where he shared a Dainik Bhaskar report. According to this article, India's GHI ranking fell from 55 to 103 from 2014 to 2018. This is incorrect and was fact-checked by Alt News in an earlier article.
चौकीदार ने भाषण खूब दिया,
पेट का आसन भूल गये।

योग-भोग सब खूब किया,
जनता का राशन भूल गये।https://t.co/RTlyKbKeZl

— Rahul Gandhi (@RahulGandhi) October 15, 2018
The Bharatiya Janata Party's fact-check was progressing rather smoothly until they compared the 2008 and 2018 GHI scores and claimed that the country has witnessed an improvement. The video said that India's 2008 score was 35.6 and in 2018, this number stood at 31.1. BJP implied that the country's index score has improved by 4.5 points (a lower GHI score implies better performance) in the last 10 years.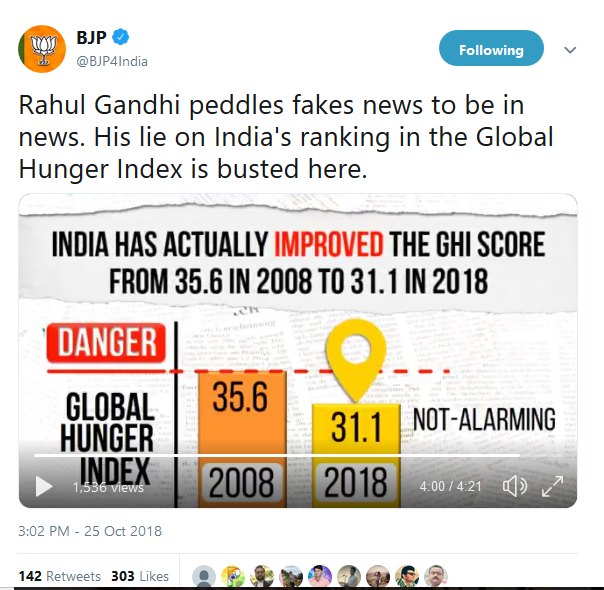 However, the party got it wrong.
GHI data cannot be compared with previous years' reports 
BJP picked up the 35.6 value from GHI 2017 report and compared it with India's 2018 GHI index score, which is 31.1. However, the 2018 report clearly mentions that GHI scores are comparable within each year's report, but not between different years' reports because every year the scores are revised.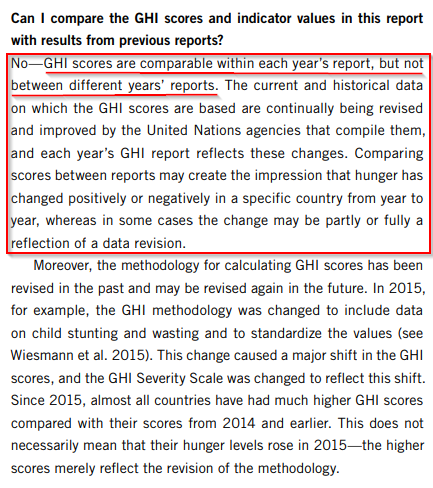 The 2018 report also states that "each report includes GHI scores and indicator data for three reference years in addition to the focus year. In this report, 2018 GHI scores can be directly compared with the GHI scores given for three reference years—2000, 2005, and 2010."
Contrastingly, the 2017 report included the reference years 1992, 2000 and 2008.

The revised 2008 data in the 2017 report was 35.6 and BJP compared this score with the current year's score (31.1) to show an improvement.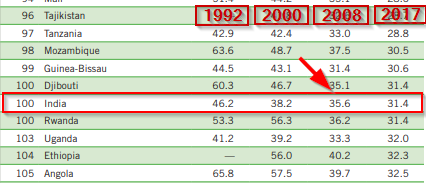 GHI ranks/scores are based on a plethora of factors and comparison of previous years' reports does not arrive at an accurate conclusion. This is because a country's deteriorated ranking does not necessarily imply a fall in its index score, and vice-versa. For instance, India's GHI score in 2017 was 31.4 and its current score is 31.1. Even with the 0.3 point improvement, India's rank came down three places. This can be attributed to various factors, including a better performance by other countries.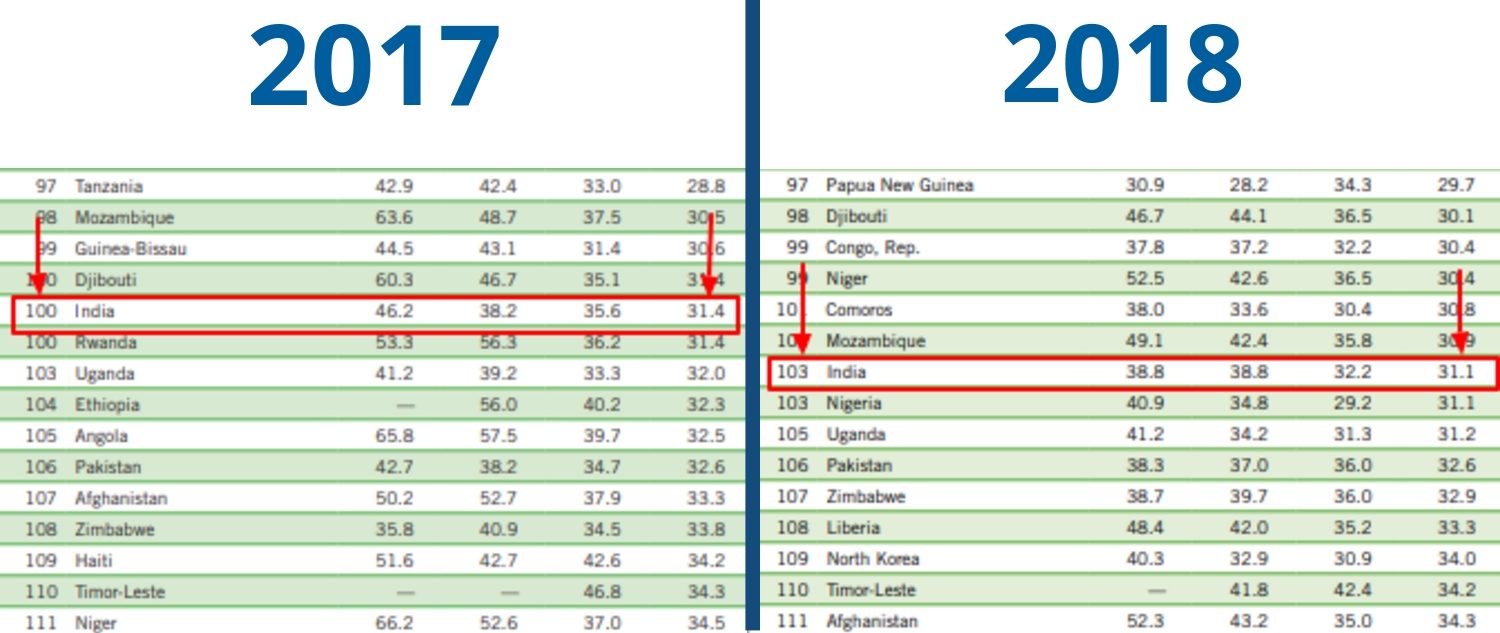 However, as GHI clarifies, previous years' index scores are comparable within the same report. BJP could have only referred to the 2018 report and compared the revised index scores of 2000, 2005 or 2010 and compared it with the current year's score (31.1) to show an improvement. Instead, the party picked up data from an entirely different report.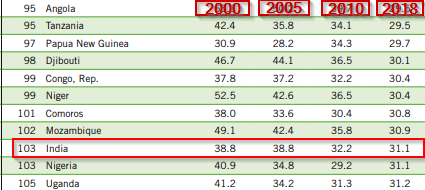 Misleading information that India's hunger level is "not alarming"
Another misleading information provided by BJP's in its fact-check video was terming India's current Global Hunger Index score of 31.1 as "not alarming". All countries with a score above 34.9 have an "alarming" level of hunger but this does not imply that scores below 34.9 are "not alarming". India's 2018 GHI score is at the "high end of the serious category". The GHI 2018 report categorises index scores 20.0 to 34.9 as "serious" levels of hunger.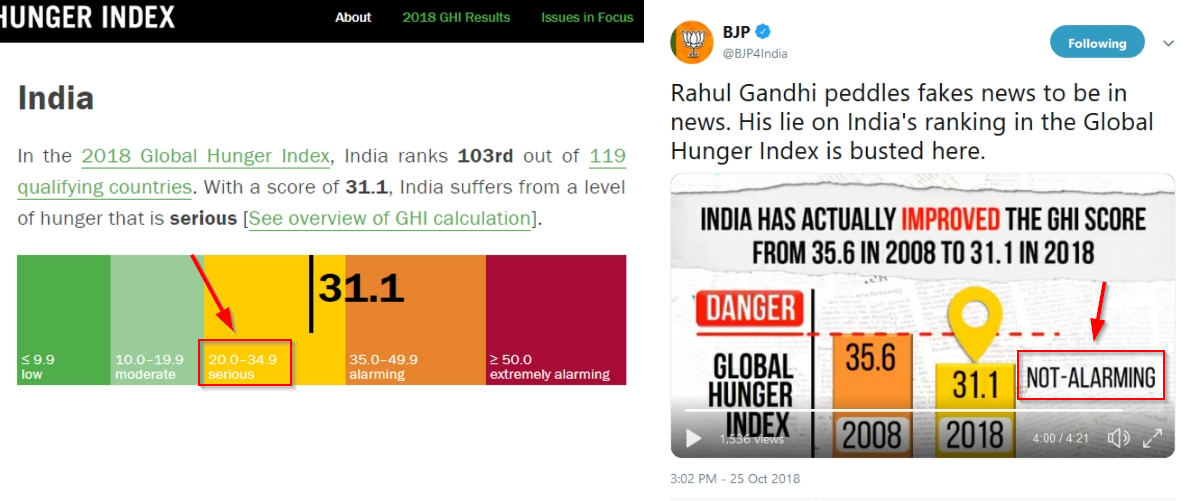 While attempting to 'fact-check' Congress President Rahul Gandhi, the Bharatiya Janata Party itself made factual errors.
Donate to Alt News!
Independent journalism that speaks truth to power and is free of corporate and political control is possible only when people start contributing towards the same. Please consider donating towards this endeavour to fight fake news and misinformation.To make an instant donation, click on the "Donate Now" button above. For information regarding donation via Bank Transfer/Cheque/DD, click here.