Amid the growing criticism from opposition parties over the hike in petrol prices, BJP Tamil Nadu's spokesperson SG Suryah tweeted a list of petrol prices in different states. The data was divided into two parts – one that listed petrol prices in BJP governed states, purportedly less than Rs 90 per litre, and the other listed prices in non-BJP-governed states that were over Rs 90. Tweeting the comparison, he said, "Petrol prices are cheapest of the lot in #BJP ruled states only! Maharashtra has highest price ruled by Shiv Sena, Congress & NCP".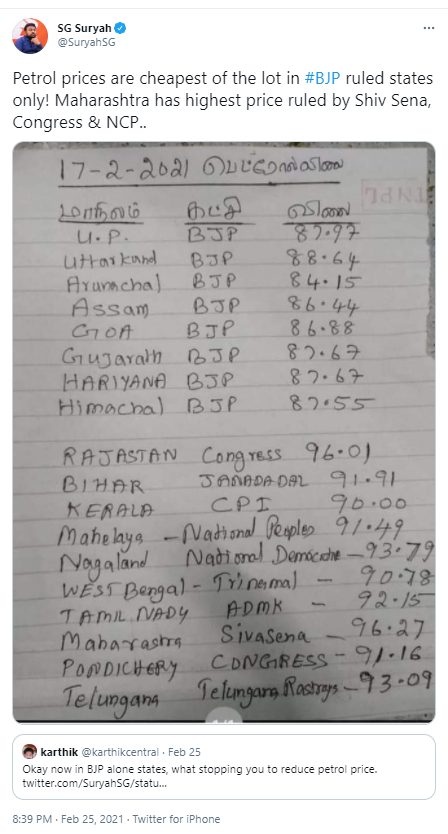 Several other individuals on Twitter and Facebook shared an infographic making a similar comparison.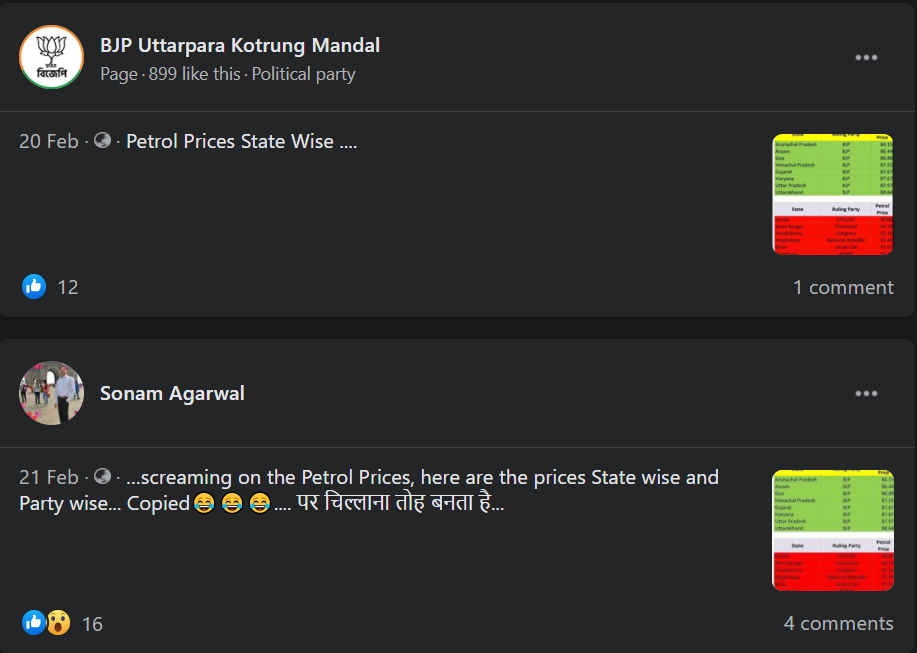 Fact-check
Alt News found that the infographic has selectively quoted BJP governed states with lower petrol prices and in some cases has omitted to mention the party's alliance with regional parties in a particular state.
Firstly, two states governed by the BJP where petrol prices were over Rs 90 have not been featured. As per the daily numbers compiled by NDTV, Karnataka and Madhya Pradesh are two major BJP governed states with petrol prices over Rs 90. They were not quoted in the infographic. As of February 17, petrol prices in these states were Rs 92.7 per litre and Rs 98.48 per litre respectively. A report published by The Indian Express also stated that the price of petrol in Karnataka's capital Bengaluru stood at Rs 92.54 per litre.
This slideshow requires JavaScript.
Secondly, the list of non-BJP governed states is factually incorrect. States like Bihar, Meghalaya and Nagaland where the BJP is actually in alliance with other regional parties have been listed as 'non-BJP' states. In Bihar, Bharatiya Janata Party is in coalition with Janata Dal-United whereas, in Meghalaya and Nagaland, they are part of the ruling alliance. It may be noted that according to the NDTV tracker, petrol prices in these states were Rs 93.43, Rs 86.04 and Rs 91.96 per litre respectively.
Lastly, the list of BJP-governed states also doesn't mention the state of Manipur where the BJP is in alliance with the National People's Party. The petrol price in Manipur is Rs 93.36 per litre as of February 17.
However, it is also noteworthy that the list of non-BJP-governed states also didn't include INC-governed Punjab, YSRCP-governed Andhra Pradesh and BJD-governed Odisha. All the three states have petrol prices over Rs 90 as of February 17.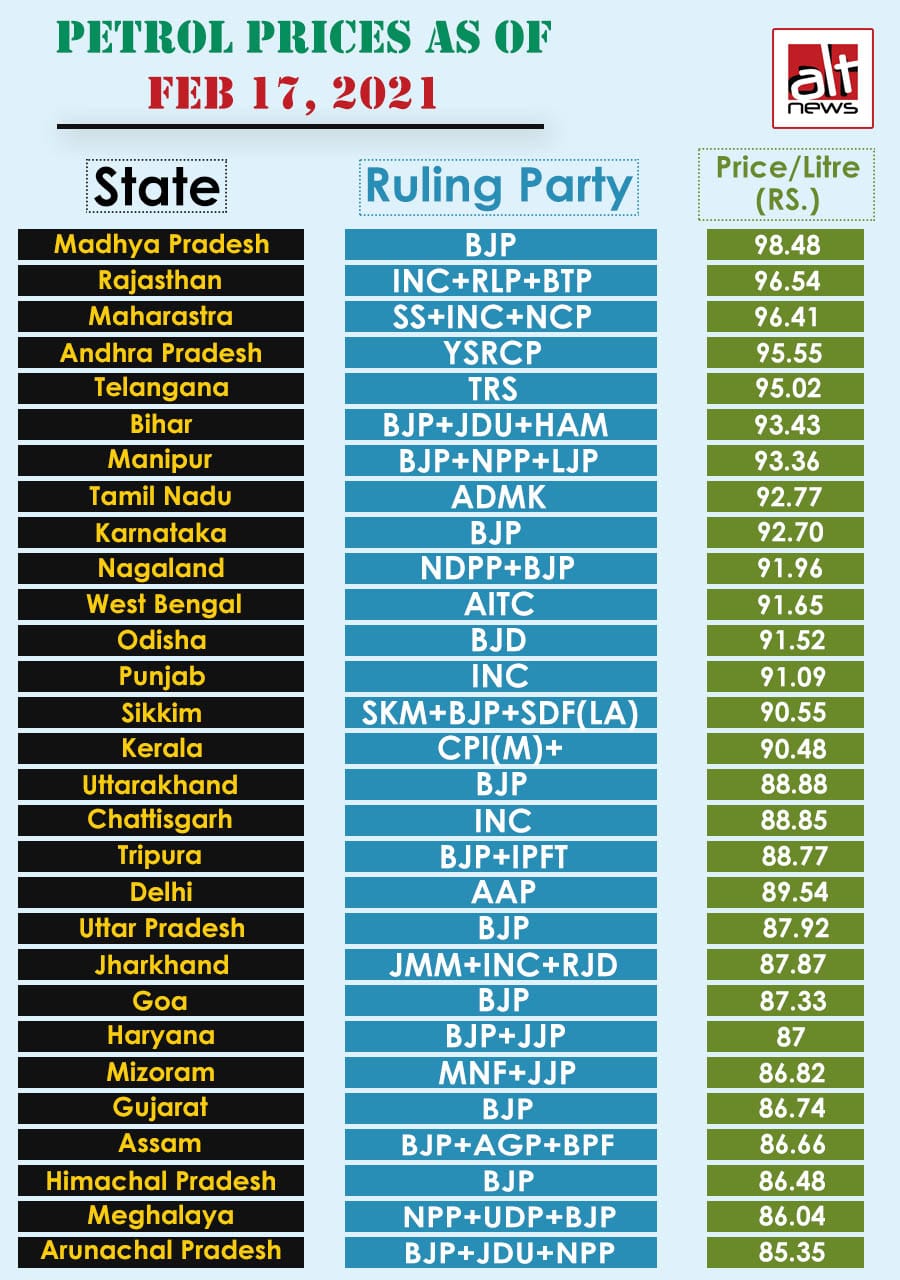 A misleading graphic was circulated on social media to falsely portray that petrol prices in BJP-governed states were less than Rs 90 while the non-BJP governed states had prices over Rs 90. It must be emphasized that petrol prices change on a day-to-day basis and are different from region-to-region. Thus, the comparison made on February 17 cannot reflect the current status of the petrol hike across India.
Donate to Alt News!
Independent journalism that speaks truth to power and is free of corporate and political control is possible only when people start contributing towards the same. Please consider donating towards this endeavour to fight fake news and misinformation.