An image of an individual's forearm with an Om symbol and trident tattoo is being shared on social media with the claim that the individual is a Hindu woman whose headless corpse stuffed in a suitcase was recovered from a beach in Mumbai. Several users claimed it to be a case of 'Love Jihad'. Others shared the image with captions that implied that the image was related to a crime that was communal in nature.
Twitter Blue user @shibbu87 shared the said image on June 2 with a caption in Hindi that can be translated as: "Dead body of a Hindu girl with om and trident tattoo found in a suitcase on the beach in Mumbai, the girl has only torso and head is missing. How mercilessly and barbarically another Hindu sister has been murdered. It is a matter of concern. #lovejihaad". (Archive)
ॐ और त्रिशूल टैटू वाली हिंदू युवती का शव #mumbai बीच के किनारे सूटकेस में मिला, युवती का केवल धड़ है सर गायब है।
कितनी बेरहमी से बर्बरता से एक और हिंदू बहिन की हत्या की गई है,यह चिंतनीय है।#lovejihaad pic.twitter.com/cLKRfOQapg

— Sujeet Swami️ (@shibbu87) June 2, 2023
Another user, 𝗞𝗘𝗦𝗛𝗔𝗕 (@whitehorse809), quote-tweeted a tweet by a user named Mr Sinha. Claiming that a Hindu girl was murdered, @whitehorse809 added, "Girls what are you doing?? Stop yourself from falling in love with Muslim men🥺🥺.." He, thereby, suggested that a Hindu woman was murdered by a Muslim man. (Archive)
Bro wtf is happening 😔😔?? Why is it always on news that hindu girls are being murdered??
Girls what are you doing?? Stop yourself from falling in love with Muslim men🥺🥺.. https://t.co/ENs5hW2D8i

— 𝗞𝗘𝗦𝗛𝗔𝗕 (@whitehorse809) June 2, 2023
A number of other users used the '#lovejihad' in their tweets while sharing the photograph, for example, @Anandkattarr and @sevendra_raja7.
'Love Jihad' is a conspiracy theory propagated by the Right Wing ecosystem, according to which Muslim men are trained to trap Hindu women and marry them to convert them to Islam.
This slideshow requires JavaScript.
Fact Check
To find out more on the case, we ran a keyword search, which led us to multiple news reports. We came across a report by Mid-day that carried an image of a woman with the same tattoo on her forearm as the one in the viral images. In the caption, the woman was identified as Anjali Singh.
According to the report, the body was discovered on Uttan beach on June 2 and the police arrested two men — Mittu Singh (victim's husband) and Chunchun Singh (victim's brother-in-law) — in this connection. The report also mentioned that police said the accused killed Anjali Singh (the victim), chopped her body into three pieces and packed the body into a suitcase.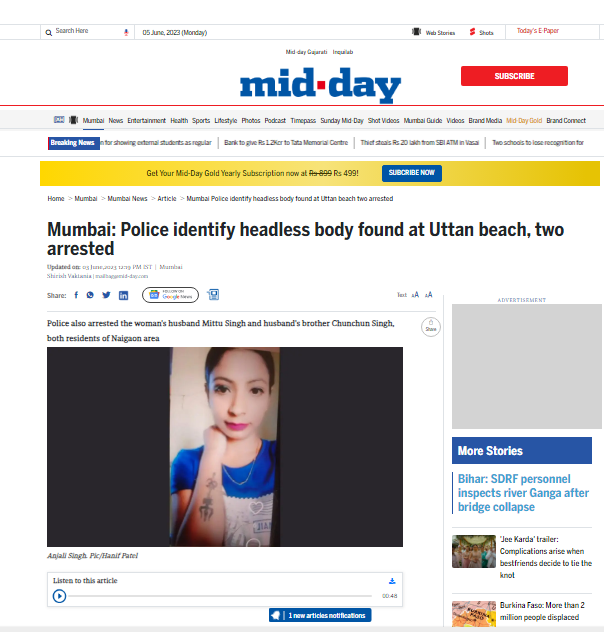 We came across several other news reports that confirm the above information. A Times of India report mentioned that the accused told the police that they had committed the act because they suspected Anjali's character. The report also mentioned that as per the senior inspector Dadaram Karande of Uttan Sagari police station, the two brothers killed Anjali on May 24. They severed the head and stuffed the torso in a bag and threw it in the sea. The bag washed ashore at Uttan on Friday. At the time of the filing of this report, police were yet to find out the severed head. SI Dadaram Karande also mentioned that no missing person's complaint was filed by the victim's family members.
Therefore, it is clear that the claim that this incident is a case of 'Love Jihad' is false. Both the victim and the accused here are Hindus and there is no communal angle to the alleged crime.
Donate to Alt News!
Independent journalism that speaks truth to power and is free of corporate and political control is possible only when people start contributing towards the same. Please consider donating towards this endeavour to fight fake news and misinformation.