A video of a man playing ping-pong with a nunchaku instead of a paddle is being shared on social media with the claim that the man is martial arts expert Bruce Lee. A Facebook post by Sumita Chakraborty has amassed over 1,100 shares so far.
A priceless clip of 1970 of Bruce Lee playing Table Tennis with his Nan-chak !!
His focus on speed, reflexes and accuracy was absolutely incredible🙏🏼

Posted by Sumita Chakraborty on Sunday, 3 November 2019
Several other Facebook users shared the video with the same claim. It is, in fact, been circulating on the platform with the narrative since 2010.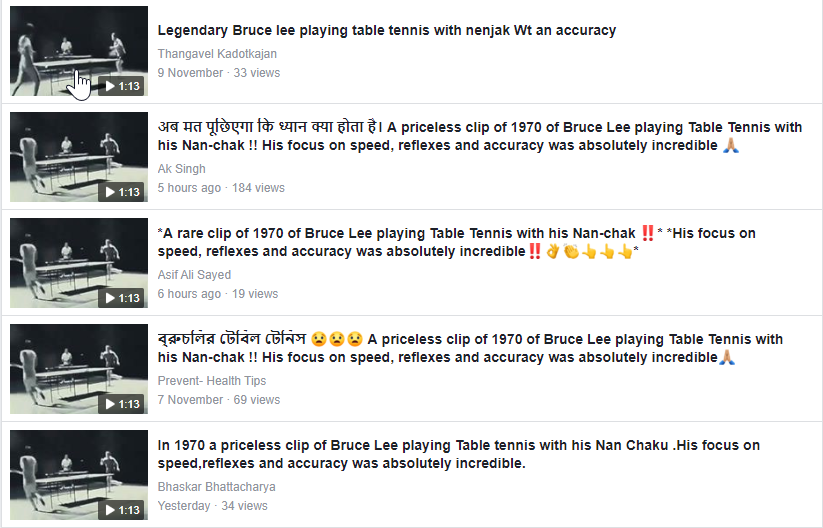 Senior cricket commentator Ayaz Memon tweeted the video with identical claim back in April 2018. He failed to delete the tweet after acknowledging that it's manufactured.
Clip of Bruce Lee playing table tennis with a nan-chaku. Extraordinary! pic.twitter.com/BZbEep0OpW

— Cricketwallah (@cricketwallah) April 30, 2018
FACT-CHECK
A Google search revealed that the video is an advertisement by the Beijing office of advertising agency J. Walter Thompson (JWT) for the Nokia N96 limited edition Bruce Lee cell phone in 2008. As seen in the clip below, it's a digital creation, not a recording of an original match.
According to JWT, the advertisement was Nokia's tribute to the legendary martial arts master.

In an interview with Agency Asia, Polly Chu, the Chief Creative Officer of JWT Beijing, explained that the director of the advertisement was briefed to make it look like a never-seen-before visual of Bruce Lee. "Yes, we discussed with the director how to make it look like never-seen-before secret footage of Bruce Lee. The director took a great effort to study Bruce Lee and found the right talent. We used an up and coming local Chinese director whose passion could be seen in every second of the film."
In conclusion, a video of an advertisement made for a mobile phone in 2008 was shared on social media as an original clip of the legendary martial arts expert Bruce Lee playing table tennis with a nunchuk.
Donate to Alt News!
Independent journalism that speaks truth to power and is free of corporate and political control is possible only when people start contributing towards the same. Please consider donating towards this endeavour to fight fake news and misinformation.