In the first week of October, the World Health Organization (WHO) made a medical product alert about substandard (contaminated) pediatric medicines identified in The Gambia, a small west African country. These products (cough syrups) were manufactured by an Indian manufacturer called Maiden Pharmaceuticals Limited (Haryana, India) and the syrups had been "potentially linked with acute kidney injuries and 66 deaths among children," said the report. The number of deaths has since risen to 70.
The WHO identified the medicines as Promethazine Oral Solution, Kofexmalin Baby Cough Syrup, Makoff Baby Cough Syrup, and Magrip N Cold Syrup. These products contained unacceptable amounts of diethylene glycol (DEG) and ethylene glycol (EG) as contaminants. The report says, "Diethylene glycol and ethylene glycol are toxic to humans when consumed and can prove fatal." It also adds that the "toxic effects can include abdominal pain, vomiting, diarrhoea, inability to pass urine, headache, altered mental state, and acute kidney injury which may lead to death."
The press release requested 'increased surveillance and diligence within the supply chains of countries and regions likely to be affected by these products.' It also advised increased surveillance of the informal/unregulated markets. Below is a screengrab of the four products mentioned by WHO.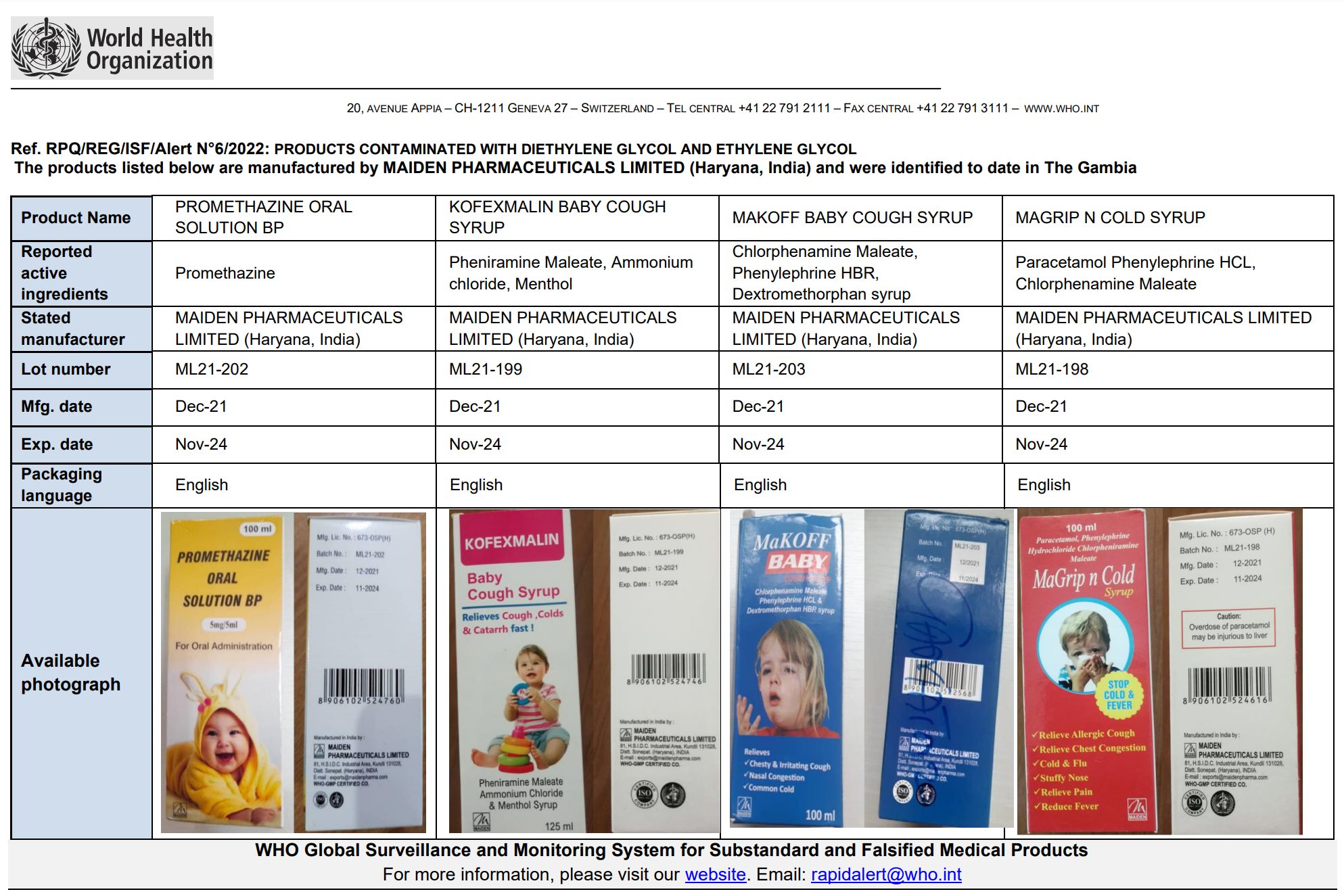 Later, a joint team of the Central Drugs Standard Control Organisation (CDSCO) and the Haryana Drugs Controller Authority inspected the Sonipat unit of Maiden Pharmaceuticals during which it found 12 violations or deficiencies. The state government took cognizance of this and ordered that all drug production at that unit be stopped.
Weeks after this alert, reports started pouring in about the death of at least 99 children in Indonesia due to acute kidney failure after allegedly taking 'Indian-made' cough syrup. Among the proponents of this claim was the social media page called South Asia Index (@SouthAsiaIndex).
On October 20, the page tweeted, "Just IN:— Death of 99 children in Indonesia linked to Indian-made cough syrups. Govt bans all cough syrups." The page sent out subsequent tweets making a correlation between the two events with the prefix 'Just IN'. At the time of writing, the first tweet by the page garnered around 5k likes and 1800+ retweets.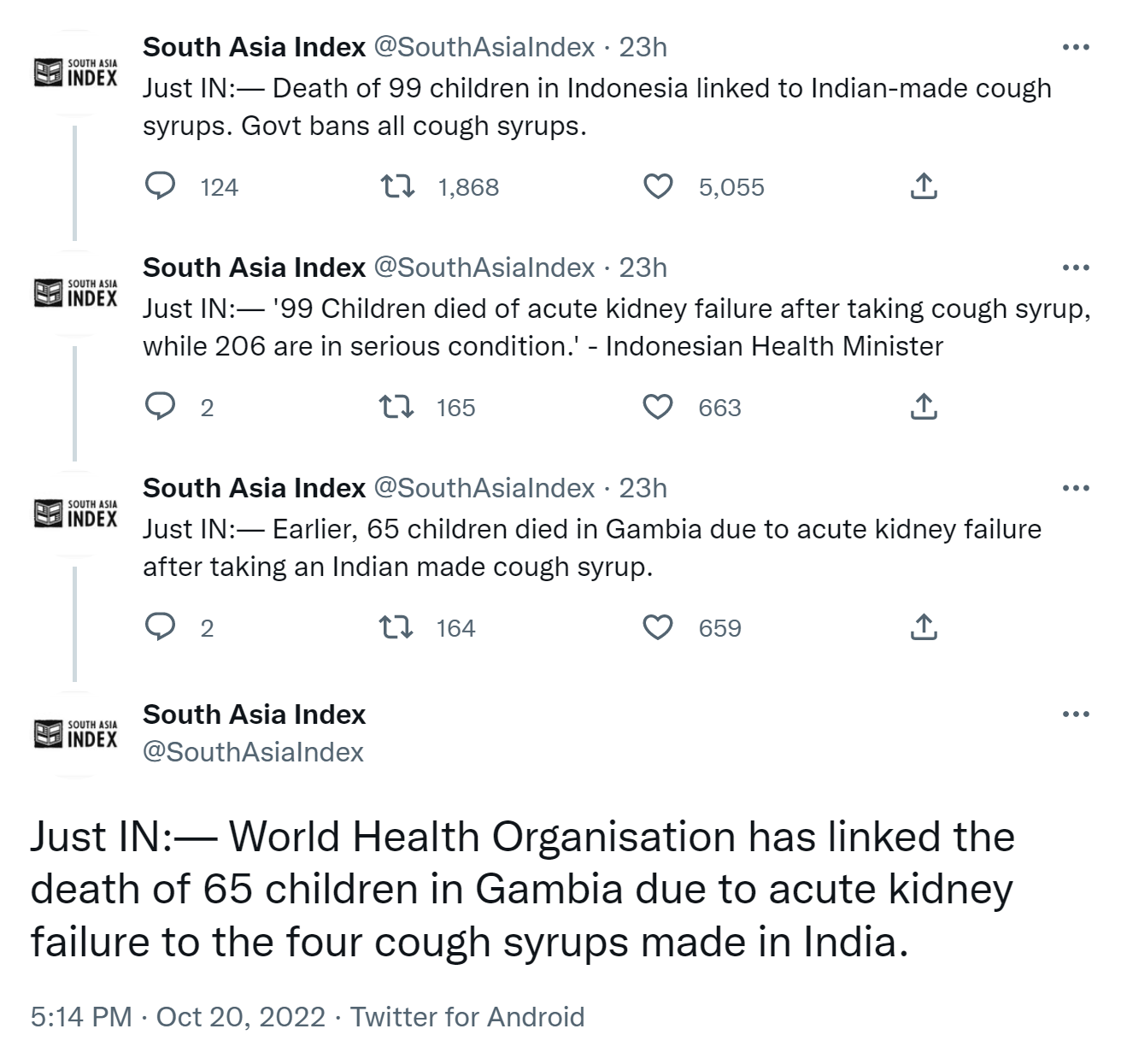 A Twitter user, KJ (@KarenJohnstone), while sharing an Al Jazeera article, tweeted that "…99 in Indonesia, have died due to ingredients in Indian-manufactured Paracetamol Syrup that caused Fatal Acute Kidney Injury (AKI)." Readers should note that the Al Jazeera article did not contain any information about Indian-manufactured liquid syrup causing fatal Acute Kidney Injuries in Indonesia.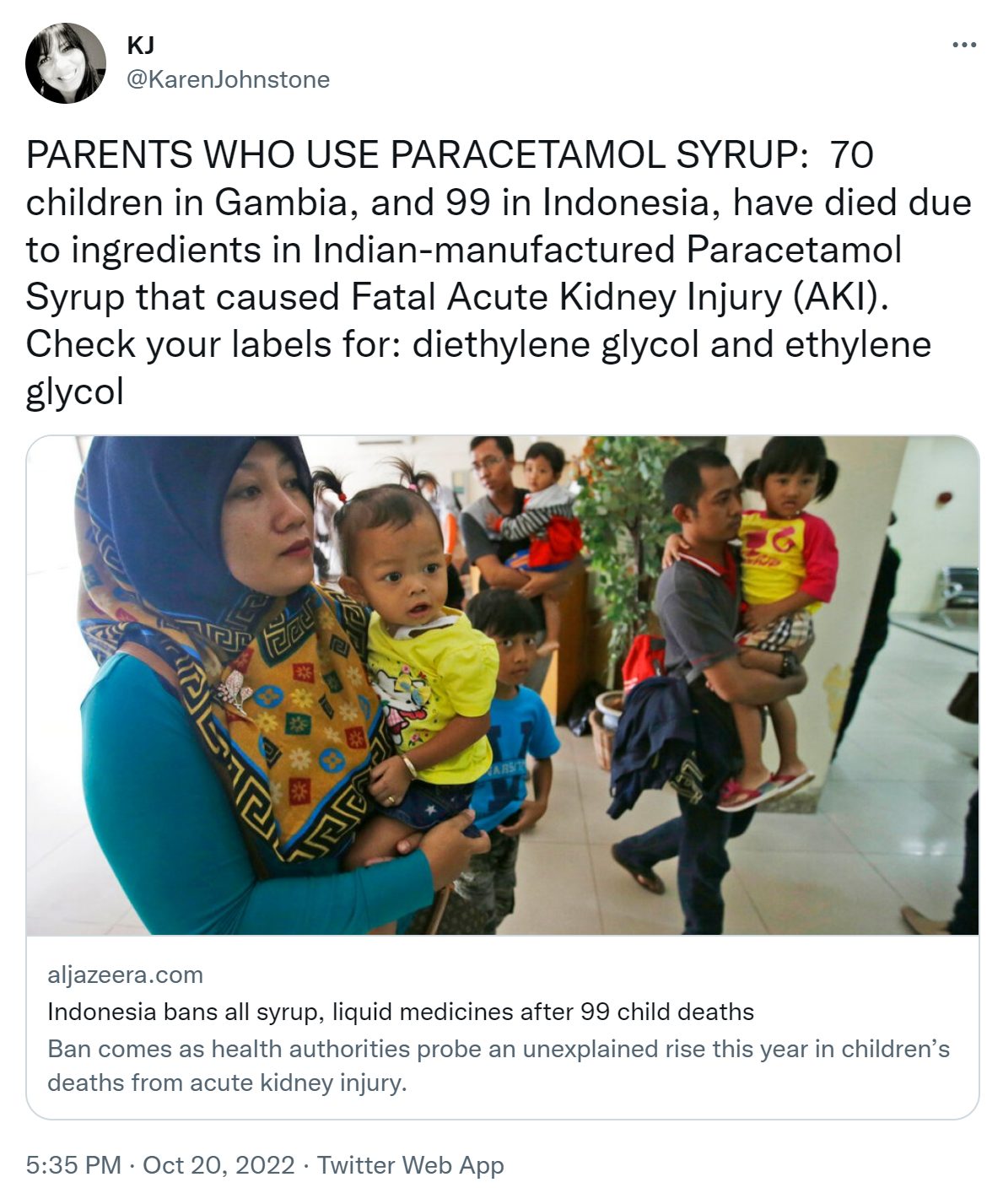 Fact-check
To find information related to the incidents of AKI in Indonesia, Alt News performed a keyword search on Google and came across various news reports on the issue. According to The Guardian, Indonesia is investigating 206 cases of acute kidney injury (AKI), mostly in children under the age of five. It added that as precaution, the government had put a blanket ban on the sale of all cough syrups medicines warning that the liquids may contain ingredients linked to fatal kidney injuries.
As per Al Jazeera, the rise in cases of AKI in the south east Asian country began in January this year and accelerated further since late August, and a probe related to it was launched last week. The report also adds, "A health ministry letter dated October 18, and seen by Reuters, requested hospitals collect all medicines that families had given to those children admitted with AKI, so toxicology tests could be conducted. Chemists should halt the sale of syrup-based medicine until further notice, the letter stated."
It is pertinent to note that both The Guardian and Al Jazeera clearly mention that Indonesia's food and drug agency has clarified that the four cough and cold syrups in question in the Gambia, believed to have been manufactured by India-based Maiden Pharmaceuticals, were not available locally.
This can be further confirmed if we take a look at the press release by Indonesia's Food and Drug Monitoring Agency (BPOM) on October 15. The press release clearly says that the four Indian-manufactured products that were found in The Gambia were not registered in Indonesia. It also adds that no products of Maiden Pharmaceutical Ltd, India, had been registered with BPOM.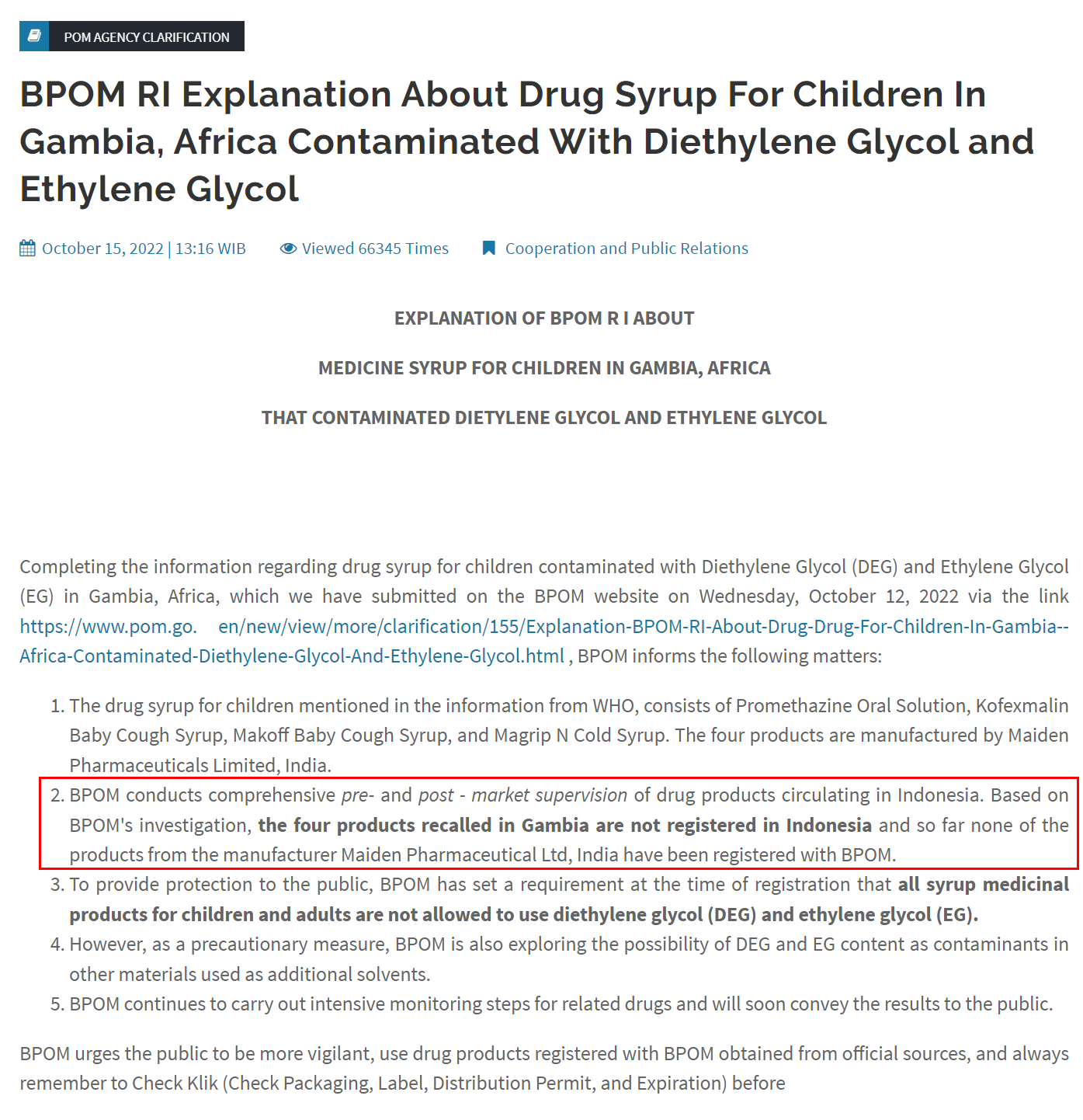 In another press release on October 20, BPOM shared an update on testing 39 batches of 26 drug syrups suspected of containing EG and DEG contamination. The results showed the presence of EG contaminants that exceeded the safe threshold in 5 (five) products.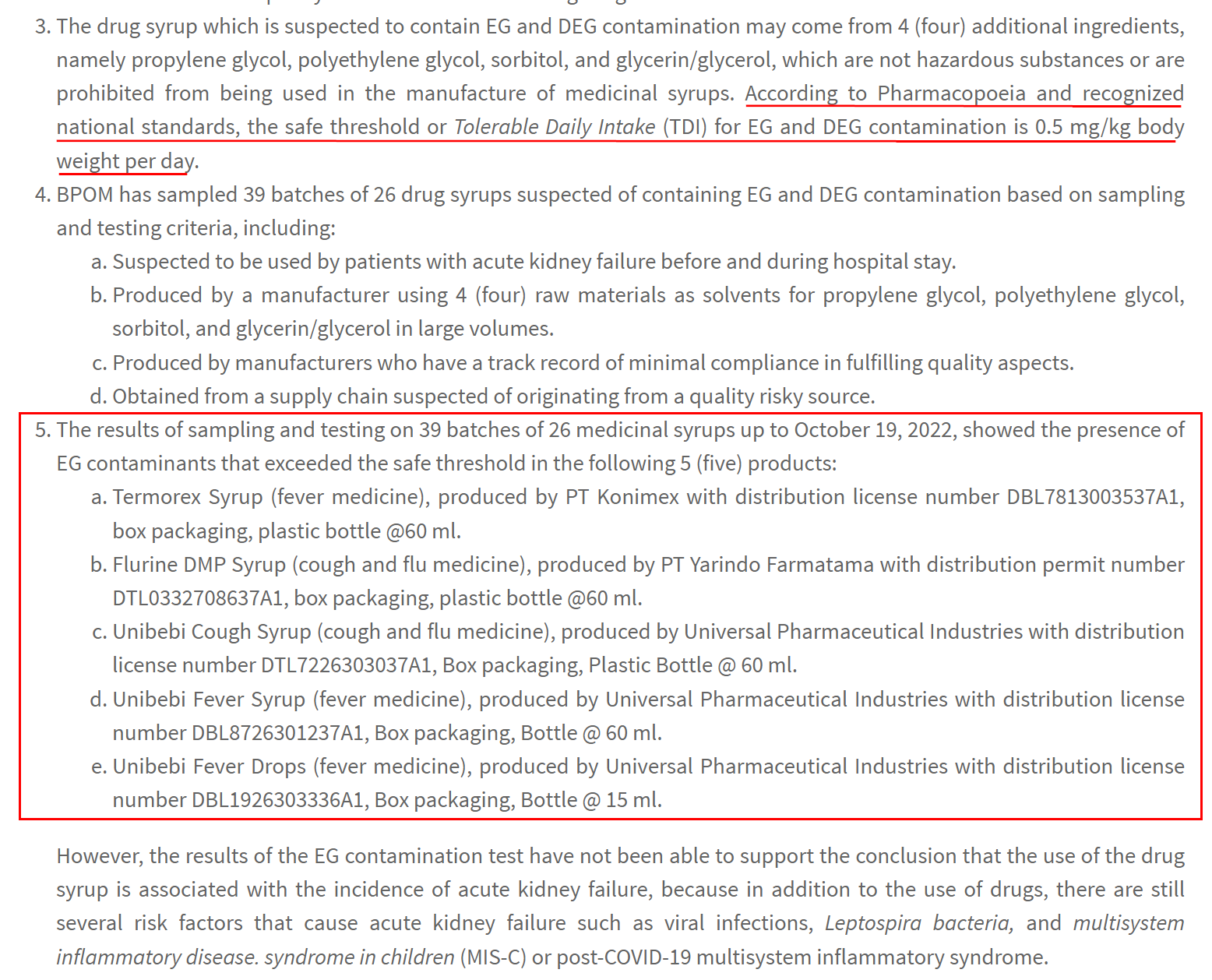 This press release contained the names of three manufacturers that produced the five products. These are PT Konimex, PT Yarindo Farmatama, and Universal Pharmaceutical Industries. The press release does not mention whether these manufacturers are based out of India. Alt News dug further and found that the two companies — PT Konimex and PT Yarindo Farmatama — are based out of Indonesia.
According to Bloomberg, PT Konimex's, "line of business includes the manufacturing, fabricating, or processing of drugs in pharmaceutical preparations for human or veterinary use."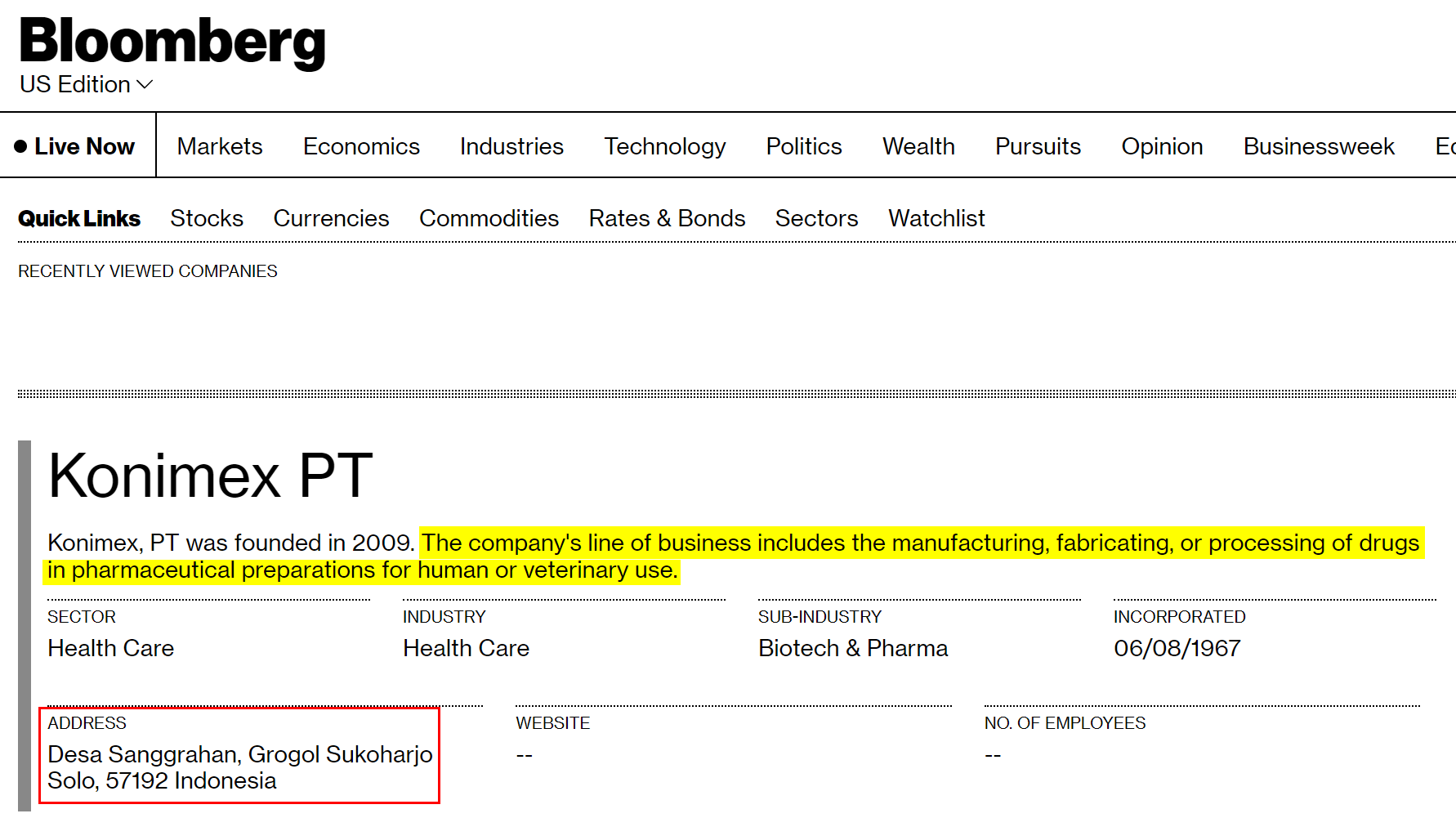 Alt News could not find authentic pieces of information related to Universal Pharmaceutical Industries and hence it reached out to Indonesian journalist Pizaro Gozali Idrus who told us that PT Universal Pharmaceutical Industries, also known as Universal Pharmaceutical Industries was based in Medan, North Sumatra, Indonesia. The address of the company is also available on online registries.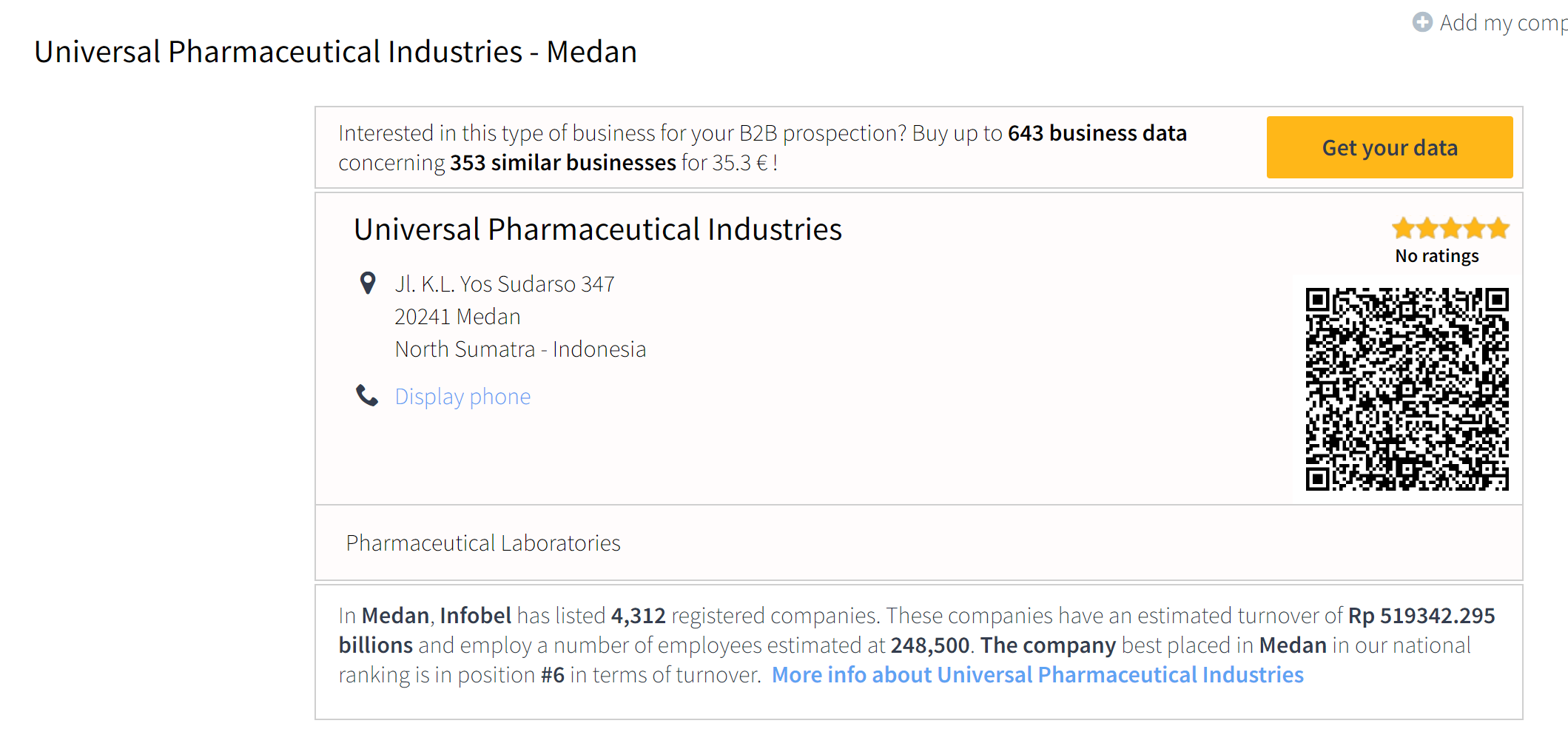 The press release by BPOM also says that "the results of the EG contamination test have not been able to support the conclusion that the use of the drug syrup is associated with the incidence of acute kidney failure, because in addition to the use of drugs, there are still several risk factors that cause acute kidney failure."
However, on October 21, the Indonesian news outlet Detik Health reported that the minister of health had confirmed that the cases of Acute Kidney Failure were triggered by EG and DEG contamination.
"We tested the children, it turns out that from the children we tested, who were at the RSCM [Government Hospital chain], out of 11, 7 children were positive for the harmful compounds, namely ethylene glycol (EG) and diethylene glycol (DEG), so it was confirmed," said the minister.
Detik Health also added that as a result of the findings, the Indonesian ministry of health had decided to prohibit the sale of drugs that may be contaminated with DEG and EG to avoid the risk of increasing death cases.
On October 31, an Indonesian news outlet called Benar News reported that Indonesia has revoked the licenses of pharma companies linked to kidney failures. "Police are investigating the companies, PT Yarindo Farmatama and PT Universal Pharmaceutical Industries, for possible criminal offenses because they may have used industrial-grade chemicals instead of pharmaceutical-grade substances to cut costs during the COVID-19 pandemic," said the report.
In addition to the two names reported by Benar News, another Indonesian news outlet Detik reported that a third pharmaceutical company was also under investigation. The name of the company is Afi Farma, which was established in 1985 in Kediri, East Java, Indonesia
To summarize, so far the Indonesian government has not released any details that may suggest that the sharp rise in Acute Kidney Injuries (AKI) among Indonesian children was caused by India-manufactured drugs.
Donate to Alt News!
Independent journalism that speaks truth to power and is free of corporate and political control is possible only when people start contributing towards the same. Please consider donating towards this endeavour to fight fake news and misinformation.