On August 28, farmer protesters were lathi-charged in the Karnal district of Haryana. One farmer who was injured during the lathi-charge later died of a heart attack, said senior BKU leader Gurnam Singh Chaduni. A photograph of a man with stitches on his head has been linked to the recent police excess.
In a now-deleted tweet, Congress General Secretary Randeep Singh Surjewala tweeted the image. An archived version of the post can be accessed here.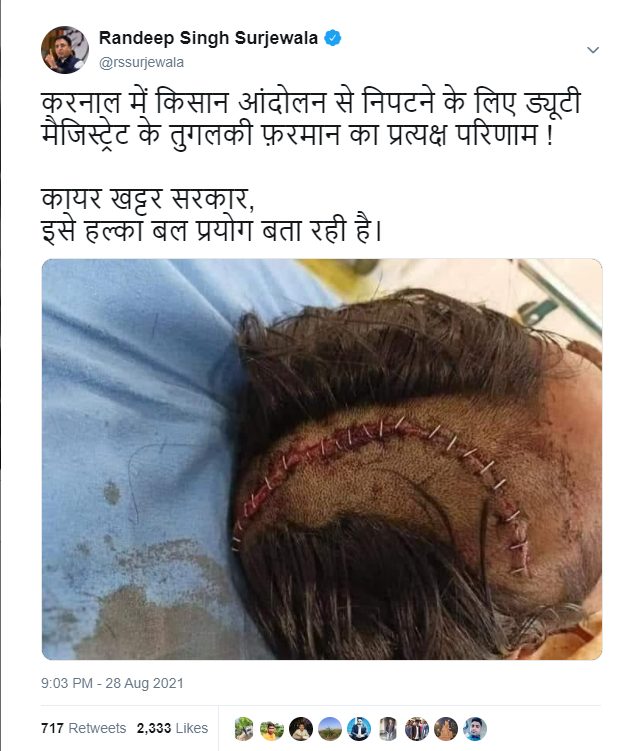 Congress leader Priyanka Gandhi Vadra also shared the photo and accompanying claim on her Facebook page.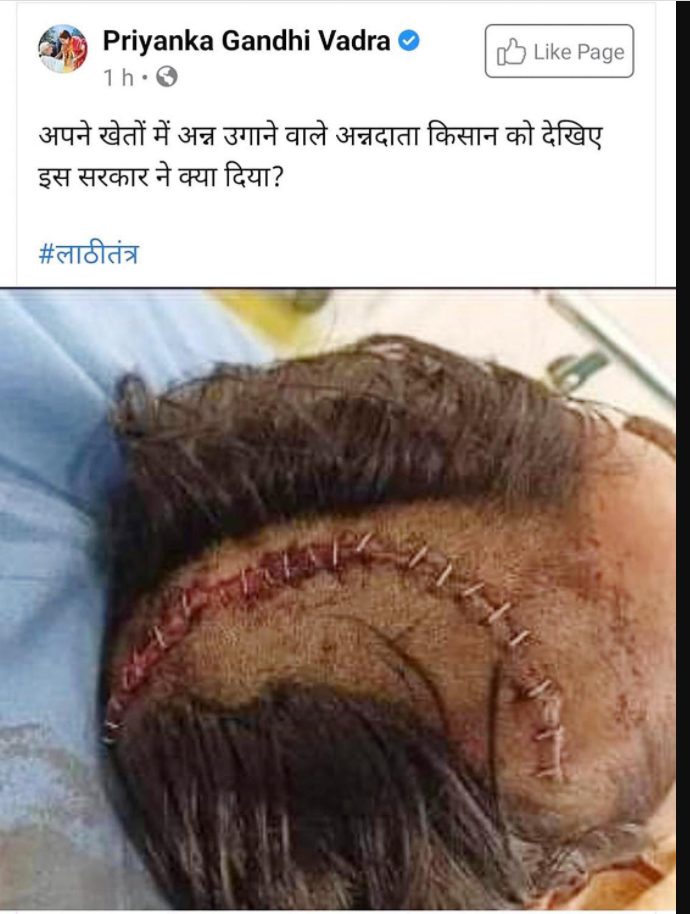 So did the official Twitter handle of Congress that later took down the tweet.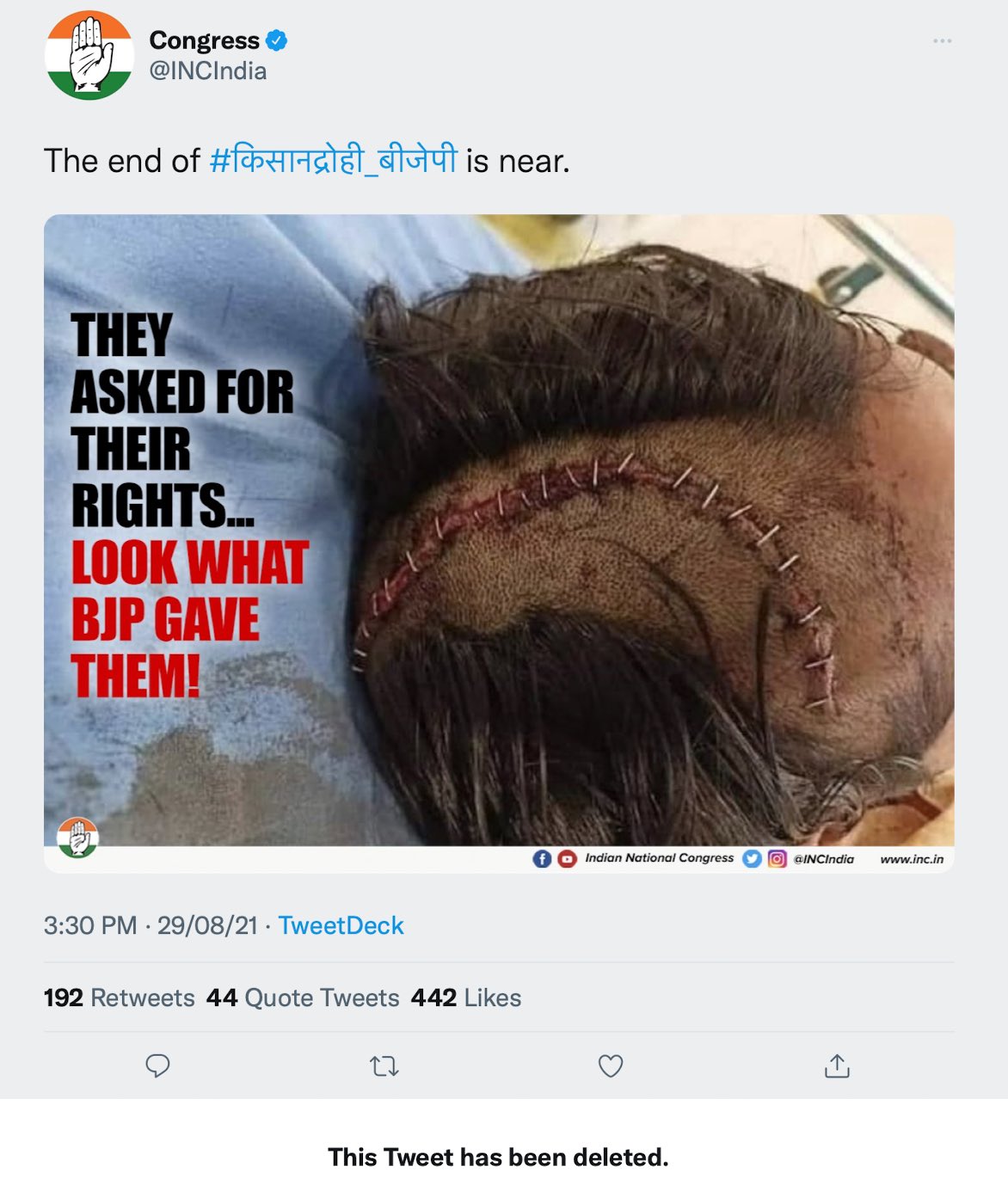 Imran Pratapgarhi, National Chairman of the Congress's Minority Department and a prominent poet with a massive following, also promoted the visuals with the same claim.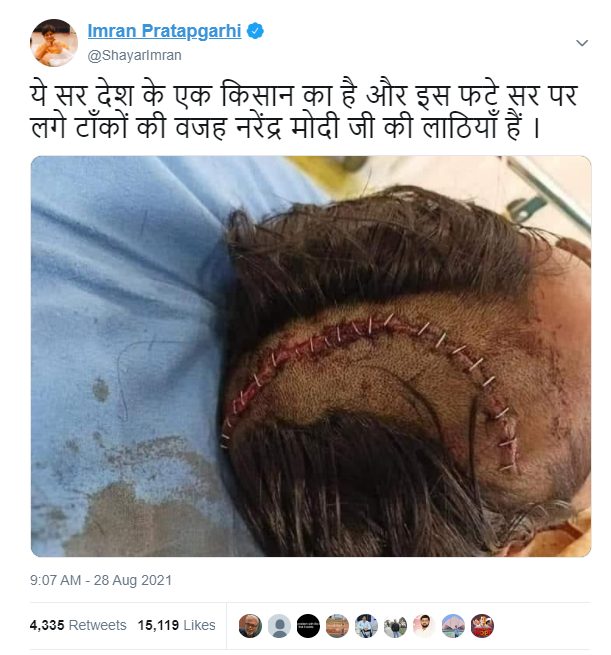 Twitter handles of Uttar Pradesh and Telangana Congress further amplified the picture. It has also made its way to Facebook with a similar message.
This slideshow requires JavaScript.
Fact-check
Jitendra Sharma, Crime and Investigation Editor at Zee News, tweeted three more photos along with the viral image. He explained that the image was not linked to the lathi-charge on farmers in Karnal. Sharma identified the man in the picture as a Gau Rakshak (cow vigilante) named Tinku who was injured while chasing alleged cow smugglers on the night of August 24 or 25.
किसानों के हक की बात तो ठीक है @ShayarImran लेकिन किसानों के नाम पर फ़र्ज़ी फ़ोटो ठीक नहीं।

ये फ़ोटो टिंकू की है जो गौ रक्षक है और ये चोट 24/25 अगस्त की रात को गौ तस्करों का पीछा करते समय गुरुग्राम में गाड़ी पलटने से लगी थी। https://t.co/P3XJlQSp8R pic.twitter.com/u1HENyYpY5

— Jitender Sharma (@capt_ivane) August 29, 2021
Furthermore, we also found the image in question shared on a Facebook post dated August 26. According to the post, cow vigilantes were injured in Gurugram. These pictures were taken on the same day. It is noteworthy that farmers in Karnal were lathi-charged on August 28.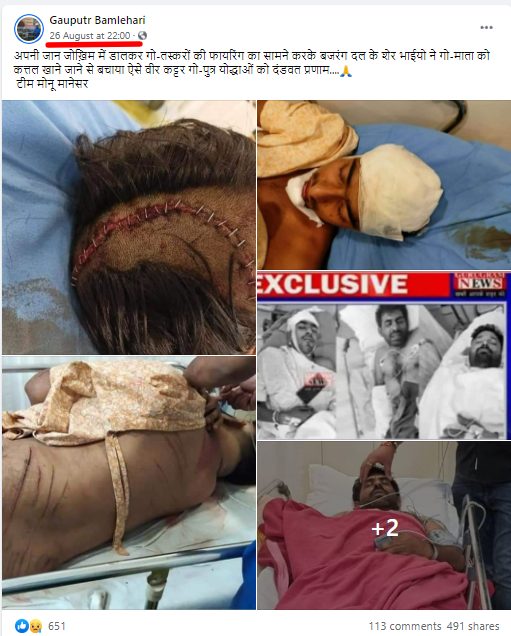 Alt News performed a keyword search which led us to a video report by Gurugram News dated August 25. The caption states, "In a brazen display, cattle smugglers threw a cow onto the moving vehicle belonging to the Gau Rakshaks that were following them last night near Gurugram's Ullawas village. The cattle smugglers then fled."
For more information on the incident, we reached out to a BJP supporter and National President of the Gau Raksha Hindu Dal Ved Nagar. He claimed that the man in the picture is a cow protector who was injured while chasing cow smugglers in Gurugram. He identified him as Tinku, the general secretary of the Gau Raksha Dal, Gurugram.
"On the night of August 25, the Gau Rakshaks received information that some people were smuggling cattle. They kept an eye on the movements of this group. They were attacked while chasing the smugglers' vehicle. The smugglers threw a cow in front of the rakshaks, which led to their vehicle overturning. Out of four rakshaks, three have sustained serious injuries. We have also filed a complaint in this matter. The police have promised to catch the cow smugglers within a week. Currently, three rakshaks are undergoing treatment."
Aaj Tak has also published a fact-check report debunking this image.
To sum it up, a picture of a Gau Rakshak who had been injured while in pursuit of alleged cattle smugglers in Gurugram was falsely shared as visuals of a farmer protester injured during the police lathi-charge in Karnal.
Donate to Alt News!
Independent journalism that speaks truth to power and is free of corporate and political control is possible only when people start contributing towards the same. Please consider donating towards this endeavour to fight fake news and misinformation.