A video featuring people waiting at a bus stand has taken social media by storm. In the clip, a woman without a face mask can be seen sitting among people who are all wearing one. One of these people asks the woman why she is not wearing a mask. In response, she says that healthy people do not need to wear masks. She tells him that masks are required only in case of a cold or while visiting hospitals or caring for a sick person. After this, the people sitting around her also take off their masks. At the end of the clip, the logos of the National Health Mission and Madhya Pradesh government are visible. The video has confused several social media users as people have been fined for not wearing masks but this video by the National Health Mission promotes selective use of masks.
On August 22, Facebook user Dipak C. Jriwala shared the video with a Gujarati caption – "આમાં આપણે શું સમજવું નેશનલ ઓથોરિટીઝ આ જાહેરાત આપે છે અને ગુજરાત સરકાર હજાર રૂપિયાનો દંડ કરે છે. (What should we take away from this advertisement? The national authorities have issued this and at the same time, the Gujarat government is fining thousands of rupees)". The video had received 2,900 views at the time of writing. (archived link to the post)
આમાં આપણે શું સમજવું નેશનલ ઓથોરિટીઝ આ જાહેરાત આપે છે અને ગુજરાત સરકાર હજાર રૂપિયાનો દંડ કરે છે
🤔😜🤪😄🤔🤪😄🤔🤔🤔🤔

Posted by Deepak C. Jariwala on Saturday, 22 August 2020
The clip is also being shared on WhatsApp with this caption. We received requests to verify it on the official Alt News Android app and our WhatsApp number (+917600011160).
This slideshow requires JavaScript.
The clip has also been shared on YouTube with the same claim.
Fact-check
The Collector of Jabalpur had tweeted this video on March 18, before the lockdown when COVID cases reported in the country were low. He wrote in the caption, "COVID-19: Is it mandatory for everyone to wear a mask? No… Watch this video to find out who should wear a mask #covidindia #CoronavirusOutbreak."
COVID-19 : मास्क पहनना क्या सभी के लिए जरूरी है? नहीं…

मास्क किन लोगों को कब पहनना चाहिए, जानने के लिए देखें… यह वीडियो…#covidindia #CoronavirusOutbreak pic.twitter.com/KVGB5wpJ1p

— Collector Jabalpur (@jabalpurdm) March 18, 2020
We noticed that many officers and official bodies in Madhya Pradesh had shared this video with the same message on March 18, such as the Collector of Ashoknagar (archived link to the tweet), the Public Relations Department Bhopal Government of Madhya Pradesh (archived link to the tweet), the District Public Relations Office of Gwalior (archived link to the tweet), the Collector of Gwalior (archived link to the tweet), the PRO JS Ashoknagar (archived link to the tweet), and the Collector of Jabalpur (archived link to the tweet). Some of these tweets have now been deleted.
After speaking with the Department of Public Relations, Madhya Pradesh, we were told, "This video was made according to the health guidelines in March. It was removed after a change in the guidelines of the Health Department. Now, this video from March is being shared. According to the current guidelines, the wrong information is being shared."
It is noteworthy that the first case of Covid-19 in India was reported on January 30, 2020. As of February 15, there were three coronavirus positive patients in the country. Since then, the number of corona patients in India had increased to 169 by March 18.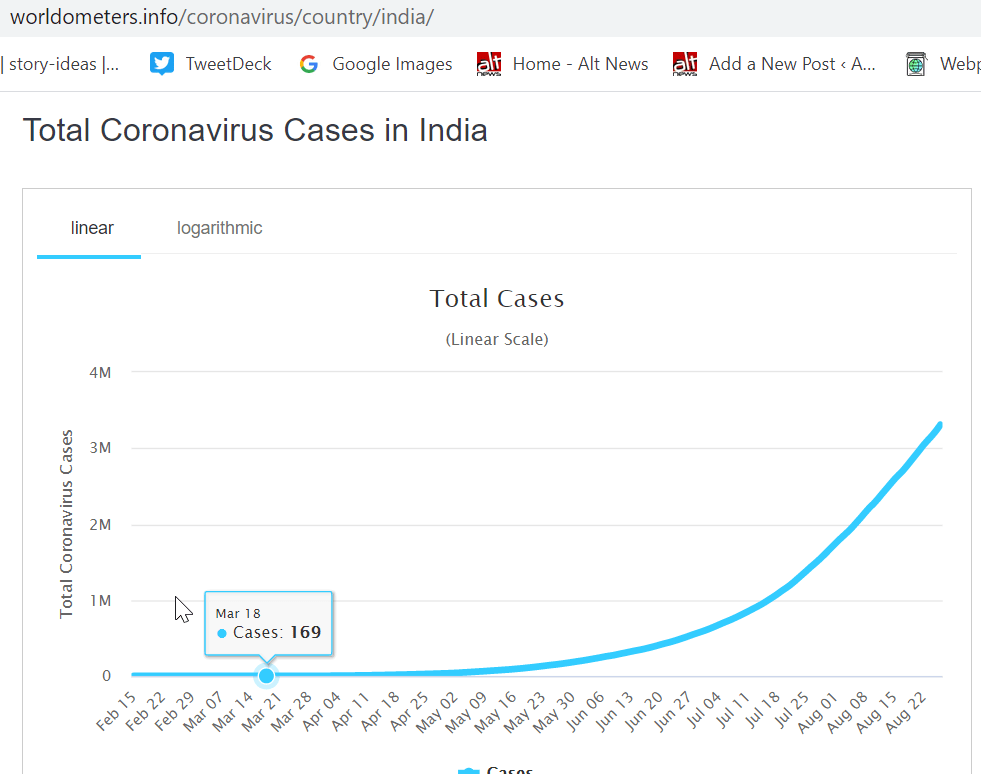 The number of coronavirus patients continued to grow steadily since. A nationwide lockdown was announced by the end of March. The first such lockdown in the country came into force from March 23 when 499 cases of coronavirus had been reported in the country.
On March 6, the World Health Organization (WHO) released guidelines regarding the use of masks. It suggested that healthy individuals did not need to wear a mask. It suggested wearing masks only if you had been close to an infected person or experience symptoms yourself. It also advised wearing a mask if you were sneezing or had a cough. On February 29, the American Surgeon General also advised people not to wear masks. On March 21, Alt News had published an article titled 'Do masks help to prevent the spread of coronavirus?'
Are there cases of #coronavirus #COVID-19 in your country/city? Know who should wear face masks pic.twitter.com/8Jd4DlUpns

— WHO South-East Asia (@WHOSEARO) March 6, 2020
Two months later on June 5, the WHO updated its guidelines on the use of masks and said that it was necessary for all persons to wear masks in areas with higher infection rates of Covid. WHO Director-General Dr Tedros stated that it was necessary for people working in hospitals or clinical areas to wear masks. People over 60 years of age were also required to wear medical masks in crowded areas. Wearing a mask was mandatory in areas where following social distance guidelines was not possible.
The viral video suggesting that not all people had to wear masks is actually from March 18, back when the World Health Organization (WHO) itself issued such guidelines. On June 5, the WHO announced changes to these guidelines and advised all people to wear masks in areas with high rates of infection.
Donate to Alt News!
Independent journalism that speaks truth to power and is free of corporate and political control is possible only when people start contributing towards the same. Please consider donating towards this endeavour to fight fake news and misinformation.