A purported newspaper clip viral on social media claims that BJP chief Amit Shah called the Baniya community 'thieves' and accused them of profiteering. It is being suggested that Shah made this statement while rallying ahead of Rajasthan elections in Bundi. The earliest instance of this viral clip, that Alt News found, was circulated by Twitter handle @KedarKansanaINC.
साथियों..भाजपा के राष्ट्रीय अध्यक्ष अमित शाह की यह भाषा सिर्फ सत्ता का नशा है!चिंता मत करो बनिया ही तुमारे सत्ता के नशा को 2019 में उतारेंगे..@RahulGandhi @INCIndia @INCMP pic.twitter.com/v5wglqjeJ8

— Kedar Kansana (@KedarKansanaINC) December 9, 2018
The clip was also shared by Sanjay Yadav, the political advisor to ex-deputy CM of Bihar, Tejasvi Yadav.
चोरी और मुनाफ़ाखोरी बनियों की आदत। किसानों की बर्बादी का मुख्य कारण बनिया ही है:- अमित शाह

लेकिन बनिये तो बनिए है वो बिगड़ते थोड़े ना है।अमित शाह कितनी भी गाली दें बनिए बीजेपी से मुहब्बत करते है। प्रेम में गाली खाना बनियों को मुबारक..@ArvindKejriwal pic.twitter.com/av123AzWRp

— Sanjay Yadav (@sanjuydv) December 10, 2018
A user who describes himself as an SP leader and another who calls himself an AAP supporter shared the clip as well.

Similar claims are also viral on Facebook.
Fake newspaper clip
Searching the newspaper clip with different keywords did not bring up any results. It is improbable that a statement where Amit Shah calls members of the Baniya and business community 'cheaters' and 'thieves' was unreported by mainstream media.
Moreover, Alt News looked at news reports and the video of Shah rallying in Bundi. We found that the BJP chief made a speech in Bundi on December 3 however, he did not utter the statements as claimed in the viral newspaper clip.
लाइव : श्री अमित शाह की बूंदी में जनसभा। #राजस्थान_री_शान_भाजपा https://t.co/Ffd8rLu9Yx

— BJP (@BJP4India) December 3, 2018
Other claims made in the newspaper cutting
While the headline termed the Baniya community 'habitual thieves', if one goes through the entire Hindi article it has made two other claims.
"Local businessmen will be replaced with foreign investment"
A sub-section in the article claimed that Amit Shah said in his speech that "these businessmen" will be replaced in retail and wholesale markets with big investment. The government, as claimed in the article, is working on a model to acquire foreign investments in this regard.
"Modi also called businessmen thieves"
The concluding paragraph of the article claimed that Prime Minister Modi also compared businessmen and the Baniya community with "thieves". The newspaper clip suggested that PM Modi, while on a foreign trip, said that demonetisation was undertaken as a move against the black money hoarded by businessmen. It claimed that the PM called them the biggest source of black money because of incessant profiteering.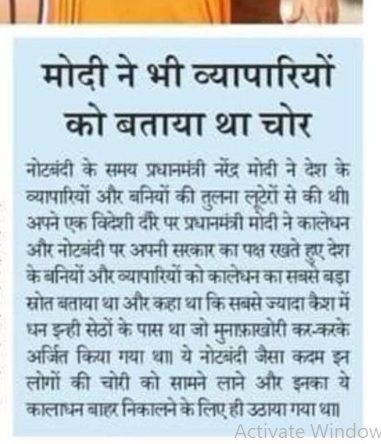 An elaborate attempt
As fact-checked earlier in this report, Amit Shah did not make the statements attributed to him in the viral clip. The entire clip is thus fake, pointing at the elaborate attempt to malign the BJP chief.
The recent Twitter feud between BJP and AAP over Baniyas might have given birth to the fake clip.
Union minister of state for parliamentary affairs Vijay Goel tweeted on December 8 that people of "Baniya community from Delhi are upset because CM Arvind Kejriwal and AAP think that they are stupid (translated)".
दिल्ली के बनिए इस बात से नाराज़ हैं कि @ArvindKejriwal और उनकी पार्टी बनियों को बेवक़ूफ़ समझती है | क्या वैश्य समाज इस बात पर विश्वास करेगा कि भाजपा ढूंढ-ढूंढ कर उनका वोट काटेगी? जबकी सच तो यह है कि दिल्ली से दो वैश्य नेता केंद्र सरकार में मंत्री हैं |

— Vijay Goel (@VijayGoelBJP) December 8, 2018
To this, Delhi Chief Minister Arvind Kejriwal tweeted that BJP cut Baniya votes in Delhi by 50%.
आपने मेरे प्रश्न का जवाब नहीं दिया???

भाजपा ने दिल्ली के 50% बनियों के वोट क्यों कटवाए? .@VijayGoelBJP https://t.co/bnzxdL8Gev

— Arvind Kejriwal (@ArvindKejriwal) December 8, 2018
The spar continued further with both Goel and Kejriwal accusing each other of not satisfying the needs of the Baniya community.
This isn't an isolated instance of fake newspaper clip attributing false statements to a political leader. Alt News had debunked in the past a morphed clip according to which Kejriwal said that India should give up Kashmir. Another fake newspaper cutting claimed that Sonia Gandhi is the fourth richest woman in the world.
Donate to Alt News!
Independent journalism that speaks truth to power and is free of corporate and political control is possible only when people start contributing towards the same. Please consider donating towards this endeavour to fight fake news and misinformation.