A 15-second video of what appear to be army officers shouting violent slogans has been circulating on social media platforms. Users are sharing the footage and claiming that army personnel was raising anti-BJP and anti-RSS slogans. Facebook user Priya Banga shared the visuals with the same claim. (Archive link)
ਮੋਦੀ ਨੇ ਤਾ ਆਰਮੀ ਵਾਲੇ ਵੀ ਧਰਨੇ ਲਾਉਣ ਲਈ ਲਾ ਦਿੱਤੇ ਇਤਿਹਾਸ ਵਿੱਚ ਪਹਿਲੀ ਵਾਰ ਹੋਇਆ ਕਰੋ ਸ਼ੈਅਰ

Posted by Priya Banga on Wednesday, August 25, 2021
Another Facebook user posted this video and accompanying claim.
ਹੁਣ ਤਾਂ ਫੌਜੀ ਵੀ ,ਬੀ ਜੇ ਪੀ ,ਤੇ ,RSS, ਦੇ ਵਿਰੋਧ ਵਿੱਚ ਅਾ ਗੲੇ,fouji vi aage BJP and R S S de virodh vich

ਹੁਣ ਤਾਂ ਫੌਜੀ ਵੀ ,ਬੀ ਜੇ ਪੀ ,ਤੇ ,RSS, ਦੇ ਵਿਰੋਧ ਵਿੱਚ ਆ ਗੈ,fouji vi aage BJP and R S S de virodh vich

Posted by Jagdish Warwal on Friday, June 18, 2021
Several other users have also been sharing the video on the platform.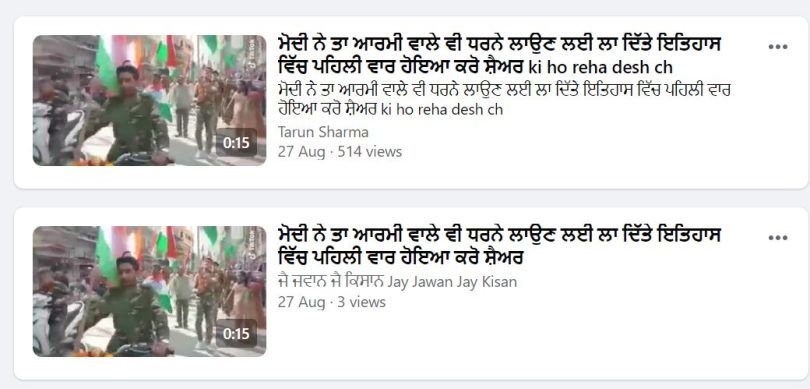 Fact-check
Alt News performed a keyword search and came across a PIB fact-check article dated February 10, 2020. It states that no anti-BJP slogans were raised at the gathering in question and also contains a TikTok video. Alt News was able to access the Tik Tok video using TOR browser. There were no anti-BJP or anti-RSS slogans raised at the rally. In fact, the people donning army uniforms were chanting, "देश के गद्दारों को गोली मारों ** को, जो नहीं है साथ में चूड़ी पहनो हाथ में." (Those who are traitors to the nation, shoot them dead. Those who don't stand with us put bangles on your wrist.) You can watch the TikTok video below.
Alt News performed another keyword search which led us to a few photos posted on Facebook. A closer look confirmed that the person seen in these images is also seen in the viral video wearing the Indian flag around his shoulders. These photos were posted on Facebook by user Vishal Chauhan on February 16, 2019.
Both the TikTok video and the picture found on Facebook contain:
1) The same man wrapped in the Indian flag
2) People in the background wearing yellow garlands around their necks

We then looked through Vishal Chauhan's Facebook timeline and found a similar video posted on February 16, 2019. Here too, the crowd was raising the same slogans as the Tik Tok video, "जो नहीं है साथ में चूड़ी पहनो हाथ में." (Those who don't stand with us put bangles on your wrist.)
पुलवामा (कश्मीर ) मे आतंकी हमले के दौरान हमने अपने CRPF देश के वीर बहादुर बेटो को हमने खोया है जिसके कारण पूरा देश रो रहा हे और चिल्ला -चिल्ला कर कह रहा हे "हमे निंदा नही चाहिए एक भी आतंकी जिंदा नही चाहिए,
देश के गद्दारो को गोली मारो एक भी गद्दार और आतंकी जिंदा बचना नही चाहिए।
"देश के वीरो को नमन करेंगे खुन का बदला खुन से लेंगे,
"बहुत हुआ अब नही सहेंगे इस पूरे आतंकवाद और आतंकियो को साफया करके रहेंगे,
वीर शहीद अमर रहे।
वीर शहिद अमर रहे।
वीर शहीद अमर रहे।
वीर शहीद अमर रहे।

जय हिन्द जय भारत।
INDIAN BOY

Posted by Chauhan Chauhan Vishal on Saturday, February 16, 2019
Boomlive spoke to Chauhan regarding this video. He was quoted as saying that the gathering was held in Haridwar in honour of the Pulwama martyrs. "No one raised any anti-BJP or anti-RSS slogans in the rally. I was part of it. It was organised in Haridwar between the Bhumanand Hospital and Har Ki Pauri," he said.
A video of a Haridwar rally commemorating Indian soldiers martyred in Pulwama in 2019 was edited to falsely claim that army personnel was raising anti-BJP and anti-RSS slogans.
Donate to Alt News!
Independent journalism that speaks truth to power and is free of corporate and political control is possible only when people start contributing towards the same. Please consider donating towards this endeavour to fight fake news and misinformation.