With assembly elections drawing to a close, political disinformation has peaked on social media. An image of what is purportedly a screenshot of the Hindi news channel ABP News has been shared widely. The screenshot carries an alleged quote of Congress President Rahul Gandhi, according to which he has said that it is necessary to support Pakistan and that he will do the same, promising Rs.5000 crore loan to Pakistan without interest for the next 50 years!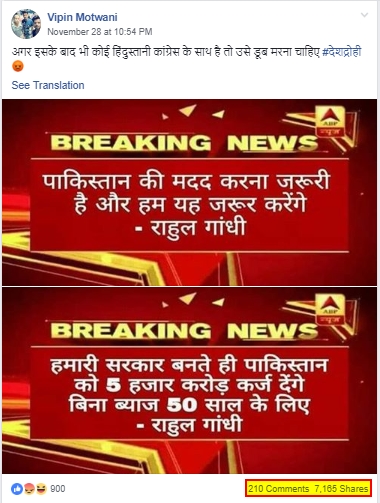 The above was posted in a Facebook group Mission Modi 2019 में अपने 100 मित्रों को जोड़ें on November 28. The group has a membership of over 500,000 and this particular post has been shared over 7000 times so far. These screenshots have also been posted by a large number of individual users on Facebook.
NOT a screenshot of ABP News
The screenshot circulating on social media is fake. No such news has been flashed on the channel, as claimed. Alt News spoke to Pankaj Jha, editor at ABP News who confirmed, "All of these screenshots are fake".
This tactic of using the background of ABP News has been used widely. In November, the channel tweeted, asking social media users to beware of fake news being spread in the name of the channel through manipulated images.
#Urgent: This is to notify that the attached media which is being circulated online has been doctored with our channel's template. The information about Sh. Rahul Gandhi's statements, which these images carry have not been reported by ABP & have no relation with ABP News Network. pic.twitter.com/qYU2sJXqsl

— ABP News (@abpnewstv) November 12, 2018
Earlier, BJP spokesperson Sambit Patra was targeted in the same manner, when a fake quote during the farmers' agitation was attributed to him through a fake screenshot of ABP News.
No such Press Conference was ever held by @BJP4India
This is a photoshopped,fake news propagated by a verified Twitter handle to further vested interests & cause disharmony in the country
I sincerely request @TwitterIndia to take stringent action against the verified handle! https://t.co/tU0w2SCrpL

— Sambit Patra (@sambitswaraj) October 4, 2018
Fake opinion polls in the name of ABP News
Fake quotes aside, the name of the channel has also been utilised to spread misinformation with regard to opinion polls and exit polls ahead of elections. Recently, ABP News had tweeted a clarification after a 'survey' of the Chhattisgarh assembly election was attributed to ABP News and C-Voter, and shared on social media. Earlier in 2017, ahead of the Gujarat assembly election, a fake opinion poll ascribed to ABP News was circulated.
Beware of fake news on social media in the name of ABP News. The attached 'survey' of Chhattisgarh assembly elections which is being circulated online and attributed to ABP News-CVoter is FAKE. pic.twitter.com/EwMSD4xWNf

— ABP News (@abpnewstv) November 26, 2018
In conclusion, the screenshots circulating on social media ascribing the quotation on Pakistan to Rahul Gandhi are fake.
Donate to Alt News!
Independent journalism that speaks truth to power and is free of corporate and political control is possible only when people start contributing towards the same. Please consider donating towards this endeavour to fight fake news and misinformation.