In his reply to the no-confidence motion brought by the Opposition in the Lok Sabha, Prime Minister Narendra Modi recently mentioned the bombing of Mizoram in 1966 while targeting the Congress. The issue has continued to hog the headlines since. The BJP has questioned the Congress over this, claiming that while the party was in power, Indira Gandhi got the people of her own country bombed. they alleged that Rajesh Pilot and Suresh Kalmadi had flown the aircraft that carried out the bombings. Pilot later became an MP on a Congress ticket and also became a minister.
In a bulletin, ABP News quoted the then MP George Gilbert Swale (GG Swale) as claiming the same. BJP IT Cell chief Amit Malviya tweeted the ABP News report on August 13 targeting the Congress party. He wrote that the Air Force planes that bombed Mizoram's capital Aizawl on March 5, 1966, were piloted by Rajesh Pilot and Suresh Kalmadi. Later, both of them became MPs on Congress tickets and ministers in the government. Malviya said that Indira Gandhi rewarded people who had carried out airstrikes on the people of their own country and also gave them a place in politics. (Archived link)
राजेश पायलट और सुरेश कलमाड़ी भारतीय वायुसेना के उन विमानों को उड़ा रहे थे जिन्होंने 5 मार्च 1966 को मिज़ोरम की राजधानी आइज़वाल पर बम गिराये। बाद में दोनों कांग्रेस के टिकट पर सांसद और सरकार में मंत्री भी बने।

स्पष्ट है कि नार्थ ईस्ट में अपने ही लोगों पर हवाई हमला करने वालों को… pic.twitter.com/eXjQ33XUwe

— Amit Malviya (@amitmalviya) August 13, 2023
A handle named Dharmic Jana also made the same claim in a tweet. (Archived link)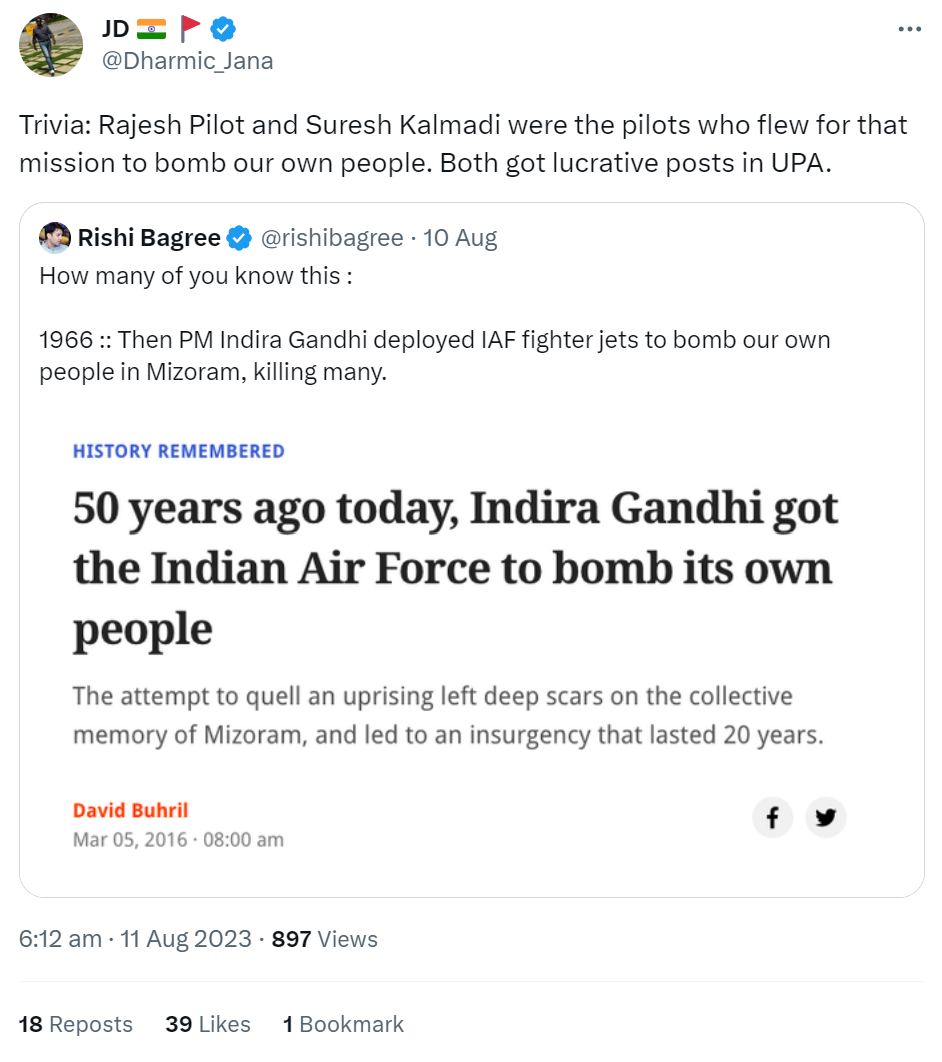 A user named Dimpal Kumar also made a similar claim on Twitter. (Archived link)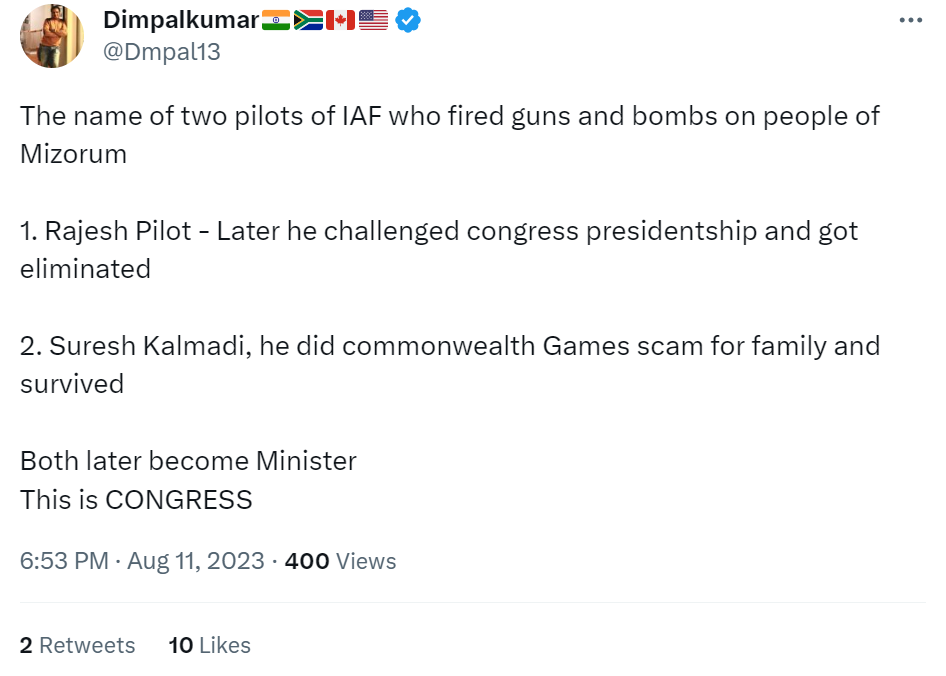 Several other social media users also promoted this claim.
Fact Check
Congress leader and Rajesh Pilot's son Sachin Pilot replied to Amit Malviya's tweet, sharing a letter from the President stating that Shri Rajeshwar Prasad (Rajesh Pilot) was commissioned as a Pilot Officer in the Indian Air Force on October 29, 1966. In this tweet, Sachin Pilot wrote, "Sw. Mr. Rajesh Pilot was commissioned in the Indian Air Force on October 29, 1966. To say that he bombed Mizoram on March 5, 1966 – is fictitious, baseless and totally misleading."
.@amitmalviya – You have the wrong dates, wrong facts…
Yes, as an Indian Air Force pilot, my late father did drop bombs. But that was on erstwhile East Pakistan during the 1971 Indo-Pak war and not as you claim, on Mizoram on the 5th of March 1966.
He was commissioned into the… https://t.co/JfexDbczfk pic.twitter.com/Lpe1GL1NLB

— Sachin Pilot (@SachinPilot) August 15, 2023
Alt News independently verified the Service Number and Branch of Rajeshwar Prasad alias Rajesh Pilot in the Gazette of India Part I-Section 4: Ministry of Defense (Air Branch) dated April 29, 1967, page no. 343 which is given as Service No. – 10528 , Branch – General Duties (Pilot). Readers can find the link to the Gazette of India here.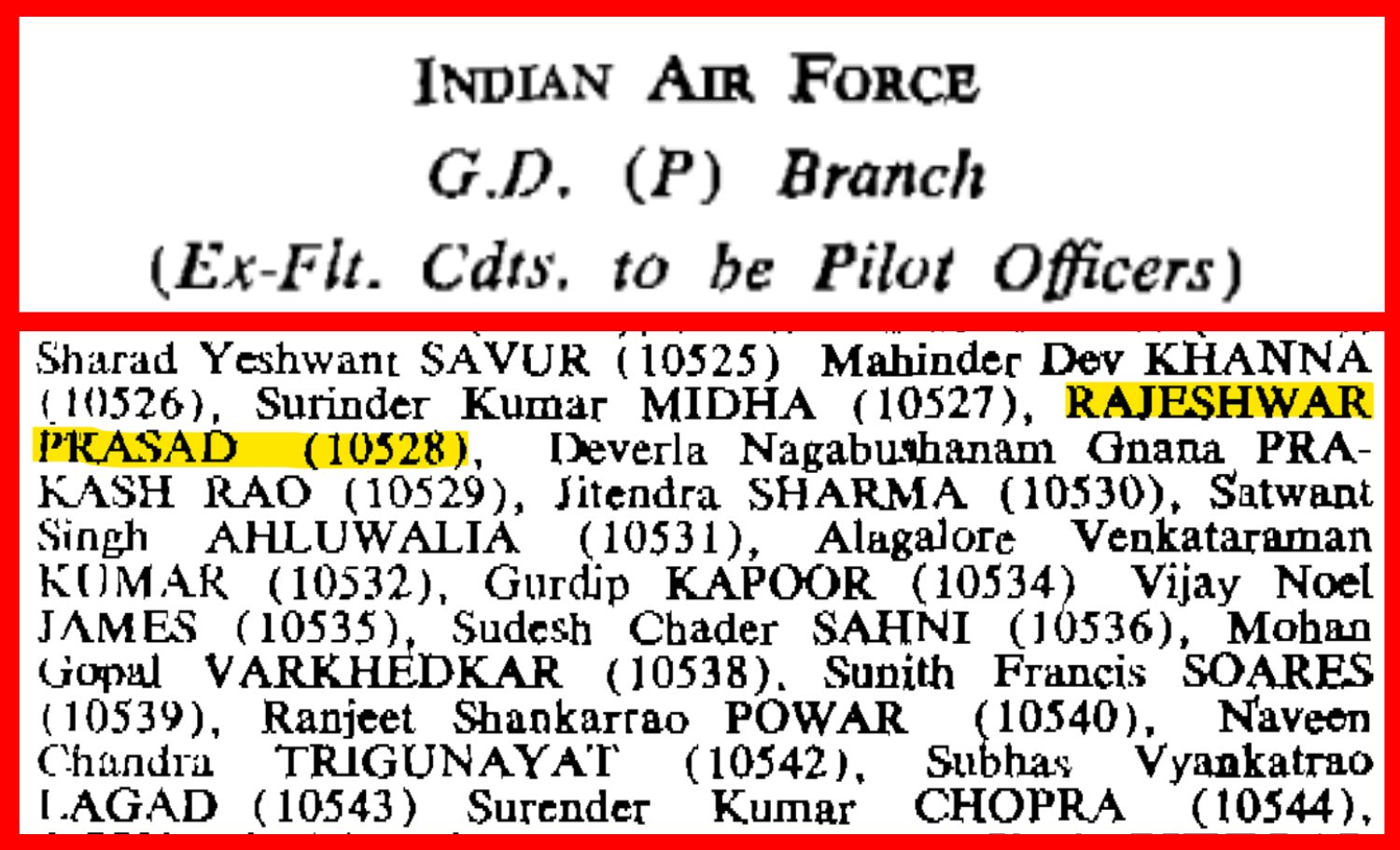 Even in the Bharat Rakshak database, a portal that stores publicly available data of army officers, the commissioning date of Rajeshwar Prasad alias Rajesh Pilot is given as October 29, 1966. Readers can access the database here.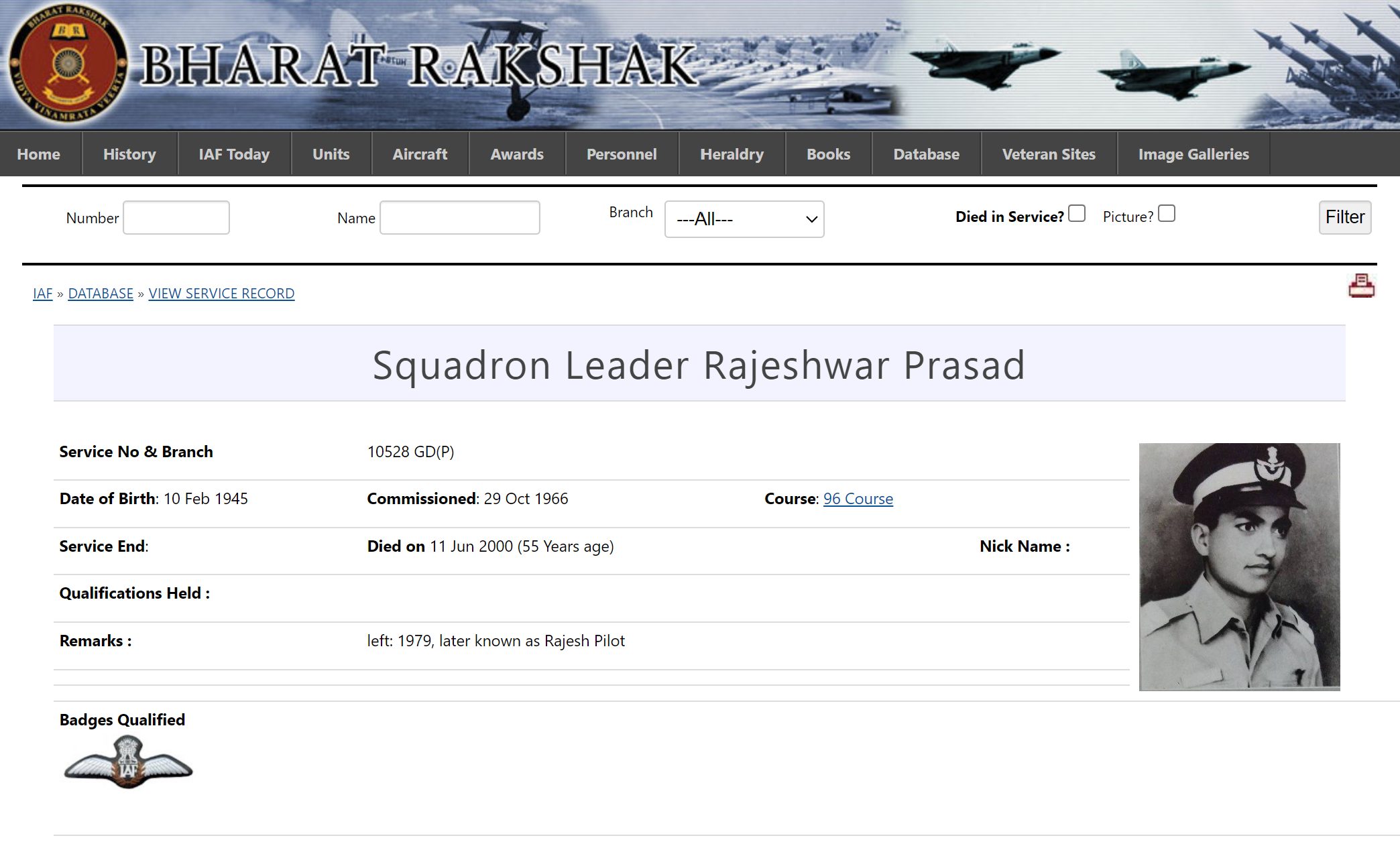 Alt News also reached out to Suresh Kalmadi for his comment on the matter. We will update this article when we receive a response.
To sum it up, BJP IT Cell head Amit Malviya and other BJP leaders falsely claimed that Rajesh Pilot was flying one of the planes that bombed Aizawl, the capital of Mizoram, in March 1966. In reality, Rajeshwar Prasad alias Rajesh Pilot was commissioned in the Indian Air Force as a pilot in October 1966, seven months after the bombing.
Same Claim Made Earlier
Further into the investigation, Alt News found an opinion piece written by journalist Shekhar Gupta in The Indian Express on April 10, 2010. In it, he wrote, "Mrs. Gandhi sent airplanes to bomb Aizawl when the Mizo rebels hoisted their flag on the treasury and were about to sack the Assam Rifles battalion headquarters, which housed not just troops but their families. The pilots on those bombing runs included two names we all got to know subsequently: Rajesh Pilot and Suresh Kalmadi.". The same article was also published on the website of The Print, of which Gupta is the founding editor. A number of other websites have also made the same claim citing this Indian Express article as their source.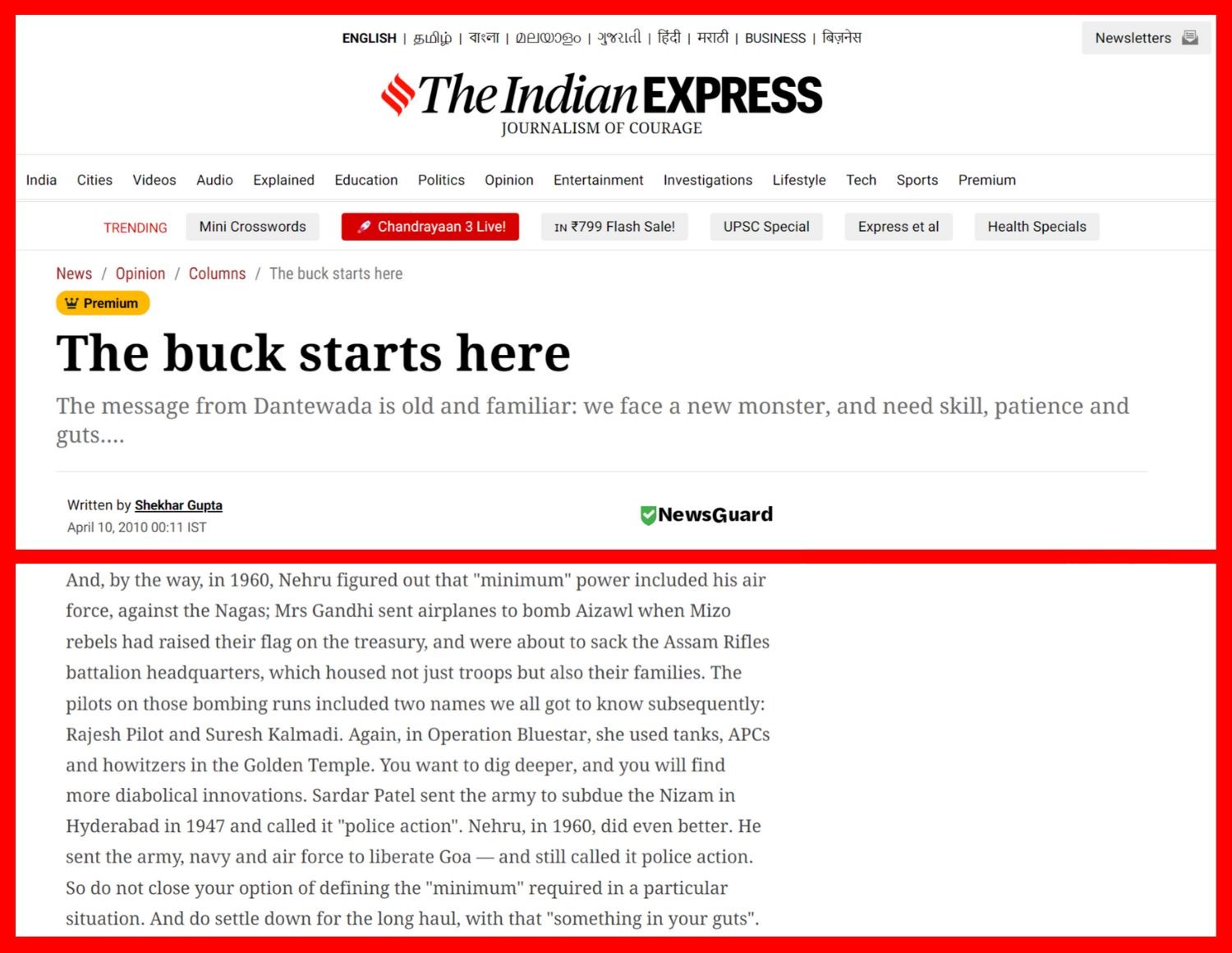 Shekhar Gupta repeated the same claim in a tweet dated July 15, 2020 and stated that in early 1966 when the Mizo insurgency started and it looked like Aizawl would fall, Mrs. Gandhi, who had been Prime Minister for a few weeks, sent the IAF to stop the rebels. He added that transport aircraft like Caribus were also used in this attack, and were being flown by Rajesh Pilot with Suresh Kalmadi as the navigator. (Archived link)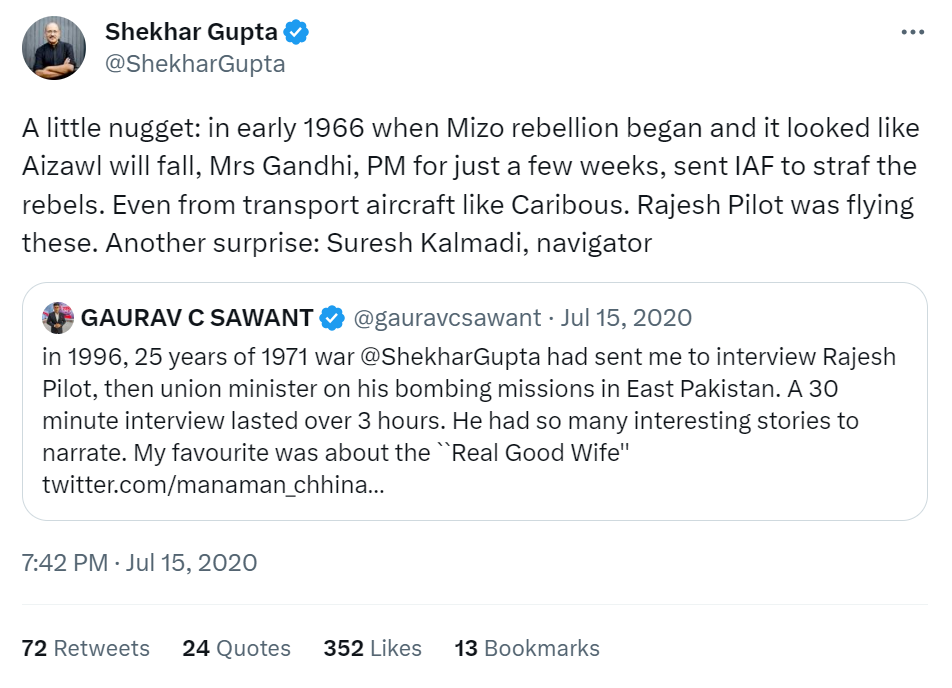 Shekhar Gupta's Columns Updated with Correct Information
On August 17, 2023, Alt News reached out to Shekhar Gupta and asked him about the source of information for the The Indian Express column and his tweet where he had made the claim about Rajesh Pilot.
On August 21, 2023, the 2010 Indian Express article was updated to remove the claim that Rajesh Pilot was involved in the March 1966 Indian Air Force bombings of Aizawl. Along with this, Shekhar Gupta wrote in the Indian Express column, "I got mixed up with my dates and periods and erred in including his (Rajesh Pilot's) name. Accordingly, corrections are made in my archived article published above."
Gupta also updated his column on The Print's website and removed the line which claimed that Rajesh Pilot was involved in the bombing of Aizawl by the Indian Air Force. Along with this, he gave a clarification regarding this. What he mentioned in his column was based on several conversations he had from time to time with pilots of the Indian Air Force of that time, including Rajesh Pilot. He got confused over the dates and periods of many talks which he regrets and admits he made a mistake. He further added that corrections had been made in his article originally published in The Indian Express.
On August 23, 2023 he replied to Alt News saying, "If you look at the relevant column on the Indian Express website, you will find the answers you are looking for. You can also find them in some degree of detail on The Print."
The updated part in the Indian Express article can be seen here: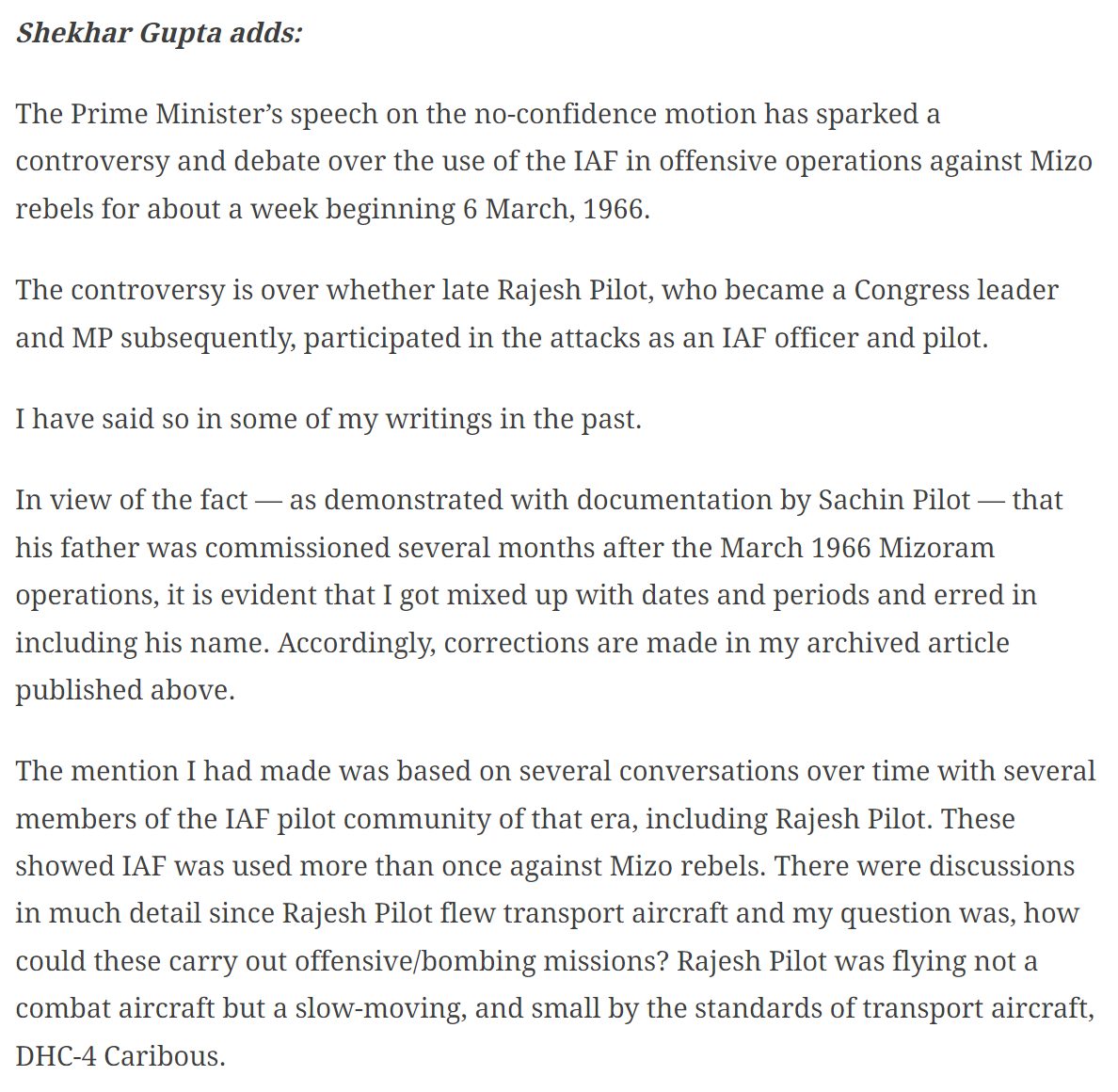 The update in The Print article can be seen here: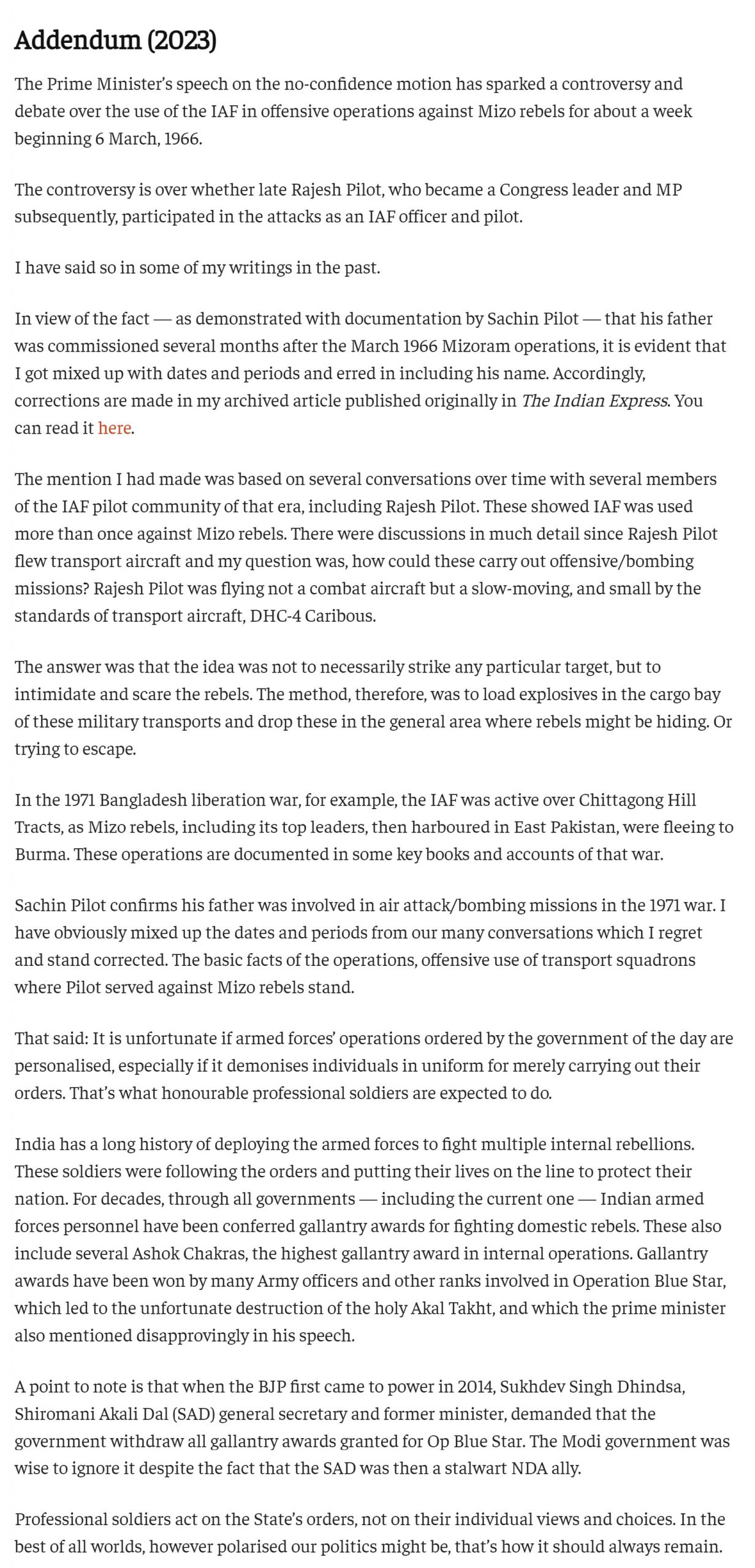 Donate to Alt News!
Independent journalism that speaks truth to power and is free of corporate and political control is possible only when people start contributing towards the same. Please consider donating towards this endeavour to fight fake news and misinformation.