Two pictures are being circulated on social media. One shows a woman tying a rakhi to a man and the other is purportedly of the same woman who seems injured. कोमल (@komal44337466), a Twitter user had tweeted these images stating, "यूपी के गोंडा में हिंदु महिला नीरू गौतम ने कांग्रेस नेता गफूर खान को अपना भाई माना था और राखी तक पहनाई 27aug Monday को गफूर खान ने निरू को कुछ काम के सिलसिले में घर बुलाया और निरू से बलात्कार करके मार पिटाई करके घर से भाग गया" (In Gonda (UP), a Hindu woman Niru Gautam considered Congress leader Ghafoor Khan as her brother and had also tied a rakhi. On 27th August Monday, Ghafoor called Niru home for some work and then he ran away after beating and raping Niru -translated) The tweet has now been deleted.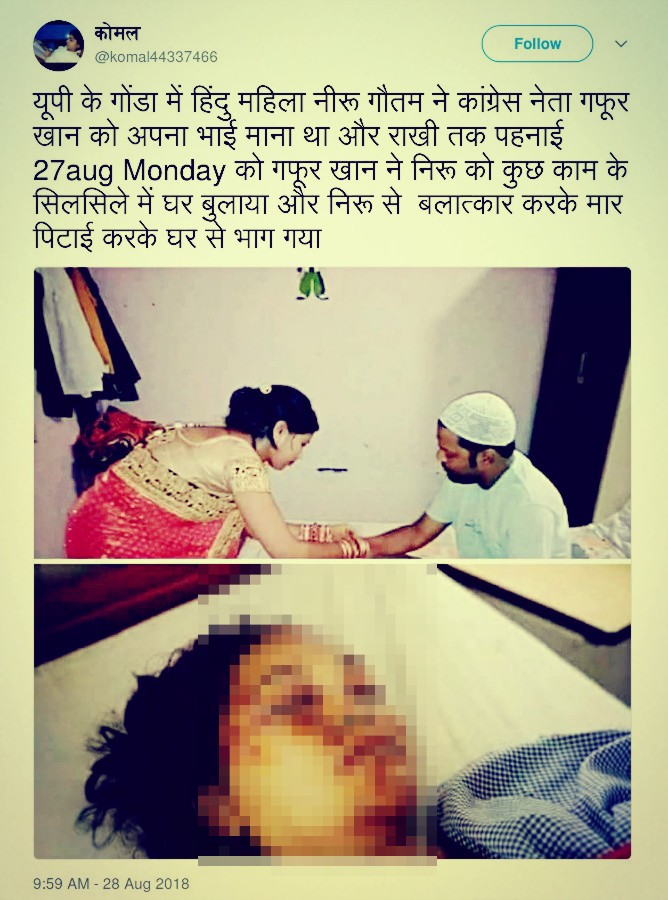 Twitter user Komal (@komal44337466) who posted this message now faces an FIR by UP police on the charge of "sharing fake and inflammatory post aimed at inciting communal hatred". Many users on Facebook and Twitter have shared the same images claiming a Hindu woman in Gonda, Uttar Pradesh was raped by a Muslim Congress leader.
Another Facebook user had posted the same image with exact text in a public group BJP SOCIAL MEDIA. The group has more than 7 lakh members.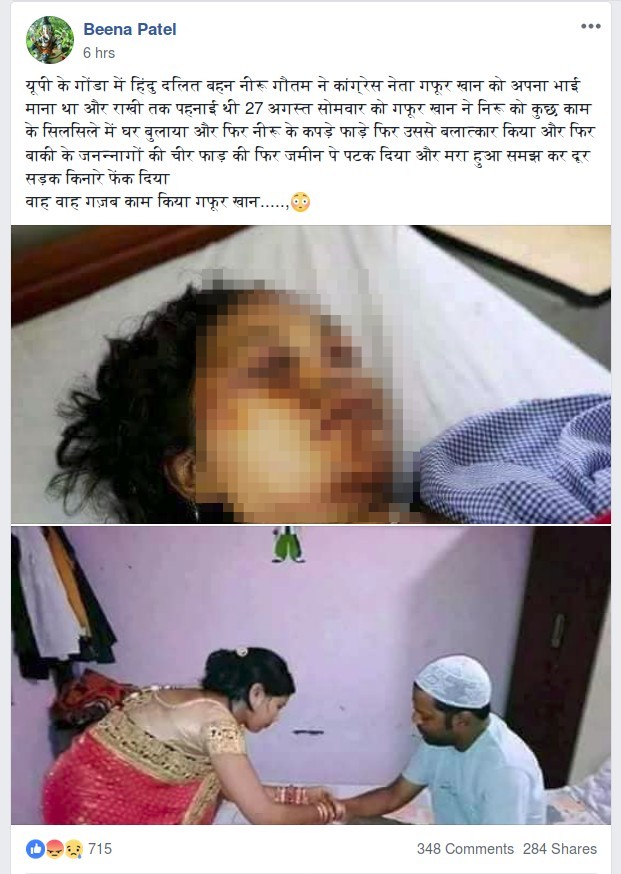 Unrelated images
Navbharat Times had earlier fact-checked the claim. A Google reverse image search of the image where a woman is tying a rakhi shows that it is an old image. An image posted by a Twitter user on August 7, 2018 was one of the earliest instances we could find. The tweet promotes communal harmony stating, "some relations are beyond religion and Love and Hate have no religion (translated)." Hence, it cannot be representative of an incident claimed to have happened recently.
कुछ रिस्ते मजहब से बढ़ कर होते है ,
मौहबत और नफरत का कोई धर्म नहीं होता "
Indian's strength
Unity in diversity..
😊😊 pic.twitter.com/Jph3DGcivG

— Aditya (@AdityaReborn2) August 7, 2017
Alt News also did a Google reverse image of the injured woman's picture and found an Associated Press image taken by photographer Rajesh Kumar. The caption reads, "An injured passenger recovers at a hospital at Kanpur, in the northern Indian state of Uttar Pradesh, India, Monday, Nov. 21, 2016. Scores of passengers died and scores more were injured after 14 coaches of an overnight passenger train rolled off the track." 

"Unfounded and false"
Gonda Police tweeted a clarification busting the rumours circulating about a woman raped in the district. The tweet refuted the claims made on social media stating, "The photo included in the mentioned viral post dates back to November 21, 2016 and represents an incident where a woman was injured in a train accident in Kanpur,Uttar Pradesh. Hence this incident is completely unfounded and false (translated)."
उपरोक्त वायरल पोस्ट में शामिल की गई फोटो दिनांक 21 नवंबर 2016 कानपुर उत्तर प्रदेश में हुई ट्रेन दुर्घटना में घायल महिला की है घटना पूरी तरह से निराधार व असत्य है l @priankajha pic.twitter.com/FPifhd1Gfc

— Gonda Police (@gondapolice) August 29, 2018
Making false claims on the basis of unrelated images has been a tried and tested tactic of pages and accounts that seek to increase the chasm of communal divide. A photo shared in 2017 to promote harmony between two communities was maliciously used to foment communal strife.
Donate to Alt News!
Independent journalism that speaks truth to power and is free of corporate and political control is possible only when people start contributing towards the same. Please consider donating towards this endeavour to fight fake news and misinformation.To make an instant donation, click on the "Donate Now" button above. For information regarding donation via Bank Transfer/Cheque/DD, click here.