A CCTV footage showing a Muslim man in a petrol pump reaching for his pocket to make a payment and dropping something on the ground is massively viral on social media. Certain users have speculated that the man intentionally dropped currency notes to spread coronavirus infection. ABP News anchor Vikas Bhadauria tweeted the video saying, "Did he purposely drop the note or it fell by mistake? What could be his intentions?" As of this writing, his tweet drew close to 2.5 lakh views and 6,000 retweets.
[Translated from: नोट जानबूझ कर फेंका या गलती से गिर गया है ? इनका इरादा क्या हो सकता है ?#CoronaUpdate #CoronavirusOutbreak #lockdownindia]
नोट जानबूझ कर फेंका या गलती से गिर गया है ? इनका इरादा क्या हो सकता है ?#CoronaUpdate#CoronavirusOutbreak #lockdownindia pic.twitter.com/eAVlgQny6N

— Vikas Bhadauria (ABP News) (@vikasbhaABP) April 25, 2020
TV9 Gujarati aired the video claiming that a man in Gujarat's Navsari threw a Rs 20 note creating a coronavirus scare.
BJYM Telangana spokesperson Roop Darak tagged Alt News asking if the man "willingly threw a note".
Can you Plz fact check willingly currency on road .@AltNews @zoo_bear pic.twitter.com/dlb4Ch7TEo

— Roop Darak (@iRupND) April 25, 2020
Facebook page S24 News Channel uploaded the video with a caption in Gujarati – "Navsari: An incident where notes were thrown has come to light (નવસારી : ખડસુપા ગામે ચલણી નોટ ફેકવાનો કિસ્સો સામે આવ્યો.)"
FACT-CHECK
Alt News contacted Navsari police and was informed by inspector P P Brahmabatt of the area's rural police station: "After watching the CCTV footage, the owner of the petrol pump contacted the police. We brought in the man seen in the clip for questioning. His name is Mohammed Yusuf Ilyas Shaikh, a resident of Valsad. During the questioning, we found that his right hand is paralysed after he had met with an accident. His right hand does not function properly which is why the notes fell out of his hand. A complaint has been filed against him for travelling from Valsad to Navsari during the lockdown."
Brahmabatt was further asked if Ilyas is coronavirus positive or has symptoms for the disease. "We took him for a medical examination and found that he does not have symptoms. He has been advised home-quarantine," the inspector replied.
We also contacted Ilyas who described the events of April 22. "I had left in the morning to travel to Dabhel and stopped at a gas station en route to fill petrol. Since I was riding on the highway I was wearing spectacles and a mask. I met with an accident in 2009 and since then, I am unable to hold things in my right hand. There is movement in the hand but I cannot use it effectively. I didn't even realise when the notes fell out of my hand."
Ilyas further said, "If you notice the video carefully, I used my left hand to reach my pocket and make the payment. During this time, I didn't realise that notes got stuck between my fingers in the right hand and fell on the ground."
The CCTV footage shared by Vikas Bhadauria and TV9 Gujarati is merely 20 seconds long. However, the 46th second of the complete 2:13-minute video shows that Ilyas puts his left hand inside his pocket, takes out currency notes and holds them using both his hands. He then makes the payment using his left hand.
Upon being asked about the FIR filed against him, Ilyas informed that he was called to Valsad police station for questioning. "I informed the police that I hadn't gone to Navsari but Dabhel which comes in the highway route. I have implants in my spine which sometimes pain. So I have to visit the hospital in Dabhel for a check-up every 2-3 months. A few people came from Navsari police station and took me to the rural police station. I was then taken to Navsari government hospital for a check-up. The doctors found that I was perfectly fine and had no symptoms for coronavirus. I didn't even know what exactly was going on," he said.
"When I told the police about the paralysis in my right hand, they accepted that I dropped the note unintentionally. The people from the petrol pump also came to the police station. When they saw my hand, they understood that it was a mistake. I was subsequently given bail and have been staying at home as advised by the doctor," he continued.
Ilyas also gave a video statement to Alt News that can be watched below. The video shows severe injuries on his right hand.
Ilyas's statement was corroborated by Sunilbhai Patel, the owner of Krishak petrol pump. "He has an injury on his hand due to an accident that he met years ago which is why notes fell from his hand," he told Alt News.
Photographs of Ilyas's X-ray report are attached below.
How can a person 'spread' coronavirus without knowing that he has the infection?
A conspiracy theory was manufactured around a benign incident caught on CCTV camera. One can only spread infection when they are infected in the first place. A person can find out if they are infected only after getting tested. In India, the COVID-19 tests are being carried out by both public and private laboratories. The labs are mandated to inform the respective governments about test results for further course of action or contact tracing. People are either quarantined or admitted to the hospital depending on their medical condition.
Only a test can determine if Shaikh is coronavirus positive. However, he denied ever having tested for the infection. Moreover, an infected person violating quarantine is a crime under the Epidemic Diseases Act but Shaikh hasn't been booked under any of the relevant sections.
It is ridiculous to suggest that a coronavirus positive patient escaped a quarantine ward, took his scooter to a petrol pump and concocted a plan to quietly drop a currency note to spread the infection.
False claim viral
Several users on Twitter and Facebook have shared the video claiming, "पैसे लेने के बाद दूसरे हाथ से नोट फैक रहा है. (After taking money, he threw a note from his other hand.)"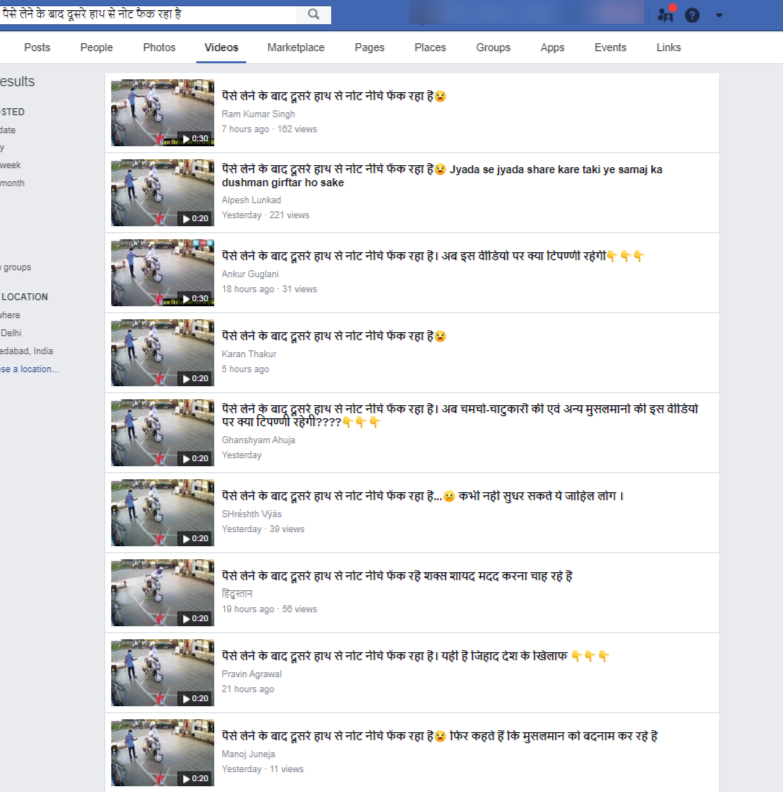 Alt News has also received multiple fact-check requests on its official mobile application.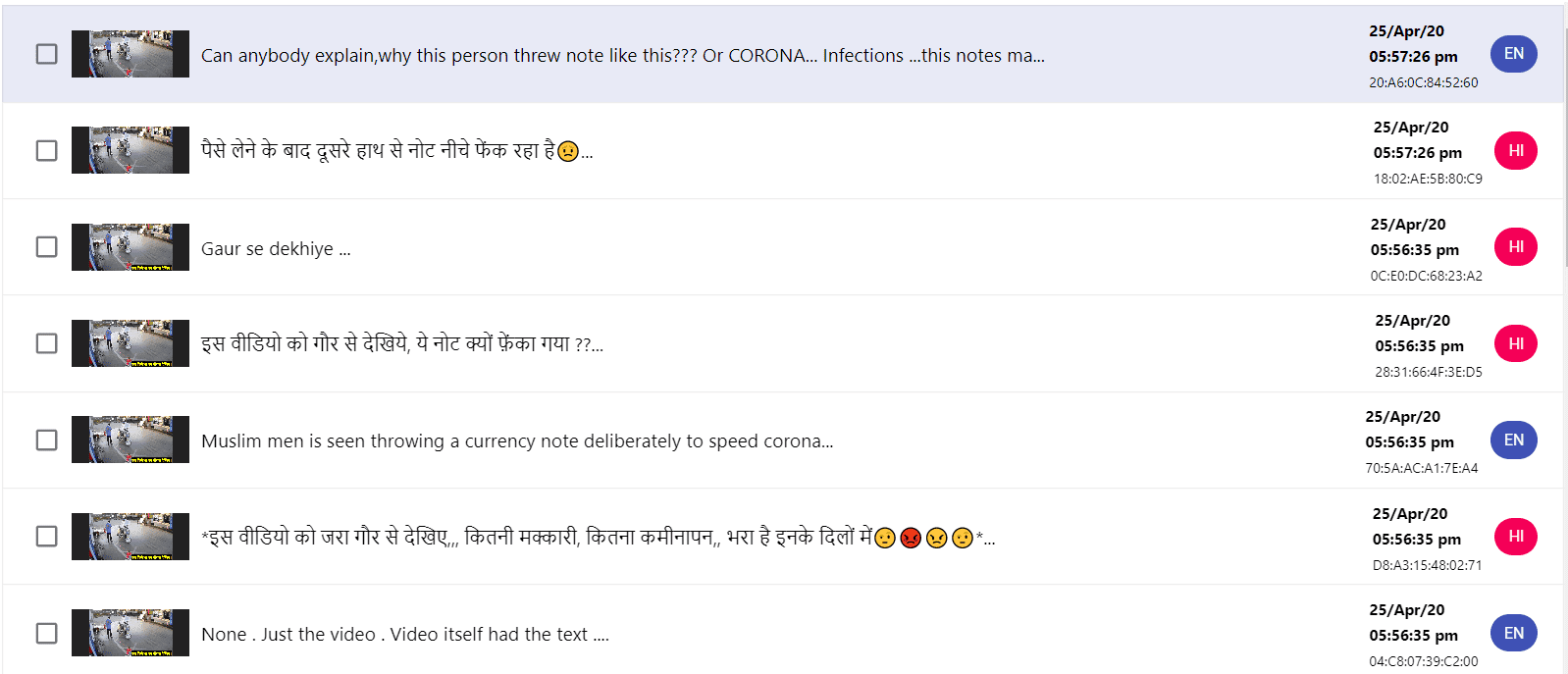 Donate to Alt News!
Independent journalism that speaks truth to power and is free of corporate and political control is possible only when people start contributing towards the same. Please consider donating towards this endeavour to fight fake news and misinformation.