On August 7, Neeraj Chopra's javelin throw of 87.58m bagged him a gold medal at the Tokyo Olympics. At the age of 23, Chopra is the youngest-ever Indian gold medalist in an individual event and the only one to have won gold in his Olympic debut.
Shortly after Neeraj won the gold, Union Minister for Civil Aviation Jyotiraditya M. Scindia congratulated him and wrote, "He exhibited the true Maratha spirit & skill!"
Neeraj Chopra has scripted history! 🥇 He exhibited the true Maratha spirit & skill! Not only has he done the country proud, but this is also a breakthrough in a new territory for India.
Jai Ho! Har har Mahadev #Tokyo2020

— Jyotiraditya M. Scindia (@JM_Scindia) August 7, 2021
Since then news outlets have reported about Neeraj's alleged Maratha lineage including Loksatta, Maharasthra Times, TV9 Hindi, ABP Marathi, and Dainik Jagran. On August 8, Sudarshan News editor-in-chief Suresh Chavhanke claimed that Neeraj's ancestors were a part of the javelin battalion under the Maratha army during the 1761 Battle of Panipat.
A TALE OF TWO HISTORIES

Neeraj Chopra hails from the Ror (pronounced Raud) community. According to The Print, Ror-Marathas are descendants of Maratha soldiers who fought in the 1761 Battle of Panipat. The Rod-Marathas, numbering around 7 lakh, are spread from Karnal to Rohtak and Bhiwani.
Media outlets such as India Today (2012), Hindustan Times (2016) and BBC (2018) and The Indian Express have reported on a section of the Ror community's belief of their Maratha lineage. Based on our interaction with members of the Ror community, it appears that there are two schools of thought. One section of the community believes that their lineage is closely linked with the Marathas. However, the other including Neeraj's family doesn't believe in the Maratha lineage theory. In this article, Alt News has analysed the controversy at hand based on the information in the public domain and inputs from concerned stakeholders.
Rors who believe in Maratha lineage
Alt News spoke with Rajender Pawar, a member of the Ror community and the Maratha Jagriti Manch Panipat-Karnal. Pawar opined that the majority of Rors believe that they share lineage with Marathas. He said, "Our linguistic patterns and surnames were similar to Marathas. We always knew we were Marathas. But it gained legitimacy after historian Vasantrao More's book 'Role of Rod Marathas in the battle of Panipat'. After 2010, several members of our community started writing Marathas in their children's birth certificate."
Prior to More's book, Maratha Virendra Verman conducted research on the subject of Ror Marathas. It led to the formation of Maratha Milan Samaroh. Verma had contested for Lok Sabha Elections in 2009 and 2014.
Milind Patil, the national coordinator at Akhil Bhartiya Maratha Jagruti Mach, said that the book has been published in Marathi and Hindi language. He also added that the book was inaugurated to former President Pratibha Patil in 2010. He shared a photo of the same. In the same year, Kolhapur's Shivaji University conducted a symposium on More's book.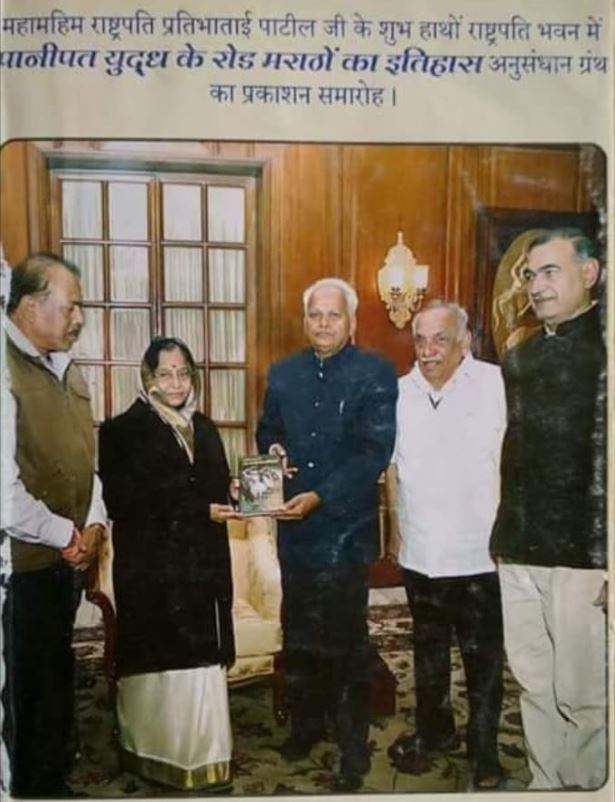 Furthermore, we found a book titled 'Marathas and Panipat' by Hari Ram Gupta. It was published by Punjab University in 1961. A paragraph in this chapter talks about the linguistic trait mentioned by Pawar. The women from Rohtak (Haryana), Meerut (Uttar Pradesh) etc say "Hau Aya, Hau Aya" to frighten the children who don't listen to them. As per the book, "Hau" in this case, perhaps means "Bha'u". Pawar believes this is evidence of Maratha roots and establishes a link to Sadashivrao Bhau who served as the Sardar Senapati of the Maratha Army in the third battle of Panipat. The information in this section is based on interviews with leading Maratha families (page 351 of the document). Those interview names have been listed on page 363 and none of the surnames matches with the surname borne by Neeraj or his father.
We also spoke with Ror Mahasabha Karnal ex-Administrator Brigadier Randhir Singh, VSM (Retd.). "My maternal grandfather Ch Shiv Ram Verma was a pioneer of Ror Maha Sabha and spearheaded the team for the making of Ror Bhawans. Brig Singh added, "If I'm pressed long enough on the topic, I lean towards Maratha linkage. However, I am fully aware that there is no way of addressing this issue conclusively in absence of overwhelming scientific indication one way. As of today, we don't have that data. This issue, like most things, has become greatly political. However, one must note there is no love lost between Rors who believe in Maratha lineage and those who don't. The way I see it, it's a matter of belief and to each his own."
Rors unconvinced by the Maratha lineage theory
Alt News spoke with another member of the Ror community, Anurag Kadian, who is convinced there is absolutely no recent historical linkage of the Rors with Marathas. Kadian is an alumnus of the Indian Institute of Technology and the University of Cambridge. He said, "I have studied this topic through the lens of history and genetics. Our population genetics study on this issue is the most conclusive. As per our findings, there is no recent historical link of Rors with the Maratha community in the last 1800 years." Those interested in Kadian's findings based on history can view this tweet thread. One of the arguments is also that some of the Ror villages date back much prior to the Battle of Panipat.
In 2018, Kadian along with authors affiliated with Estonian Biocentre; Max-Delbrueck Centre for Molecular Medicine in Germany; School of Life Sciences, Jawaharlal Nehru University; and Cytogenetics Laboratory, Department of Zoology, Banaras Hindu University published a peer-reviewed study titled 'The Genetic Ancestry of Modern Indus Valley Populations from Northwest India'.
The study looked at genome-wide genotype data for 45 individuals randomly selected from a much larger pool of samples from different populations from four Northwest Indian populations, including the Rors. The study's findings suggest that Rors stand out by being genetically more akin to populations living in regions which are to the west of present-day India; such populations include prehistorical and early historical ancient individuals from the Swat Valley near the Indus Valley. In 2018, this study was published in the National Center for Biotechnology Information and The American Journal of Human Genetics. A detailed report was published by The Hindu Business Line in 2018.
Gyaneshwer Chaubey, a Banaras Hindu University professor at Cytogenetics Lab, Department of Zoology and one of the authors of the study, said, "Our study didn't find any recent common ancestry, at least for the past 1,500 years, of Ror community with Maratha community."
Neeraj Chopra's family doesn't consider itself as Maratha descendants
Alt News reached out to Neeraj Chopra's manager Aman Shah who connected us with his grandfather Dharamsingh Chopra and his uncle (father's youngest sibling) Surendra Kumar. Neeraj stays with them at Khandra village in Haryana's Panipat district in a joint family setup. Typically, Surendra handles Neeraj's media representation when it comes to sensitive issues. Surendra said, "Neeraj's achievement should not be looked at from a caste and political angle. He won the medal as an Indian. We belong to Haryana's Ror community. A section of this community believes that they have Maratha lineage. However, a majority of Rors, including us, do not believe that."
Dharamvir, 75, told Alt News, "I had the blessing to spend my childhood with my father and grandfather. Both of them were farmers. No one mentioned our lineage is close to Marathas."
Surendra added, "Until two decades ago, the phenomena of Maratha Rors wasn't popular. However, over the years it has been popularised due to vote bank politics. Thus, those Rors who didn't believe this theory had to make their stand clear. While greeting our Ror Maratha friends we address them as Maratha to show that we respect their beliefs. And they do the same by respecting our feelings. However, some notorious elements from the Ror Maratha community insist Rors embrace Maratha lineage. Over the years, I have noticed many homes belonging to Rors vandalised with Maratha text."
"After Neeraj's Tokyo performance such claims are at an all-time high," Kumar continued while forwarding some screenshots that he received on social media. "Yesterday (August 12), members of Maratha Jagriti Manch Panipat-Karnal visited our home to offer their well-wishes and handed over a photo frame with images of Chhatrapati Shivaji Maharaj and Neeraj. We appreciate all the support and love shown by the nation. But request everyone not to bring a caste narrative to Neeraj's win. We identify as Rors and not Marathas," he said.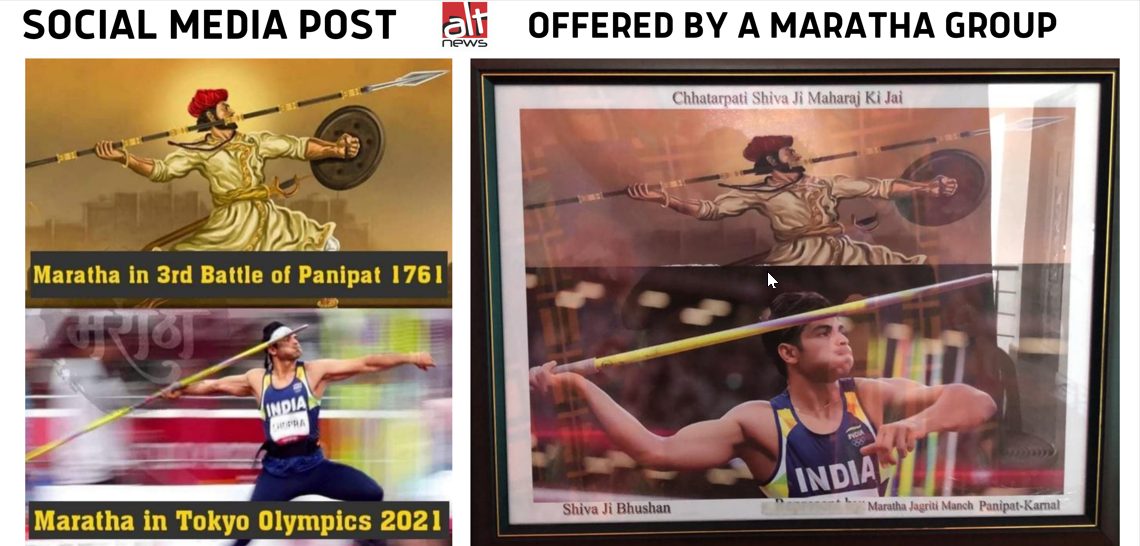 In fact, a similar banner was also installed at the Khandra bus stop, said Surendra.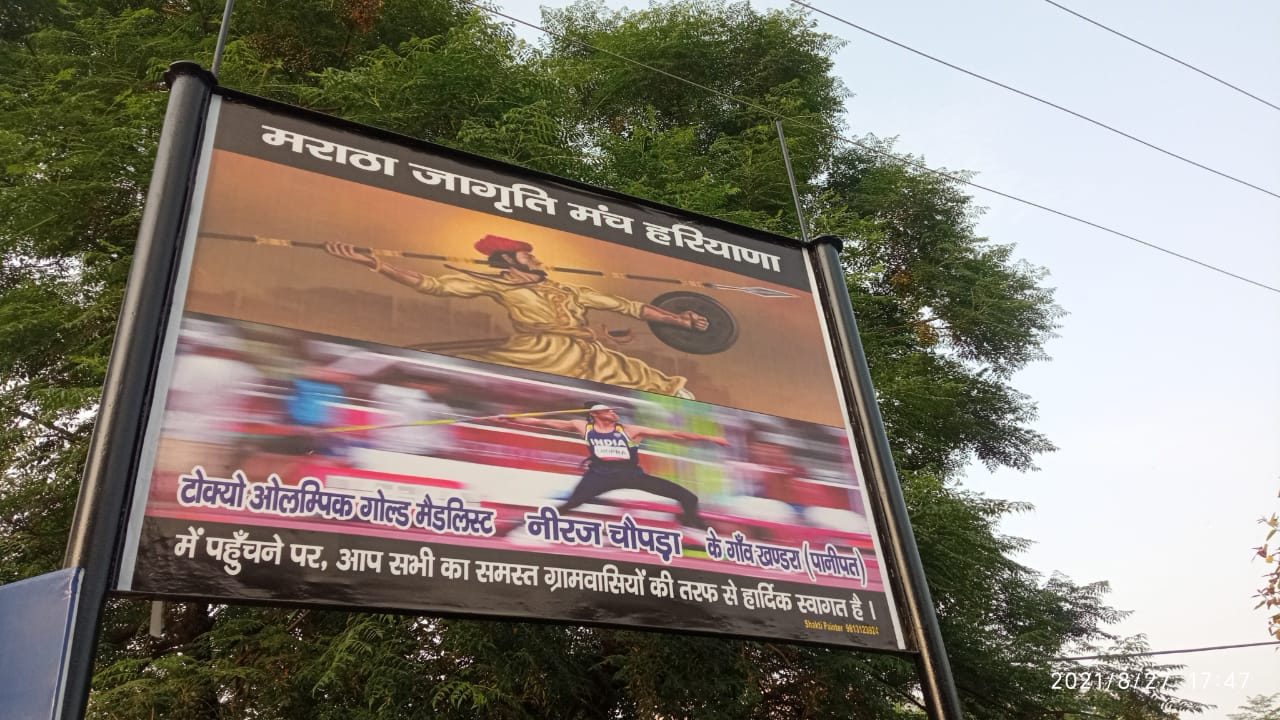 Shortly after Neeraj Chopra's win at Tokyo Olympics Union Minister for Civil Aviation Jyotiraditya M. Scindia and several media outlets tried to establish Chopra's lineage with the Maratha community. While there are conflicting beliefs within the community, Chopra's grandfather and uncle clarified that the family does not identify as part of the Maratha community.
Donate to Alt News!
Independent journalism that speaks truth to power and is free of corporate and political control is possible only when people start contributing towards the same. Please consider donating towards this endeavour to fight fake news and misinformation.