A claim that former Supreme Court judge Dalveer Bhandari has been elected as the Chief Justice of the International Court of Justice (ICJ) has been shared on social media. The claim lauds PM Modi for the achievement, suggesting that his hard hard work has nurtured good relations with countries across the world.
From the Facebook page भूरसिंह सी लंगेरा, the claim received over 4,000 likes and 1,000 shares.
It has, in fact, been shared by several Facebook accounts.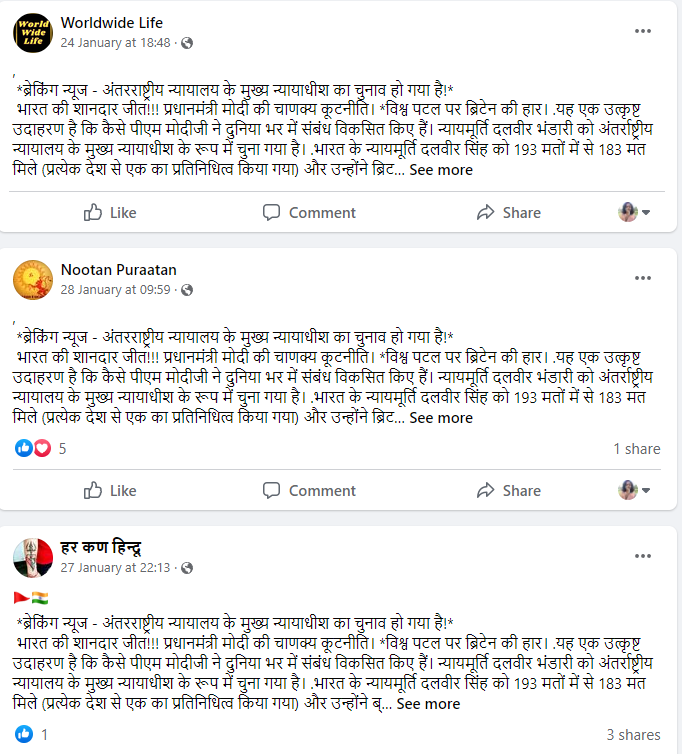 BJP Bihar General Secretary (Organisation) Nagendra Nath Tripathi had made the same claim last year. (Archive link)
अन्तर्राष्ट्रीय न्यायालय का मुख्य न्यायाधीश भारतीय चुना गया भारत की शानदार जीत !!! PMमोदी की चाणक्य कूटनीति।
विश्व पटल पर ब्रिटेन की हार।
कैसे पीएम मोदीजी ने दुनिया भर में संबंध विकसित किए हैं।न्यायमूर्ति दलवीर भंडारी को अंतर्राष्ट्रीय न्यायालय के मुख्य न्यायाधीश केरूप मेंचुना pic.twitter.com/9XLkucdVqS

— Nagendra Nath (@BJPNagendraji) September 15, 2021
Tripathi also made this claim from his Facebook page, which was amplified by the BJP Bihar page.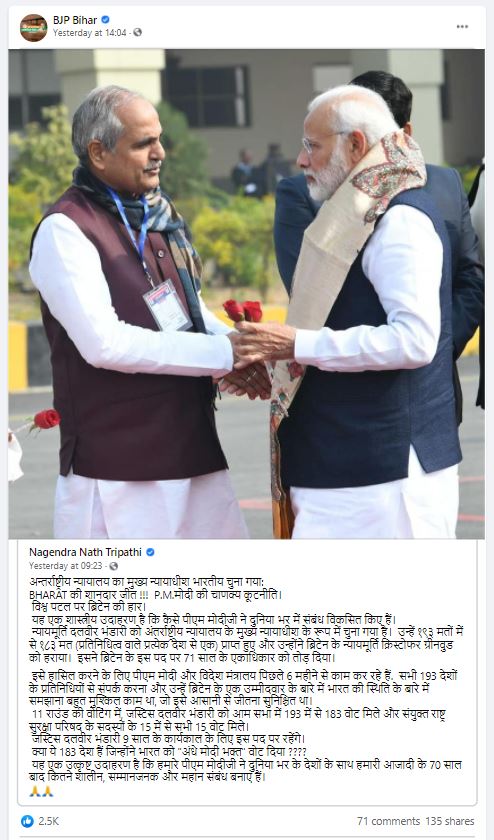 Apart from this, a number of pro-BJP Facebook pages promoted the claim including 'मोदी में है दम' (Modi Mein Hai Dum) and 'एक आवाज़ नमो' (Ek Awaaz Namo).
This slideshow requires JavaScript.
Fact-check
We performed a keyword search and could not find any news reports corroborating this claim. A few articles from 2017 stated that Dalveer Bhandari was re-elected as a judge in the International Court of Justice. However, none of these claims Bhandari was elected as Chief Justice. On November 22, 2017, The Quint reported that the former Supreme Court judge secured the post after British candidate Christopher Greenwood backed out. The General Assembly was in support of Bhandari, which the UK could not challenge.
No Chief Justice post in the International Court of Justice
According to the International Court of Justice website, there is no Chief Justice post. The Court has 15 member judges along with a president and a vice president who each serve for three-year terms.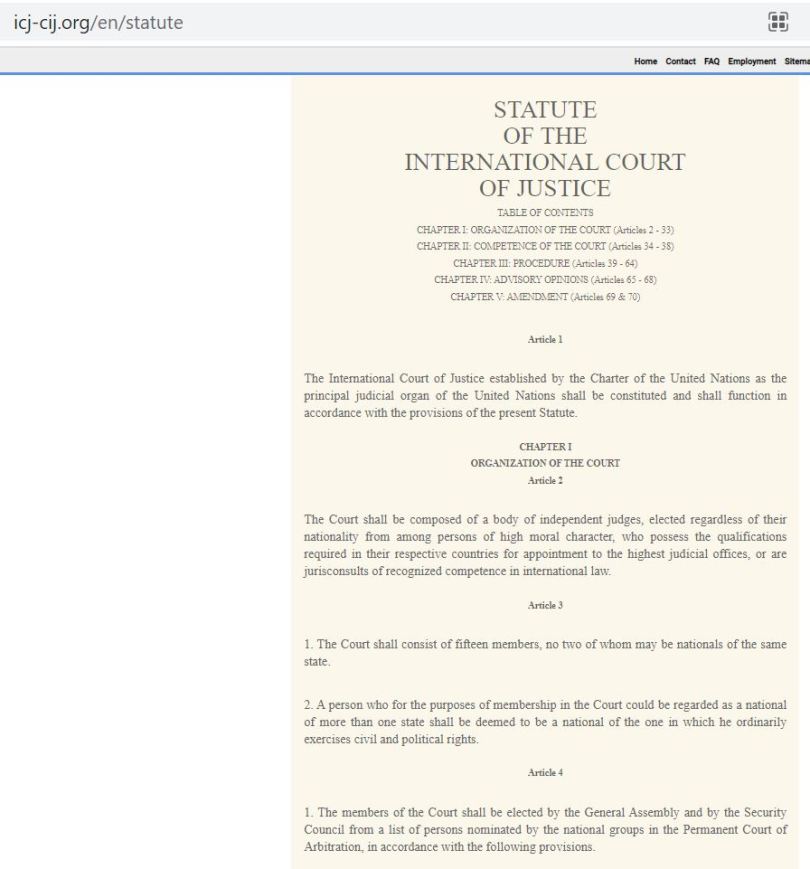 Furthermore, as per the ICJ website, Joan E. Donoghue of the US and Russia's Kirill Gevorgian were elected as president and vice-president respectively on February 8, 2021.
Dalveer Bhandari's post in the ICJ
On April 27, 2012, Dalveer Bhandari was elected as one of the 15 member judges of the ICJ. On February 8, 2018, he was re-elected as a member for a nine-year term.

This confirms that this achievement occurred before the Modi government came to power. Bhandari has been a member of ICJ since April 2012, when the UPA government was at the centre.
Donate to Alt News!
Independent journalism that speaks truth to power and is free of corporate and political control is possible only when people start contributing towards the same. Please consider donating towards this endeavour to fight fake news and misinformation.