A video of an Indian army man negotiating for passage of military convoys with a group of Sikh men has gone viral. In the opening few seconds, we see that there is a long queue of military trucks and other civilian vehicles. It is shared along with a Hindi text insinuating that farmers stopped the convoy heading to the Indo-China border. The video is widespread against the backdrop of a minor face-off at Tawang after Chinese troops intruded into Indian territory. Viral messages suggest that farmers are obstructing the Indian Army from carrying its duties.
Alt News received requests to fact-check this claim on our WhatsApp helpline number (+91 76000 11160).
(Viral text: चीन सीमा पर चढ़ आया है युद्ध की आशंका है भारत अपनी सेना पहुंचा रहा हे ऐसे नाजुक समय में किसानों ने सेना के काफिले को रोक दिया है इसे दो भागों में बाट दिया गया है आधी गाडिय़ों को जाने दिया और आधी को रोक दिया सेना परेशान हे अफसर विनती कर रहे हैं पर इन पर कोई असर नही हो रहा आज यह देखकर मेरे मन में इनके प्रति जो सम्मान था जो इज्ज़त थी वो समाप्त हो गई और में ही नही इस देश का समझदार पढ़ा लिखा और गरीब मजदूर भी इनकी इस हरकत को देख कर इनसे नफरत ही करेगा थूकेगा इनके ऊपर ।)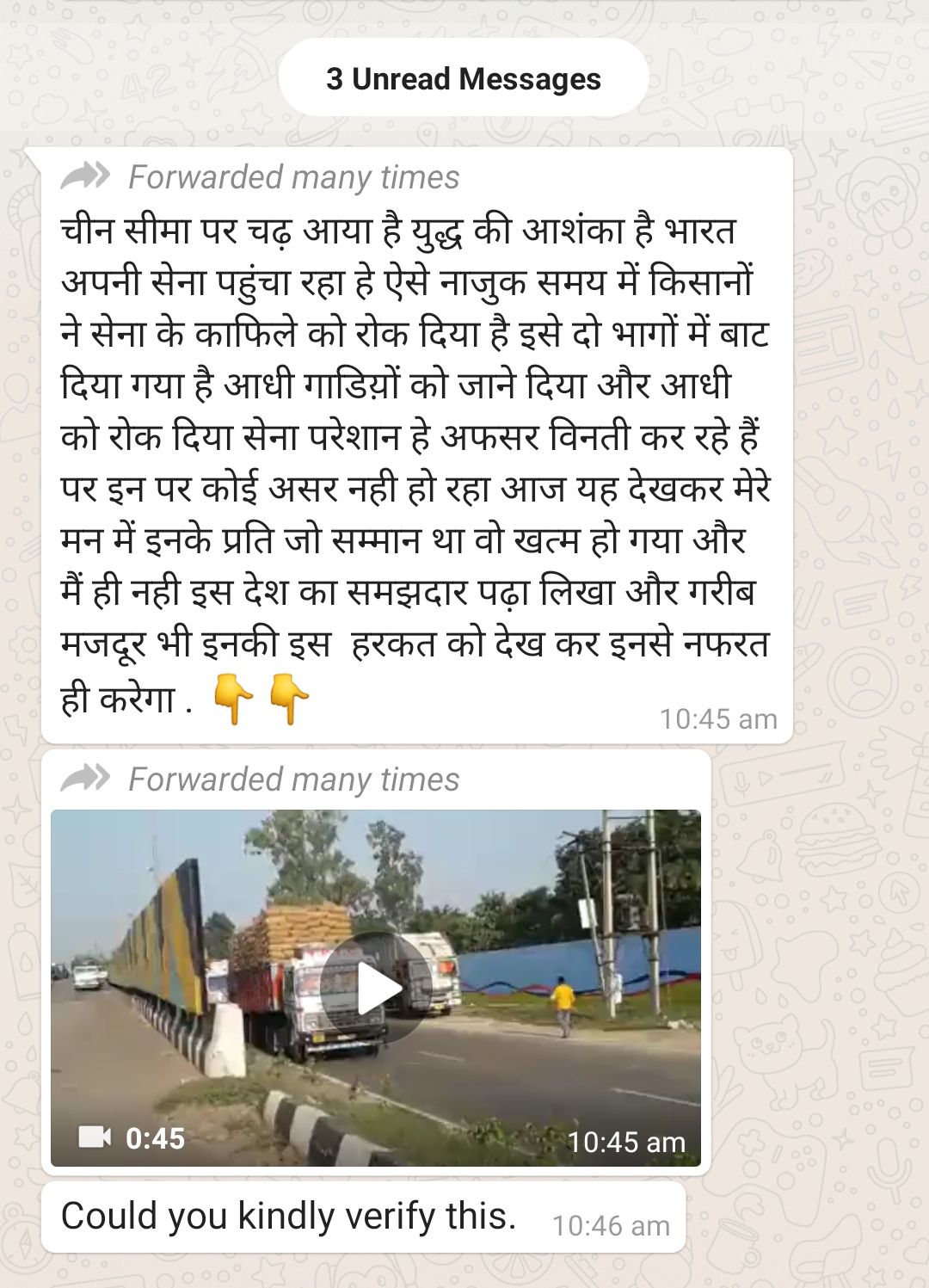 This video has been shared in several pro-government Facebook pages with members ranging from a few thousand to 10 lakhs — भाजपा लक्ष्य 2024 ( समर्थन के लिए जुड़े ) [close to 10 lakh members] योगी आदित्यनाथ जी के फैन (ग्रुप) [ over 3 lakh members], भारतीय जनता पार्टी (2024) [over 3 lakh members], एक कोटी भाजपा समर्थक [84,000 members], RSS [81,000 members], जय भाजपा , तय भाजपा ।। [69,000 members] भाजपा महाराष्ट्र [31,000 members] कट्टर हिन्दु (official group) [14,000 members], 🚩योगी आदित्यनाथ की सेना🚩 ( 🚩योगी भक्त जुड़े 🚩) [11,000 members] and We Love & Support PM MODI [2,000 members]
This slideshow requires JavaScript.
Indian Army official refutes the claim
At the 20-second mark in the viral video, an army man states that they are engaged in an exercise. This video was also tweeted by Anil Chopra, an Indian Airforce veteran, on September 28.
Army convoy stopped. Was highly avoidable pic.twitter.com/gEmViHoePg

— Aviator Anil Chopra (@Chopsyturvey) September 28, 2021
In order to verify the video, we spoke with a concerned Indian Army official. He told Alt News, "This video is from September 27." Readers should note that on this day a Bharat Bandh was called by the Samyukta Kisan Morcha (SKM), an umbrella body of 40 farm unions from 6 AM to 4 PM to mark one year since President Ram Nath Kovind gave his assent to the three controversial farm laws.
"Twenty vehicles were headed from Kapurthala to Bir Sarangwal (Jalandhar) as a part of the field exercise," he added, which means the convoy was travelling within the State of Punjab.
"A section of the convoy was stopped by members of the Kisan Aandolan Morcha near Jalandhar. The stoppage was only for 20 minutes. The farmers were courteous and shook hands while departing which is not shown in the viral video," the officer said. When we specifically asked if the convoy was heading to the Indo-China border, the officer refuted the claim.
To conclude, another video was shared on social media to discredit the ongoing farmers' protest. Last year, Alt News debunked a video of military trucks passing by on a highway with the false claim that the army has been deployed to control the protests.
Donate to Alt News!
Independent journalism that speaks truth to power and is free of corporate and political control is possible only when people start contributing towards the same. Please consider donating towards this endeavour to fight fake news and misinformation.