In the middle of the Navratri festivities, a 23-second video of Congress leader and MP Rahul Gandhi has gone viral on social media. Due to the poor quality of the video, only the Rahul Gandhi's face is clearly visible. After performing the aarti, the person standing to Gandhi's right does not pass him the aarti thali, instead handing it to the person standing to his left. Sharing this, it is being claimed that Rahul Gandhi refused to perform the aarti.
Filmmaker and BJP supporter Ashoke Pandit tweeted the video and wrote that Rahul Gandhi, who had donned a janeu in the past, was now refusing to do the aarti. (Archived link)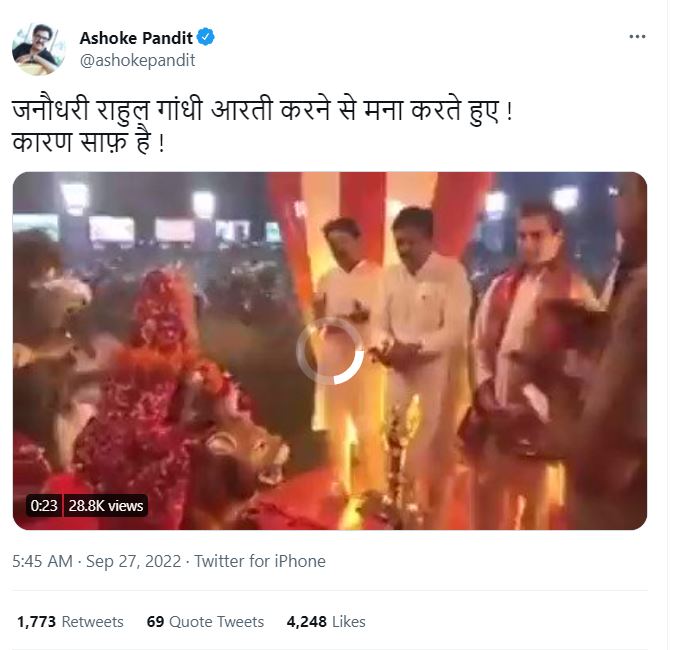 BJP supporter and columnist Himanshu Jain also tweeted the clip, saying, "This is how selective Hindus, who secure votes by appeasing the Hindu and Muslims vote banks, are exposed. They do not even know how to perform the aarti for the mother goddess." It is worth noting that Prime Minister Narendra Modi follows Jain on Twitter. (Archived link)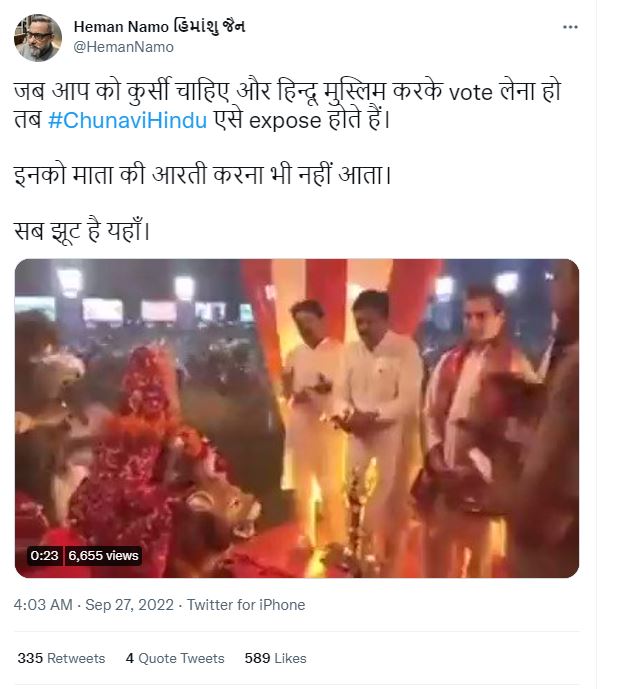 Another user tweeted this video and wrote that Rahul Gandhi was not singing bhajans and then refused to perform the aarti. (Archived link)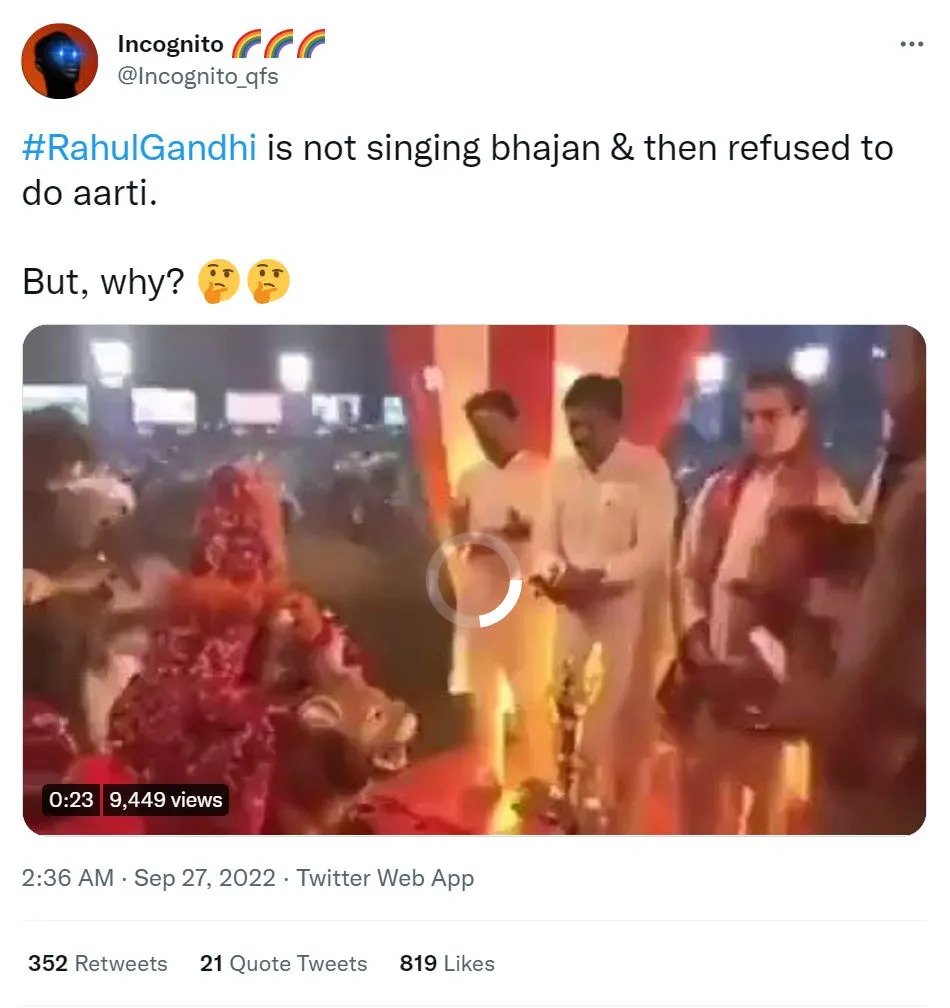 Several other Twitter users amplified the video with the same claim. It is widespread on social media platforms.
This slideshow requires JavaScript.

Fact-check
Alt News performed a reverse image search using frames taken from the viral video. This led us to a longer version of the viral clip posted on a Facebook page titled 'With RG'. It is seen here that after performing the aarti, Rahul Gandhi hands over the aarti thali to Congress leader Ashok Gehlot, who is standing next to him. This 52 second video was uploaded on September 27, 2017. The caption reads, "Rahul Gandhi at Garba Pandal in Rajkot." Scenes from the viral video appear between the 0:29 and 0:52-minute mark. Since Rahul Gandhi had already performed the aarti, he was not handed the aarti thali later on.
Rahul Gandhi at Garba Pandal in Rajkot !

Posted by With RG on Tuesday, 26 September 2017
Using this information as a clue, Alt News performed a keyword search on Twitter. We found a tweet by India Today journalist Supriya Bhardwaj dated September 27, 2017. Here, Rahul Gandhi can be seen performing the aarti. This is visible only in the first frame of the video. In other words, the source video has been cropped and is being shared with a misleading claim.
#RahulGandhi performed puja at Garba pandal in Rajkot .@aajtak .@SATAVRAJEEV .@BharatSolankee .@sushmitadevmp .@IndiaToday .@shaktisinhgohil pic.twitter.com/PCbHztqRCu

— Supriya Bhardwaj (@Supriya23bh) September 26, 2017
Congress leader Saral Patel shared the following photographs on Twitter on September 27, 2017.
Rahul Gandhi ends with Aarti & blessings of Ambe Maa at Navratri Pandal, Neel City, Rajkot! 🕉 🙏 pic.twitter.com/nga9GFP1Zo

— Saral Patel #BharatJodoYatra (@SaralPatel) September 26, 2017
To sum up, filmmaker Ashoke Pandit and BJP supporter Himanshu Jain among other users shared an old, clipped video of Rahul Gandhi with the false claim that the Congress leader refused to perform the aarti for Hindu deity Durga.
Donate to Alt News!
Independent journalism that speaks truth to power and is free of corporate and political control is possible only when people start contributing towards the same. Please consider donating towards this endeavour to fight fake news and misinformation.