On October 24, Pakistan defeated India by 10 wickets in the T-20 World Cup. J&K police filed cases against medical students in Srinagar who allegedly celebrated Pakistan's win on campus.
Social media users are claiming that 100 female students from the medical college had their degrees cancelled. Twitter user 'Puja Hindu Sanatani Beti' shared the message alongside a photo of a few burqa-clad women, which amassed over 1,740 retweets as of this writing. (Archive link)
मौज कर दी 👏
पाकिस्तान जिंदाबाद का नारा लगाने वाली श्रीनगर मेडिकल कॉलेज की 100 सुंदरियाँ अब डॉक्टर नही बन पाएँगी सरकार ने डिग्री रद्द की ।। pic.twitter.com/mD4lq2mAVc

— पूजा 🕉️ हिंदू सनातनी बेटी (@indpuja) October 29, 2021
A video of a News18 broadcast is also being circulated with the same claim, though the visuals do not contain any information on the cancellation of the medical students' degrees. Some of the news tickers that appear during the show are – "Girls celebrating Pakistan's victory", "Girls' Hostel celebrating India's defeat" and "Pro-Pakistan sloganeering". Apart from this, the anchor says that those who raised pro-Pakistan slogans were reportedly charged under UAPA.
पाकिस्तान जिंदाबाद का नारा लगाने वाली श्रीनगर मेडिकल कॉलेज की 100 सुंदरियाँ अब डॉक्टर नही बन पाएँगी सरकार ने डिग्री रद्द की …@PMOIndia @narendramodi @ANI @ZeeNews pic.twitter.com/HCmC8k5iZx

— हरिओम राजावत विहिप #प्रशासक_समिति (@HariomVhp) October 28, 2021
The claim is widespread on Twitter and Facebook and has also made its way to WhatsApp.
This slideshow requires JavaScript.
Fact-check
Alt News did not find any news reports corroborating this claim. It must also be pointed out that degrees are awarded upon the completion of a course. The claim says that "students" raised slogans celebrating Pakistan's win. How could their degrees have been cancelled when they're still in college?
A UAPA case was indeed registered against students from two medical colleges in Srinagar for allegedly raising pro-Pakistan slogans following the T-20 match. In addition, the college administration was also charged under this law. According to Jansatta, "As per the information given by the Jammu and Kashmir Police, two separate cases have been filed against students residing in the hostels of Government Medical College and Sher-e-Kashmir Institute of Medical Sciences Srinagar (SKIMS) Soura, Karna Nagar, Srinagar, along with the college administration, and the hostel warden."
Accompanying photo of women in burqas
Alt News performed a reverse image search and found the original photo in a 2017 blog post. A website named India New England News had shared the picture on November 12, 2017 as the Fatima Girls Inter College in Uttar Pradesh's Azamgarh district. Another portal also posted the image in November 2017 as UP.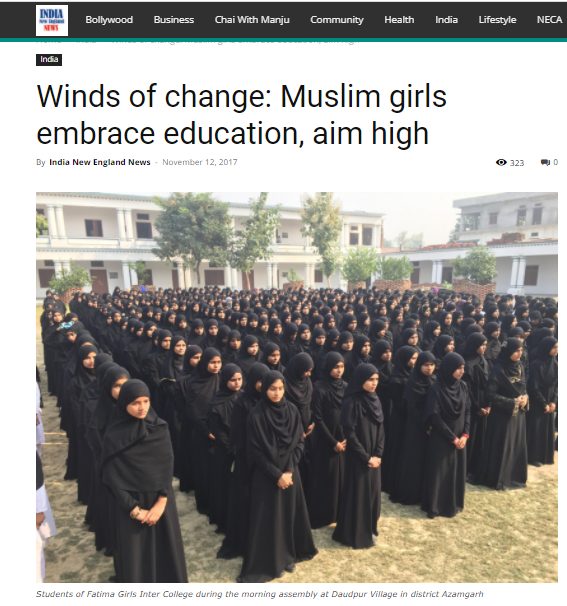 In sum, social media users falsely claimed that 100 female students from a Kashmiri medical college had their degrees cancelled as they were celebrating Pakistan's victory in the T-20 match.
Donate to Alt News!
Independent journalism that speaks truth to power and is free of corporate and political control is possible only when people start contributing towards the same. Please consider donating towards this endeavour to fight fake news and misinformation.