A video is doing the rounds on social media which shows a wooden structure, seemingly a church, on fire. The video is shot by someone on a moving bicycle. As it passes the structure, a large part of it collapses under the impact of the fire. The clip is being shared with the claim that it is from Manipur which has been facing ethnic violence for almost three months now.
While sharing the video on Twitter, user @AndbhaktJ claimed that the burning church was the 300-year-old St. Joseph's Church in Sugnu, Imphal. 'BJP-supporting extremists' had set it on fire, he claimed in his tweet. (Archive)
#मणिपुर सुग्नू इंफाल

नही थम रही हिंसा आगजनी
भाजपा समर्थक उग्रवादियो ने 300 साल से ज्यादा पुरानी St. Joseph's चर्च जलाई
73 दिनो से मणिपुर जल रहा है और प्रधानमंत्री मोदी विदेश घूम रहा है मैंने ऐसा बेशर्म निर्लज प्रधानमंत्री कभी नही देखा#ManipurViolence#ModiDisasterForIndia pic.twitter.com/xcYW6nvEBe

— Deepesh Gupta (@AndbhaktJ) July 14, 2023
User @igopalgoswami, who shares misinformation on a regular basis, gave the incident a communal colour and claimed that the church had been set afire as a retaliation to demolition of temples. (Archive)
किसी का मंदिर तोड़ोगे वो तुम्हारा चर्च जलायेगा।

किसी के धर्म का खिलवाड़ करोगे वो तुम्हारे धर्म का करेगा।

क्यों मनुष्य-मनुष्य के बीच खाई बनाते हो, आप अपने धर्म में रहो हम अपने।
–#Manipur pic.twitter.com/zc7T2YiJBP

— Gopal Goswami (@igopalgoswami) July 15, 2023
The video was also shared with similar claims by users such as Satyapal Malik 🇮🇳 (@B0DH_5), Mohammad Kareem (@kareemmimbar78), Azad Gandhii🇮🇳 (@AzadGandhii_inc) who claims to be "State General secretary at @INCUttarPradesh Social media Diparment" (sic) and Divya Rathor (@_divyarathoro). (Archive 1, 2, 3, 4)
This slideshow requires JavaScript.
Fact Check
We broke the viral into key-frames and ran a reverse image search. This led us to a news report by the France-based news agency dayFREuro dated July 7, 2023, which contained a photograph of the same church on fire. The image is captioned: A historic half-timbered church destroyed by fire in the Marne, "the symbol of the village that is disappearing".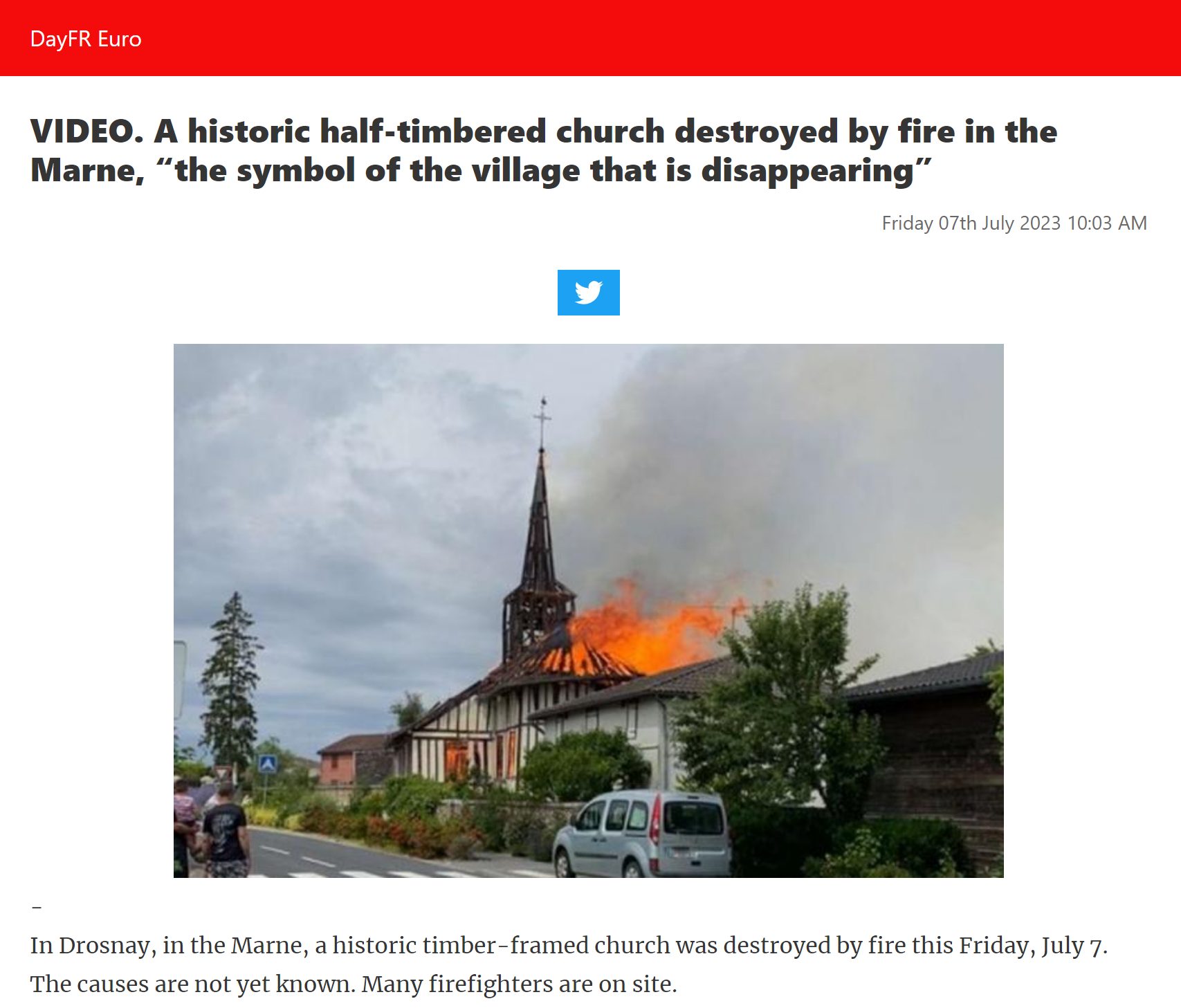 The report says that the incident is from Drosnay, which is a commune in the Marne department in north-eastern France. The image below is taken from Google Street View at 26 Rue du Château, 51290 Drosnay, France.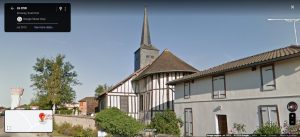 We also came across a video report by Hindustan Times uploaded on YouTube on July 8 with the caption: "France Erupts Again; Ancient Church Burnt Into Ashes; Paris Police Ban Protests After New Violence". This report contains the viral video.
The description says, "After a brief lull, sporadic incidents of violence have again been reported in France. A 16th century church was allegedly attacked in North-Eastern France. The massive fire turned the ancient church in Drosnay into ashes. Cops fear that this could be an act by those protesting against teen's killing…"
hence, it is clear that the video of a burning church viral on Twitter is not from Manipur, but from France which has been on the boil since the death of 17-year-old Nahel Marzouk in police firing on June 27.
Donate to Alt News!
Independent journalism that speaks truth to power and is free of corporate and political control is possible only when people start contributing towards the same. Please consider donating towards this endeavour to fight fake news and misinformation.