An image of what appears to be a newspaper clip is being shared on social media and messaging platforms, according to which Congress President Rahul Gandhi had called the baniya (trader) community 'thieves' who indulge in racketeering for profit. According to this clipping, Gandhi had made this statement during campaigning ahead of the assembly election in Rajasthan in 2018.
बनियों वोट देने से पहले याद रखे..👆🙏🤔😖😡 वैश्य समाज के सभी लोगो से मेरी एक अपिल है ऐसे गद्दारो से सावधान रहे आज कांग्रेस…

Posted by Agra Duniya on Monday, April 1, 2019
The image has been shared mostly by individual users on Facebook along with a message which reads, "Look my vaishya brothers, how Pappu (Rahul Gandhi) called all baniyas thieves by repeatedly calling Modi ji a chor. He himself has built a fortune through loot and thinks all people are thieves. Now see how the baniyas of the country show him his place" (translated from Hindi).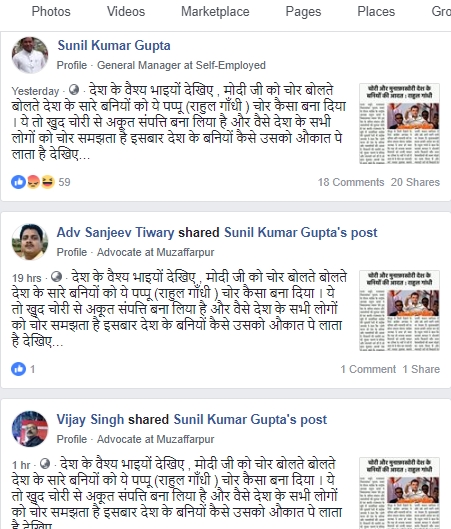 It is also circulating on WhatsApp. Several Alt News followers sent us the image, asking whether it is true.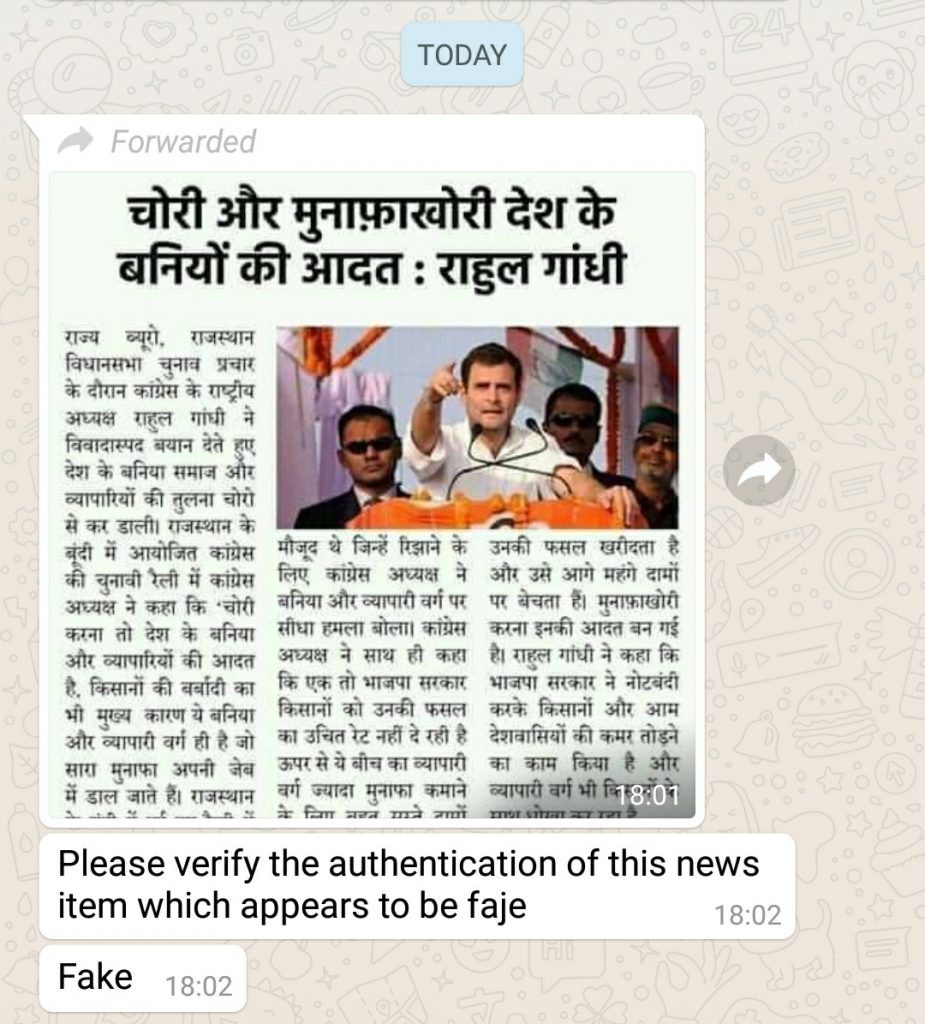 Fake newspaper clip
The purported newspaper clip carrying Rahul Gandhi's supposed statement on the baniya community is an outright fake. Had the Congress President indeed made such a statement, it would have been reported extensively by the media. Alt News searched the newspaper clip with different keywords, but found no result.
Shared earlier in the name of Amit Shah
A version of the same clipping also went viral on social media ahead of the Rajasthan assembly elections in December 2018. Back then, it was BJP President Amit Shah who had supposedly abused the baniya community. Among those who had shared this fake clipping was former Union Minister and Congress leader Pawan Kumar Bansal.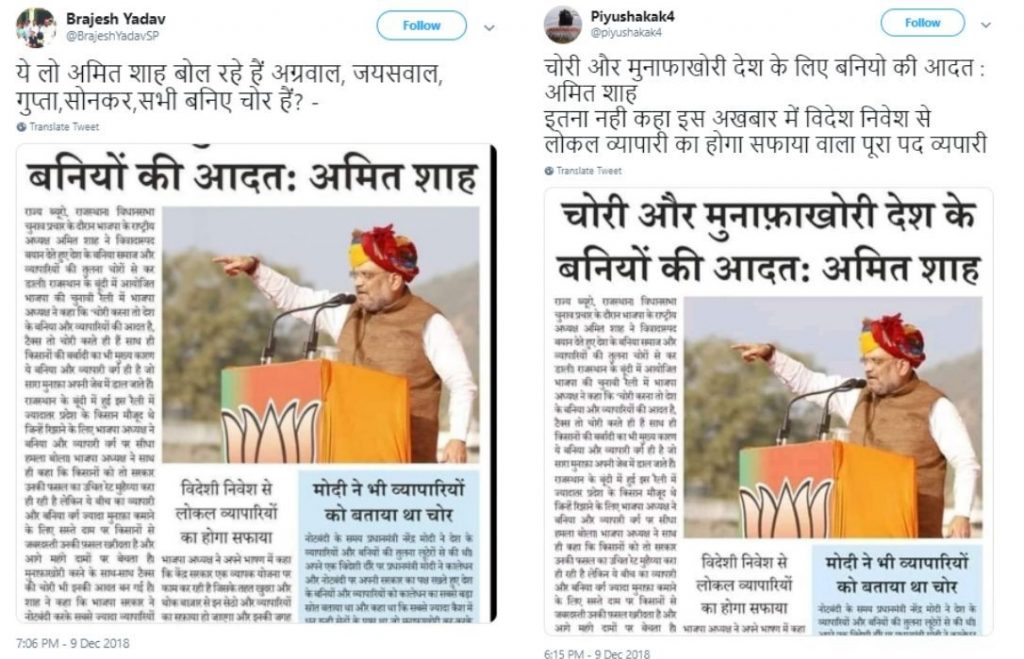 Identical introduction except for few words
Alt News found that apart from the identical headlines, the introductory paragraphs of the articles are almost identical except for the name of two different leaders and parties.
"राजस्थान विधानसभा चुनाव प्रचार के दौरान भाजपा के राष्ट्रीय अध्यक्ष अमित शाह ने विवादास्पद बयान देते हुवे देश के बनिया समाज और व्यापारियों की तुलना चोरों से कर डाली। राजस्थान के बूंदी में आयोजित भाजपा की चुनावी रैली में भाजपा अध्यक्ष ने कहा की चोरी करना तो देश के बनिया और व्यापारियों की आदत है, टैक्स तो चोरी करते ही हैं साथ ही किसानो की बर्बादी का भी मुख्य कारण ये बनिया और व्यापारी वर्ग ही है जो सारा मुनाफा अपनी जेब में डाल जाते हैं।", reads the introduction in the earlier version of the fake newspaper clip whereas in the version now shared on social media, "Amit Shah" and "BJP" has been replaced with "Rahul Gandhi" and "Congress".
"राजस्थान विधानसभा चुनाव प्रचार के दौरान कांग्रेस के राष्ट्रीय अध्यक्ष राहुल गाँधी ने विवादास्पद बयान देते हुवे देश के बनिया समाज और व्यापारियों की तुलना चोरों से कर डाली। राजस्थान के बूंदी में आयोजित कांग्रेस की चुनावी रैली में कांग्रेस अध्यक्ष ने कहा की चोरी करना तो देश के बनिया और व्यापारियों की आदत है, टैक्स तो चोरी करते ही हैं साथ ही किसानो की बर्बादी का भी मुख्य कारण ये बनिया और व्यापारी वर्ग ही है जो सारा मुनाफा अपनी जेब में डाल जाते हैं।"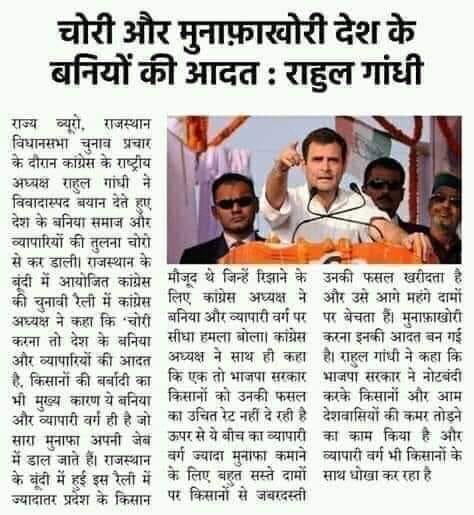 It may be reiterated that this newspaper clipping is fake. Neither Rahul Gandhi nor Amit Shah has made any such remark in the past about the baniya community.
Donate to Alt News!
Independent journalism that speaks truth to power and is free of corporate and political control is possible only when people start contributing towards the same. Please consider donating towards this endeavour to fight fake news and misinformation.