"गंगा घाट कोतवाली क्षेत्र के अंतर्गत कोतवाली के सामने आइसक्रीम बेचने वाले दलित राकेश को जय श्रीराम न कहने पर मुस्लिम समझकर भगवा आतंकियो ने पीटा (A Dalit ice-cream seller Rakesh mistaken to be a Muslim was beaten by saffron terrorist for not chanting 'Jai Shri Ram'. The incident took place in an area that comes under Gangaghat police station. -translated)"
The above message is circulating on social media with a photo of an injured man. One Shahnawaz Ansari posted the same on twitter.
गंगा घाट कोतवाली क्षेत्र के अंतर्गत कोतवाली के सामने आइसक्रीम बेचने वाले दलित राकेश को जय श्रीराम न कहने पर मुस्लिम समझकर भगवा आतंकियो ने पीटा
2 रोज पहले मोहनलाल को मुसलमान समझकर लिंच करने वाले थे ये आतंकी लेकिन जब उससे जय श्रीराम का नारा लगवाया तो उसने रामायण की चौपाई सुना दी थी pic.twitter.com/AttL87nMqF

— Shahnawaz Ansari (@shanu_sab) July 3, 2019
Several other users have posted the same image on Facebook and Twitter.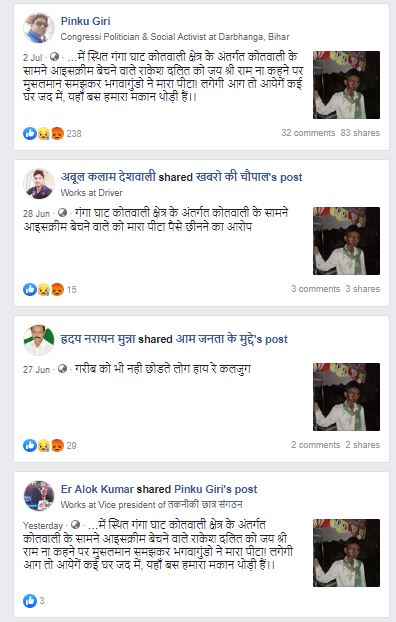 On WhatsApp, a few people have asked Alt News to verify the claim.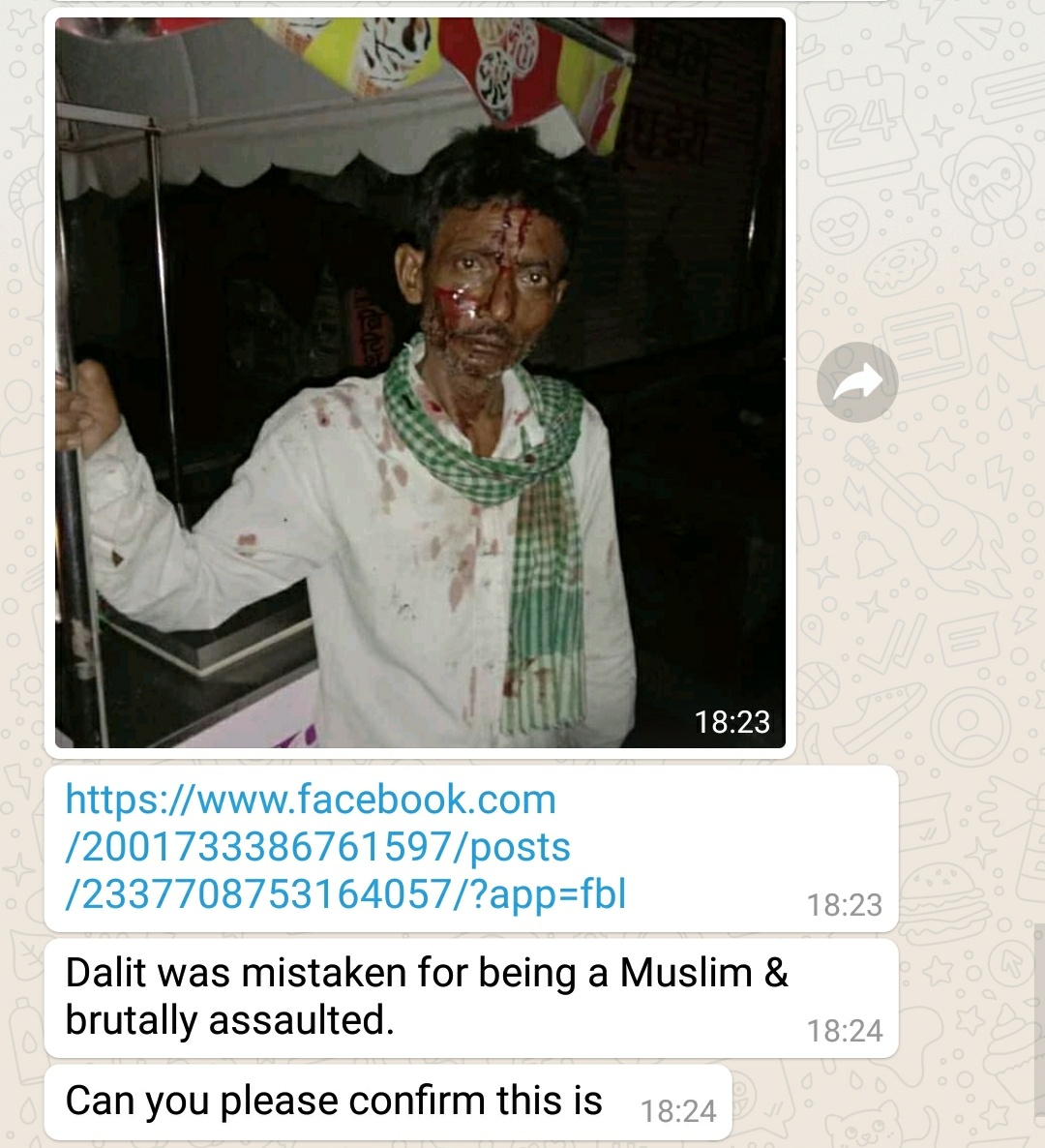 Fact-check
Alt News found the contact details of Jitendra Yadav, the proprietor of King's ice-cream, inscribed on the top of the kiosk seen in the image below. Yadav informed us that the ice-cream seller managing the truck and who was beaten up is not Rakesh but Harishankar Verma, a resident of Shuklaganj, Unnao district in Uttar Pradesh.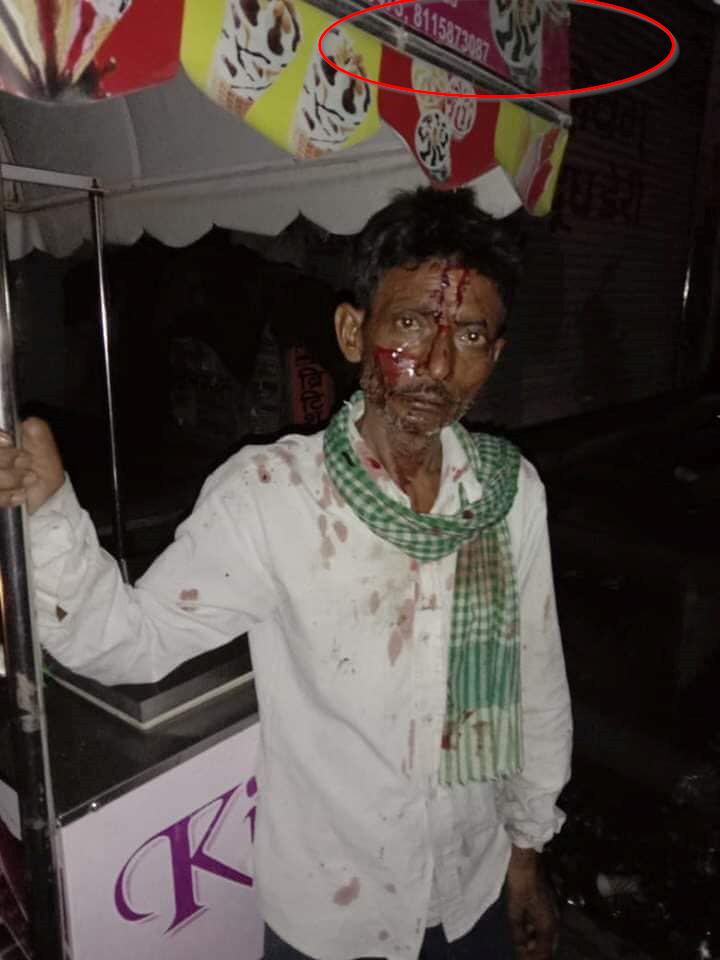 In conversation with Alt News, Yadav said, "It was an altercation related to a personal matter that was later resolved. Someone gave a communal angle after 3-4 days of the incident. They are saying that he is Rakesh Dalit but his name is Harishankar. It is not what they are saying on social media."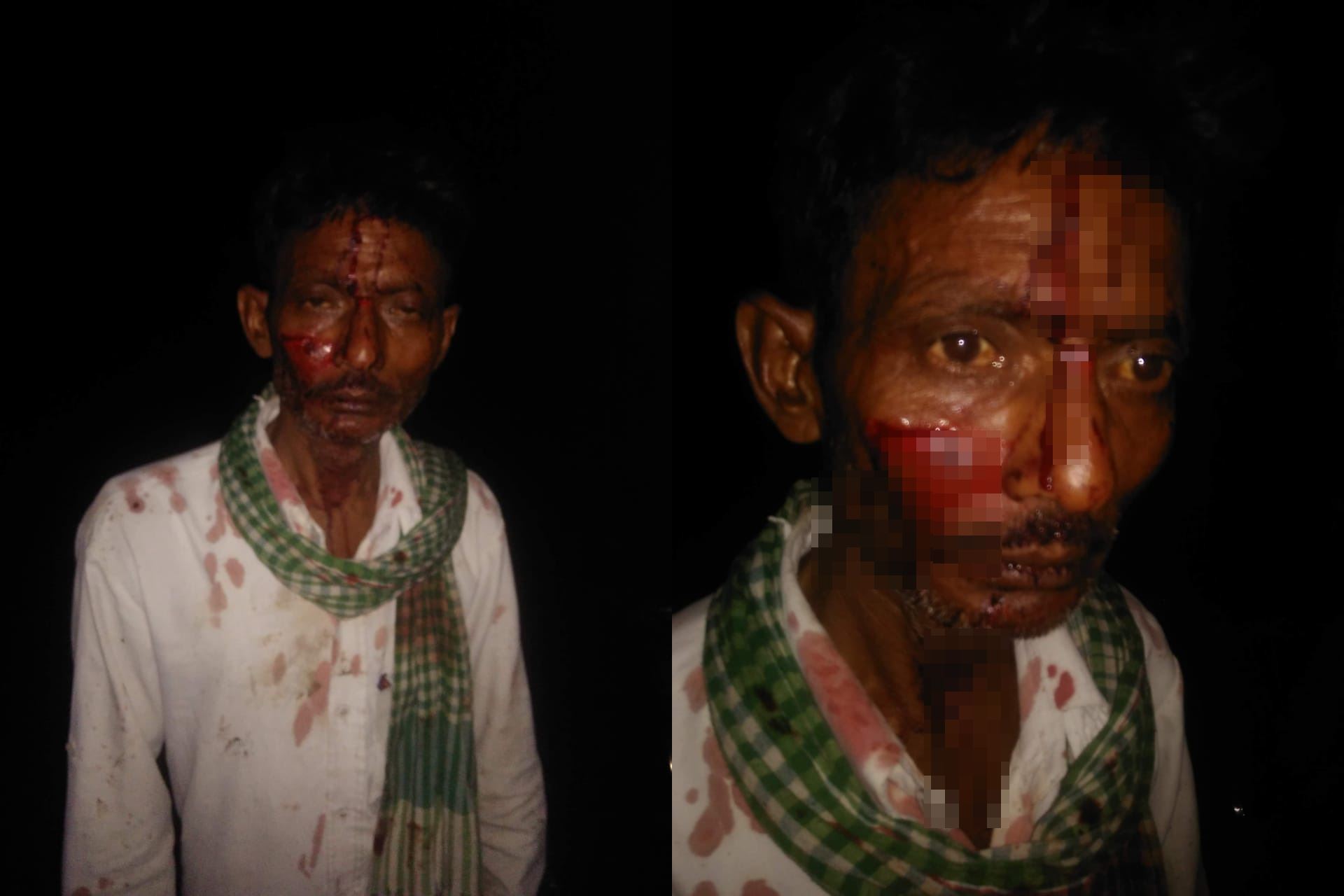 Yadav also got us in contact with Harishankar Verma's son, Avadhesh. He too rubbished the claim circulating along with his father's photo. Avadhesh said, "We had initially shared the photo on WhatsApp to get it published as news but then somebody posted it on Facebook with a false claim. My father was on his way to our home with his ice-cream kiosk. He was standing near a shop having a conversation with someone when a guy named Deepak came up to him and started a fight after intervening in the conversation. I found my father injured after an hour of the incident. He was soon hospitalised. Now, they are circulating it with a fake narrative."
When asked whether he has filed an FIR, Avadhesh replied, "Before we could file an FIR, the man [Deepak] approached us and said that he is ready to pay for the medication cost and regrets the mistake. My father didn't want to take it further."
Alt News also contacted Gangaghat police station and SO Shyam Kumar Pal said, "We have not received any complaint on the issue." 
In conclusion, a photo of an injured man clicked after a brawl in Unnao district, Uttar Pradesh, was circulated on social media with a communal narrative that an ice-cream seller was beaten up by "saffron terrorists" on refusing to chant 'Jai Shri Ram'.
Donate to Alt News!
Independent journalism that speaks truth to power and is free of corporate and political control is possible only when people start contributing towards the same. Please consider donating towards this endeavour to fight fake news and misinformation.To make an instant donation, click on the "Donate Now" button above. For information regarding donation via Bank Transfer/Cheque/DD, click here.