Nupur Sharma's recent alleged objectionable remarks on Prophet Muhammad during a TV debate triggered nationwide outrage, prompting a flurry of FIRs against the BJP leader in several parts of the country. Following this, Sharma moved the Supreme Court seeking the transfer of all FIRs filed against her in other states to Delhi. In its 'Oral Observation' on the matter, the apex court raised questions on the attitude of the Delhi police. It remarked there must have been a 'red carpet' placed for the leader, adding that "when you (Sharma) register an FIR against someone then they are arrested but not you. This shows your clout." The top court rejected her plea. Justice Pardiwala was on the vacation bench that passed this order led by Justice Surya Kant.
Following the hearing, pro-BJP propaganda website OpIndia accused the Supreme Court of being "Islamist". An online campaign was started against the Supreme Court judges who were also abused on Twitter. It is worth noting that terms such as 'Supreme Kotha' were trending on the micro-blogging platform. RSS mouthpiece Organiser Weekly and BJP supporter Vijay Patel among others also alleged that the father of one of the judges was a Congress MLA. Expressing concern over the backlash, Justice B Pardiwala stated, "Attacks attempted at our judges for the judgments will lead to a dangerous scenario where the judges will have to pay greater attention as to what the media thinks rather than what the law actually mandates."
Against this backdrop, a photo of NDTV co-chairpersons Prannoy Roy and Radhika Roy, and Communist Party of India (Marxist) leader Brinda Karat with two other men is being widely circulated on social media. A user named Rakesh Kumar Pandit tweeted the picture. He wrote that Supreme Court judges Justices Surya Kant and Pardiwala were seen sitting with the "Naxal" gang. (Archive link)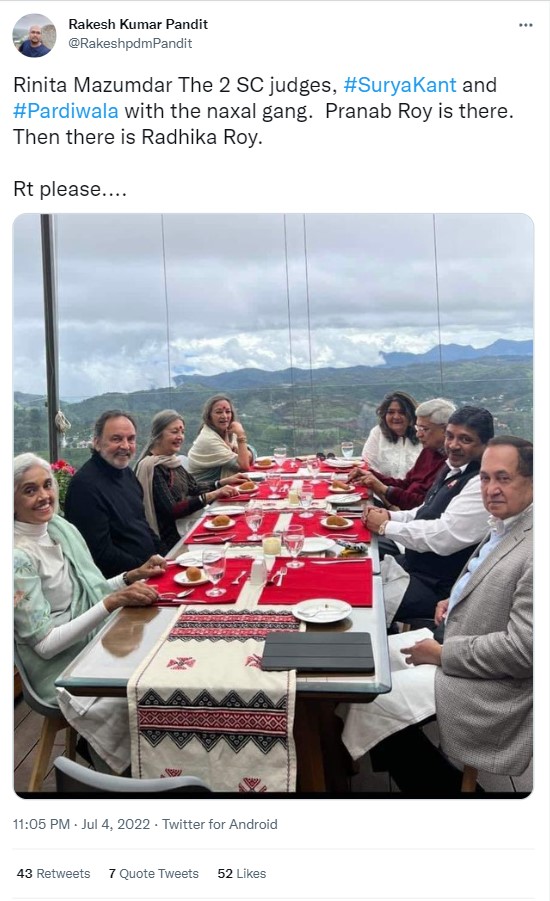 Another user named Brajesh Singh amplified the image with a similar claim. (Archive link)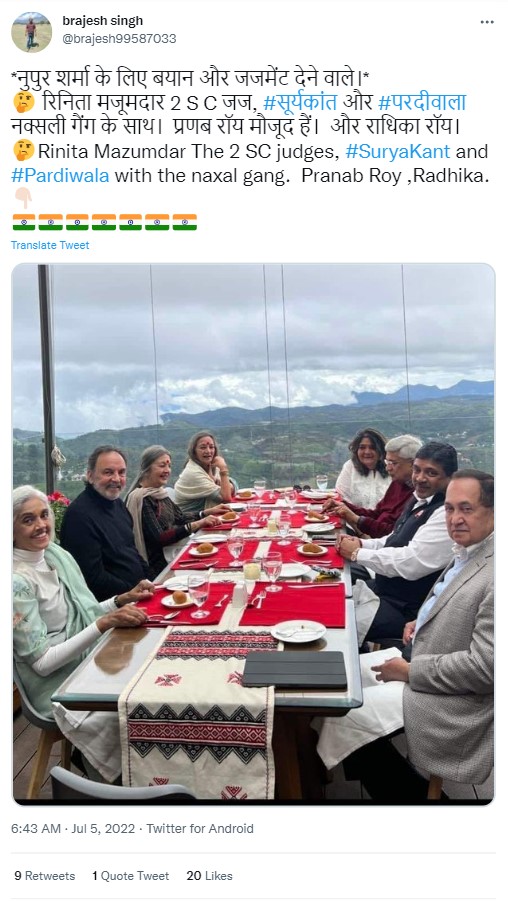 One Jitendra Sharma shared the photo on a Facebook group titled Pushpendra Kulshrestha Fan Club.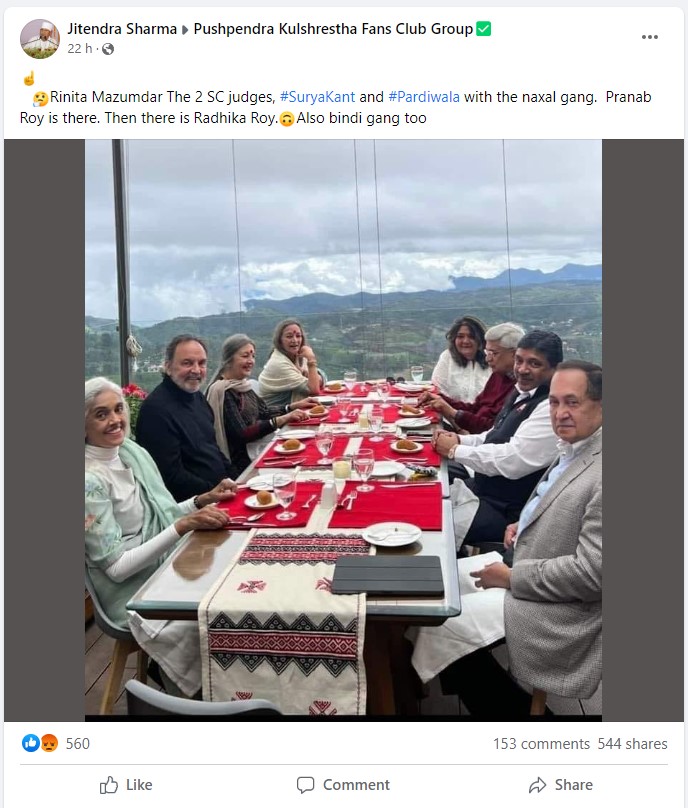 The image is widespread on Facebook and Twitter with the same claim.
Fact-check
We noticed that The Hindu Publishing Group Director N Ram and NDTV co-chairperson Prannoy Roy can be seen in this picture. We examined Ram and Roy's Twitter handles for more information. This led us to a tweet posted from the former's handle, in which he denied the viral claim and shared a Facebook screenshot. The accompanying caption mentions that the two individuals believed to be Justices Surya Kant and JB Pardiwala are actually Tamil Nadu Finance Minister Dr. P Thiagarajan (PTR) and Ram himself.
How idiotic! The calibre of your disinformation is pathetic, beneath contempt. pic.twitter.com/v6blzH0Cru

— N. Ram (@nramind) July 5, 2022
Prannoy Roy also tweeted the screenshot of Ram's Facebook post in which he refuted the viral claim.
— Prannoy Roy (@PrannoyRoyNDTV) July 6, 2022
We reached out to N Ram for more information. He told Alt News, "I am sitting in front, on the right. The person sitting next to me is the Tamil Nadu Finance Minister, Dr P. Thiagarajan (PTR). This photograph was taken with our permission on July 1, 2022, when we were having lunch at the restaurant at MindEscapes. The restaurant commands a spectacular view of the Ketti Valley. Finance Minister PTR was travelling from Coimbatore to the Defence Services Staff College (DSSC) in Wellington, where he had been invited to give a lecture. My wife, Mariam Ram, and I had arranged to meet him en route over lunch at MindEscapes. We invited our friends, Prakash Karat, Brinda Karat, Prannoy Roy, and Radhika Roy, who were in the Nilgiris at the time, to join us for lunch, to meet the Finance Minister."
He added, "I confirm that neither Justice Surya Kant nor Justice J B Pardiwala of the Supreme Court of India is in this photograph. I confirm that we did not meet them. I can also confirm, based on subsequent verification, that these judges were not in the MindEscapes restaurant. I very much doubt that they were anywhere in the Nilgiris District on July 1, 2022."
He identified the other individuals in the image as follows:
On the right – N Ram, former editor-in-chief of The Hindu and director of The Hindu Publishing Group; Tamil Nadu Finance Minister Dr. P. Thiagarajan (PTR); Prakash Karat, CPI(M) Politburo member; and Deepali Sikand, Chief Inspiration Officer and Founder of MindEscapes.
On the left – Mariam Ram, N Ram's wife and Managing Director, TNQ Technologies; Dr. Prannoy Roy, Executive Co-Chairman, NDTV Group; Brinda Karat, CPI(M) Politburo member; and Radhika Roy, Executive Co-Chairman, NDTV Group.
We also found this picture posted on the Twitter account of MindEscapes. The July 3 tweet also contains the names of all the diners seen here.
A Chef's Table session with Finance Minister – Tamil Nadu, Mr. P. Thiagarajan, Dr. Prannoy Roy and Mrs. Radhika Roy, Mrs. Brinda Karat and Mr. Prakash Karat, Mrs. and Mr. N. Ram and Dipali Sikand. #ExperienceMindEscapes #ChefsTable #Nilgiris #GreatMindsMeet pic.twitter.com/pPrBGZh4Ij

— Mindescapes (@MindEscapesClub) July 3, 2022
To sum it up, several social media users falsely claimed that Supreme Court judges Justices Surya Kant and JB Pardiwala, who reprimanded Nupur Sharma, were seen having lunch with NDTV's Prannoy Roy and Radhika Roy, CPI (Marxist) leader Brinda Karat.
Donate to Alt News!
Independent journalism that speaks truth to power and is free of corporate and political control is possible only when people start contributing towards the same. Please consider donating towards this endeavour to fight fake news and misinformation.