YouTuber Manish Kashyap from Bihar was arrested last month at the Jagdishpur police station of Bettiah in the West Champaran district after he had surrendered there. He is accused of circulating false and misleading videos about residents of Bihar working in Tamil Nadu.
Recently, a set of viral pictures of Kashyap has gone viral on social media with the claim that he has been given a clean chit by a Madurai district court and that the court "reprimanded police" for arresting him. Additionally, some users have also claimed that the YouTuber from Bihar had been exonerated of all charges by the court and that he shall be released soon.
Twitter Blue user @AnujBajpai_ claimed that, "मदुरै कोर्ट ने नहीं मानी Manish Kasyap की कोई गलती. पुलिस को लगाई फटकार, विरोधियों और बिहार सरकार को करारा झटका . जल्दी रिहा होंगे मनीष कश्यप." (Translation: Madurai court did not accept any mistake of Manish Kasyap. Reprimanded the police, a blow to the opponents and the Bihar government. Manish Kashyap will be released soon.) The tweet has received over 24.2k views, 2000 likes and 500 retweets. (Archive)
मदुरै कोर्ट ने नहीं मानी Manish Kasyap की कोई गलती ।
पुलिस को लगाई फटकार, विरोधियों और बिहार सरकार को करारा झटका .. जल्दी रिहा होंगे मनीष कश्यप ।
सत्यमेव जयते 🚩🙏 pic.twitter.com/HmfiRSieeG

— Anuj Kumar Bajpai (@AnujBajpai_) April 2, 2023
Another user, @imrowdy_rathore, posted a video with the same caption as the previous tweet. The post has received over 56k views, 600 retweets and 2,500 likes. (Archive)
मदुरै कोर्ट ने नहीं मानी Manish Kasyap की कोई गलती ।
पुलिस को लगाई फटकार, विरोधियों और बिहार सरकार को करारा झटका .. जल्दी रिहा होंगे मनीष कश्यप ।
सत्यमेव जयते 🚩#मनीष_कश्यप #मनीषकश्यप #ManishKashyap #viralvideo pic.twitter.com/1fVl4ZvB5v

— Neha Singh Rathore || नेहा सिंह राठौड़ (@imrowdy_rathore) April 3, 2023
The claim is also also viral on Facebook. One user, Chandan Sharma, shared a picture of Kashyap with the same claim in a Facebook group called "I Suport Manish Kasyap', which has over 400k followers. The post garnered over 1.5k likes and 38 shares. (Archives here and here.)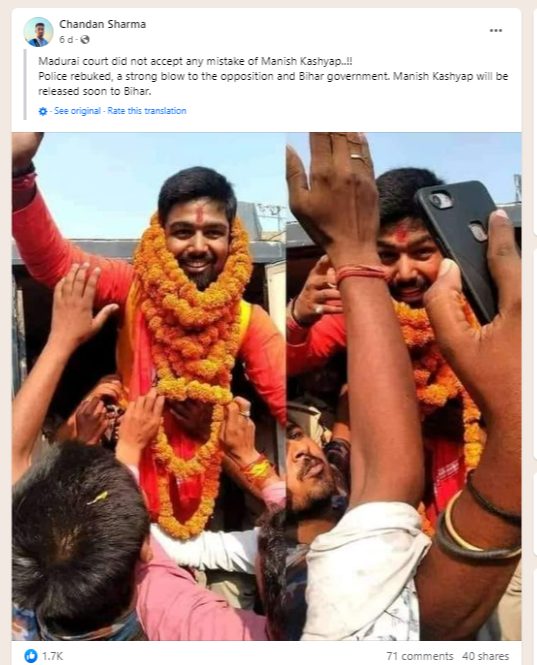 A YouTube channel by the name of 'Creator Babua' posted a video on April 5, claiming that Kashyap, who was in remand with Tamil Nadu police, had been exonerated of all the charges pressed by the TN police and that Manish would be soon returning to Bihar. The video cited Kashyap's brother Karan as the source of the information. The video has over 1.3k views. (Archive)
Several social media users shared similar posts claiming that Madurai Court did not find Kashyap guilty.
This slideshow requires JavaScript.
Fact Check
Manish Kashyap, who was accused of sharing false news of migrant labourers from Bihar being attacked in Tamil Nadu, surrendered to Bihar Police on March 18. Following this, he was arrested was brought to Tamil Nadu on transit remand by a special team of TN police.
A keyword search on Google led us to various news reports revealing that Manish Kashyap was booked under the National Security Act (NSA) by the Tamil Nadu police on April 6. According to a report published by The Indian Express, Kashyap appeared before a Madurai district court on April 5, which had ordered that he be remanded to judicial custody for 15 days following which he was sent to the Madurai central prison. "The court has extended his judicial custody till April 19", the report stated. Hence, the claim that Kashyap has been given a clean-chit by the Madurai court was false.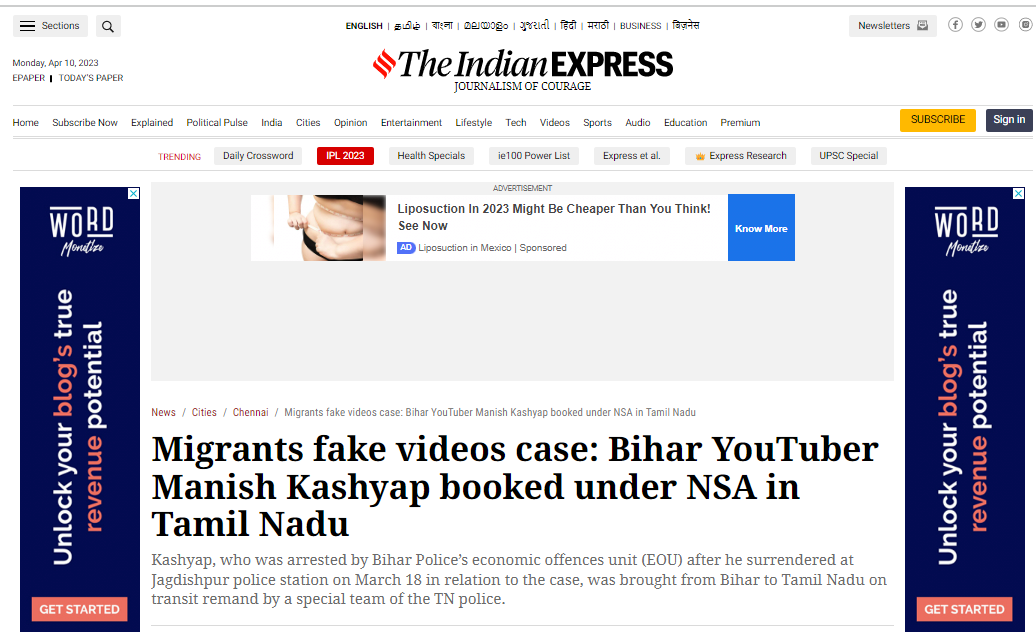 The Times of India also published a report titled, 'Trouble mounts for Bihar YouTuber Manish Kashyap in fake video case, SC denies relief after TN slaps NSA' stating that Kashyap had sought interim bail but SC has denied any relief to him. There is no news report of Kashyap being exonerated of all charges by the TN court.
Other media outlets have also reported on the issue. Screenshot of the news reports attached below.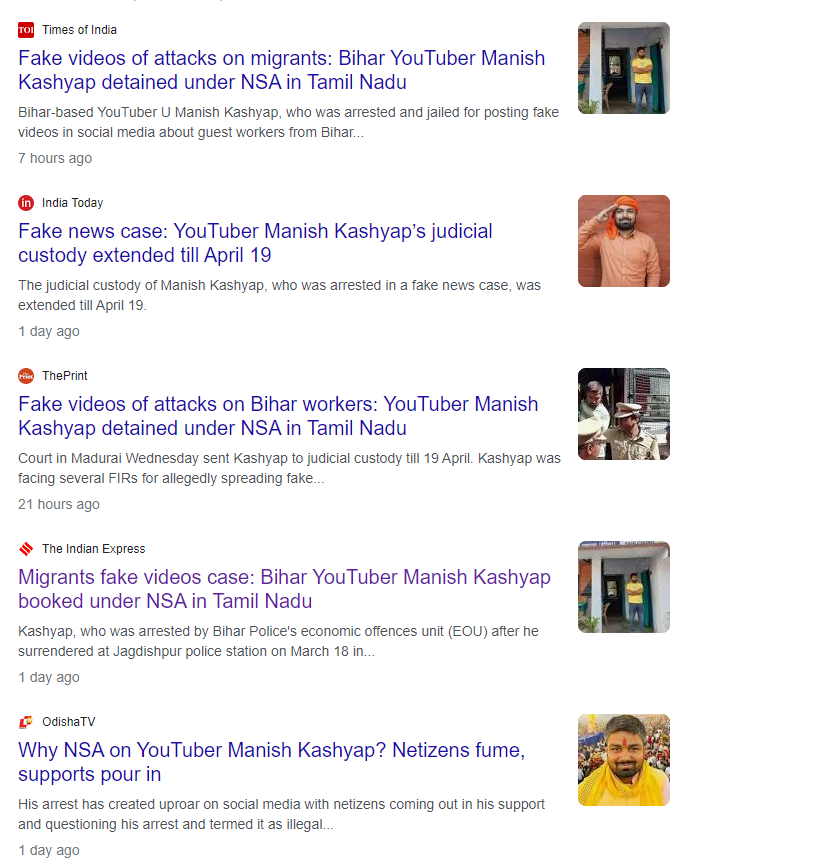 Alt News reached out to Kashyap's lawyer, Niranjan S Kumar. He stated that "Manish wasn't given any clean-chit by Madurai Court. He was booked under the National Security Act on April 5 and is currently in the Madurai central prison."
The Supreme Court on April 11, sought responses from the States of Tamil Nadu, Bihar and the Centre to a plea by Manish Kashyap to club multiple FIRs registered against him. A Bench of Justices Krishna Murari and Sanjay Karol gave the three governments a week to file their replies to the petition and posted the case for hearing on April 21.
To summarize, false claims of YouTuber Manish Kashyap receiving a clean-chit by a Madurai Court went viral on social media. However, at the time of publishing this article on April 12, no such judgment was passed by any court. Kashyap has been booked under the NSA by the TN police. The same was confirmed by Kashyap's lawyer.
Donate to Alt News!
Independent journalism that speaks truth to power and is free of corporate and political control is possible only when people start contributing towards the same. Please consider donating towards this endeavour to fight fake news and misinformation.