A man conducting a vox-pop (short interviews with members of the public) at Shaheen Bagh with men exiting a mosque after namaz has gone viral. In this video, the interviewer is trying to determine the nationality of the people. They say that they have come from Bangladesh and the interviewer asks them leading questions in Hindi (a language they do not understand) to insinuate that the AAP government is offering free electricity and water to Bangladeshi nationals residing in Shaheen Bagh.
It must be noted that most people in the video say that they have come to India for "embassy-related work" and one of them also says in the end that they will be going back to Bangladesh. In spite of this, BJP leader Ashwini Upadhyay referred to them as "Bangladeshi-Rohingya infiltrators" and wrote that their properties should be confiscated and they should be incarcerated for 10-20 years. He posted the video on both Twitter and Facebook and gained 2.5 lakh views cumulatively.
रोहिंग्या-बांग्लादेशी घुसपैठियों की 100% संपत्ति जब्त करने और 10-20 वर्ष सश्रम कारावास देने के लिए कानून बनाना नितांत आवश्यक है @narendramodi pic.twitter.com/wbVKf29nLe

— Ashwini Upadhyay (@AshwiniUpadhyay) May 8, 2022
Using CrowdTangle, a Facebook monitoring tool, Alt News found that over 100 accounts had shared Upadhyay's post. Most of them are pro-BJP groups or pages. A spreadsheet that lists such accounts can be viewed here.
BJP member Major Surendra Poonia (Retd) tweeted, "Rohingya-Bangladeshi infiltrators are roaming freely in Delhi! Why do they only come to Delhi? Who makes their Aadhaar/ Ration card and Voter ID? Who is in Delhi who is giving them electricity/ living space?" This video gained around 1 lakh views. [Archived link]
रोहिंग्या-बांग्लादेशी घुसपैठिये आराम से दिल्ली में घूम रहे हैं !
ये दिल्ली में ही क्यों आते हैं ?
कौन है यहाँ जो इनके आधार/राशन कार्ड और वोटर ID बनवा रहा है ?
कौन है दिल्ली में जो इनको बिजली/रहने की जगह दे रहा है?@NIA_India @HMOIndia pic.twitter.com/VTcbBDfvyv

— Major Surendra Poonia (@MajorPoonia) May 8, 2022
BJP Delhi spokesperson Sarika A Jain also tweeted this clip. She wrote, "…Hindu brothers, see how your Delhi will one day get away from your hands…"
ये सब CM साहब के रिश्तेदार है शाहीन बाग में……
सभी हिन्दू भाई देखे की कैसे आपकी दिल्ली आपके ही हाथों से एक दिन चली जायेगी ।।
ये होता है गलत वोट देने का नतीजा ..
इनके लिए दिल्ली में सब कुछ फ्री है …
ओर खास बात ये की आते ही इनके वोटर, राशन कार्ड भी बन जाते है ..@BJP4India pic.twitter.com/Dxq0V5o8vW

— Sarika A Jain 🇮🇳 (@SarikaJainBJP) May 7, 2022
President BJP Mahila Morcha Yogita Singh wrote, "In a few months Shaheen Bagh of Delhi will become Bangladesh."
बधाई दिल्ली , अब आपको बांग्लादेश की सैर के लिए वीज़ा की आवश्यकता नहीं होगी कुछ महीनों में दिल्ली का शाहीन बाग़ ही बांग्लादेश बन जाएगा।
याद रखिए दिल्लीवासियों आपका ग़लत वोट ही इसका ज़िम्मेदार है । pic.twitter.com/MC3OBwhvU3

— Yogita Singh (@yogitasinghbjp) May 7, 2022
Other Twitter accounts that shared this clip are @RituRathaur, @No_negativityxd, @Incognito_qfs, @RijulJK, and @mekarora.
This slideshow requires JavaScript.
Are the people in the video "Bangladeshi infiltrators"?
The viral video has a logo that says 'Vartmaan Bharat' in Hindi. Using this as a clue, Alt News performed a keyword search on Facebook and found a page by the same name. On May 7 and 8, this page uploaded two 5-minute vox-pop videos from Shaheen Bagh.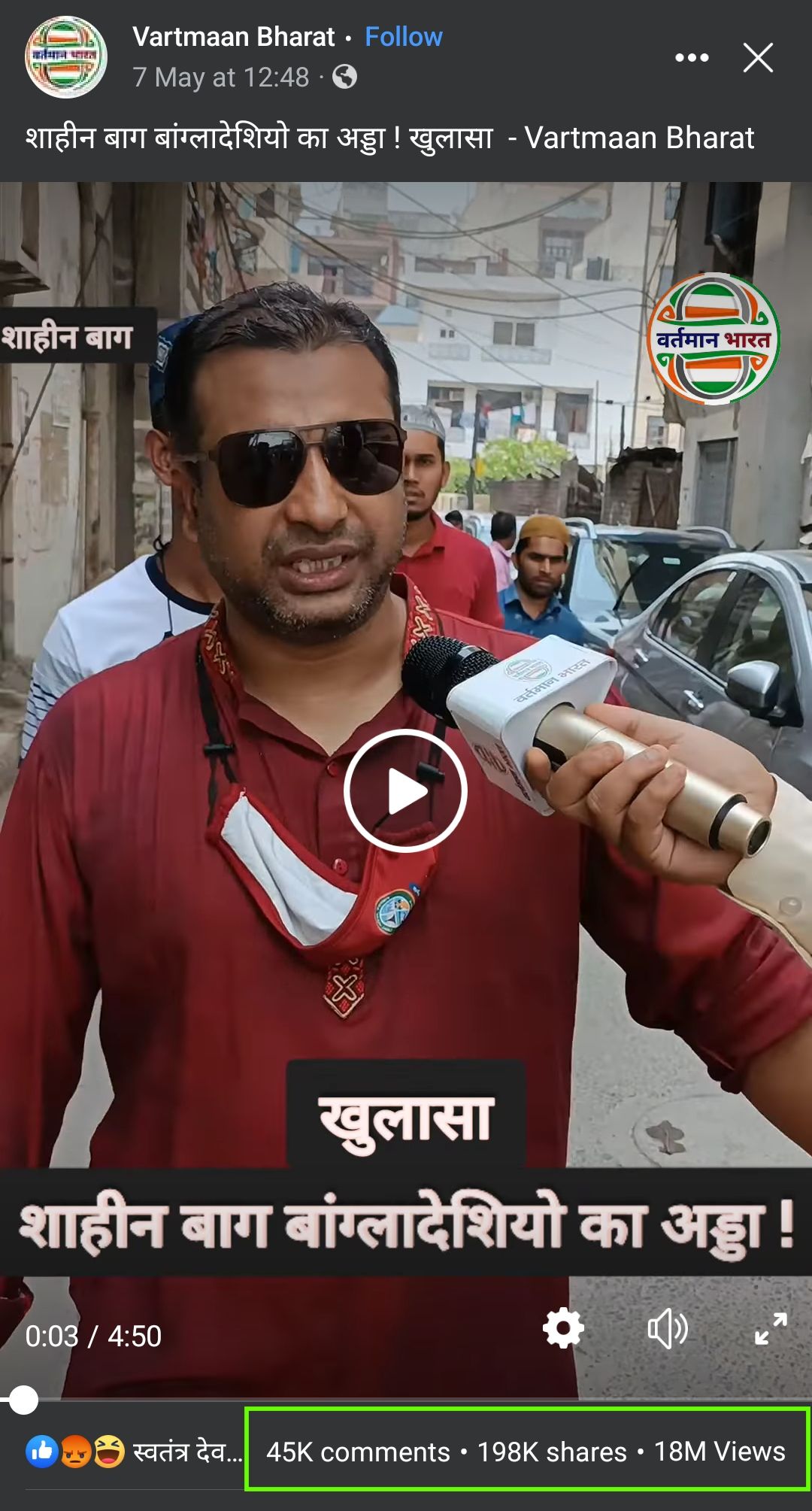 'Vartmaan Bharat' also posted a Facebook Live on May 8 where its "reporter" targeted Shaheen Bagh with bizarre allegations and conspiracies. The statements made by the 'Vartmaan Bharat' interviewer are listed below along with the timestamp.
| TIME STAMP | STATEMENT |
| --- | --- |
| 1:10 - 1:14 | "Shaheen Bagh has become hub for Bangladeshi infiltartors" |
| 1:50 - 1:54 | "Aren't these the same people [infiltrators] who took part in CAA protests" |
| 2:00 - 2:07 | "Most people in CAA protests were from Bangladesh" |
| 3.00 - 3.08 | "Shaheen Bagh has become an area where only people from one community stay" |
| 7:40 - 7:50 | "People from one community have made Shaheen Bag their base" |
| 8:50 - 8.58 | "Does AAP MLA Amanatullah Khan hold the key to this situation... just few days ago drugs were found in Shaheen Bagh" |
| 13.50 - 13.56 | "You [Muslms] were with Britishers, with your trousers open [pyjama khol ke]" |
| 18:30 - 18.45 | "As for those whose documents are eaten by goat, what can be done? You ate the goat. That settles the matter." |
| 19.00 - 19.11 | "Destroy Shaheen Bagh" |
| 22.30 - 20.23 | "...Have you even seen a donation box in a Mosque" |
Upon viewing the videos by 'Vartmaan Bharat', in their entirety, the following points are clear —
Not a single person says they are Rohingyas.
Multiple people stated they are in New Delhi for the Maltese visa application.
Bangladeshi tourists refuted the allegation of receiving free water and electricity from the AAP government.
In an ideal world, just viewing the videos by 'Vartmaan Bharat' would be enough to dismiss the outlandish claims presented to the viewer.
Analysis of 'Vartmaan Bharat' videos
The video posted by 'Vartmaan Bharat' not only contains misinformation but also discredits the profession of journalism. The interviewer was told by multiple people that they are not fluent in Hindi. Yet, he posed cunning and tasteless questions in a language they do not understand. One such question was, "Did you visit India after crossing a fence or flight?" The interviewer asked this question multiple times.
For one interviewee, the situation was so bizarre he was unable to contain his smile. To his credit, he remained calm and politely asked, "Why would we cross the fence?" The part below is a segment from the May 7 vox-pop which shows the same.
Another instance where the interviewer exposed his propaganda-driven reportage was when he asked, "Are you here for paisa (money)?" after a person responded he is in Delhi for visa formalities. The word paisa sounds phonetically similar to visa.
In the 20-minute Facebook Live, he made vile allegations targeting Shaheen Bagh. One such allegation was that Bangladeshis took part in anti-CAA protests in India. In 2019 and 2020, Alt News documented multiple social media claims targeting peaceful anti-CAA protests at Shaheen Bagh. One of the recurring allegations was that the protestors were "paid agents". Thus, when the interviewer suggested that the Bangladeshi tourist is in India for paisa, he implied Bangladeshis are getting funded in Shaheen Bagh.
Ground reality

Alt News collaborated with Shaheen Bagh-based reporter Arbab Ali in order to identify and interview people from the 'Vartmaan Bharat' videos. As per our findings on the ground, the videos were shot near Masjid Al-Habeeb in Shaheen Bagh. We also learnt that several Bangladeshi tourists stay in localities near Shaheen Bagh.
We managed to identify five tourists — Arif Hussain, Fahad Mahfuz Chowdhury, Saiful Islam, Akhtar Hussain, and Rashid Ul Hasan. They are staying at a facility that is less than 2 kilometres away from Masjid Al-Habeeb. Upon the request of the hotel owners, Alt News will not reveal the name of the lodging facilities.
Based on our interviews with Bangladeshi citizens, Alt News can confirm most people in the viral video are in New Delhi for visa process at the Maltese embassy.
Rashid Ul Hasan told Alt News over a telephonic call, "We don't have a Maltese embassy in Bangladesh. The Bangladesh government negotiated with the Indian government so that Bangladeshi citizens can visit the country and access the Maltese embassy easily. As of today, my passport is with the Maltese embassy. I will return to Bangladesh as soon as visa formalities are over."
When we enquired about his preference of stay, he said, "As per my knowledge, at least 350 Bangladeshis are here to apply for a visa. We looked for several hotels in Delhi but there weren't any rooms available. So when we heard about the availability of rooms in Paharganj and Sarita Vihar, we came here. The decision to stay at Sarita Vihar was not pre-planned but an outcome of various factors."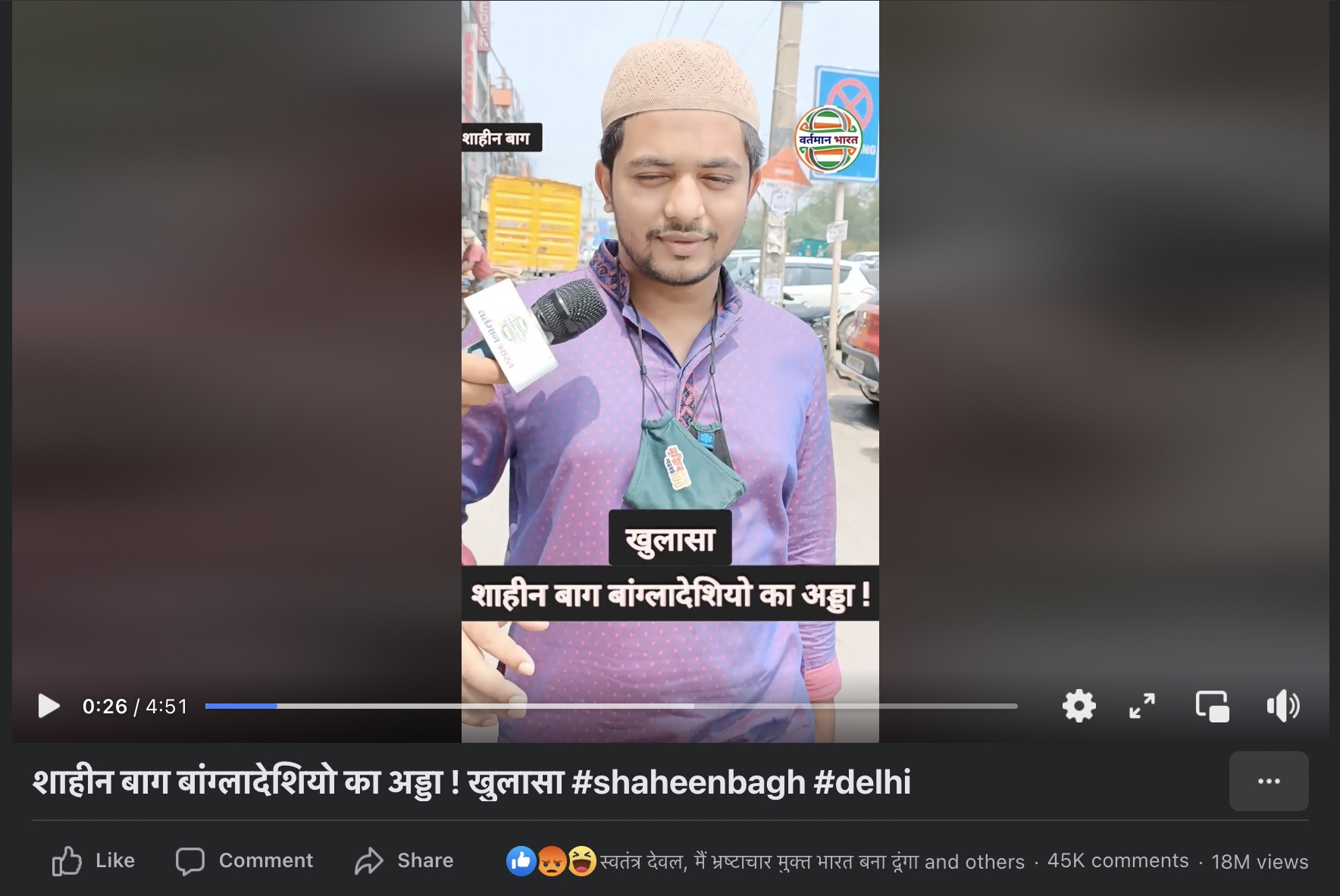 Another tourist Arif Hussain has applied for a long-term visa in Malta and has been staying in India since 40 days. He said, "That video is wrong… They only asked where I come from. That's it. They didn't reveal the purpose of the video." He added, "This video is very bad for Bangladeshi citizens."
Displeased with the interview, Fahad Mahfuz Chowdhury said, "One guy took my interview. He asked where I'm living. I told him I'm living in Sarita Vihar. Despite that, he only presented two options to me — Shaheen Bagh or Madanpur Khadar." Delhi is one of the main settlement areas for Rohingya refugees and has five large unofficial camps in areas like Jasola and other sites along the banks of the river Yamuna. Madanpur Khadar is close to the Yamuna river.
On the condition of anonymity, a staff member of the lodging facility where the four Bangladeshi tourists were staying told Alt News, "We host people not just from Bangladesh but Iraq, Iran and other countries. The reason Bangladeshis stay here is because they aren't fluent in Hindi. I'm from Assam and fluent in Bengali. They feel comfortable here because they can express their problems to me."
He added, "Most of my Bangladeshi guests visit India for visa-related formalities in the Maltese embassy. This process can take up to three to four months. On the eventuality of visa expiry, they seek documentation for an extended stay at Foreign Regional Registration Offices."
It is noteworthy that there is a Maltese consulate in Dhaka. We wrote an email to them and the Maltese and Bangladeshi embassies in India to understand the nuances of the visa process for Bangladesh citizens. The article will be updated if they respond to our email.
To sum it up, since May 7 and 8, the Facebook page 'Vartmaan Bharat' posted multiple videos alleging that Bangladeshi tourists in New Delhi are "infiltrators" and their preferred choice of residence is Shaheen Bagh. The clipped May 7 video, which gained over 18 million views, was further amplified by BJP leaders.
Our ground reportage found that most Bangladeshis seen in the video are in New Delhi for Maltese visa applications.
Donate to Alt News!
Independent journalism that speaks truth to power and is free of corporate and political control is possible only when people start contributing towards the same. Please consider donating towards this endeavour to fight fake news and misinformation.