Zee News editor-in-chief Sudhir Chaudhary tweeted on May 7, "Here's my Pulitzer Prize for reporting the truth", and shared a copy of an FIR filed against him. The FIR states that Chaudhary has been booked for "maligning the Muslim community in a programme called DNA broadcast on 11.03.2020 on Zee News". In another tweet, Chaudhary wrote that the FIR is the "prize for daring to speak against #ZameenJihad in Jammu, #LoveJihad in Kerala…"
This is the price for daring to speak against #ZameenJihad in Jammu,#LoveJihad in Kerala,
PFI funding of CAA protests,
and for daring to enter Shaheen Bagh.
I have all the respect for the law but these tactics won't stop me. Bring it on! https://t.co/4xoLhIgDSi

— Sudhir Chaudhary (@sudhirchaudhary) May 7, 2020
Pultizer, eh?
The FIR concerns Chaudhary's Match 11 broadcast where he indulged in a five-minute discourse on "different types of jihad" during his DNA show. "Today we have a diagram about jihad which I want read out to you so that you can understand what the conspiracy is." Chaudhary then went on to describe 'hard' and 'soft' Jihad in detail. With the help of the diagram, he explained history jihad, media jihad, love jihad, movie jihad, population jihad, land jihad, etc.
#DNA : जम्मू, ज़मीन और जेहाद#ZameenJihad @sudhirchaudhary pic.twitter.com/lVqROQguga

— Zee News Hindi (@ZeeNewsHindi) March 11, 2020
The FIR was registered at Kasaba police station on April 24 by advocate P Gavas, AIYF state joint secretary, Kozhikode. Chaudhary has been booked under Section 295A of the Indian Penal Code (Deliberate and malicious acts, intended to outrage reli­gious feelings of any class by insulting its religion or reli­gious beliefs).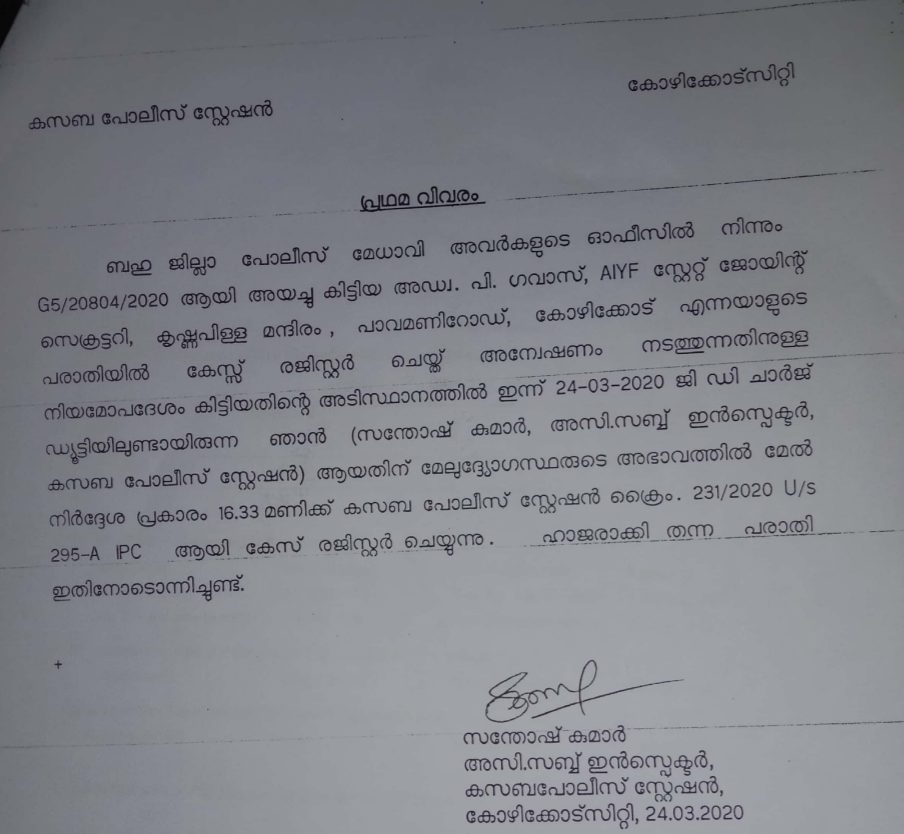 Gavas shared his complaint with Alt News which states, "Sudhir Chaudhary, the head and editor-in-chief of Zee News covered the different types of jihad organized by Muslims in India. He used a diagram to target the Muslims of India…He made comments during the show that can create religious hate amongst people and lead to communal riots. " The complaint also carries the Malayalam translation of the March 11 show on the "different types of jihad".
'Plagiarism jihad'
Ironically, Zee News had plagiarized the chart from a dodgy Facebook page. The image was traced by Newslaundry to a five-year-old post by the page 'Boycott Halal in India'. The Facebook page goes on to a detailed explanation of how 'Halal' is an example of economic jihad.
Alt News found that the image was even older than August 1, 2015, when it was posted on the 'Boycott Halal' page. It carried the watermark of a now-deleted Facebook page called 'Secularism ki topi'. The chart also features on a 2015 post of blog called sickular.com which is dedicated to propaganda against minorities. The image has been in circulation since 2014 and has been shared by many Facebook and Twitter users with the same Islamophobic narrative for which it was created. Below is a tweet by BJP supporter Payal Rohatgi from September 2019.
Why did Mughals come to Bharatvarsh from Middle-east? They wanted to CONQUER, do #FORCEDCONVERSION 🙏 Simple but jokers like #ZainabSikander who are jobless, have NO logic in their brain want money to run their house so spread misinformation in disguise of #HistoryJihad 🙏 pic.twitter.com/HA9qhZIOV6

— PAYAL ROHATGI & Team- Bhagwan Ram Bhakts (@Payal_Rohatgi) September 9, 2019
The chart seemed to be circulation before it made into Zee News newsroom, as can be seen from this March 1, 2020 tweet.
Forms of jihad pic.twitter.com/KvVRnuHi0k

— Twamevaaham…. (@Suryaevani) March 1, 2020
Interestingly, in the DNA show, before presenting the 'jihad' poster, Sudhir Chaudhary also featured the views of Pakistani-Canadian author Tarek Fatah, who is known for his frequent targeting of Indian Muslims with false information. Fatah was presented by Zee News as "Islam ke jaankaar", which can be translated as 'one knowledgeable about Islam'.
Following the outrage about the jihad chart, Chaudhary went on to defend his show and indulged in name-calling his critics as 'designer patrakar' and 'tukde-tukde gang'.
To defend his jihad chart, he tried to explain a concept he called 'Gajwa-e-Hind', quoting from the book of the controversial American anti-Muslim author and blogger, Robert Spencer. All through his explanation, Chaudhary repeated several times that he was not targeting any particular religion but rather those who hold unholy ideas of dividing the country.
Incidentally, Chaudhary, who blatantly plagiarized the jihad chart from a dubious Facebook page had once made a plagiarism charge against TMC MP Mahua Moitra. Not only was the charge false but the man who he accused Moitra of plagiarizing, came to her defence and slammed Chaudhary's allegations.
I'm internet famous in India because a politician is being falsely accused of plagiarizing me. It's kind of funny, but right-wing assholes seem to be similar in every country.

— Martin Longman (@BooMan23) July 2, 2019
Moitra had filed charges of criminal defamation against Chaudhary.
At a time when the country witnessed deadly communal riots in the capital which caused close to 50 deaths, Zee News dedicated an entire show to different types of 'jihad' – a derogatory word coined to fan anti-Muslim sentiments. This wasn't just irresponsible journalism but a blatant misuse of public emotion which was at an all-time high. The show was nothing more than sectarian propaganda to drive views. Now that a police complaint has been filed against Sudhir Chaudhary, the anchor is playing the victim by portraying that the FIR is a "prize" for speaking the truth.
Donate to Alt News!
Independent journalism that speaks truth to power and is free of corporate and political control is possible only when people start contributing towards the same. Please consider donating towards this endeavour to fight fake news and misinformation.