An image of burqa-clad girls receiving scholarships from Kerala-based Malabar Charitable Trust is being shared on Twitter. The girls are holding certificates and posing for photographs on a stage. The backdrop shows a banner of the Malabar Charitable Trust which is part of the philanthropic Malabar Group.
Twitter user @satviksoul posted the image and wrote, "Malabar gold is a Muslim owned shop, scholarship is given only for the Muslim girls. We Hindus should…?" This tweet gained over 50,000 views and over 1000 retweets. (Archive)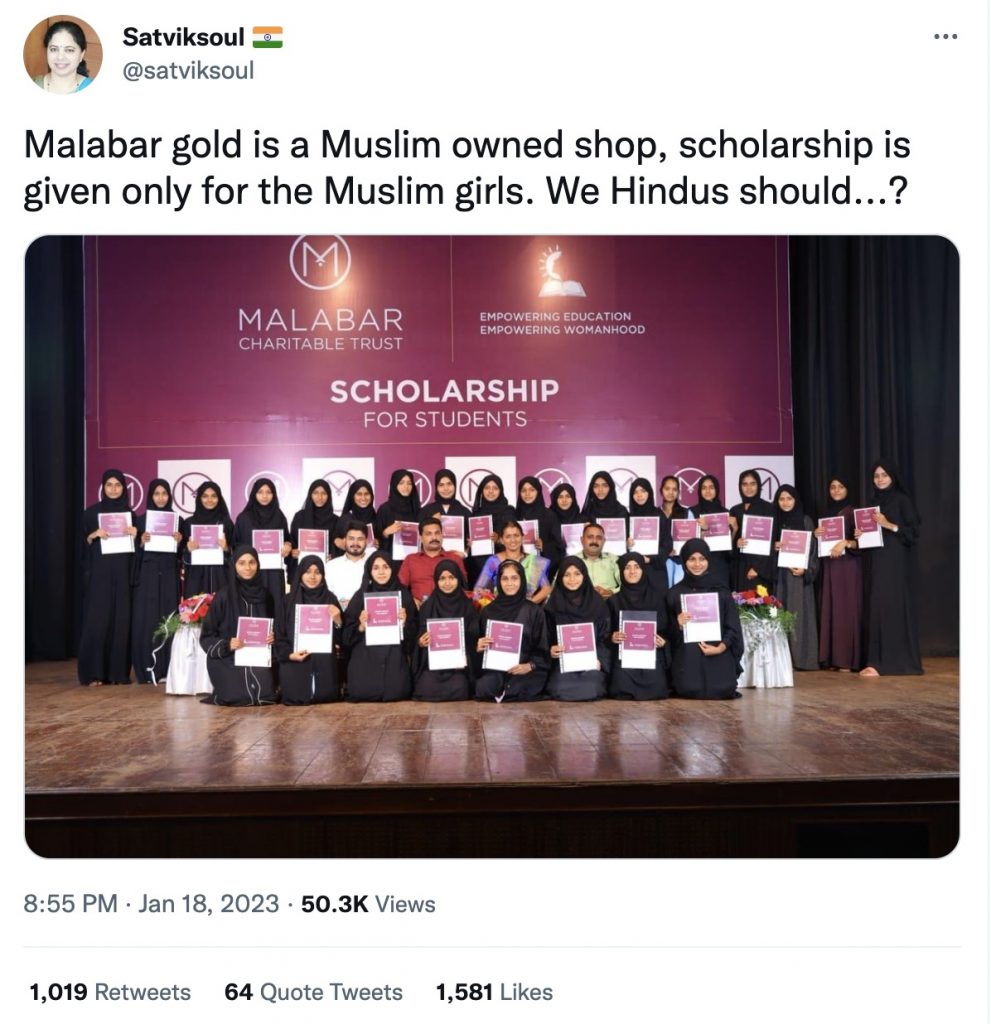 Twitter user @RajeswariAiyer also posted the same image with a similar claim. He also alleged that Muslims have 'won the demographic war' in Kerala. (Archive)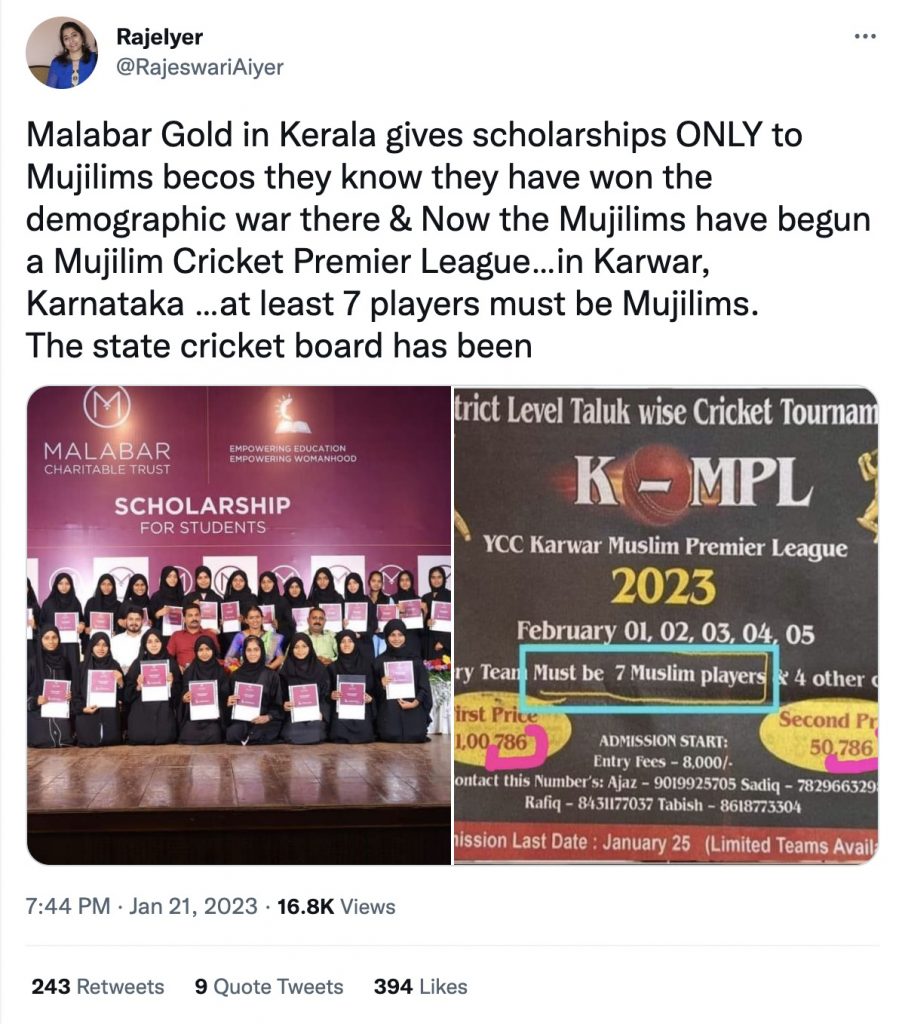 Quote-tweeting a Times Now report on VHP's request to ban non-Hindu traders at the Dakshini-Kannada temple fair, user @BesuraTaansane shared the viral image and pointed out that 'how a corporate like Malabar Gold which earns money by selling to all faiths only gives scholarships to one community!' will never be reported.
But TOI-let Media house will never talk about how a corporate like Malabar Gold which earns money by selling to all faiths only gives scholarships to one community ! https://t.co/TC24dnri6p pic.twitter.com/ULLjchRhzn

— Sameer (@BesuraTaansane) January 21, 2023
Several pro-BJP Facebook accounts shared this image including the pro-BJP FB page Postcard (136K followers) and its founder Mahesh Vikram Hegde, spiritual leader Ganesh Thota (156K followers), 'We Support Nupur Sharma' (172K followers), I M with BJP & RSS (177k followers), Christian Missionaries Exposed, DEFENCE360 and Narendra Modi fans.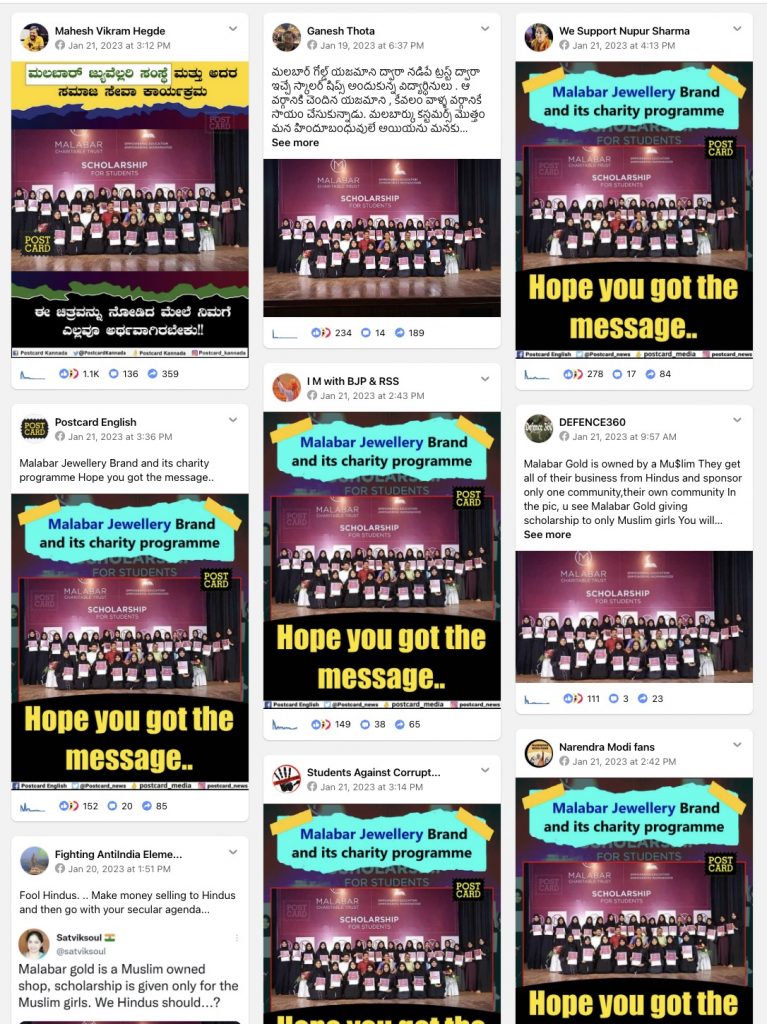 Fact Check
Alt News visited the official website of Malabar Charitable Trust and read the 'Eligibility Criteria & Instructions' under the Scholarship page.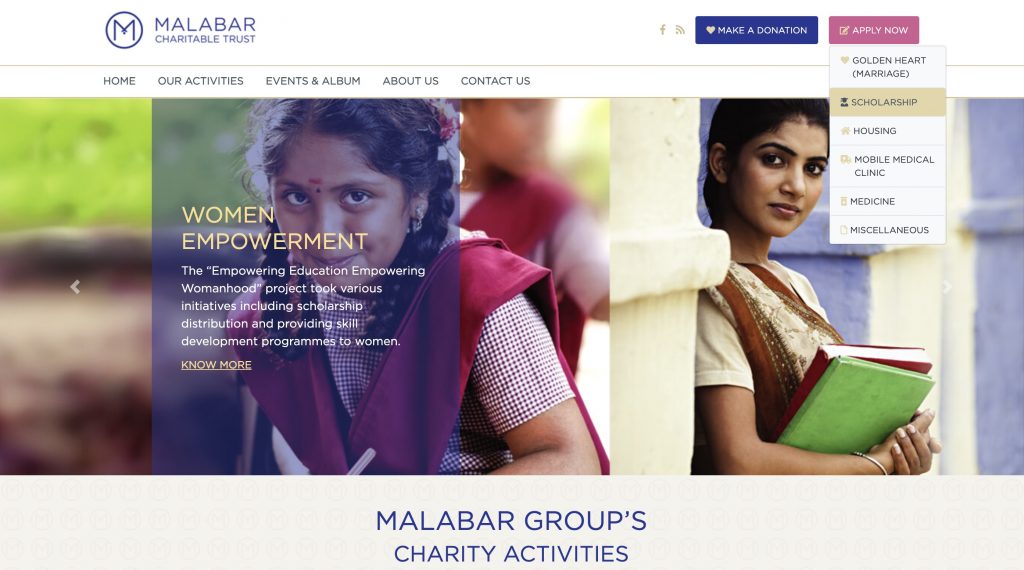 The first of the 13 criteria says, "The Scholarship Scheme is exclusively for girl students only". The fifth point states "Scholarship will be granted on 'Merit and Means Basis' only." There is no mention of religion.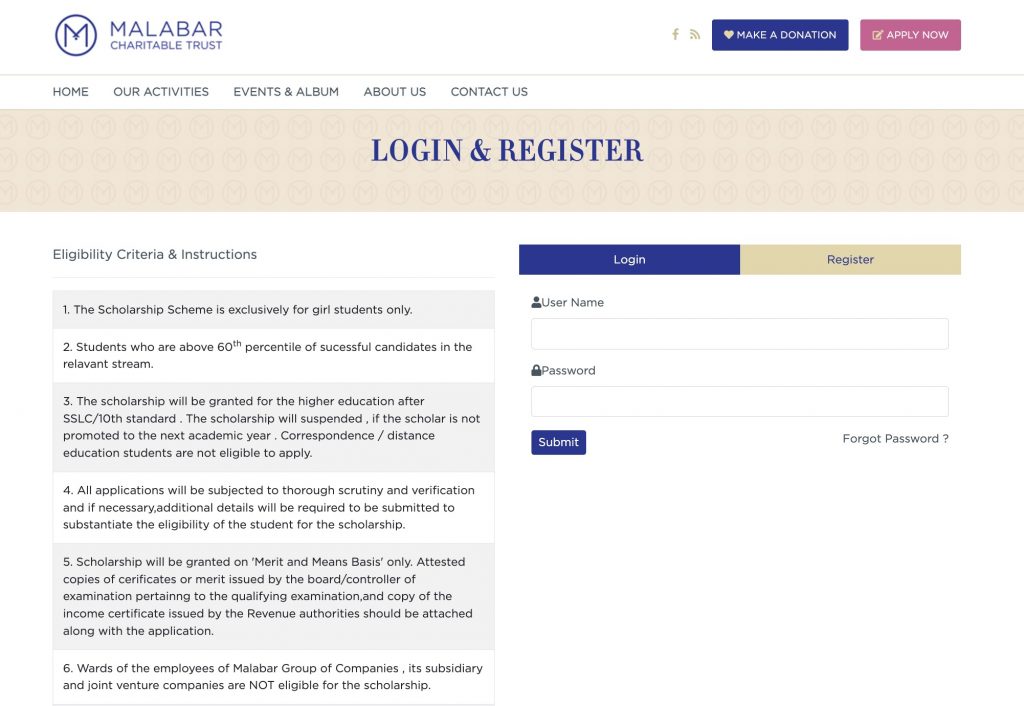 Upon visiting the photo album on the web page, we found an image of girls in school uniform standing in front of the Malabar Charitable Trust banner.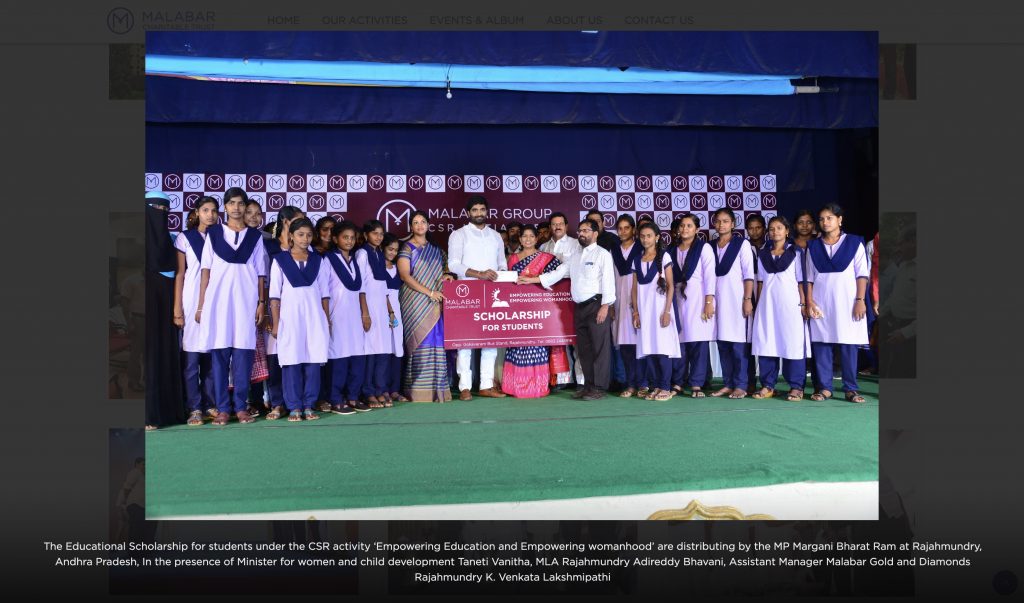 In fact, the official YouTube page of Malabar Gold and Diamonds uploaded a video titled 'Educational Scholarship Program | CSR Initiative | Malabar Group' that shows a montage of a group of girls from different institutions getting scholarships.
At the 13-second mark, we see a disclaimer that states, "Beneficiaries included bright young scholars from needy families across all sections of the society without consideration to caste or community."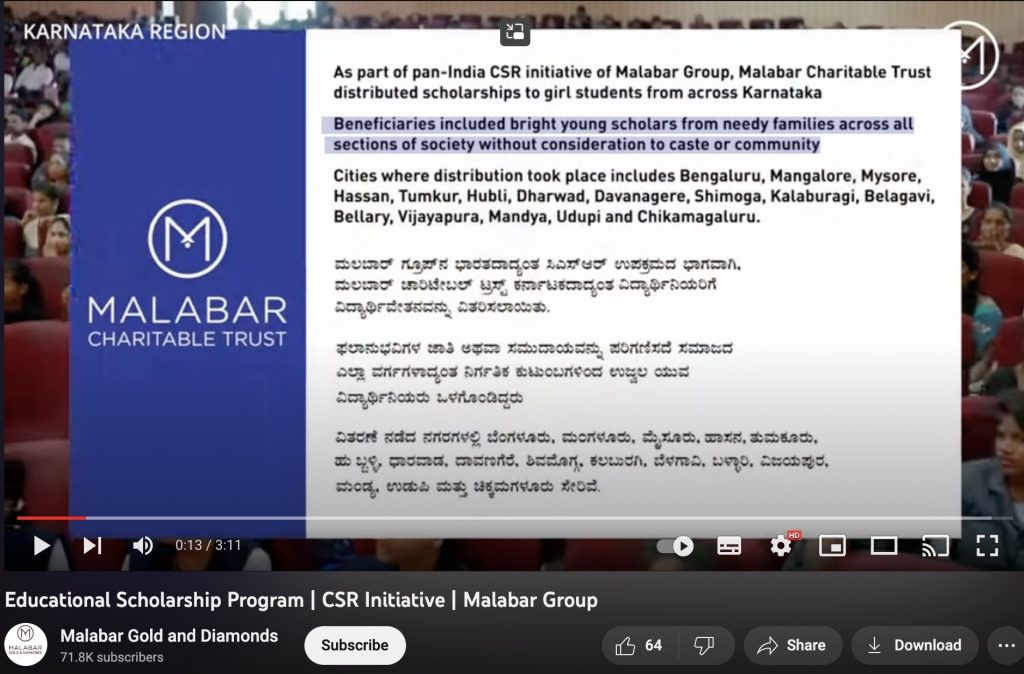 Alt News spoke with Arshad, a senior executive at the CSR wing of Malabar Group. He shared a poster on the the scholarship programme (view PDF). It says that scholarships were given to 630 girl students from more than 60 colleges.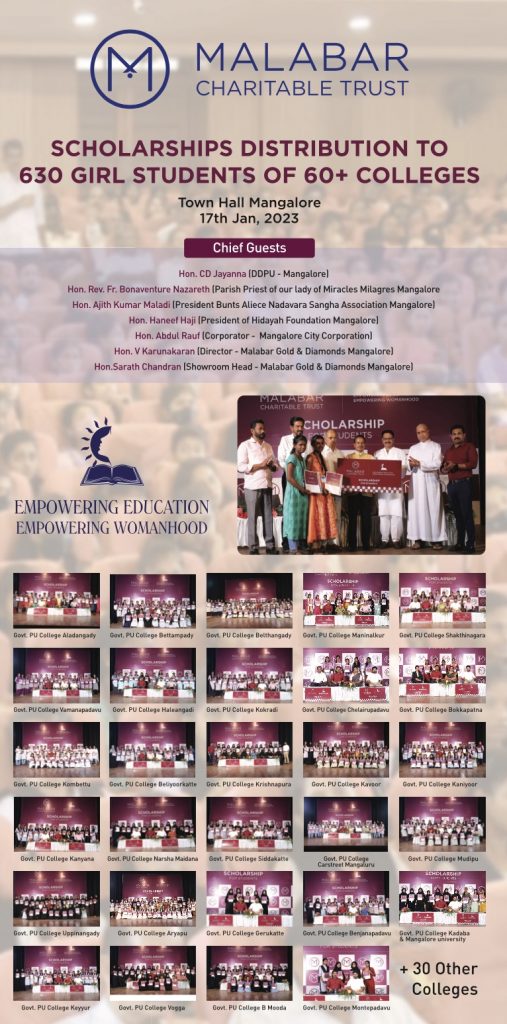 Upon a close look at the poster, we found that the viral image featured in it. The burqa-clad students in the viral image hail from Government PU College, Uppinangady, Karnataka. As per the 2011 census, almost 42% of the town's population belonged to the Muslim community.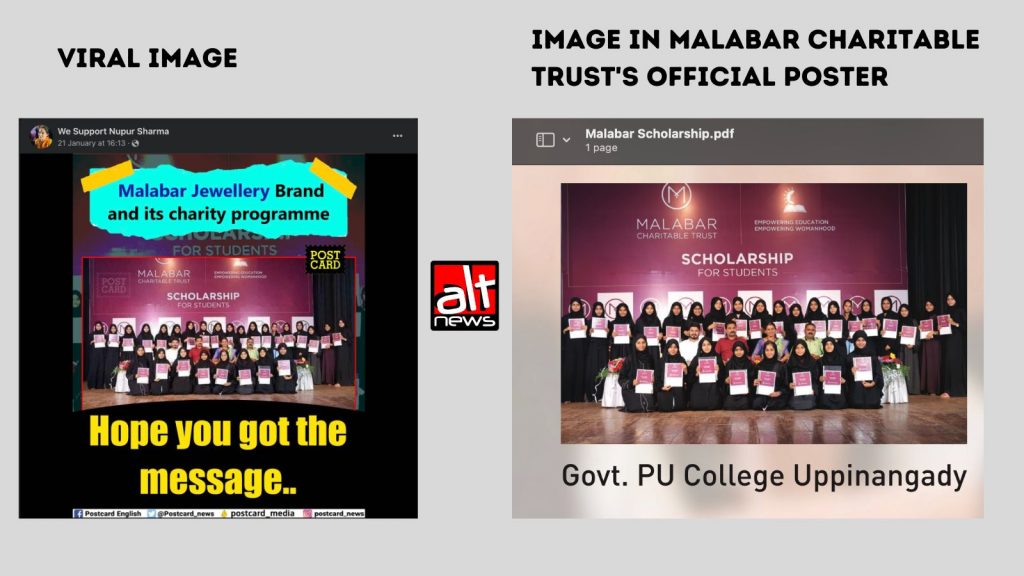 Out of the 30 images in the poster, three images have all the girls in burqa or hijab.
This slideshow requires JavaScript.
Similarly, there were five instances where none of the girls are wearing a burqa or hijab. And the remaining, 20 odd images show girls from both communities.
This slideshow requires JavaScript.
So it is clear, that scholarships were not given to girls from any one particular community.
To sum it up, an image of burqa-clad girls receiving scholarship from the Malabar Charitable Trust is being shared with the false claim that the charitable group offers scholarships exclusively to girls from the Muslim community.
Donate to Alt News!
Independent journalism that speaks truth to power and is free of corporate and political control is possible only when people start contributing towards the same. Please consider donating towards this endeavour to fight fake news and misinformation.