Since the past few days, an image of a Muslim woman with a bandage on her eye during a protest against the Citizenship Amendment Act (CAA) has been shared by many. The woman is being ridiculed for wrapping the bandage over her hijab, indicating that she is faking her injury. On December 30, Abhijat Mishra, National General Secretary of Bharatiya Janata Yuva Morcha, tweeted, "Do not be afraid, it is a good thing … but first, tell which doctor wrapped the bandage over the hijab. There is a limit to lie as well. #IndiaSupportsCAA (Translated from तुम ना डरो अच्छी बात है… लेकिन पहले ये बताओ कि वो कौन सा डॉक्टर है जिसने हिजाब के ऊपर से पट्टी बांध दी, मतलब हद होती है झूठ की !! #IndiaSupportsCAA)"
तुम ना डरो अच्छी बात है…

लेकिन पहले ये बताओ कि वो कौन सा डॉक्टर है जिसने हिजाब के ऊपर से पट्टी बांध दी 🤔

मतलब हद होती है झूठ की !! 😂😂#IndiaSupportsCAA pic.twitter.com/kcIyDCFWCL

— Abhijat Mishra (@AbhijatMishr) December 30, 2019
On December 31, Swami Nishchalanand tweeted the same image and said, "Such a hurry to appear before TV camera that this 'fake' activist got a 'fake' bandage wrapped over her hijab… or was it a madarsa-trained 'doctor' who did it?"
On January 2, Kuljeet Singh Chahal, general secretary BJP-Delhi, tweeted the same image along with the text posted by Mishra. This post was retweeted and liked more than 2,000 and 9,000 times respectively. Chahal's tweet was later quote-tweeted by Paresh Rawal, actor and former BJP MLA, who said, "The doctor who did this must-have bandage on his eye too! [Translated from ये वोह डॉक्टर होगा जिसकी अपनी आँख पे पट्टी बंधी होगी !]. Rawal's tweet received over 15,000 likes and more than 3,000 retweets.
ये वोह डॉक्टर होगा जिसकी अपनी आँख पे पट्टी बंधी होगी ! https://t.co/W2ACSbecXd

— Paresh Rawal (@SirPareshRawal) January 2, 2020
Madhu Kishwar made the same allegation.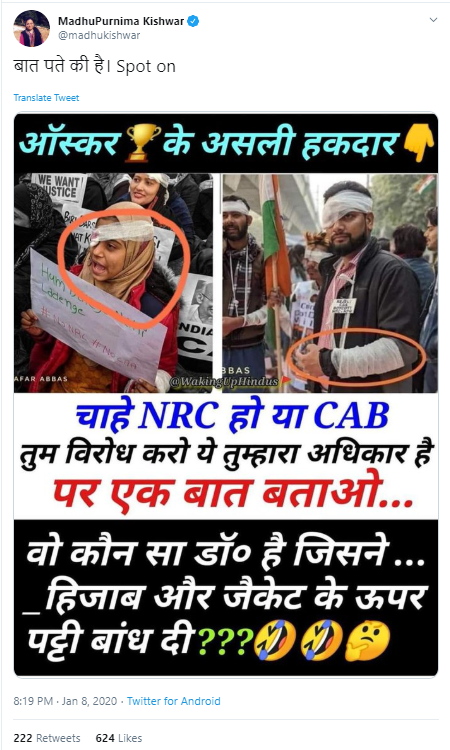 Subsequently, several users have shared the same post on Twitter and Facebook.
SYMBOLIC PROTEST
Taking a closer look at the viral image, a watermark at the bottom left is spotted that reads 'Zafar Abbas.' Abbas is a New Delhi-based journalist who had shared the image on December 29.
Jamia today ! pic.twitter.com/qQp1IXLkCA

— Zafar Abbas (@zafarabbaszaidi) December 29, 2019
On January 1, Abbas responded to Nishchalanand on Twitter and said, "Dear Sanyasi Sherlock Holmes, I clicked this pic. You are misguiding people. This bandage was tied in solidarity with Minhajuddin, a Jamia student who lost an eye in a police crackdown on Dec 15. Here are some more pic..See thread below!"
The five-part thread was posted on December 29 by Abbas. In the opening thread, Abbas tweeted, "Eye bandaged : Jamia students bandage one eye in solidarity with fellow student Minhajuddin who lost an eye in @DelhiPolice crackdown on December 15. Innovative way of protest." The viral image was a part of the fifth tweet in the thread.
On December 29, several media outlets including NDTV and Zee Media, addressed the rally as the 'one eye bandaged' protest. The symbolic protest was held to express solidarity with a Jamia Millia Islamia student who lost his eye in an alleged police crackdown on December 15.
Alt News spoke with Abbas who was covering the protests. He said, "Not just the students, even the civilians joined the unique protest. Several individuals could be seen distributing bandages." He uploaded a four-minute Facebook Live as well.
With an Eye bandaged : Jamia students put bandages on one eye in solidarity with Jamia student Minhajuddin who lost an eye in the police crackdown in #JamiaMilliaIslamia

Posted by Zafar Abbas on Sunday, 29 December 2019
On December 29, Surabhi Kanga, web editor at Caravan tweeted a few photos from the protest. In one of the protests, we can clearly see an image where a person is tieing a bandage.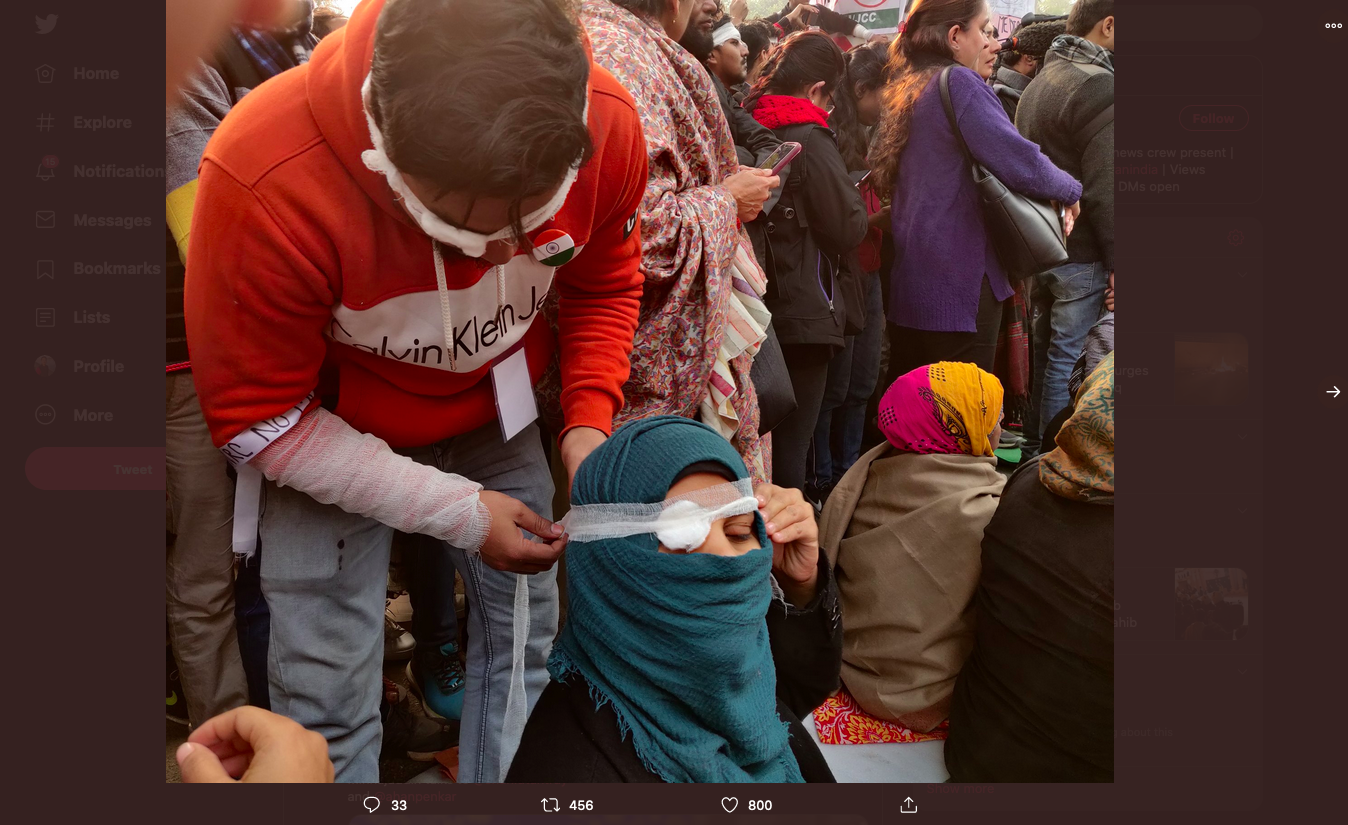 Therefore, the claim on social media that protestors are 'faking' injuries because their bandages are wrapped over their hijab is untrue. The viral image was posted by New-Delhi based journalist Zafar Abbas from the 'one eye bandaged' protest on December 29. This was a symbolic agitation against alleged police brutality which caused a Jamia student to lose an eye.
[Update: Madhu Kishwar's tweet has been added to this report.]
Donate to Alt News!
Independent journalism that speaks truth to power and is free of corporate and political control is possible only when people start contributing towards the same. Please consider donating towards this endeavour to fight fake news and misinformation.