A set of photographs of an injured, bloodied sadhu is viral on social media. Posts and tweets claim that the Hindu ascetic was murdered by "Bangladeshi immigrants" in Vrindavan. They also suggest that the incident was communally-motivated as a "Hindu sadhu was killed by Muslims". One Vikas Gaur, who self-identifies as an RTI activist, was among those who promoted the claim. Gaur has now deleted his tweet however, the same claim was promoted by several others.
Another sadhu killed by Bangladeshi immigrants in Vrindavan.
Brutal assault on Vrindavan priest:#वृन्दावन के वैष्णव हिन्दू पुजारी को #मुसलमानों ने बेरहमी से मारा..
Tamal Krishna Das, an elderly #Vaishnav saint #मेरे_सन्यासियों_को_मारा_क्यों???? pic.twitter.com/F32CdYvT4h

— 🚩ॐ🚩सत्य सनातन 🚩ॐ🚩 (@TatTwamAsi) May 11, 2020
OpIndia editor Ajit Bharti penned an article on the propaganda website and relentless purveyor of misinformation. He questioned, "What kind of people target saints?" and wrote that it is being said that Bangladeshi hands were also behind the attack.
किस तरह के नीच लोग साधु-संतों को निशाना बनाते हैं? कहा जा रहा है कि बांग्लादेशी भी इस हमले में शामिल थे। #vrindavan #sadhulynching #tamalkrishnadas https://t.co/UDQklsAsOc

— Ajeet Bharti (@ajeetbharti) May 11, 2020
A Facebook page 'खतरनाक राष्ट्रवादी (Dangerous Nationalist)' wrote that Tamal Krishna Das, an elderly Vaishnav saint, was mercilessly thrashed by Muslims. He also claimed that all the assailants are absconding, two of whom are Bangladeshi, and Mathura police are trying to bury the case. The post made a reference to Palghar lynching case where three sadhus were killed. However, the incident had no communal overtones and the police investigation revealed that locals murdered the men, mistaking them for thieves. The mob that lynched the trio hailed from the same community. Alt News had debunked the communalisation of the Palghar lynching incident here.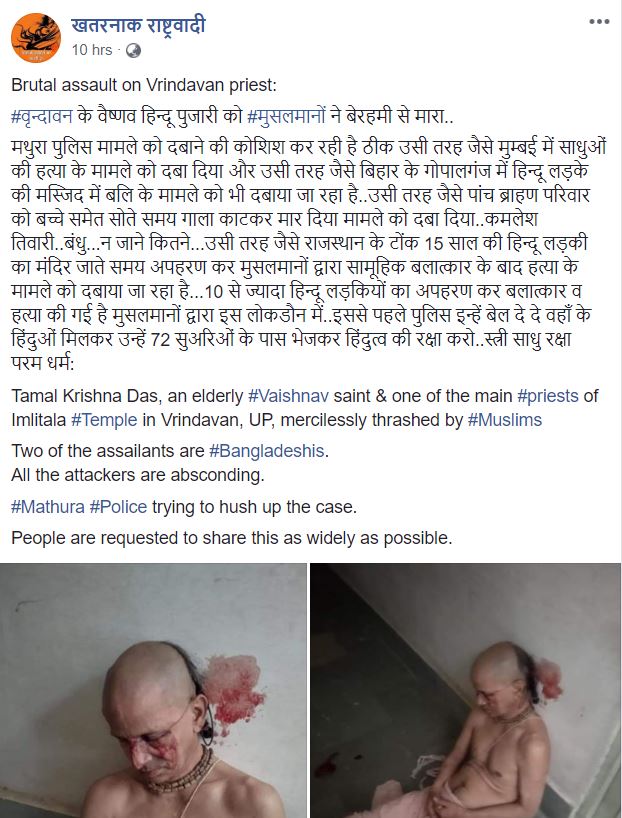 Twitter user Arti Agarwal, who claims to be an IIT Roorkee alum, shared the photographs with the same claim.
False communal angle
In a reply to Agarwal's tweet, Mathura police wrote that Vrindavan police has begun the necessary investigation while the sadhu has been sent for a medical check-up. While this tweet does not give details of the attack, it acts as proof that the sadhu wasn't killed. Mathura police's tweet was posted less than two hours after Agarwal's post. However, it is unfortunate that while the former has drawn over 6,000 retweets, the police's tweet has attracted 19 retweets so far.
इस प्रकरण में थाना वृन्दावन पुलिस द्वारा वादी का मेडिकल कराकर आवश्यक कार्यवाही की जा रही है।

— MATHURA POLICE (@mathurapolice) May 11, 2020
Further details were found in another tweet by Mathura police in a reply to Sudarshan News journalist Ankit Triwedi. He also posted the tweet with the Bangladeshi angle and claimed that all perpetrators are absconding. However, the first sentence of the police's reply reads, "The news of Bangladeshi attackers is untrue." It further states that a personal dispute in Gaudiya math sparked the attack. The tweet carries a video byte of police inspector Sadar who clarifies that the incident has no communal angle. He said that in Gaudiya math in Imlitalia, Vrindavan, the followers of former chairman Tamal Das and incumbent chairman BP Sadhu got into a fight which led to Das's injuries. The police has identified Sachinanad as the prime accused who has been arrested. Two others who are absconding are Govinda and Jagannath. A security guard Govind Singh's name has also appeared during the investigation. The officer also said that no FIR has been filed in the case.
बंग्लादेशी हमलावार की खबर असत्य है गौडिय मठ के साधुओं का आपस में विवाद हुआ था । कृपया भ्रामक खबर न फैलायें ।
उक्त प्रकरण में मारपीट करने वाले मुख्य अभियुक्त की गिरफ्तारी व पुलिस द्वारा की जा रही कार्यवाही के सम्बन्ध में क्षेत्राधिकारी सदर द्वारा दी गयी बाइट। pic.twitter.com/bOlzAItOqy

— MATHURA POLICE (@mathurapolice) May 12, 2020
Therefore, the incident has no communal angle and was sparked by a personal dispute. Everyone involved in the attack hailed from the same community and the sadhu, though injured, did not lose this life. However, a matter of concern is that the posts which carry the hate-filled misinformation have drawn thousands of shares however, there is hardly anyone to pay heed to the police's statement which carries the truth. But the police's timely response on social media is appreciated and hopefully such clarifications are routinely provided to deter the spread of misinformation.
Donate to Alt News!
Independent journalism that speaks truth to power and is free of corporate and political control is possible only when people start contributing towards the same. Please consider donating towards this endeavour to fight fake news and misinformation.