On January 30, a person opened fire at students of Jamia Millia Islamia protesting against the Citizenship Amendment Act (CAA). A report from the same day by NDTV stated that a random shot injured Shadab Farooq, a student of mass communications at the university. The gunman reportedly has links with Bajrang Dal, which the organisation has denied.
Several media outlets, including Firstpost and Times of India published a photograph of Farooq being escorted by a woman. In many pictures, a red-bottle can be seen in the frame. The red bottle caused much speculation. Abhijit Iyer-Mitra tweeted two pictures of Farooq and the woman where the red bottle is also visible. Mitra asked, "What's this red bottle? Any idea?" This was retweeted over 2,000 times. Rahul Roshan, CEO of right-wing news-portal OpIndia, quote-tweeted Mitra's tweet and said, "Portable bottle with blood transfer ability."
Portable bottle with blood transfer ability https://t.co/xPBoCi3fUR

— Rahul Roushan (@rahulroushan) January 30, 2020
Filmmaker Vivek Agnihotri tweeted one of the viral images and said, "What is the red thing hanging around his left hand? Is it a pole? A bottle?" It was retweeted over 1,500 times.
Twitter user @MrutyunjayNJ implied that the bullets shot were not genuine. He tweeted, "1. Minute traces of blood. 2. RED COLOUR BOTTLE IN HAND. 3. Supplied with glucose bottle. Pulse rate measuring, and big plaster. It's like the man fired just gun powered and the boy applied red colour from the bottle. This are the same bullets that is used in movies."
On January 31, Alok Sharma, a former student of Armed Forces Medical College (as per Facebook bio), posted the viral images on Facebook and claimed that Farooq's injury is scripted. He wrote, "And if you look closely you will also notice the 'blood' appearing first on the opposite side of injury!!! And on the hand of the assister."
Several users have posted these images and questioned the nature of the red bottle on Facebook and Twitter. Alt News has received several requests to fact-check the images on WhatsApp (+91 76000 11160) and its official Android application.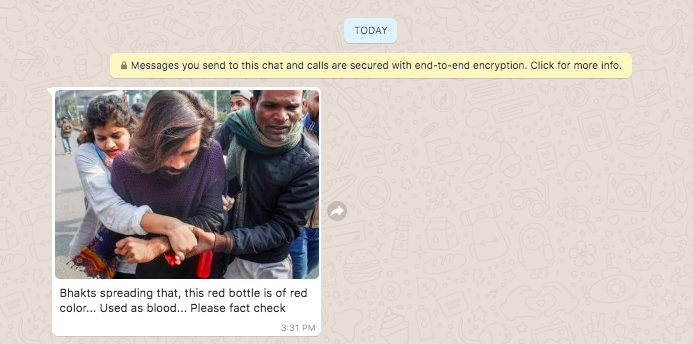 Driving propaganda via a harmless water bottle
Alt News did a keyword search on Twitter and found a tweet by Saahil Murli Menghani, a journalist with CNN News 18. Menghani had shared the same image and said, "Shadab can be seen bleeding here. Jamia gun attack."
Shadab can be seen bleeding here.

Jamia gun attack pic.twitter.com/kR1lbUmPhL

— Saahil Murli Menghani (@saahilmenghani) January 30, 2020
On January 30, Prof. Ali Khan Mahmudabad from Ashoka University tweeted an image of Farooq from a different angle while replying to Mitra on Twitter and said, "If you cared to look at it from another angle- another perspective even- then you would see it's a water bottle being carried by the lady who was helping the injured man. It's stunning to see how far you are willing to go to peddle your propaganda."
Alt News compared the viral image and the one shared by Mahmudabad. In the viral image, the bottle has been highlighted (yellow) in a manner its strap isn't visible. In Mahmudabad's image, the strap is clearly visible – highlighted in red by Alt News.

The women assisting Farooq is Midhat Samra, an economics student at Jamia Millia Islamia. Alt News spoke with Samra and she confirmed, "The red bottle is simply a water bottle." Samra also shared a picture of the bottle.