A 30-second long video clip where a youth can be seen stabbing a young woman is widely being shared with the claim that in West Bengal's Murshidabad, a Muslim boy stabbed a Hindu girl in public because she refused to convert to Islam. It is being shared as a case of "love jihad", a conspiracy theory which claims that Muslim men are trained to trap women of other faiths to convert them to Islam.
In the video, we can hear bystanders speaking to the assailant in Bangla:
Assailant: "She had trapped me, she was in love with someone else and was two-timing with me."
Bystander: "So you will stab her?"
Assailant: "She was two-timing with me… I will call her father and tell him about it…"
Bystander: "Are you drunk?"
[The body moves but the assailant continues to stab.]
The video has been shared on Twitter by one @MrSinha_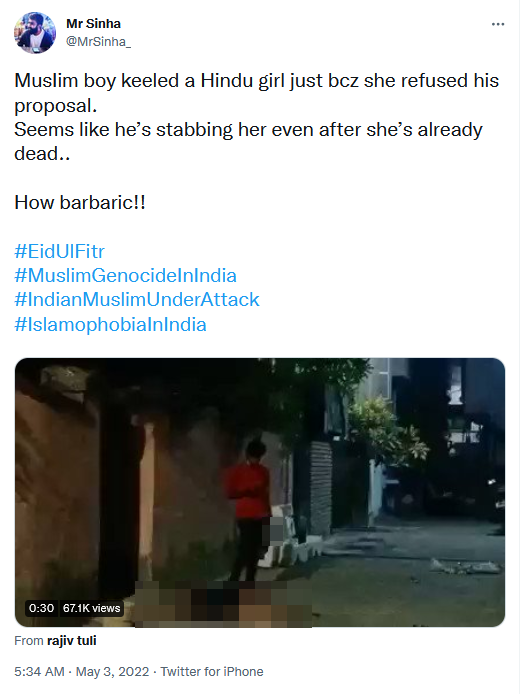 The clip has been shared or quote-tweeted with the same claim by several users such as @KapilMishra_IND, @ByRakeshSimha, @rajivtuli69 and various others.
This slideshow requires JavaScript.
Fact-check
We performed a keyword search and came across various news reports about the incident. According to The Telegraph, on the evening of May 2, Sutapa Chowdhury, 21, a student of Berhampore Girls' College was stabbed to death by a young man. The assailant not only stabbed the young woman but also slit her throat. He also threatened to open fire a gun when onlookers tried to stop him. The assailant later fled the crime scene and bystanders took the girl to a hospital where she was declared dead.
According to The Indian Express, Sutapa Chowdhury, a third-year student at Berhampore Girls' College, was stabbed to death by her alleged ex-boyfriend, Sushanta Chowdhury, 22. Both the accused and the victim are from the Malda district.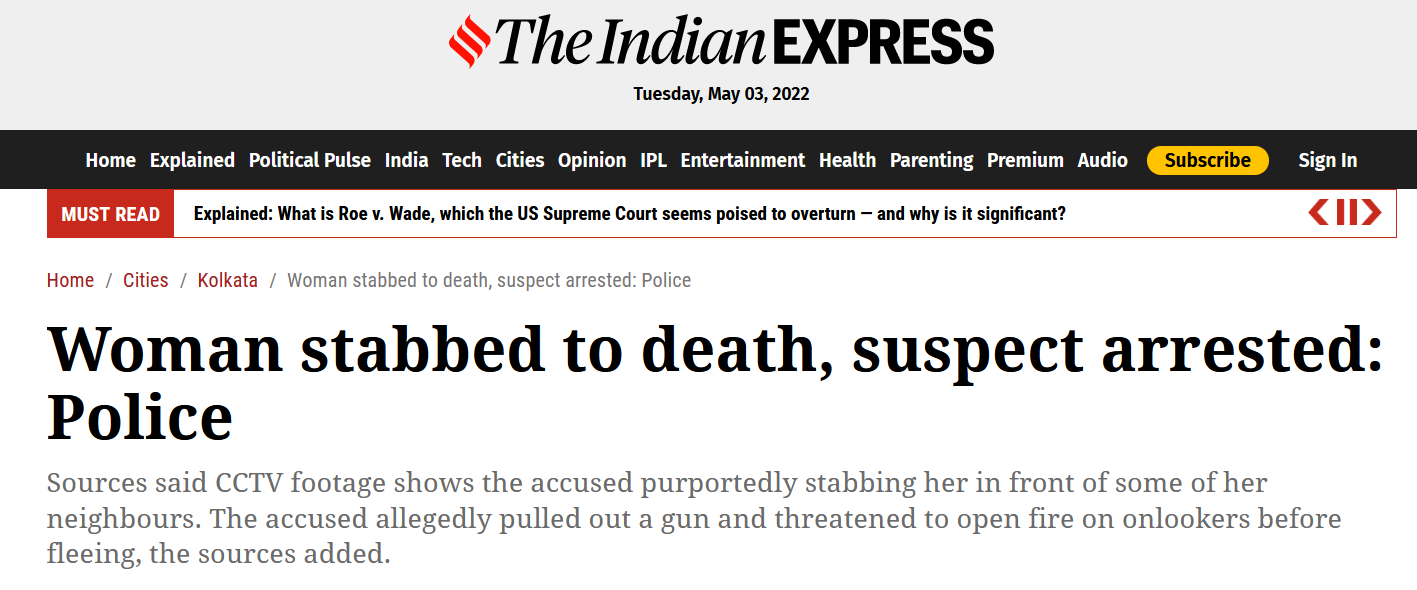 Speaking to The Indian Express, the police said, "The arrested accused has confessed. Preliminary investigation indicates that the accused had been in a relationship with the victim. However, she ended the relationship and moved to Behrampore for her studies. Several issues cropped up between them thereafter and efforts were made to resolve these with the help of local politicians. The accused was carrying a knife and a dummy gun".
A tweet by Murshidabad Police also confirms the identity of the young man as Susanta Chowdhury. The tweet was later removed by Twitter as it contained the Aadhaar details of the accused, which violates Twitter's privacy policy.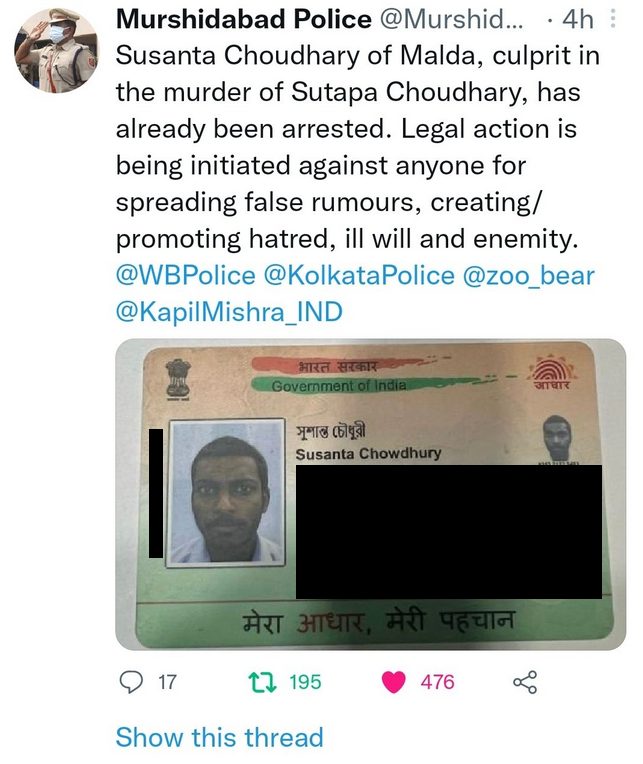 Alt News reached out to the Superintendent of Police, K. Sabari Rajkumar, who told us, "They were in a relationship. They had a break-up that turned sour and the guy stabbed the girl. They are both adults. The name of the guy is Susanta Chowdhury, he's not Muslim."
"Within three hours of this incident, we arrested him. He is now in our custody. We have also filed two FIRs against people spreading misinformation. Copy of the FIRs is with the Murshidabad cyber police," he further added.
To summarise, a jilted boyfriend murdered a young woman and there is no communal angle to the incident. Both hail from the same community.
Donate to Alt News!
Independent journalism that speaks truth to power and is free of corporate and political control is possible only when people start contributing towards the same. Please consider donating towards this endeavour to fight fake news and misinformation.