Multiple improvised explosive device (IED) blasts at a religious convention of a Christian sect called Jehovah's Witnesses on October 29 killed three persons and injured over 50 at Kalamassery in Kerala's Ernakulam district. Hours after this, a 48-year-old man named Dominic Martin, who had been a member of the sect in the past, surrendered to police claiming responsibility for the blasts. Before that, Martin had released a video on social media sharing the reason behind executing the blasts, where he said that he disagreed with some of the ideas the community believed in and wanted to stop their activities.
Soon after the news of the blasts broke, several Right Wing influencers and pro-Israel social media users claimed that the blasts had taken place at a Jewish convention and suggested that they had been carried out by Muslims. With the Israel-Hamas war at its peak, the posts claimed a correlation between the war and the explosion. Most of these social media posts drew attention to the fact that former Hamas chief Khaled Mashal had virtually addressed a pro-Palestine rally organised by the Solidarity Youth Movement, the youth wing of the Islamic organisation Jamaat-e-Islami Hind, in Malappuram, Kerala on October 27.
The executive editor of media outlet The New Indian, Rohan Dua (@rohanduaT02), who has been found sharing misinformation several times in the past, shared a thread where he claimed that Jews lived in the area where the blast had taken place and held Hamas responsible for the same. The first tweet in the thread contained a 42-second video showing the scene of the blast. In the caption, he asked rhetorically, "Do you all still doubt The Kerala Story?". In the second tweet, he wrote, "Shame on you Hamas", among other things.
The tweet has received over 20 Lakh views and has been retweeted over 6,000 times. (Archive)
FLASH: 2,100 people were part of this three-day meet of a Jehohav's Witness, a faction of Chrsitians, who follow Bible but don't observe other festivals.

One woman die, 25 grievously injured.

Our reporter Vivek and I report from . I had come to Coimbatore to take part in… pic.twitter.com/g1q6Oz4q9U

— Rohan Dua (@rohanduaT02) October 29, 2023
'The Kerala Story', the movie Dua alluded to, is based on the premise that 32,000 women had joined ISIS either from India or just Kerala. Alt News debunked the claim in the past and showed how the director's claims were absurd and based on misquotes, imaginary figures and flawed math.
X Blue user Mr Sinha (@MrSinha_), who shares misinformation and disinformation regularly on the platform, tweeted about the blast mentioning that 'reports suggest' Jews were present at the place of the blast and were the prime target. The tweet was later deleted.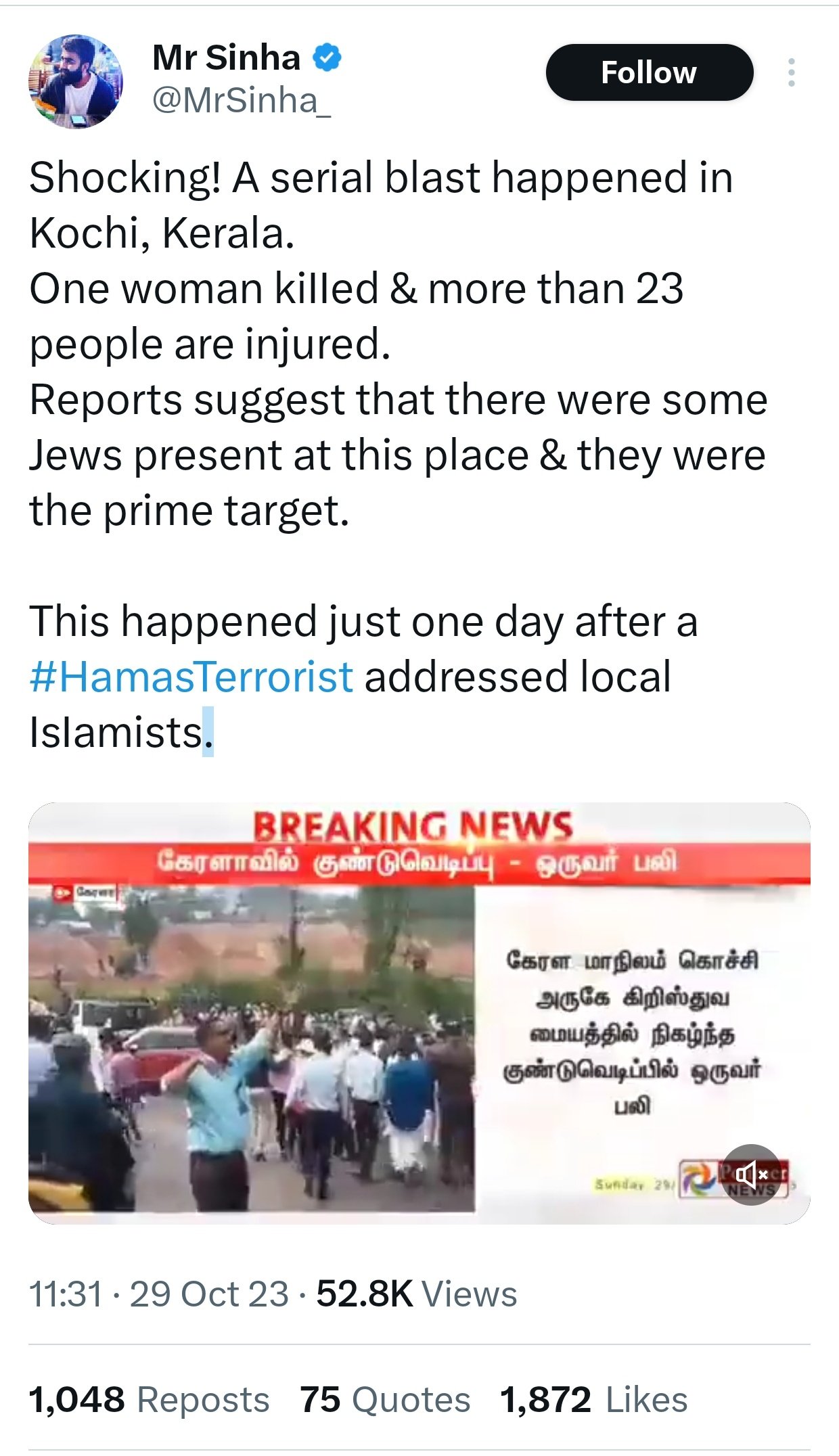 In a second tweet that is still available, he asked rhetorically, "Do we even need an inquiry to know who did it?"
Sharing a video of a pro-Palestine rally organised by the Indian Union Muslim League (IUML) on October 26 at Kozhikode beach, he wrote in the caption: "Video of pro #HamasTerrorists rally by IsIamists in Kozhikode, Kerala. Today Kerala witnessed serial bomb blasts, Jews are targeted. Do we even need an inquiry to know who did it???" The tweet has received over 1.7 Lakh views and has been retweeted over 2,200 times. (Archive)
Video of pro #HamasTerrorists rally by IsIamists in Kozhikode, Kerala.

Today Kerala witnessed serial bomb blasts, Jews are targeted.

Do we even need an inquiry to know who did it??? pic.twitter.com/OkPb0hwBh8

— Mr Sinha (@MrSinha_) October 29, 2023
Squint Neon (@TheSquind), a page on X that has shared misinformation multiple times in the past, directly claimed that the 'Hamas leader' had called for 'jihad against Hindutva & Zionists' and 'Mallu Muslims' immediately responded to his call. The tweet has now been deleted. (Archive)

Several other users on social media such as BJP Kerala president @surendranbjp, @pradip103, @erbmjha, @SurajKrBauddh, @MajorPoonia, @Dhruv_tr108, @KreatelyMedia shared similar claims suggesting that the target of the blasts was Jews and that it was carried out by Muslims.
This slideshow requires JavaScript.
Fact Check
There are two parts to the viral claims, direct or indirect — I) Jews were targeted, and II) Muslims were behind the attack. We will look at them one by one.
Claim I: 'Jews were the Target'
The news reports related to the blasts mention that they had occurred at a religious gathering of a sect named Jehovah's Witnesses. An estimated 2,000 people belonging to the sect had assembled for a prayer meeting at the Zamra International Convention and Exhibition Centre in Kalamassery. The IEDs were remotely detonated around 9.38 am.
Who are the Jehovah's Witnesses?
Jehovah's Witnesses identify themselves as Christians but unlike most Christians, they are nontrinitarian, which means they do not believe in the Holy Trinity. The Holy Trinity in Christian doctrine says that the existence of God is in three equal persons — the Father, Son (Jesus Christ) and Holy Spirit. However, Jehovah's Witnesses believe that there is only one God — Jehovah, and Jesus Christ is God's agent who is appointed as the Head to rule God's kingdom. As per Encyclopedia Brittanica, another belief that separates them from the majority of Christian sects is that they believe the end of the world is coming soon.
The beginning of the sect can be traced to the end of the 19th Century in Pittsburgh, Pennsylvania, when led by a man named Charles Taze Russell, a group of Bible students began a systematic analysis of the doctrines taught by the churches vis-a-vis what the Bible really taught.
Do Jehovah's Witnesses believe in Zionism?
Zionism is the Jewish nationalist movement that aims to create a Jewish national state in Palestine. As per the Jehovah's Witnesses website, the community 'does not advocate for Zionism as a religious doctrine and is neutral towards political Zionism'. In fact, Witnesses strongly advocate for separation from the secular government and reject saluting the flag of any nation, performing military service or participating in elections.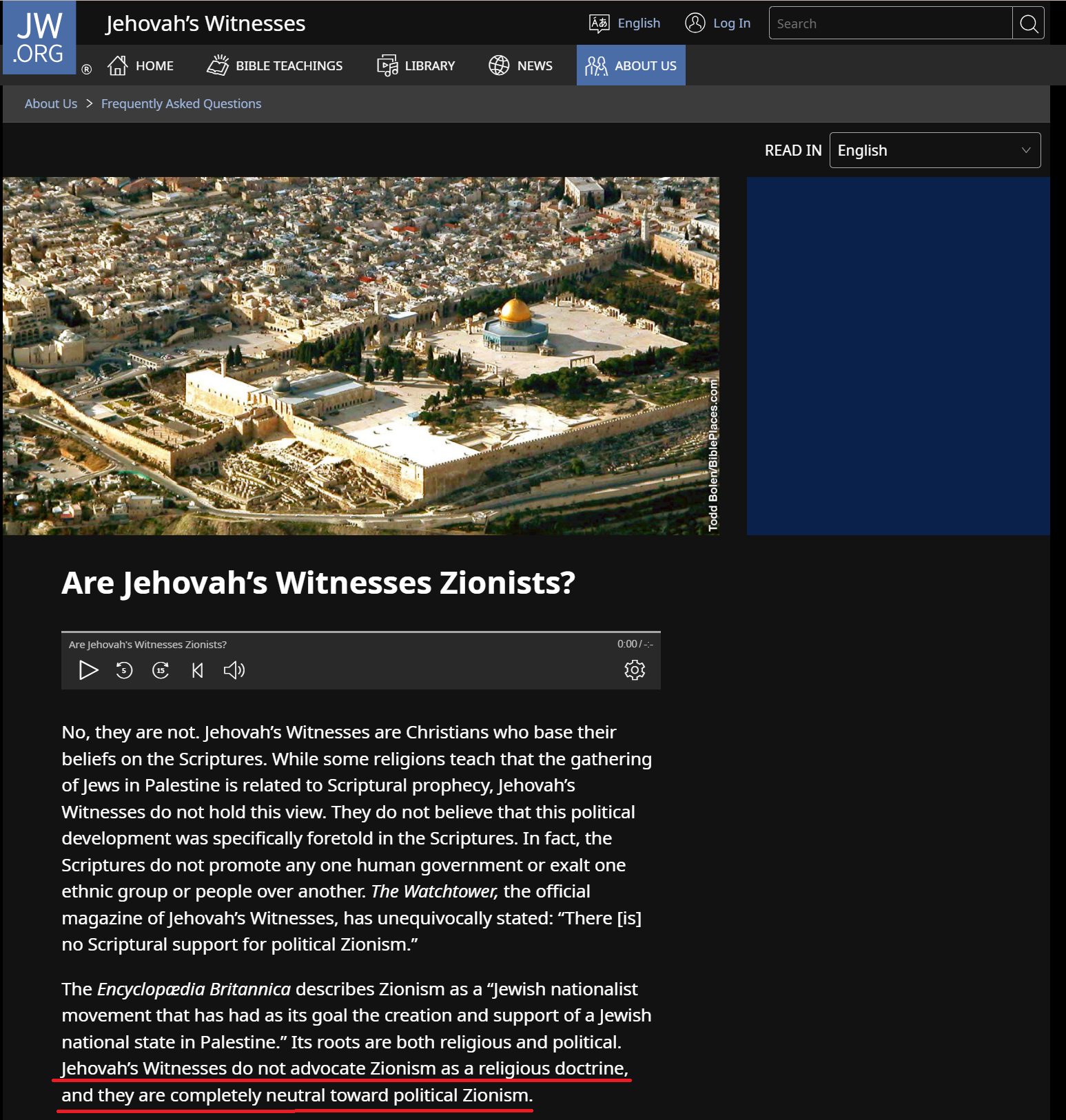 Does Kalamassery have a significant Jewish population?
Following is the demographic composition of the state of Kerala on the basis of religion, as per the 2011 Census. The majority of Kerala's population consists of Hindus, followed by Muslims, Christians, Buddhists, Jains and Sikhs. Other religions, which also include Judaism, constitute only 0.02% of the state's population.
| | | | | | | | | |
| --- | --- | --- | --- | --- | --- | --- | --- | --- |
| Kerala | Total | Hindu (54.72%) | Muslim (26.56%) | Christian (18.38%) | Sikh (0.01%) | Buddhist (0.01%) | Jain (0.01%) | Other religions and persuasions (incl.Unclassified Sect.) (0.02%) |
| | 3,34,06,061 | 1,82,82,492 | 88,73,472 | 61,41,269 | 3,814 | 4,752 | 4,489 | 7,618 |
In the area of the blast, Kalamassery as well, Hindus (41.76%) are in majority, followed by Muslims (34.53%) and Christians (23.42%). The 'Other' section makes up about 0.02% of the population.
| | | | | | | | | |
| --- | --- | --- | --- | --- | --- | --- | --- | --- |
| Kalamassery | Total | Hindu (41.76%) | Muslim (34.53%) | Christian (23.42%) | Sikh (0.01%) | Buddhist (0.008%) | Jain (0.009%) | Other religions and persuasions (incl.Unclassified Sect.) (0.02%) |
| | 71,038 | 29,671 | 24,532 | 16,638 | 14 | 6 | 7 | 19 |
Jews from Kerala, known as Cochin Jews or Cochini, speak Malayalam and are based in Kochi. Several reports (1, 2) suggest that once there used to be a vibrant Jewish population in Kochi, but today only a handful (10-20) of them are left in Kerala since many of them left for Israel.
The Confession of Accused Dominic Martin
A few hours after the blasts on October 29, the video statement by Dominic Martin surfaced on Facebook where he claimed responsibility and explained his reasons for executing the same.
In the video, he could be heard saying: "I am recording this video to explain my reasons behind this act. I had been a part of this organisation (Jehovah's Witnesses) for 16 years but I didn't view certain issues seriously then. I saw them as a joke. However, in the last six years, I realised that this organisation is wrong and I requested them to change their ways. I realised they are propagating and teaching a highly problematic concept. Their parents are injecting such poison into the child's brain at such a young age. They teach them not to recite the national anthem, not to vote when they grow older, not to serve in the military, civil service or as a teacher, projecting these jobs as those of a ruined or immoral community. They believe that every single human being on earth will perish except members of their own community. What can we do about an organisation that desires the destruction of 850 crore human beings? I could find no solution but I had to react."
Hence, it is clear that the target of the attack was the Jehovah's Witnesses community of which he too had been a member in the past. After releasing the video, Martin surrendered at Kodakara police station in Thrissur.
To sum up, there is no credible reason to believe that the target of the blasts in Kerala's Kalamassery was the Jews. There is no significant Jewish population in the area, and as per the video-recorded confession of the surrendered accused, the target of his attack was members of the sect Jehovah's Witnesses which is not related to the Jews in any way.
Claim II: 'Islamic Radicals Behind Attack'
On October 30, the Kerala police formally arrested Dominic Martin who had claimed responsibility for the blasts. Before surrendering to the police, Dominic Martin had mentioned in a video statement that he too was a Jehovah's Witness for 16 years. As per recent reports, Martin told the cops that he had lived and worked in Dubai as an electrical foreman and returned only two months back in order to orchestrate and execute the blast. He visited the convention centre in the morning to set up the explosives and carried out the explosions using a remote control.
According to a timeline created by the New Indian Express, after the blasts, Martin checked into to a hotel in Koratty and went live on Facebook and confessed to the crime. Around 12.15 pm, he turned up at Kodakara police station to surrender. Around 1, police took him to an undisclosed place in Thrissur for interrogation.
A police officer told India Today that Dominic Martin's surrender at the Kodakara police station was "very dramatic". "He waited at the station for a few minutes before informing the front office civil officer that he was behind the blasts." Initially, the officer did not believe him, but then he showed him videos of the blasts in his mobile phone. After that, the police took him into custody.
Martin has been charged under provisions of the UAPA (Unlawful Activities Prevention Act), the Explosive Substances Act, and relevant sections of the IPC related to criminal criminal conspiracy, attempt to murder and murder even as state and central agencies continue to probe the blasts.
To sum up, according to information available in the public domain as of the writing of this article, a man named Dominic Martin is allegedly responsible for the blasts at the religious convention of Jehovah's Witnesses in Kerala's Kalamassery. He is a disillusioned member of the same sect. The suggestion that Muslims had a role to play in the alleged crime is baseless.
On October 31, Ernakulam police registered an FIR against Union minister Rajeev Chandrasekhar under Sections 153 and 153-A of the IPC for a post on X in which he had said, "in Kerala open calls by Terrorist Hamas for Jihad is causing attacks and bomb blasts on innocent christians". (sic)
In a desperate bid to somehow implicate or associate Muslims with the blasts, Right Wing propaganda outlet OpIndia published a report with a bizarre headline that said, "Dominic Martin, who took responsibility for Kerala blast, accuses Jehova's Witness' of having 'anti-national beliefs' which incidentally match radical Islam." The article misspelt Jehovah as 'Jehova' close to 20 times.
Donate to Alt News!
Independent journalism that speaks truth to power and is free of corporate and political control is possible only when people start contributing towards the same. Please consider donating towards this endeavour to fight fake news and misinformation.