Laughing Colours, a popular Facebook page with a massive following of over 30 million, recently posted a photograph. The photo showed a massive crowd and the accompanying words were "Surgical strike by Modi in West Bengal". The context was Prime Minister Narendra Modi's political rally in the state in February 2019. The post was later deleted.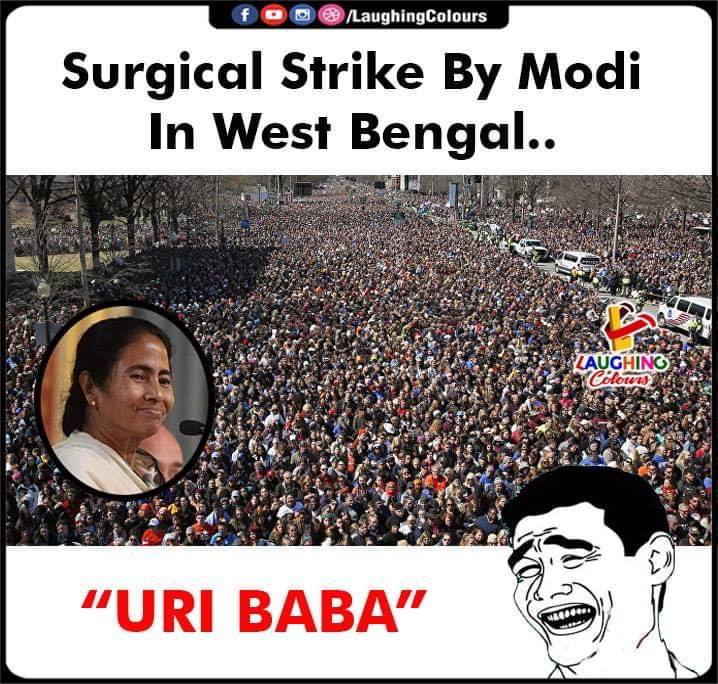 The above post was shared over 4700 times. The photograph seen in the post is NOT of PM Modi's West Bengal rally. It was taken in the USA in March 2018 when massive protests demonstrations were held in favour of gun control following a school shooting at Parkland, Florida in February, 2018. The movement was termed 'March for our lives'.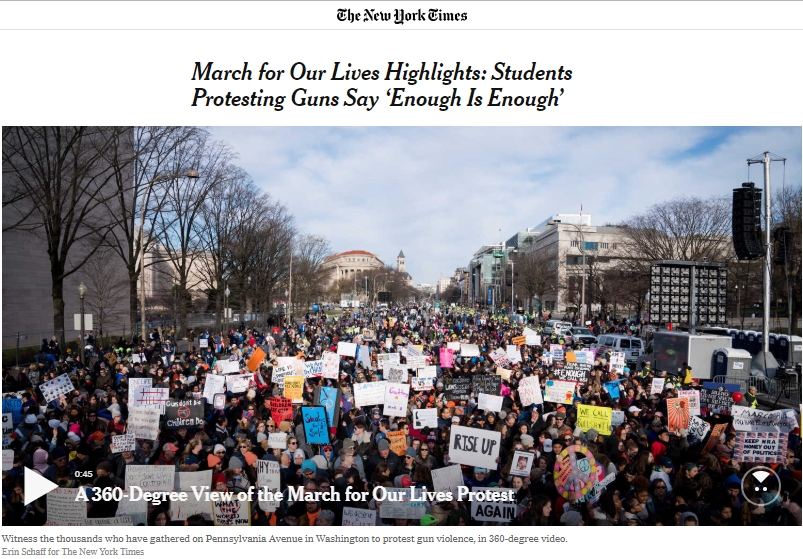 This is hardly the first such instance wherein Laughing Colours has shared misinformation. The page, which claims to be an advertising/marketing and entertainment page is seemingly benign, but a closer look at their content reveals that it is often misleading. Emotive issues like nationalism are often chosen as the theme, and in the process, fake images and posts are regularly shared in a bid to garner clicks and generate revenue.
The rumour busting website SMHoaxSlayer has on multiple occasions exposed Laughing Colours and their desperate attempts for viewership. Here are a few such instances when the page has been caught red-handed.
1. Ukrainian soldiers shown as Indian army soldiers in Siachen
On numerous occasions, Laughing Colours has uploaded this photo on its page with the caption 'The night stay of Indian soldiers in Siachen glacier at -50*c. Respect and salute to Indian army'. However, this photo was not of Indian soldiers. According to some sources, the pictures is of a Kurdish soldier. Some other websites have mentioned it as Ukrainian. In any case, the photo is clearly not from Siachen.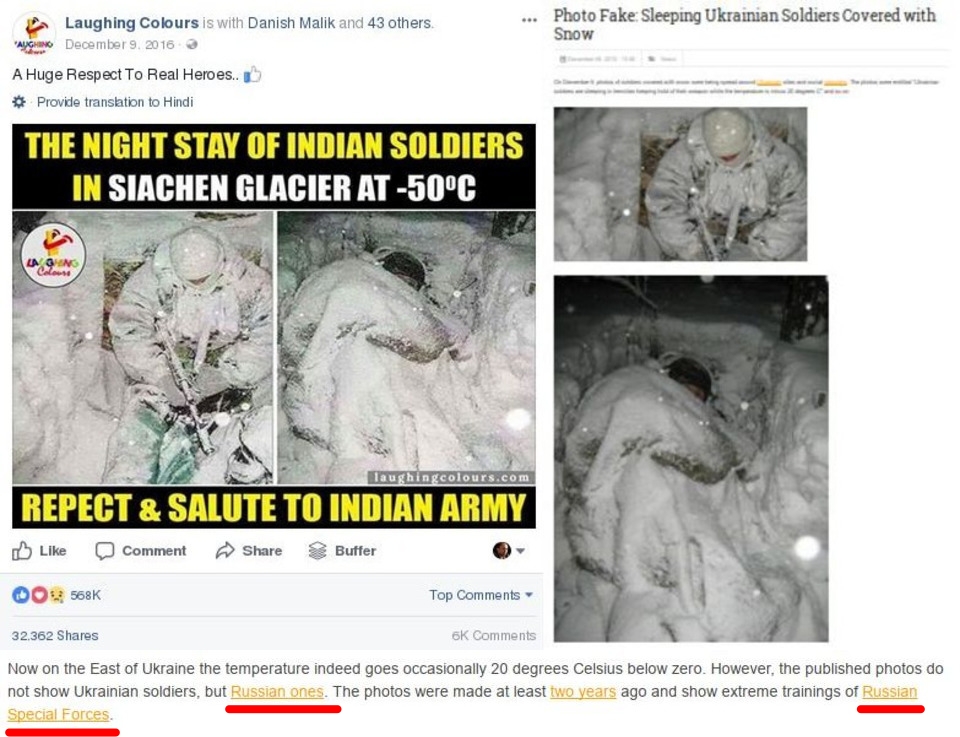 2. Japanese canyon presented as route to Kailash Mansarovar
Laughing Colours had shared this picture of a road claiming that it is the Kailash Mansarovar route through Nathula pass. This picture is of the Yuki-No-Otani Canyon in Toyoma, Japan.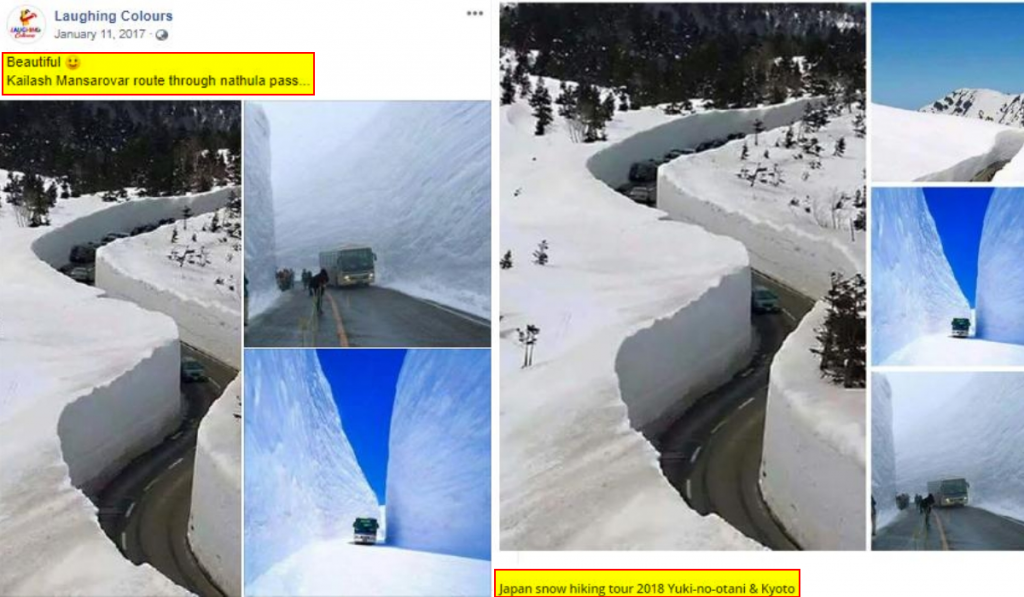 3. Honda CEO claimed to be Japanese minister
Laughing Colours uploaded this picture, saying it is the Energy Minister of Japan who is bowing in penance for a 20-minute power cut that took place in a village in Japan. It was later revealed how the picture in question was actually that of the new President and CEO of Honda Motor Corp. in the first press conference he addressed after he took over in July 2015.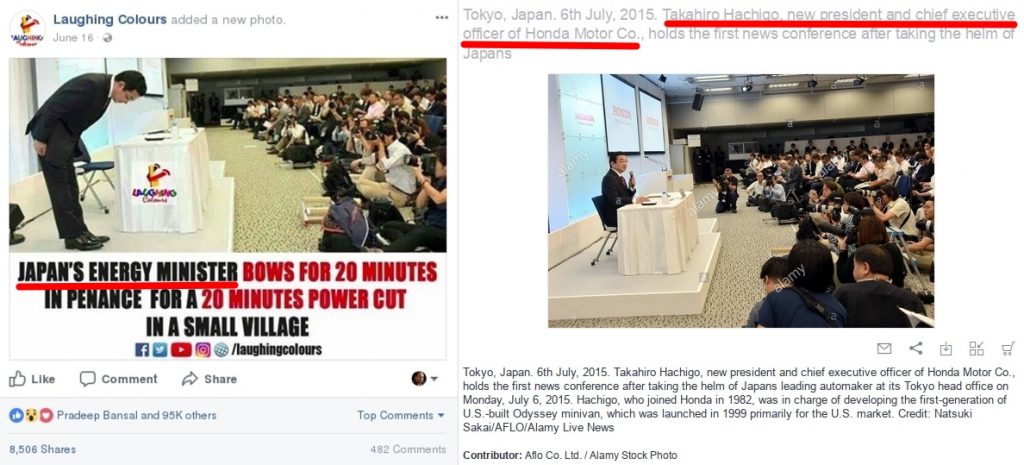 4. Old man at TMC rally shown as Modi supporter
Laughing Colours uploaded this picture of an old man claiming that he had donated four acres of his land in UP for Prime Minister Narendra Modi's rally. It quoted the farmer who said, "I am a big fan of Modi because he is an honest leader and fighting corruption". The post was shared over 10,000 times. On scrutiny, it came to the fore that while the news that a farmer had donated land for Modi's rally was real, the picture of the old man was actually taken at a TMC rally in 2015 and was not of the said farmer.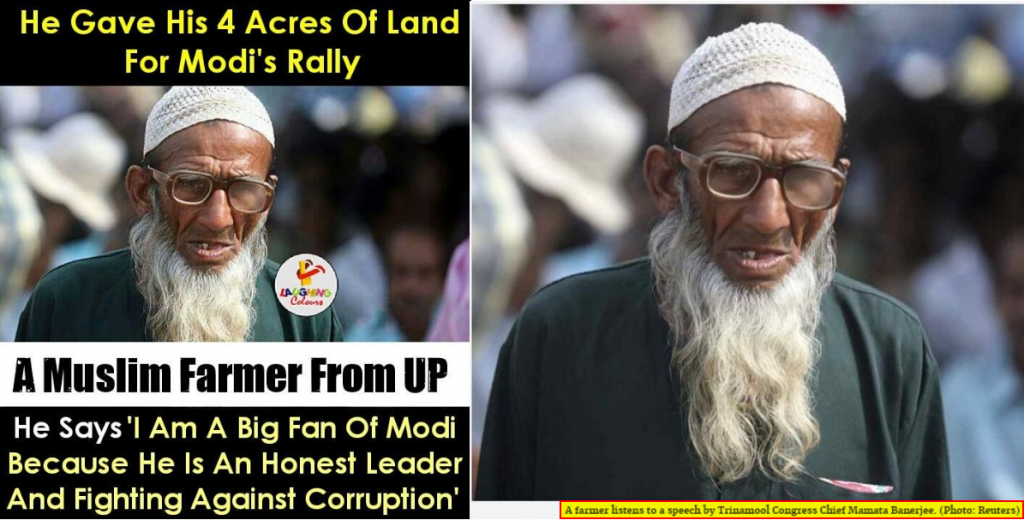 5. Photoshopped picture of car decorated with 2000 rupee notes
The page uploaded this picture of a car apparently decorated with 2000 rupee notes at Mumbai on Valentine's day. It was also carried by several mainstream media organisations. The picture turned out to be photoshopped.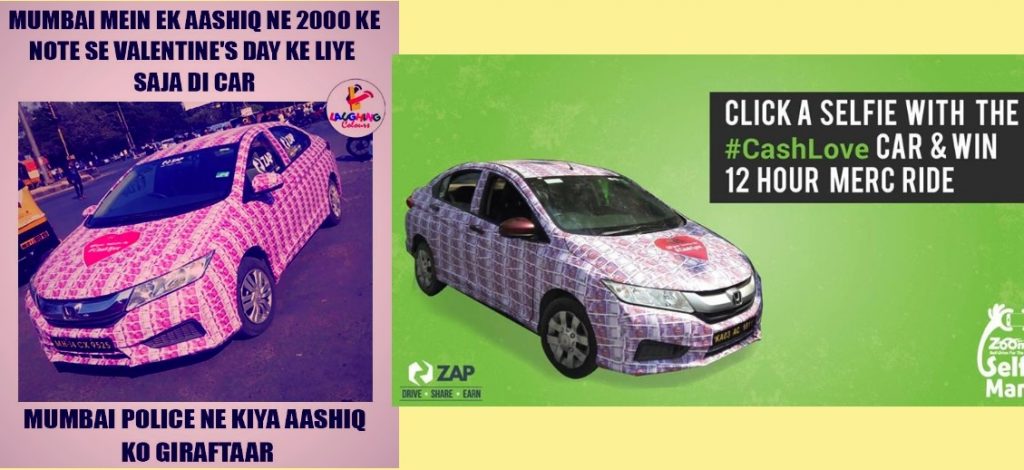 6. Injured U.S marine shown as Indian army soldier from Siachen
Laughing Colours used this photo of an injured soldier. It claimed that this soldier's feet got badly injured in the Siachen snow, yet he had a smile on his face. However, the photograph was that of an American marine who had uploaded it on his Instagram account in July 2016.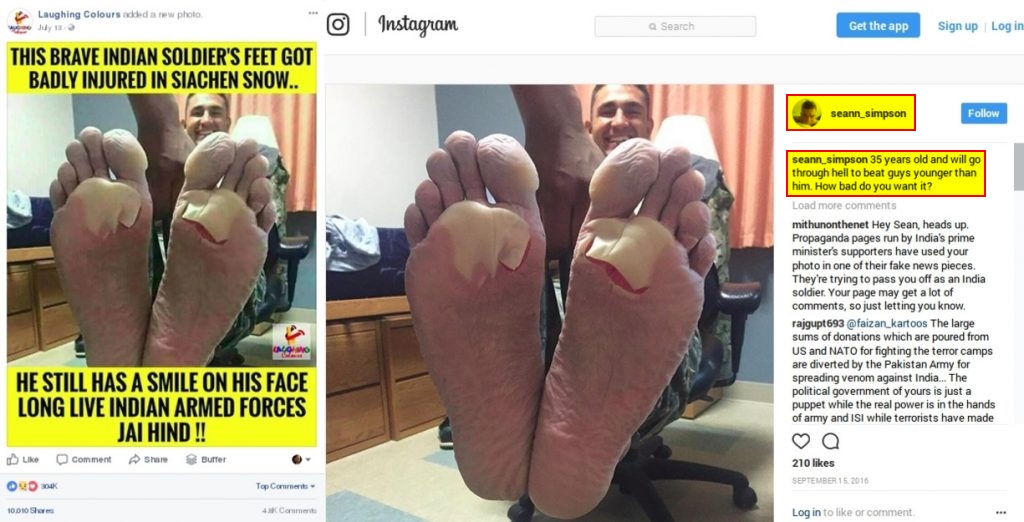 7. Indian roads portrayed as Canadian roads
In 2016, Laughing Colours uploaded this photo, claiming it was a picture of Canada. According to the description, the stickers in the photo were being used on the road to slow down cars. It juxtaposed this picture with a picture of potholes in India, ridiculing the latter. On closer inspection, it turned out that the said photo was not of Canada but of India and was an advertisement for 'Pioneer Suspension', a company which makes suspensions for automobiles. The post ridiculed Indian roads for no reason.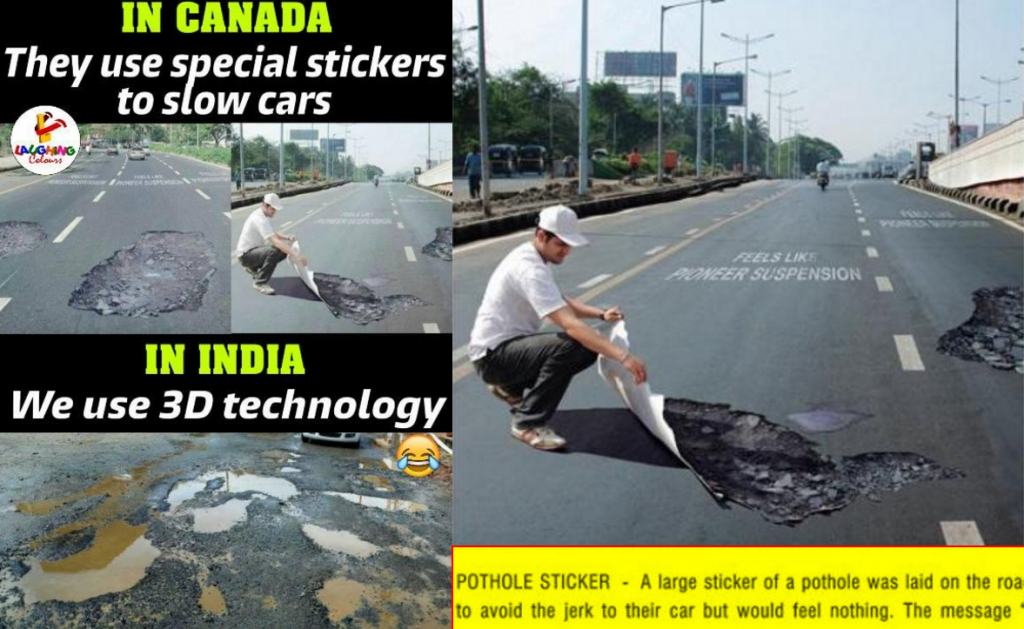 8. Picture of desert in China masquerades as photo of Sahara desert
These pictures are of the Sahara desert, claimed Laughing colours in this post. While three of the four pictures were indeed of the Sahara, one of the pictures was that of the Taklamakan desert in China.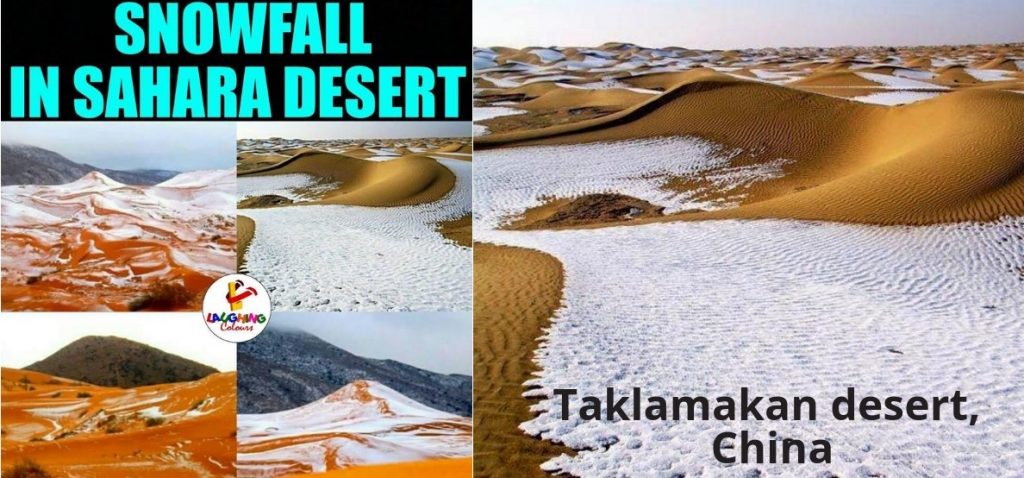 9. Fake post on world's smallest camera
This is the smallest camera in the world by Nikon', said a post by Laughing Colours. Expectedly, it turned out to be false as the picture was an entry for a contest by the artist Robert Pe.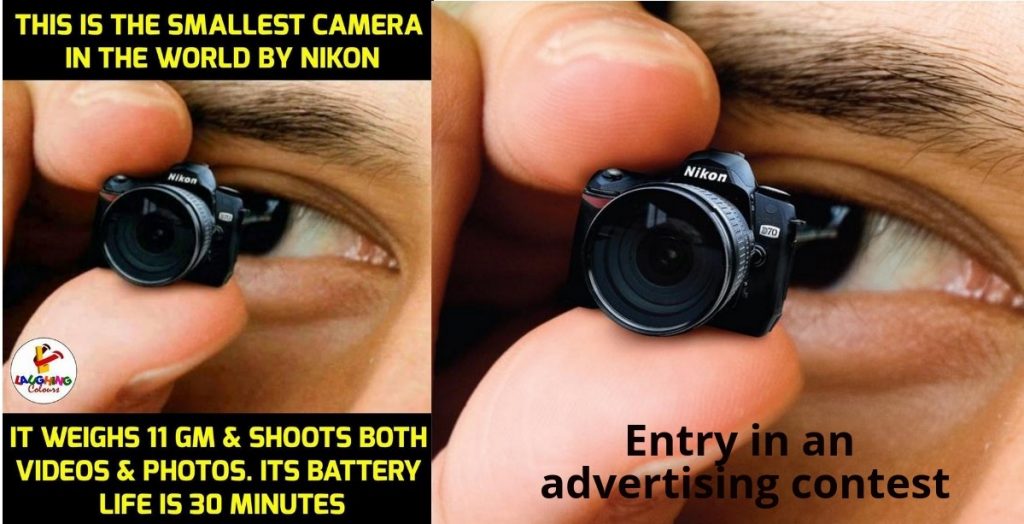 Laughing Colours has been manipulating the sentiments of its viewers by posting on emotive themes of nationalism and religion in a bit to generate greater number of clicks and revenue. By posting fake information and taking pictures out of context, the page has been misleading its audience. Despite being exposed multiple times, Laughing Colours continues to thrive on social media.
Donate to Alt News!
Independent journalism that speaks truth to power and is free of corporate and political control is possible only when people start contributing towards the same. Please consider donating towards this endeavour to fight fake news and misinformation.