Earlier this week, Droupadi Murmu was sworn in as the 15th President of India. Hailing from a humble background, she is the first tribal woman to become India's head of state.
Against this backdrop, more than 50 handles on Twitter are claiming to be of Droupadi Murmu. However, it is worth noting that none of these accounts are verified. Twitter often verifies accounts belonging to prominent individuals, as indicated by the blue ticks visible on the display name. In this article, we will be investigating some of the handles claiming to be that of Murmu's.
This slideshow requires JavaScript.
1. '@draupadimurmupr'
We noticed that this account was created in June 2022. As per the bio, this handle claims to be the official account of 'President Draupadi Murmu'. It currently has a follower count of close to 50,000. (Archived link)
On July 21, the handle shared a Twitter thread thanking ministers, MLAs and MPs for their support in her election to the post of President. (Archived link)

Several leaders including Prime Minister Modi, Defence Minister Rajnath Singh, Home Minister Amit Shah, and Vice President M Venkaiah Naidu shared congratulatory messages to Murmu for being elected as the President. However, it is worth noting that these leaders did not tag any of the handles claiming to be Droupadi Murmu's. Yet, this account quote-tweeted all of the posts adding a note of thanks, as if it belonged to the President herself. (Link 1, Link 2, Link 3, Link 4)
This slideshow requires JavaScript.
On the other hand, Vineet Kumar founder of Cyberbeace Foundation and the official handle of Jamia Millia Islamia University tagged the handle '@draupadimurmupr' while issuing their congratulatory wishes to Droupadi Murmu on becoming the President.
Taking a closer look at this account, we noticed several spelling mistakes and grammatical errors in many places. It is highly unlikely that tweets with such glaring errors would be posted by an official handle. (Link 1, Link 2, Link 3)
This slideshow requires JavaScript.
2. '@dwivedi_ji12'
This account was created in January 2013. It has over 51,000 followers. (Archived link)
In a July 21 tweet, the user behind this account thanked supporters for following her journey from a small village to the President's House. Once again, the post read as though this was the official handle of Droupadi Murmu. (Archived link)

The user also replied to a few tweets while posing themselves as Droupadi Murmu. (Link 1, Link 2, Link 3)
This slideshow requires JavaScript.
We took a closer look at the timeline of this account, and came across a number of odd tweets and replies it had posted earlier. This confirmed that this could not have been the official handle of Droupadi Murmu. Moreover, an earlier username read '@dwivedi_ji12', suggesting that the account belongs to one Dwivedi and not the President.

This slideshow requires JavaScript.
3. '@DraupadiMurmu12'
The '@DraupadiMurmu12' handle was created in April 2018. Its bio mentions 'President of India Draupadi Murmu'. It also reads 'Proud to be a Sanatani Hindu'. This account has amassed over 33,000 followers. (Archived link)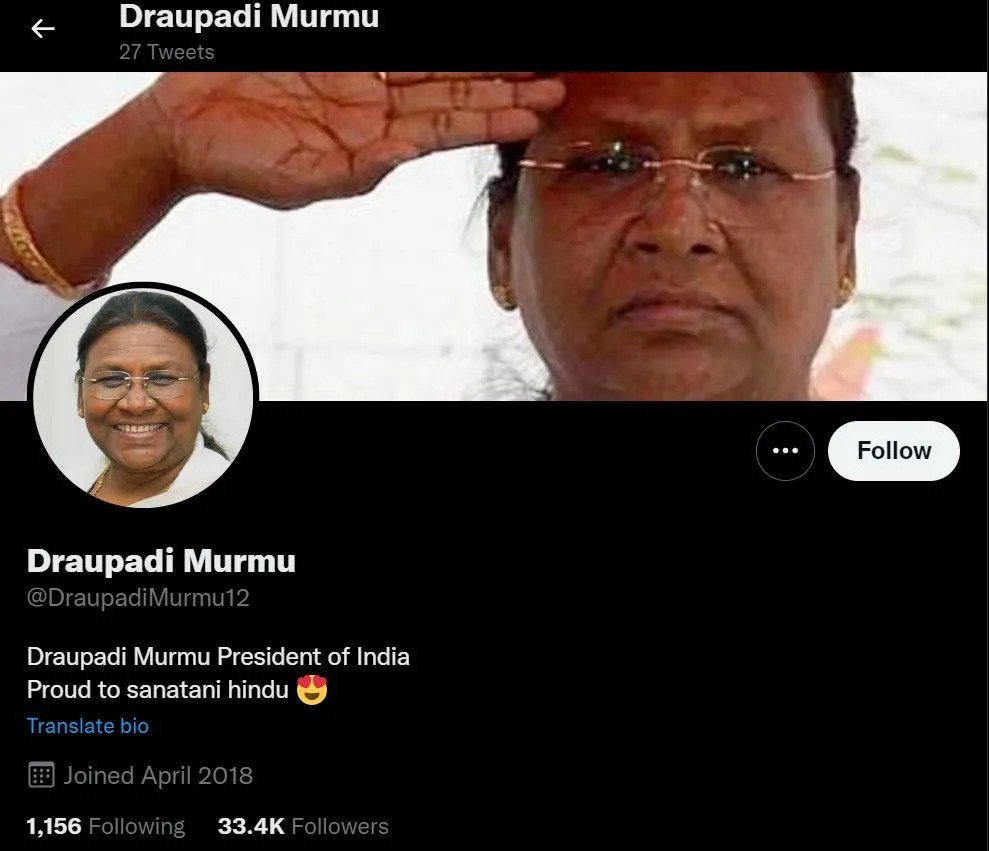 On July 21, this account tweeted photos of Droupadi Murmu with her daughter and granddaughter. (Archived link)
Meri beti or naatin pic.twitter.com/voRTGIvxdW

— Draupadi Murmu (@DraupadiMurmu12) July 21, 2022
On June 24, '@DraupadiMurmu12' tweeted a picture of Yashwant Sinha and Droupadi Murmu, asking which of the two would win the election. Replying to this tweet, a user with the handle '@draupadimurmum' called it a fake account. To which, this account replied alleging that the other user's account was not official either. In other words, the individual behind '@DraupadiMurmu12′ admitted on their own that they were running a fake account.

It is noteworthy that Droupadi Murmu was congratulated by a number of dignitaries and senior leaders on Twitter when she became the President. This includes Prime Minister Narendra Modi as well. However, he did not tag any account in his message. On the contrary, he is known to tag the handles of any prominent people mentioned in his tweets. (Link 1, Link 2)
Smt. Droupadi Murmu Ji has devoted her life to serving society and empowering the poor, downtrodden as well as the marginalised. She has rich administrative experience and had an outstanding gubernatorial tenure. I am confident she will be a great President of our nation.

— Narendra Modi (@narendramodi) June 21, 2022
Moreover, all the accounts claiming to be that of Droupadi Murmu have spelt her name wrong. The official Twitter handle of the President of India spells her name as "Droupadi" and not "Draupadi" as written by these fake accounts.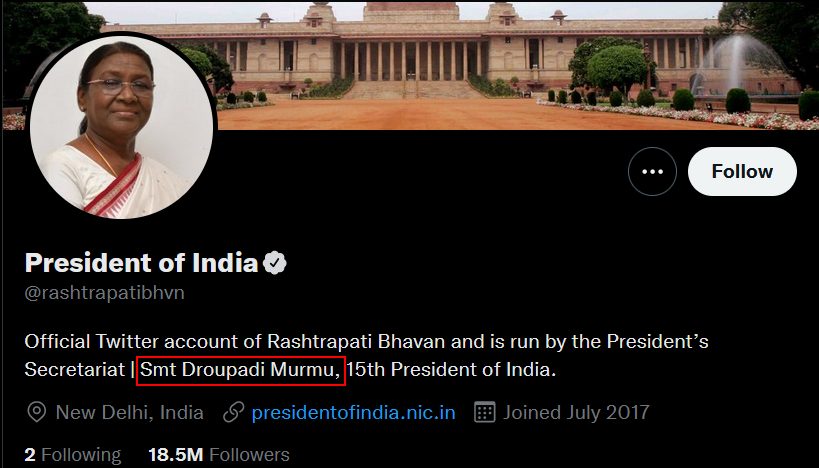 Speaking to Aaj Tak, Droupadi Murmu's PA Suraj Kumar confirmed that Droupadi Murmu does not have a personal account on Twitter as of yet.
To sum it up, our investigation revealed that all the Twitter accounts posing as the newly elected President Droupadi Murmu are fake.
Donate to Alt News!
Independent journalism that speaks truth to power and is free of corporate and political control is possible only when people start contributing towards the same. Please consider donating towards this endeavour to fight fake news and misinformation.