In the last few days, a photograph has gone viral on social media. It is a split image in which a young boy with a saffron bandana is shown on one side and another image with blue headgear on the other side. It is claimed that this is the same person who was earlier part of protests by Karni Sena and later on was present during the Bharat bandh protests by Dalit groups.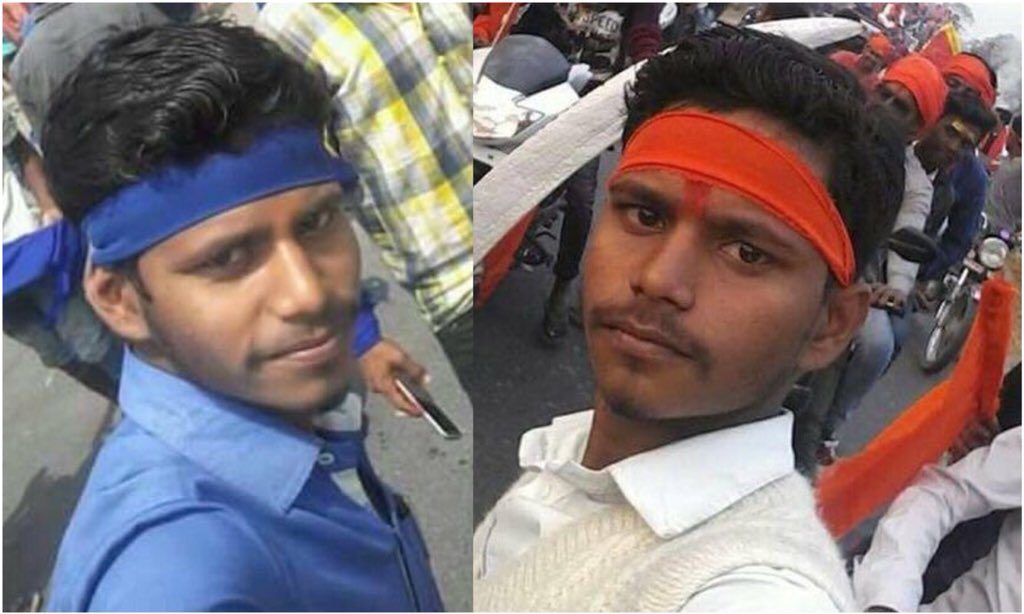 This photograph has been shared thousands of times across social media platforms and the boy has been called a 'freelance protester', willing to hit the streets for whoever is willing to pay. Now, it is being said that this boy's name is Abdul Jamal Khan. This information was broadcasted by the Hindi news channel India TV, which has now deleted the story from the website. The cached version can be viewed here. In the clip below, it can be seen that the correspondent is confirming that the name of the young protester is Abdul Jamal Khan. This clip has been posted on the Facebook page Hindustan Meri Jaan.
जमाल खान नाम का युवक है ये हिन्दुओ की भीड़ में केंसर की तरह काम कर रहा है।इसका जवाब कौन देगा… सेकुलरो….

Posted by हिंदुस्तान मेरी जान on Tuesday, April 3, 2018
Apart from India TV, this information was shared by many social media users as well. Among them was journalist Kanchan Gupta. Ironically he is a member of the Central Press Accreditation Committee and would have been involved with the issue of crackdown on fake news had the I&B ministry's now withdrawn circular been put into effect. Gupta later deleted his tweet and apologised.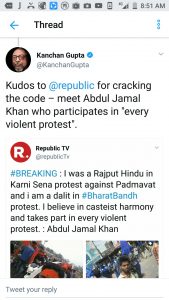 The young boy's alleged identity did not go unnoticed and this information was shared most prominently by right-wing social media users. Tapan Ghosh who is a Hindutva activist from West Bengal also shared this image with the words "Abdul Jamal Khan, the Mullah, present everywhere in all divisive, violent and destructive acts. They want to divide Hindu society and harm @narendramodi with the help of Congress and @rahulgandhi".
Abdul Jamal Khan, the Mullah, present everywhere in all divisive, violent and destructive acts. They want to divide Hindu Society and harm @narendramodi with the help of Congress and @RahulGandhi pic.twitter.com/r2EXpfMjhM

— Tapan Ghosh (@hstapanghosh) April 2, 2018
Another Twitter user @NaIna0806 who is followed by Prime Minister Narendra Modi too tweeted this image, targeting Congress President Rahul Gandhi, accusing him of dividing the country for political gains.
Meet Abdul Jamal Khan

I am a Muslim
I am incredibly talented
I am a Rajput Hindu in a #KarniSena protest &
I am a Dalit in a #BharatBandh
Protest
Darn I am a Professional Rioter !!!

Game over @RahulGandhi
Call off your manufactured dissent & stop dividing the Country pic.twitter.com/7hhxzTTSNe

— Naina 🇮🇳 (@NaIna0806) April 2, 2018
This information is being shared widely on Facebook as well. The Hindutva page SatyaVijayi which has close to 3 lakh followers too shared it, alongside tons of other pages, groups and individual users. The following video shows the velocity with which this information is being shared on Facebook.
It turns out that the source of this information that the name of the boy is Abdul Jamal Khan is a parody account on Twitter. The parody account is of Republic TV news channel. It posted the following tweet on April 2 which has been retweeted over 800 times and has since spread like wild fire over social media.
#BREAKING : I was a Rajput Hindu in Karni Sena protest against Padmavat and i am a dalit in #BharatBandh protest. I believe in casteist harmony and takes part in every violent protest. : Abdul Jamal Khan pic.twitter.com/nRMC5taShy

— RepubIic TV (@repubIicTv) April 2, 2018
This tweet was from the parody account of Republic TV, whose verified Twitter account is @republic. The actual Twitter account of Republic is verified and has a blue tick. The spoof account also mentions that it is a satirical page and that 'all tweets are imaginary and fake'.
One of the earliest instances of these pictures on social media was from a Twitter handle called @ModuSir. This tweet was retweeted over 3500 times.
Wow what a co-incident. A boy wrapped a saffron cloth on his forehead then he belongs to Karni Sena and when the same guy wrapped a blue cloth then he belongs to Bheem Army. @RahulGandhi now will you please stop your chutiyapa and riot. #BharatBandh#BharatBandhNhiHoga pic.twitter.com/A5SOzYH5UW

— ModuSir (@ModuSir) April 2, 2018
As for the claim that the two photographs are of the same individual, Alt News juxtaposed the faces to try and ascertain if they are indeed one and the same person. Using the InVid software for analysis, we magnified various facial features to aid visual comparison. The magnified version of the image does show subtle differences. However, this difference is not conclusive and we are unable to ascertain whether the two pictures are of the same person or not.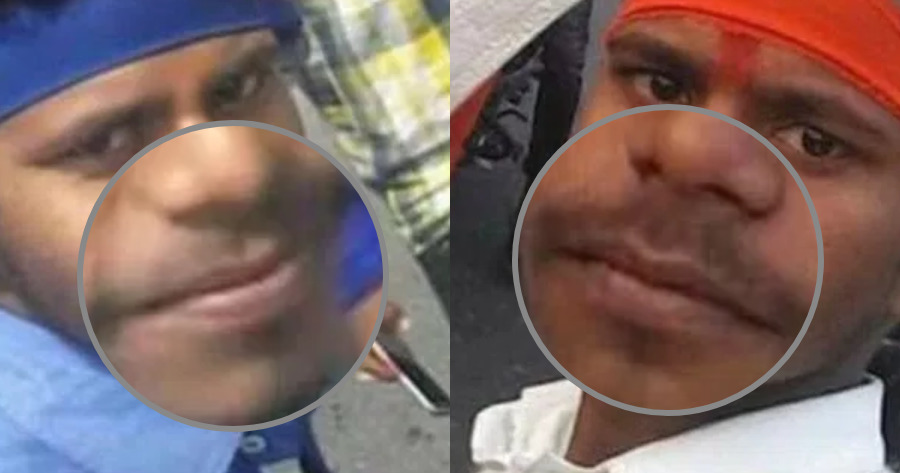 Although the resemblance is striking, Alt News is unable to verify if the two photographs are indeed of the same person. Notwithstanding the lack of conclusiveness over the identity of the said individual/individuals, the name 'Abdul Jamal Khan' is a pure figment of imagination.
Donate to Alt News!
Independent journalism that speaks truth to power and is free of corporate and political control is possible only when people start contributing towards the same. Please consider donating towards this endeavour to fight fake news and misinformation.