On March 2, the Indian Embassy issued an urgent advisory for all Indian nationals stuck in Ukraine. The advisory urged citizens to leave Kharkiv immediately and reach Pesochin, Babaye and Bezlyuvdovka by 6 pm.
Soon after, Nitin A Gokhale, whose Twitter bio states that he is a national security analyst, tweeted that Russia "apparently agreed" to a six-hour window for allowing safe passage to all Indians in Kharkiv before an all-out assault.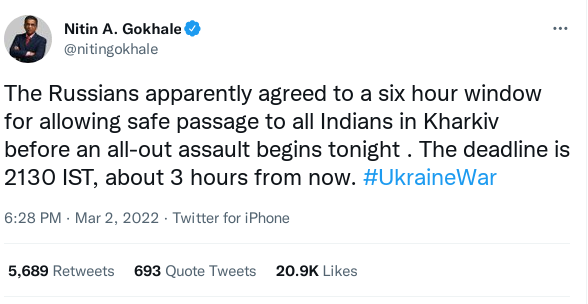 "Indian government requested for a window, a safe window, during the constant negotiations. And the Russians apparently agreed for a six-hour window saying we will allow Indians to leave. Either they come through a train or other means of transportation…[sic]," Gokhale said while speaking to a media outlet.
A couple of hours after his claim, BJP Maharashtra amplified it while hailing Prime Minister Modi.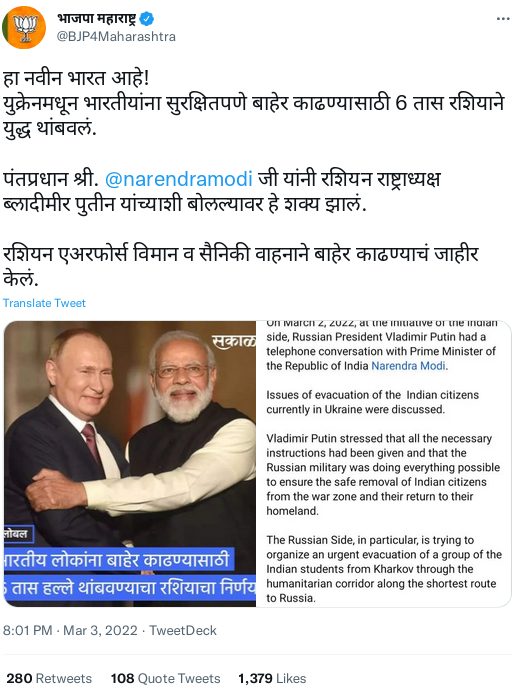 Quite expectedly, several journalists and 'defence panellists' tweeted the same while gushing about the BJP-led central government. Among them were Aditya Raj Kaul, Amish Devgn, Abhijit Majumdar, Pradeep Bhandari and Abhijit Iyer Mitra.
This slideshow requires JavaScript.
Media outlets also joined the bandwagon – Asianet News, ABP News, Amar Ujala, Patrika, Punjab Kesari and News18.
This slideshow requires JavaScript.
BJYM West Bengal member Priyanka Sharma, RSS mouthpiece Organiser Weekly, Postcard News founder Mahesh Vikram Hegde also claimed that Russia "stopped the war for six hours" at India's behest.
MEA's denies the claim
During a press conference held by the Ministry of External Affairs, it was clarified that India is in touch with the Russian government at various levels. However, Russia did not "stop the war for six hours" to facilitate the movement of Indian nationals. A spokesperson of the MEA said, "I don't know what exact rule… I don't know if I can add anything more. We got this specific input that this is a route that is available. These are the places that Indian citizens should go by this time. We conveyed that to our citizens and I am happy that many could make it… Extrapolating that to say that somebody is holding [pausing] a bombing or that this is something we are coordinating – that I think is absolutely inaccurate. I don't think… If I could be more facetious then it will extrapolate itself. We would then order a resumption of bombing. I think that is getting a bit much ahead of ourselves." This part of the MEA's statement can be watched from 20:20 minutes in the broadcast below.
Diplomatic affairs editor at The Hindu, Suhasini Haider, also tweeted the ministry's denial.
MEA denies reports that Russia "stopped the war for 6 hours" in order to facilitate Indians escaping Kharkiv, adds that they received inputs from Russia that prompted them to tell citizens to leave the city and choose certain routes, no "coordination" on Russian missile strikes.

— Suhasini Haidar (@suhasinih) March 3, 2022
Several journalists and media outlets thus gave oxygen to a completely false claim. The MEA's clarification, however, did not prevent Nitin Gokhale, the one who gave birth to the misinformation, from pontificating about how he was 'correct'.
This. MEA's own advisory telling the students to get out of Kharkiv by a certain time is the reality. Rest is all smoke & blabber. This is good enough confirmation about the 6-hour window that I mentioned. Those who don't agree can keep criticising, calling me names. Period. https://t.co/m3FVPNvK0i

— Nitin A. Gokhale (@nitingokhale) March 4, 2022
Donate to Alt News!
Independent journalism that speaks truth to power and is free of corporate and political control is possible only when people start contributing towards the same. Please consider donating towards this endeavour to fight fake news and misinformation.