"When Shahjahan took the place of Jahangir, was any election held then? When Aurangzeb succeeded Shahjahan, was any election held then? This was always known that the heir to the emperor will inherit power, although it is another matter if the successors fight among themselves. But, in a democracy, elections are held. I invite Shehzad Poonawala to come and file an application for contesting the election". What Mani Shankar Aiyar said was unambiguous and clear. Prime Minister Modi and his party colleagues used only the first half of his statement to make their point. It is not uncommon for political parties and leaders to resort to such tactics, but what explains the skewed reportage by sections of the Indian media? Far from calling out the Prime Minister when he wrongly quoted Aiyar, many from the fourth pillar of Indian democracy actively joined him in disseminating the fake news.
To be very clear about what Aiyar said, let us listen to him once again:
An hour after Aiyar made this statement; PM Modi used the first part of it in his election rally.
कांग्रेस को उनका "औरंगज़ेब राज" मुबारक.. pic.twitter.com/LMTNx5P64p

— Amit Malviya (@malviyamit) December 4, 2017
Let us look at a cross section of the media to see how they reported this incident.
ABP News:
Mani Shankar Aiyar had spoken to ABP News. The full video of the conversation was available on ABP page. If anyone knew the reality of what was said versus how it was being represented, it was ABP News. If anyone could have called the bluff, it was ABP News. But ABP did none of it. It played along.
"ABP News Interview: Aiyar compares Congress to Mughal era to support Rahul, gets targeted by Modi" was the headline of the ABP story even though the channel knew fully well from its own interview that Aiyar was not comparing Congress to the Mughal era but drawing upon the difference that exists between the Mughal era and a democracy. The channel quoted Amit Malviya's tweet without once mentioning that the video shared was cropped.
Later in the day while reporting the political storm after PM Modi cited ABP News' interview with Mani Shankar Aiyar, ABP News itself tweeted the cropped video clip.
11:32 am – Mani Shankar Aiyar compares #Congress to Mughal era to defend Rahul Gandhi. Political storm after PM @narendramodi cites ABP News' interview at 12:35 pm in Gujarat rally. pic.twitter.com/ILKRsJZsmy

— ABP News (@abpnewstv) December 4, 2017
Republic TV
Republic TV's response was entirely predictable. The channel went overboard in misreporting the story. Aiyar's comment was conveniently edited and Republic TV went berserk with the news. Editor-in-chief of Republic TV Arnab Goswami on his 9 pm show carried Aiyar's statement as the lead story. Goswami opened the show with the following statement
"Good evening and welcome. The Congress party has officially declared that Rahul Gandhi, in their view, and this is an official statement, they say that in their view Rahul Gandhi is like a Mughal emperor. No don't pinch yourself, this is the reality, they have actually said it, and they have further gone on to say that the Gandhi family in their view is like the Mughal dynasty because the Mughal dynasty was born to rule and the Gandhi family is also born to rule. And the Congress party's specific words of the senior member of the media committee of the Congress Party Mani Shankar Aiyar said this in an official statement, repeated many times, he said this viewers, you have hear this, he says when Shahjahan succeeded Jahangir, was there any election and they have gone on to ask, and I'm quoting them, so that the Congress party does not say I'm misquoting them, The Congress Party's official statement is when Aurangzeb succeeded Shahjahan was there any election. Now I don't know whether to laugh or to cry. But I will read what Mani Shankar Aiyar, senior top Congress spokesperson said about the lack of democracy in the Congress. He said and I quote, believe me viewers this is the thinking in the Congress party. It is pre-decided, the Congress party says that the son of a king will be a king, the son of a king will be a king, official Congress party statement on record. Dear viewers, this is the most unfortunate admission, of dynasty which we hate, of entitlement which we hate, and arrogance which we cannot tolerate but I'm happy tonight"
In the debate that followed, Goswami in his usual style shouted down those who pointed out that the clip shown by the channel was incomplete and that the full statement of Aiyar has been ignored or conveniently left out. That is not all. Republic TV carried the hashtag #RahulMughalEmperor at 1:10 pm.
#RahulMughalEmperor | Prime Minister Narendra Modi hits out at Aurangzeb Raj'https://t.co/lpnVZxoMbs pic.twitter.com/5VsohTkdTR

— Republic (@republic) December 4, 2017
Within no time, BJP's twitter account @BJP4India and @BJP4UP helped turn it into a twitter trend.
Times Now
Times Now reported about PM Modi welcoming "Aurangzeb raj". Mani Shankar Aiyar's controversial statement was not mentioned but his position was stated clearly by quoting him as saying "Anybody can walk in and contest"
Anybody can walk in and contest: Mani Shankar Aiyar, Congress #RaGaSelected pic.twitter.com/ILGmZtCYvq

— TIMES NOW (@TimesNow) December 4, 2017
Zee News
Zee News reported Mani Shankar Aiyar's statement in full mentioning that PM Modi latched on to it. "Congress leader Mani Shankar Aiyar on Monday stoked a controversy when he invoked the rulers of the Mughal dynasty in the election of Rahul Gandhi as party President, which Prime Minister Narendra Modi latched on to quickly to call it "Aurangzeb Raj".
Mani Shankar Aiyar on Monday stoked a controversy when he invoked the rulers of the Mughal dynasty in the election of Rahul Gandhi as party president.https://t.co/EnLY8DS5kl

— Zee News (@ZeeNews) December 4, 2017
India Today
The India Today story summarized in their sub-heading that "Mani Shankar Aiyar, while commenting on Rahul Gandhi's elevation as the president of the Indian National Congress, said there were no elections during Mughal rule to decide the next emperor." While the sub-heading is misleading, India Today covered the statement in full in the text of the article.
CNN News 18
In its Hindi story, CNN News 18 spoke of PM Modi using Mani Shankar Aiyar's "half statement" while attacking Congress thus indirectly indicating that PM had misquoted Aiyar. The English report carried Aiyar's full quote but the essence was one of Aiyar playing into PM Modi's hand and not about Modi misquoting Aiyar. In its prime time show at 9:55pm, the channel used the hashtag #MughalRaga.
NDTV
NDTV reported PM Modi's "Aurangzeb Raj" dig but also carried the clarification by Mani Shankar Aiyar where he says that his statement was about contrasting the dynastic succession under the Mughals with the democratic process of electing the Congress chief.
How did prominent newspapers report the story?
TIMES OF INDIA
The Times of India in its front page on December 5 carried a small column on the story. However, TOI in its report quoted the incomplete quote by Aiyar and mentioned that Aiyar 'later clarified that in a democracy, elections are held'. This is misleading because Aiyar had spoken about the 'democratic process' bit in his original statement. TOI did report the complete statement but on page 15 of the newspaper.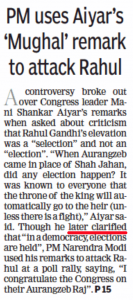 Amar Ujala
The Hindi daily Amar Ujala too carried the story on its front page. Amar Ujala put out the series of quotes from Aiyar and PM Modi. Aiyar's quote was again clipped just as it was by media outlets like Republic.

Alt News had called the bluff on Aiyar's statement yesterday. However, sections of mainstream media not only remained oblivious but chose to play up the fake report. A controversy was sought to be generated and sustained by reinforcing a false narrative through constant coverage. This is not the first time that mainstream media has distorted information and misrepresented news and by all indications this comes across as part of a pattern to manufacture consent.
Donate to Alt News!
Independent journalism that speaks truth to power and is free of corporate and political control is possible only when people start contributing towards the same. Please consider donating towards this endeavour to fight fake news and misinformation.To make an instant donation, click on the "Donate Now" button above. For information regarding donation via Bank Transfer/Cheque/DD, click here.