Since the third week of April, several media organisations reported that Ramayana and Mahabharata will be taught in Saudi Arabia as part of their 'Vision 2030' initiative. East Coast Daily, Times Internet's Speaking Tree, Muslim Mirror, Aaj Tak, Janta Se Rishta, ABP Education, The Kashmiriyat, Hindustan Times, Patrika, RSS mouthpiece Organiser, India Today, News18, Zee Media's WION, Republic TV, TV9 Hindi and Yahoo News were among the outlets that covered the news.
This slideshow requires JavaScript.
On April 16, Nation World News and propaganda website OpIndia Hindi published an article stating that under Saudi Arabia's 'Vision-2030' students are being taught the history and culture of other countries, including Ramayana and Mahabharata, as part of cultural courses. Both the articles also displayed a set of 'fill in the blanks' questions on the Indian sub-continent as part of the course. One of the questions says that India's two greatest epic 'poems' are Ramayana and Mahabharata.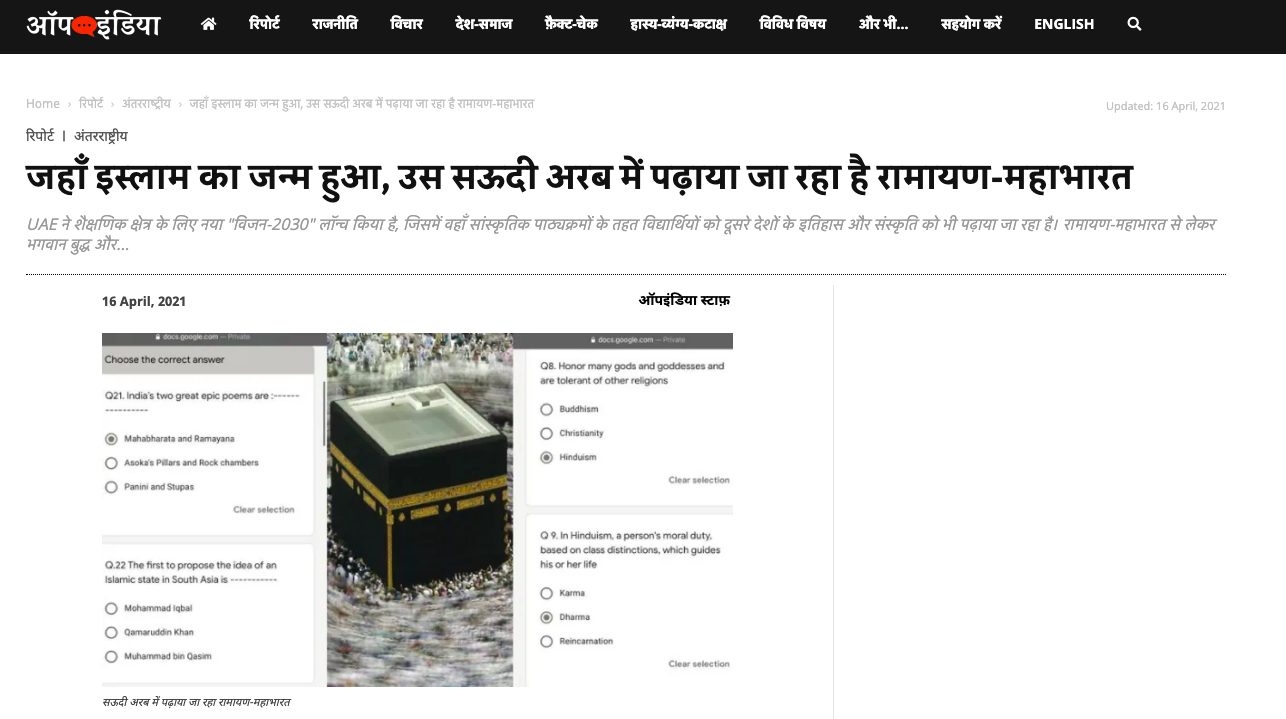 These reports also carry a tweet by Saudi Arabia resident Nouf Al Marwaai. She is the founder of the Arab Yoga Foundation and was awarded the Padma Shri in 2018. Marwaai posted the images of the same 'fill in the blanks' questionnaire and wrote, "Saudi Arabia's new vision-2030 and syllabus will help build a future that is inclusive, liberal, and tolerant. The screenshot of my son's school exam today in the book of social studies includes concepts and history of Hinduism, Buddhism, Ramayana, Karma, Mahabharata, and Dharma. I enjoyed helping him study." It has gained over 2,000 retweets since April 15.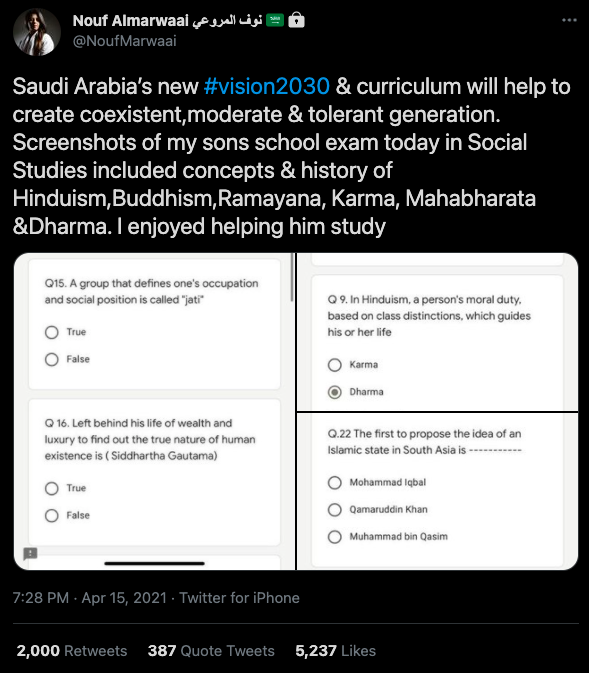 ABP News posted this claim on its Instagram account, where it gained about 66,000 likes. The East Coast Daily article was tweeted by BJP supporter Amrita Bhinder and party member Major Surendra Poonia (Retd). Their tweets gained about 3,000 retweets cumulatively. Several Facebook pages shared the claim and gathered several thousand likes. They include verified page Laughing Colours (32,000 likes), Engineering Bro (24,000 likes), Dear Crush (18,000 likes) and Idiotic Minds (5,600 likes).
This slideshow requires JavaScript.
Twitter account Friends Of RSS shared a clipping from WION's broadcast that reported the same.
Ramayan and Mahabharat will soon be taught in Saudi Arabia. Crown Prince MBS has directed schools to include the two Indian epics in their curriculum. pic.twitter.com/wgsulI9sqH

— Friends of RSS (@friendsofrss) April 30, 2021
False media reports
Marwaai's tweet and media reports have cited Saudi Vision 2030 as a catalyst to include Hindu literature in the school curriculum. But Saudi Vision 2030 is a strategic framework to reduce Saudi Arabia's dependence on oil, diversify its economy, and develop public service sectors such as health, education, infrastructure, recreation, and tourism. Its details were announced on April 25, 2016, by Crown Prince Mohammad bin Salman.
افتتح سمو #ولي_ولي_العهد المؤتمر الصحفي لـ #رؤية_السعودية_2030 للحديث عن أبرز ملامح الرؤيةالوطنية المستقبلية للمملكة pic.twitter.com/KjyNKXo4d4

— رؤية السعودية 2030 (@SaudiVision2030) April 25, 2016
The official website of Saudi Vision 2030 doesn't state anything about Ramayana and Mahabharata being taught.

Saudi journalists and political analysts refute Nouf Al Marwaai's tweet
Alt News spoke with a Saudi Arabia-based senior editor who informed, "There has never been an official statement from the government stating Ramayan or Mahabharata will be taught. The medium of instruction in Saudi public/ government schools is Arabic. The screenshots of the social studies exam paper shared by Nouf Marwaai are in English. Therefore, it is most likely a non-government school curriculum."
Arab News correspondent Naimat Khan posted a tweet thread pointing out the media misreports in India.
Many Indian media outlets including @WIONews are spreading this #fakenews that Ramayana and Mahabharata will be soon be taught in the schools of Saudi Arabia as part of kingdom's new #vision2030.

How? see in this #Thread pic.twitter.com/4noDAV4lGs

— Naimat Khan (@NKMalazai) April 28, 2021
Khan's thread included Omar Al Ghamdi's response to Marwaai, "Your son is studying in an International Indian School in #SaudiArabia due to your family relations. These schools have been using the same curriculum for years before #Vision2030, so It's a big lie to link foreign curriculum we respect to our vision @minister_moe_sa @moe_gov_sa". Ghamdi is an independent Saudi political analyst.
Your son is studying in an International Indian School in #SaudiArabia due to your family relations. These schools have been using the same cuuriculum for years before #Vision2030, so It's a big lie to link foriegn curriculum we respect to our vision@minister_moe_sa @moe_gov_sa https://t.co/ruNGilO3qc

— عمر الغامدي Omar Al Ghamdi (@OGx66) April 25, 2021
Columnist Ibrahim Al-Sulaiman also responded to Marwaai's tweet. He said that freedom of education to communities in private international schools should not be conflated with the curriculum at public schools.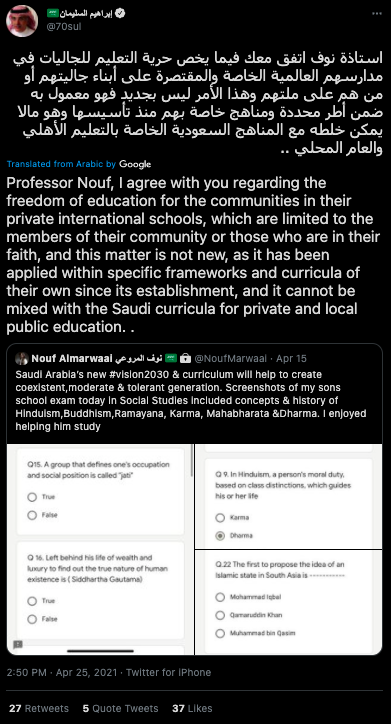 Nouf Al Marwaai's statement
Marwaai told Alt News over a telephonic conversation that her tweet has been taken out of context and blown out of proportion. "I simply shared that I enjoyed teaching my son topics related to the Indian sub-continent. My son studies at a private school and its curriculum is approved by the Education Ministry. I can confirm that Ramayana and Mahabharata are not being taught in my son's school. It was merely mentioned as a historical epic poem of India under Literature subhead of South Asian Art section," she said.
"The screenshots of the 'fill in the blanks' test belong to my son who studies in the tenth grade. The subject being tested was social studies and world geography," she added. A screenshot of the textbook that mentions Ramayan and Mahabharata has been provided below.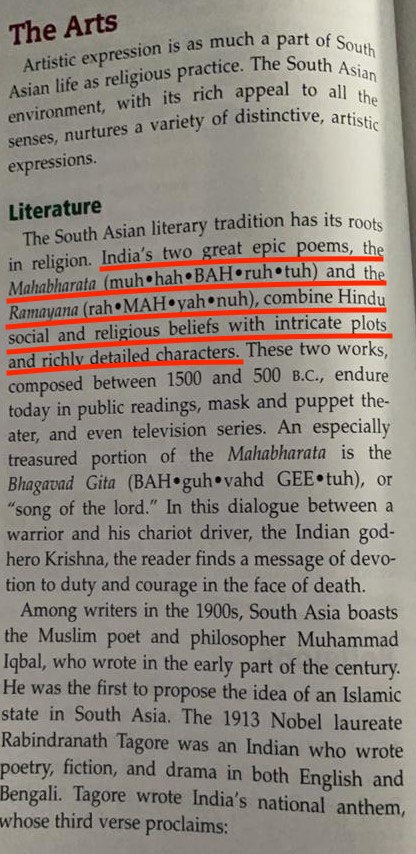 "I have noticed several media outlets have used my tweet to publish a false and misleading report related to Saudi Arabia's Vision 2030. I'm happy that my passion for yoga is well received in India but I would like to make it clear that none of the media outlets reached to me for comments. Going forward, I request them to contact me before publishing my statement without context," Marwaai further told Alt News.
Media outlets in India, therefore, published false reports that Ramayana and Mahabharata will be taught in Saudi Arabian schools.
Donate to Alt News!
Independent journalism that speaks truth to power and is free of corporate and political control is possible only when people start contributing towards the same. Please consider donating towards this endeavour to fight fake news and misinformation.