A video is viral on social media. It has been shared along with the claim that pro-Pakistan slogans were raised in Katni, Madhya Pradesh following the victory of a Muslim leader in sarpanch elections. The video was also aired by several media organisations with the same claim, including News18. (Archive link)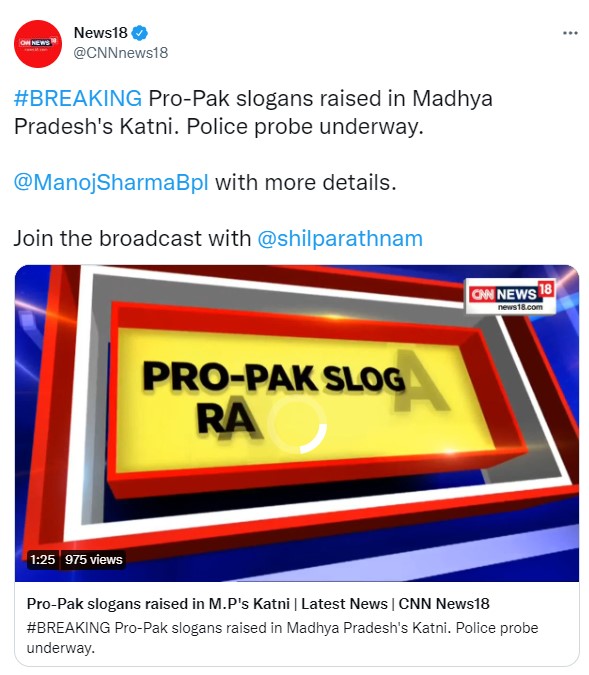 Dainik Bhaskar similarly wrote, "Slogans of 'Pakistan Zindabad' after Muslim becomes sarpanch: Supporters in Katni chant, 'Pakistan won'." (Archive link)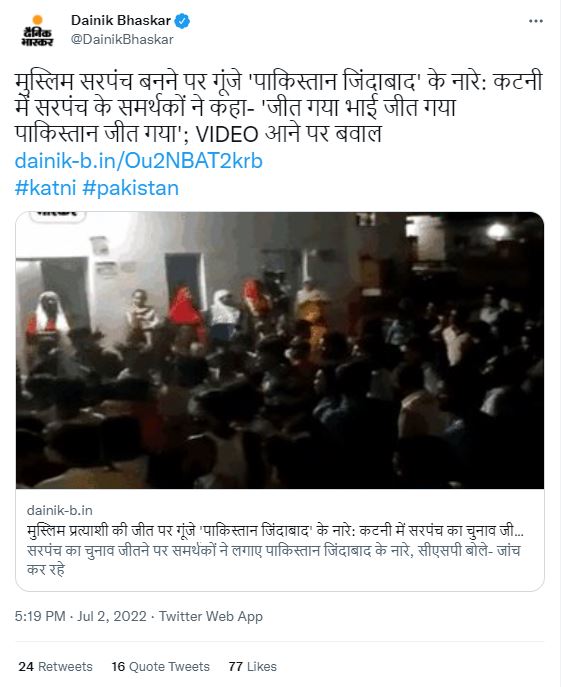 Newsroom Post tweeted, "Pro-Pakistani Elements: Echoes of 'Pakistan Zindabad' in Katni, Madhya Pradesh, sloganeering after Muslim candidate's victory". (Archive link)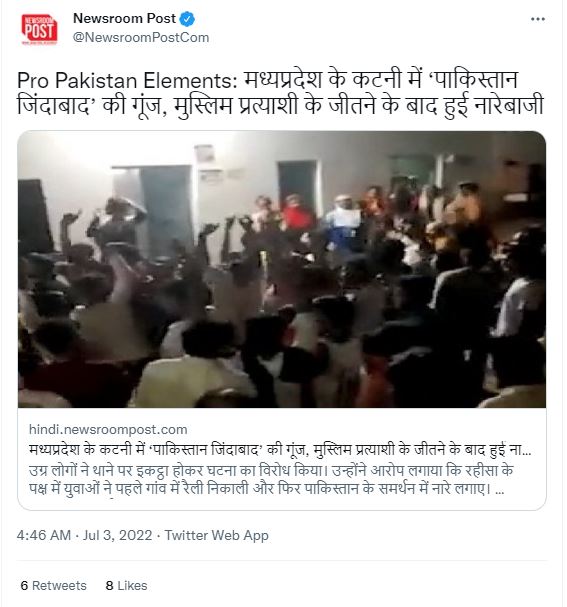 Several other news outlets – Dainik Jagran, News Nation, TV9 Hindi, Asianet News, Jansatta, Zee Madhya Pradesh – amplified the claim, along with the right-wing propaganda website Kreately. Shivam Dixit and Ritesh Kashyap of RSS mouthpiece Panchjanya, ABP News journalists Brajesh Rajput and Adarsh Jha, BJP Madhya Pradesh media in-charge Lokendra Parashar, right wing propaganda website Falana Dikhana, Santosh Chauhan of Sudarshan News, and Sujeet Swami of Newsroom Post were also among those who furthered the claim on social media.
This slideshow requires JavaScript.
The video is widespread on Facebook and Twitter with the accompanying claim.
Fact-check
We examined the viral video carefully and noticed that the slogans being chanted were 'Wazid bhai won – Wazid bhai won' (जीत गया भाई जीत गया – वाज़िद भाई जीत गया) and 'Long live Wazid bhai' (वाज़िद भाई ज़िंदाबाद). We also slowed down the video and could not hear any pro-Pakistan sloganeering. Below is the video at 0.80x speed.
Sheikh Saeed alias Wazid is the husband of Rahisha Begum, the candidate who won the sarpanch election from the Chaka Gram Panchayat in Madhya Pradesh's Katni district. Women are often fielded as proxy candidates in India for seats that have women's reservations or if the candidate's husband is already occupying another position. Therefore, a female contender's victory is often celebrated with cheers for her husband.
We reached out to Wazid who also said that there were no slogans raised in support of Pakistan. Furthermore, the mobile phone from which the video was recorded was seized by the police and submitted for investigation. He also revealed that after the video went viral, several "anti-social elements" claiming to represent the Bajrang Dal and Karni Sena chanted slogans outside his home. However, he denied the direct involvement of the Bajrang Dal. Wazid added that his wife has been associated with the BJP for years and this was the second time she became sarpanch.
Sheikh Saeed alias Wazid also shared three videos of the incident with AltNews. After listening to all of these carefully, it became evident that the slogans being chanted were not 'Pakistan Zindabad' but 'Wazid bhai Zindabad'. Given below is a compilation of the three clips.
To sum it up, a number of media organisations, journalists and social media users falsely claimed that pro-Pakistan sloganeering took place following the victory of a Muslim sarpanch in Katni, Madhya Pradesh. In reality, supporters were chanting 'Wazid bhai Zindabad'.
Donate to Alt News!
Independent journalism that speaks truth to power and is free of corporate and political control is possible only when people start contributing towards the same. Please consider donating towards this endeavour to fight fake news and misinformation.